BEAUMONT, Francis, and John FLETCHER.
The Tragedy of Thierry King of France, and his Brother Theodoret. As it was diverse Times acted at the Blacke-Friers, by the Kings Majesties Servants. Written by Fracis [sic] Beamont [sic] and John Fletcher [bracket] Gent.
London, Printed for Humphrey Moseley ... 1649
Small 4to., pp. [42], unnumbered, with the final blank; printed in double columns; a fine copy in recent stiff vellum boards.
£1850

Approximately:
US $0
€0
Third edition, a reissue of the second quarto (1648) with the title-page cancelled by a new title and a new conjugate prologue and epilogue leaf. Oddly the prologue had already appeared prefixed to The Noble Gentleman in the Beaumont and Fletcher folio of 1647, and the epilogue at the end of James Shirley's Changes (1632).

The shared authorship and date of Thierry and Theodoret has long been a matter of debate, but there seems to be a consensus that it is mainly by Fletcher, perhaps with the collaboration of Beaumont (which would date it before 1616, probably before 1613), and with revisions by Massinger. The first quarto (1621) did not name an author, the second (1648) assigned it to Fletcher, and this third adds Beaumont, as does the Beaumont and Fletcher folio of 1679.

The plot of this very gothic Jacobean tragedy is adapted from Frankish history of the late-sixth and early-seventh century. Brunhilda (here 'Brunhalt'), the Queen of Austrasia and Burgundy, quarrels with her grandsons Theuderic and Theudebert (here transformed into sons, Thierry, prince of Austrasia, and Theodoret, king of France). When Theodoret reproves his mother for her licentious life style she leaves his court for that of his brother Thierry. Jealous of Thierry's fiancée, the matchless Ordella, she concocts various unsuccessful schemes to ruin their marriage. One of her cowardly minions stabs Theodoret fatally in the back, she attempts to procure the death of Ordella, and finally she poisons Thierry before choking to death herself. Thierry succumbs and Ordella, broken hearted, joins him on his deathbed.

With both brothers dead it is left to their kinsman, the virtuous councillor Martell, to pronounce the final word on the 'mad mother' Brunhalt:

Because
She was borne noble, let that title find her
A private grave, but neither tongue not honour:
And now lead on, they that shall read this story,
Shall find that virtue lives in good, not glory.

Wing F 1353; Greg 368 (b ii).
You may also be interested in...
THE IVANHOE BALL, AN ATTENDEE'S COPY [LAGARENNE, Félicité, artist].
[Costumes d'Ivanhoe au bal donné par ... le prince et princess d'Orange à Bruxelles, mercredi le 5 février 1823.]
First and only edition of a fine and rare suite of ten hand-coloured lithographs commemorating a ball inspired by Scott's Ivanhoe, held in Brussels on 5 February 1823 by the Prince and Princess of Orange in honour of the British community in that city. There were thirty-two guests at the ball, all attending in elaborate costume, and dancing a quadrille that became the talk of the town, and remained 'the principal topic of conversation at Brussels' several months later (The Repository of Arts, May 1823). According the printed programme, Lord Danlo was Ivanhoe, the Black Knight was played by Mr de Janti, and Mrs Berkley took the role of Rowena. Further down the list is Mrs Fielden (sic), as Alicia, wife of the Joseph Ffeilden who owned this copy – she can be seen on the left in Plate VII.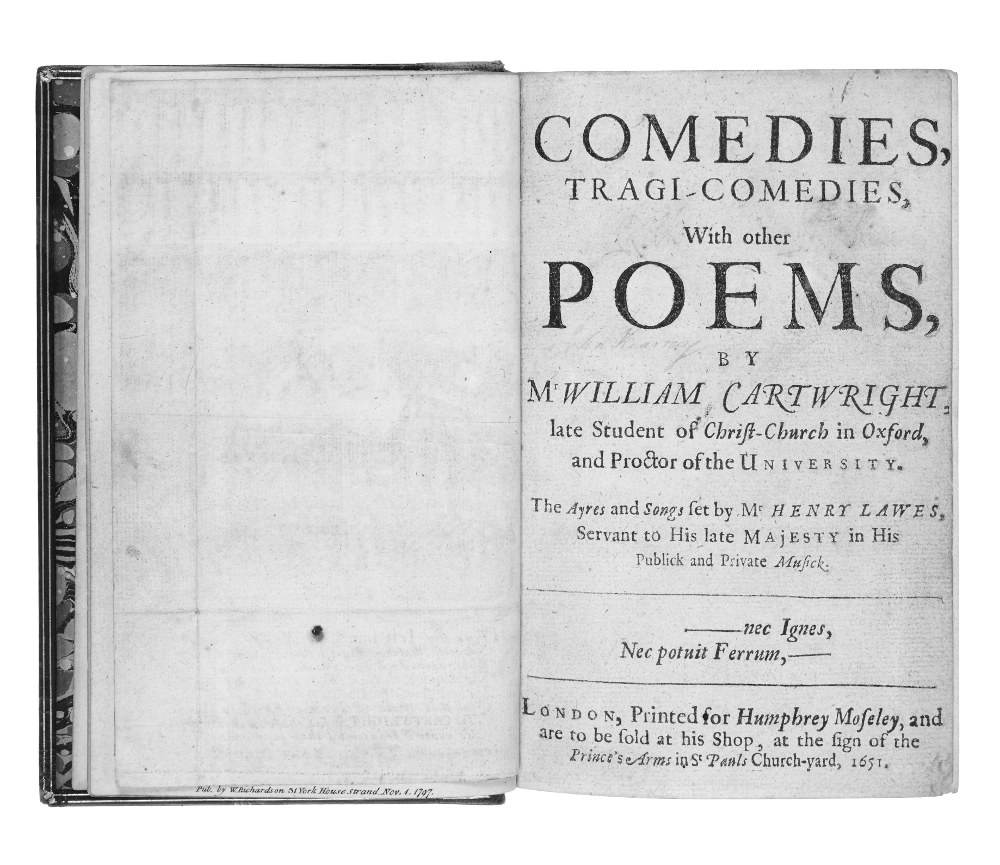 A FAVOURITE OF CHARLES I CARTWRIGHT, William.
Comedies, Tragi-comedies, with other Poems … the Ayres and Songs set by Mr Henry Lawes, Servant to his late Majesty in His public and private Musick …
First edition of the witty and elegant drama and verse of a celebrated 'son of Ben', who said 'My son Cartwright writes like a man'. According to Evelyn, Charles I reckoned The Royall Slave 'the best that was ever acted' after he saw it as the main entertainment on the royal progress to Oxford in 1636. When Cartwright died young of camp fever at Oxford in 1643, he was mourned personally by Charles, who wore black on the day of his funeral. No fewer than fifty-six commendatory poems by Katherine Philips, Henry, Thomas and Francis Vaughan, Izaak Walton, John Fell, James Howell et al. preface the work.