ORIGINS OF THE MONASTIC RULE
CASSIAN, John, monk.
De institutis coenobiorum [together with:] Collationes Patrum.
Basel, [Johann Amerbach], after 24 September 1485.
Folio, ff. [208], gothic letter in double columns; capital spaces, mostly with guide letters; on f. [75]r a woodcut of the conversion of St. Paul; margins of first two leaves frayed and repaired (not affecting text), one or two small wormholes, dampstain affecting a few leaves (heavier in final two leaves), but generally a clean, crisp copy. [bound with:]
£12000

Approximately:
US $16052
€13597
HUGO DE SANCTO VICTORE. De sacramentis Christianae fidei. Strasbourg, [Printer of the 1483 Jordanus de Quedlinburg (Georg Husner)], 30 July 1485.

Folio, ff. [159] (of 160), complete with the blank leaves ff. [70] and [71], but without the final blank; gothic letter, capital spaces with guide-letters; light dampstain in foot of many leaves (generally light but occasionally heavier and entering text).

Two works bound together in a (probably Basel) binding of the second quarter of the sixteenth century of calf over wooden boards, central panel on covers with vertical impressions of a roll with Renaissance ornaments and enclosed by a double border of the same roll, brass catches, pastedowns from printed binder's waste (Polydore Vergil, Adagiorum opus, Basel, Froben, 1525, and Cicero, Opera, Basel, Cratander, 1528); rubbed, spine and corners restored, clasps missing, a few wormholes. £12,000

I. First edition of the Institutes, one of the most important texts in the history of monasticism. It represents the legacy of the years Cassian spent among the Desert Fathers of Egypt and sets out rules for monastic life which were to be the basis of many Western rules, including, for example, the Rule of St. Benedict.

It is printed here with the second edition of the Conferences (first, Brussels, Brothers of the Common Life, c. 1476). These are the records of Cassian's conversations – in dialogue form – with the great hermits of Egypt. 'They were read every night before compline in early medieval monasteries and became a vade mecum for saints as different as Thomas Aquinas and Theresa of Avila' (David Knowles, Christian monasticism).

The woodcut shows St. Paul on the road to Damascus falling from his horse under the impact of his sudden conversion. It is 'in the style of some of the early cuts in Richel's Spiegel menschlicher Behältnis' (BMC).

II. Second edition (first, Augsburg c. 1477), described by David Knowles as 'the first attempt on the grand scale – for Abelard's almost contemporary Theologia is a scantier outline – to give a really comprehensive view of theology in all its branches' (Knowles, The evolution of medieval thought p. 131).

Probably from Saxony or Flanders originally, Hugh (d. 1141) came to Paris at an early age and joined the canons regular of the abbey of St. Victor. He lectured on theology in the famous school attached to this monastery, and was its greatest representative. He wrote a very large number of exegetical, philosophical, and theological works which exercised a profound influence on the scholasticism of the twelfth and thirteenth centuries. The De sacramentis is the most important: 'joined to the different approach of Abelard, it became the grandmother of all the Summae of the following hundred years. It is also important as being an extension of the Anselmian rather than of the Abelardian use of dialectic. Hugh employs logic and speculation to penetrate and to establish the doctrine rather than to build up an edifice of ingenious conclusions and deductions . . . . The Victorine element in Aquinas is indeed very large' (Knowles pp. 131–2).

I. HC 4562; BMC III 748; GW 6160; Schreiber 3676; Schramm XXI p. 26; Goff C-233; Bod-inc. C-102. In 1698 William III gave a copy to King's Chapel, Boston, now in Boston Athenaeum.
II. HC *9025; BMC I 133; Goff H-535; Bod-inc. H-244.
You may also be interested in...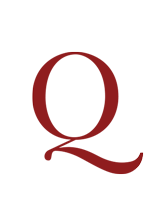 THE RARE FIRST EDITION IN THE ORIGINAL PUBLISHER'S BINDING MACKENZIE, Colin.
Five Thousand Receipts in all the Useful and Domestic Arts, Constituting a Complete and Universal Practical Library, and Operative Cyclopædia.
First edition. An early nineteenth-century collection of household recipes by Colin Mackenzie, the author of One Thousand Experiments in Manufactures and Chemistry, this work is as emblematic of the contemporary enthusiasm for public science education, as it is ambitious in its aim: 'if all other books of Science in the world were destroyed, this single volume would be found to embody the results of the useful experience, observations, and discoveries of mankind during the past ages of the world' (p. iii).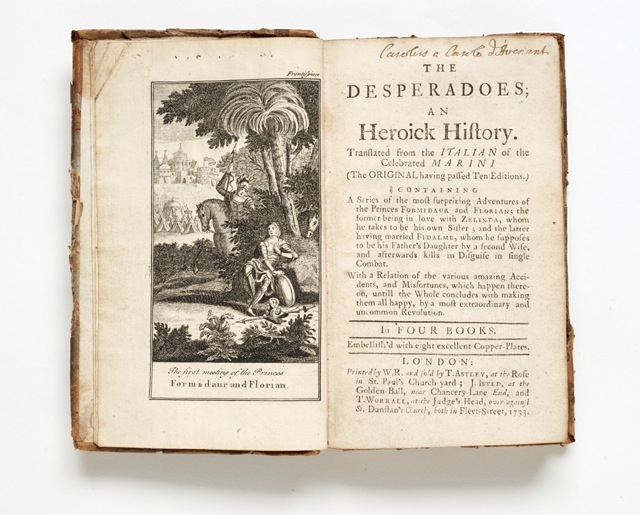 MARINI, Giovanni Ambrogio.
The Desperadoes; an heroick History. Translated from the Italian of the celebrated Marini (the Original having passed ten Editions.) Containing a Series of the most surprizing Adventures of the Princes Formidaur and Florian … In four Books. Embellish'd with eight excellent Copper-Plates.
First and only edition in English of Le gare de' disperati (1644), the second of three romances by Marini (1596-1668). Inevitably, 'It was necessary to omit many Things that were contrary to our Morals; to Decency, and to the Purity of the English Tongue …'. But the general scheme of events is the same as the original, and is outlined on the title-page: 'A Series of the most surprizing Adventures of the Princes Formidaur and Florian; the former being in love with Zelinda, whom he takes to be his own Sister; and the latter having married Fidalme, who he supposes to be his father's Daughter by a second Wife, and afterwards kills in Disguise in single Combat. With a Relation of the various amazing Accidents, and Misfortunes, which happen thereon, until the Whole concludes with making them all happy, by a most extraordinary and uncommon Revolution.'