CHOYSELAT, Prudent le.
Discours oeconomique, non moins utile que récréatif, monstrant comme de cinq cens livres pour une foys employées, l'on peult tirer par an quatre mil cinq cens livres de proffict honneste, qui est le moyen de faire profiter son argent.
Rouen, Martin le Menestrier 1612 [but ca. 1745].
16mo, pp. [ii], 45, [3]; a very good, crisp copy in contemporary calf-backed boards, spine stamped in gilt, gilt morocco lettering-piece; a few surface scuffs.
£550

Approximately:
US $735
€623
Early edition of an interesting 'way to wealth', in fact a guide to the management of poultry, first published 1569. An English translation was published in 1580 under the title A Discourse of housebandrie, described by Mary Aslin (Rothansted) as 'the first book on poultry'. Brunet, Quérard and Musset suggest the present edition is an 18th-century piracy; 'L'édition dont je parle est, selon M. Debure, une contrefaçon, ce qui n'empêche pas qu'elle ne soit fort belle...' (Musset).

Brunet I, col. 1852; Kress 319; Musset 468; Quérard VII, pp. 362-3; Goldsmiths' 8141 lists this edition as a facsimile; see Aslin, Catalogue of the printed books on agriculture published between 1471 and 1840 [in the library of Rothamsted Experimental Station], p. 27.
You may also be interested in...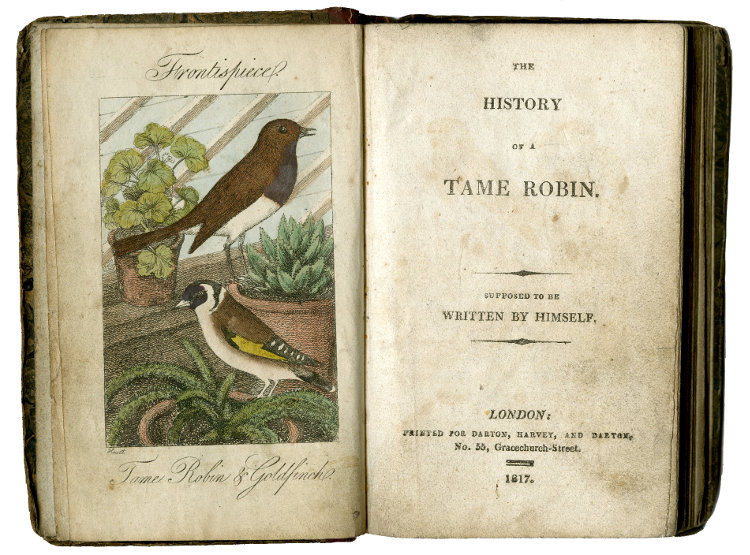 [KEENE, Marian].
The History of a tame Robin. Supposed to be written by Himself.
First and only edition. The tame Robin recalls a life of adventure enriched by human and avian friendships. A childhood spent in a school-room helped him attain 'a sufficient knowledge of literature to relate my adventures'. His life, though happy, is not without its vicissitudes: he loses a close friend, Goldey the goldfinch, to a bird of prey and spends a disconcerting time in the ownership of a spoilt child who starves sparrows to death.
AN INSCRIBED PRESENTATION COPY OF 'DE SATGÉ'S VALUABLE AND RACY REMINISCENCES' SATGÉ, Oscar John de.
Pages from the Journal of a Queensland Squatter.
First edition. Born in England to an aristocratic French father and an English mother, de Satgé (1836-1906) was educated at Rugby School. In 1853 he embarked in Melbourne and was appointed a Clerk in the Goldfields' Commission, through the good offices of Charles La Trobe. Following a position as a parliamentary clerk, de Satgé decided to gain pastoral experience by joining his brother at cattle stations on the Darling Downs, and this marked the beginning of a successful career in the booming livestock businesses of the continent; he invested in a series of cattle stations, which were then developed and sold on very profitably. De Satgé also pursued a political career, and '[i]n the Queensland Legislative Assembly [he] had represented Clermont in 1869-70 and 1870-72, Normanby in 1873-77 and Mitchell in 1881-82. First elected as a squatters' delegate to pass the 1869 pastoral leases bill, his superior social position, his comprehensive knowledge of the problems of the central and western Queensland squatters and his successful role as a Clermont "roads and bridges" politician made him an effective pastoral leader. "These", as he later nostalgically asserted, were "the good old days when squatting constituencies returned representatives interested in the pursuit instead of Radicals ready to wage war against capital"' (ADB).