D'ADDA, Vincenzo.
Ars notarilis auctore celeberrimo D'Adda. In Mediolanensi Archigimnasio iuventutis beneficio utiliter et ingeniose composite et caractere Felicis Viglezzi descripta.
[Milan], 1796.
Manuscript, two volumes in one, 8vo, pp. [2], 176, [5]; [2], 206, [1, index], [9, blank]; written in a neat regular hand in brown ink, all pages within ruled red borders, glosses and section titles in red titles lettered in red and black; a very good manuscript, elegantly bound in contemporary green crushed morocco, corner gilt fleurons and central ornament, panelled spine gilt, red morocco lettering piece; tipped inside, a letter dated 1790 detailing the marriage and death of the vernacular poet Domenico Ballestreri (1714-1780), and transcribing a poem on his life, possibly written by his brother Carlo.
£2500

Approximately:
US $3344
€2832
Fair manuscript copy, in all likelihood a presentation copy, of a text of notarial law which remained a reference in Italian jurisprudence from the Austrian times until well after Napoleon, by one of the most prominent Milanese jurists of Enlightened Lombardy. The scribe identifies himself as Felice Viglezzi. It is accompanied by a manuscript celebrating the life and commemorating the death of the Milanese vernacular poet Domenico Ballestrieri.

D'Adda's notarial law text was first published, posthumously, in the same year as the redaction of this manuscript, under the title Arte notarile. It appeared in three parts (six volumes), of which the first two consisted of D'Adda's work proper, and the third of appendices. Our manuscripts contains part I and II, the entirety of D'Adda's own work. Vincenzo D'Adda, a friend of Parini's and, with Beccaria and the Verri brothers, a key member of the Milanese intelligentsia enrolled by Kaunitz for the governance of one of the most treasured lands in Theresian Austria, continued to serve as a jurst, a magistrate and Imperial Professor at Brera after the Empress's death under Joseph II in the increasingly tense years which preceded the independence of Lombardy, until 1786.

His Arte notarile was glossed and supplied with appendices throughout the napoleonic era, and provided a robust legal backbone to the drafting of the new civil law code for the young Italian Republic in the 1800s.
You may also be interested in...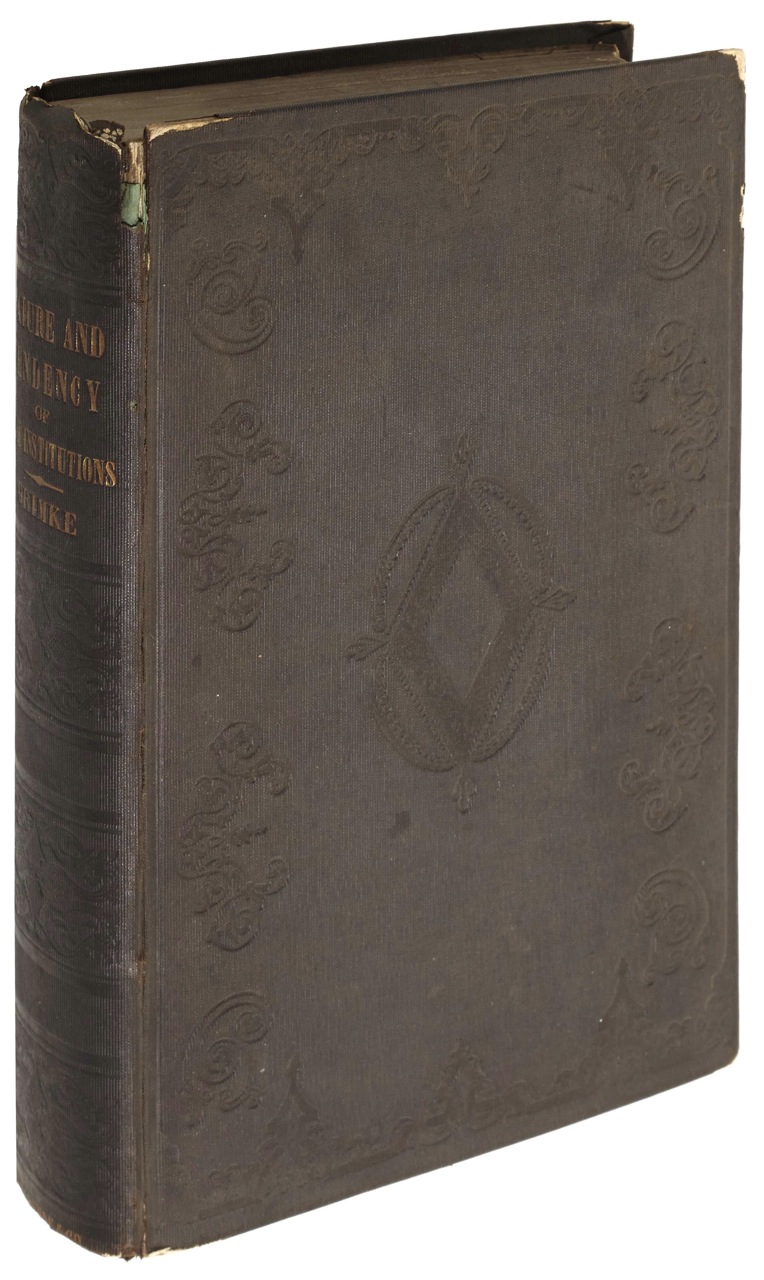 GRIMKE, Frederick.
Considerations upon the nature and tendency of free institutions.
First edition, scarce in commerce, of this 'significant contribution to American thought' written by a Supreme Court judge who advocated the 'popular election of judges for specific terms' (Supreme Court of Ohio biographies online, 'Grimke'). Grimke (1791-1862) studied at Yale and Carolina, rising quickly to become a judge of the Court of Common Pleas and then of the Supreme Court ('Publisher's Preface' to The Works of Frederick Grimke, 1871). This work is divided into four books which treat government and elections, the constitution, institutions (medical, religious, military etc.), and the American constitution the context of European government.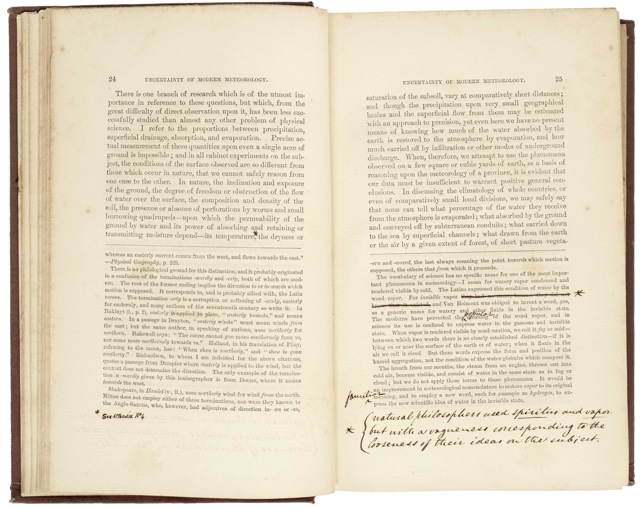 THE FIRST MODERN WORK ON ECOLOGYA COPY WITH MANUSCRIPT AUTHORIAL CORRECTIONS MARSH, George.
The earth as modified by human action.
First edition thus (a previous version had been published ten years earlier under the title Man and Nature) of the first modern discussion of ecology and environmental issues. This copy bears several authorial manuscript corrections. A revised edition was posthumously published in 1885.