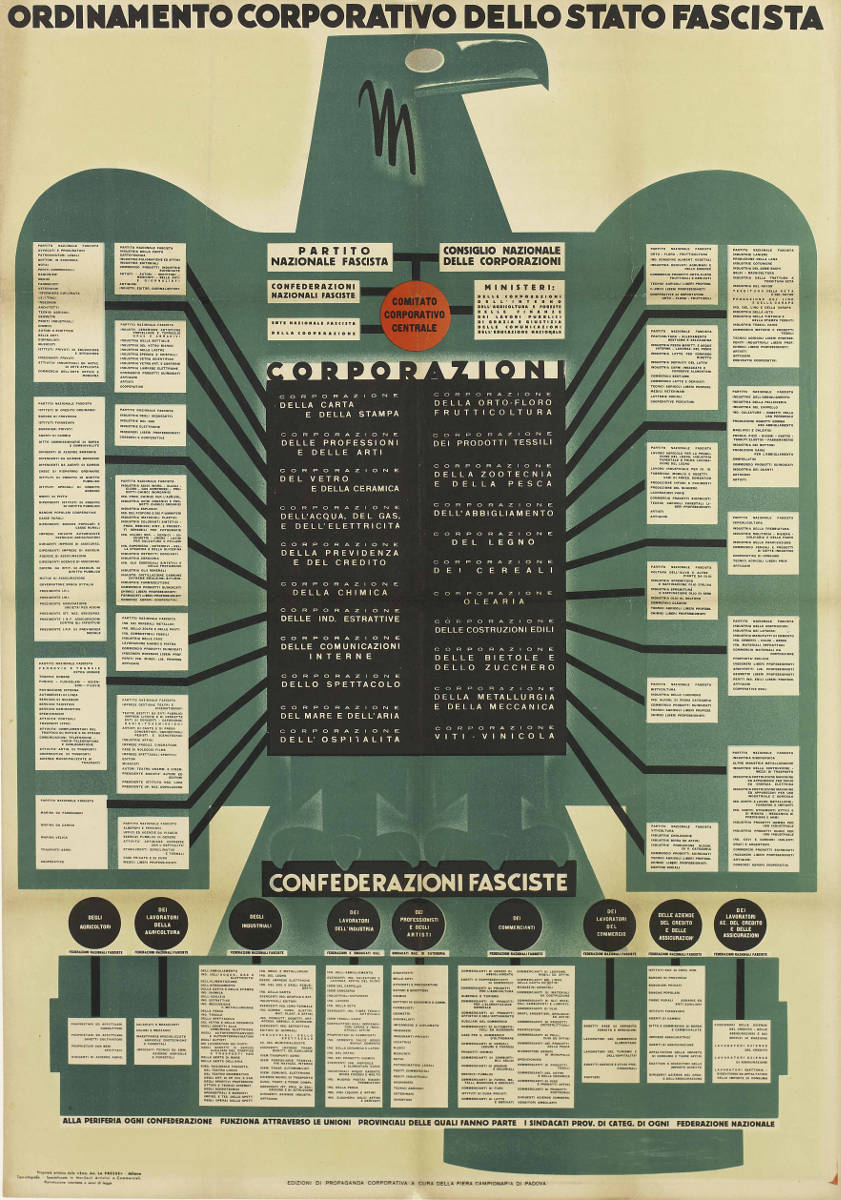 [FASCISM.]
Ordinamento Corporativo dello Stato Fascista.
Padua, Edizione di propaganda corporative, 1935.
Lithograph in colour, 31 1/2 x 43 1/2 in (80 x 110 cm); minor restoration to central creases and small tears; linen backed, very fine.
£2500

Approximately:
US $3440
€2813
Italian Fascism primarily followed the economic model of corporatism to organise capital and labour interest groups into trade unions and employer associations such as agriculture, industry, commercial trade, professionals and artists, as well as banks and credit associations. These trade associations represented the interests of their profession at all levels, thus in theory alleviating pressures between social classes and maximising production. In this model, the economy was managed nationally by non-elected employers, workers and civil servants.

The political side of Fascist Corporatism enabled Mussolini's goal to create a community with a strong collective identity that was both nationalistic and industrious. Mussolini promoted the idea that a corporatist state would help to further individual interests, arguing that they would be strengthened by inclusion within a group, or trade union. In fact, fascist corporatism offered perks to loyal supporters while seeking to subdue labour movements and punish political dissidents.
You may also be interested in...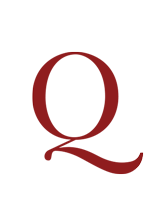 BOTERO, Giovanni.
Della ragione di stato, libri dieci. Con tre libri delle cause della grandezza della città ... Di nuouo in questa impressione, mutati alcuni luoghi dall'istesso autore, & accresciuti di diuersi discorsi. Con due tauole ... Venice, Gioliti, 1598.


Aggiunte di Gio. Botero benese. Alla sua ragion di stato, nelle quali si tratta dell'eccellenze de gli antichi capitani, della neutralità, della riputatione, dell'agilità delle forze, della fortificatione. Con vna relatione del mare. Venice, Giovanni Battista Ciotti, 1598.
The second Gioliti edition of Botero's neglected masterpiece in the history of economics, first published in 1589, bound with the first Venice edition of the Aggiunte. Of the first work, Schumpeter writes: 'Divested of nonessentials, the "Malthusian" Principle of Population sprang fully developed from the brain of Botero in 1589: populations tend to increase, beyond any assignable limit, to the full extent made possible by human fecundity (the virtus generativa of the Latin translation); the means of subsistence, on the contrary, and the possibilities of increasing them (the virtus nutritiva) are definitely limited and therefore impose a limit on that increase, the only one there is; this limit asserts itself through want, which will induce people to refrain from marrying (Malthus' negative check, prudential check, "moral restraint") unless numbers are periodically reduced by wars, pestilence, and so on (Malthus' positive check). This path-breaking performance – the only performance in the whole history of the theory of population to deserve any credit at all – came much before the time in which its message could have spread: it was practically lost in the populationist wave of the seventeenth century. But about two hundred years after Botero [1540–1617], Malthus really did no more than repeat it, except that he adopted particular mathematical laws for the operation of the virtus generativa and the virtus nutritiva: population was to increase "in geometric ratio or progression"' (Schumpeter, History of Economic Analysis, pp. 254–5).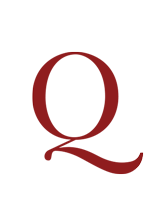 [LONDON ASSURANCE CORPORATION.]
By-laws, orders, and rules, for the good government of the corporation of the London assurance. And, for the better carrying on their business of assurances of ships and merchandizes at sea, and going to sea, and lending money upon bottomree. And also, for assurance of houses and goods from casualties by fire; and assuring lives.
First edition of the by-laws of the London Assurance Corporation, which, along with The Royal Exchange Assurance Corporation, was constituted and granted sole rights, excepting private individuals, to the granting of assurance and bottomry by 'The Bubble Act' of 1720. The right to self-govern, reflected in the pamphlet offered here, was also granted in 'The Bubble Act' of 1720 which specified that after three years of control by Crown-appointed governors and directors, the members of the corporation would be free to set their own by-laws and elect their own leadership. The by-laws cover use of the company seals, company cash, the price of share transfers, registering probates of wills, making receipts and payments, company elections, absentee directors, directors taking 'presents, fees, or rewards', officers or servants taking 'unwarrantable fees', procedure for questions asked in general courts, procedure for addressing questions, the penalty for breaking the by-laws, and the yearly salary of governors and directors.