PRE-COLUMBIAN ART& HIERONYMUS BOSCH
GUEVARA, Felipe de.
Comentarios de la pintura … se publican por la primera vez con un discurso preliminar y algunas notas de don Antonio Ponz …
Madrid, por Don Geronimo Ortega, hijos de Ibarra Y compania, 1788.
8vo, pp. [2], xiv, 254, a fine copy in contemporary Spanish red morocco, triple gilt fillet border on covers, flat modestly gilt spine divided into compartments and blue label, gilt edges.
£1750

Approximately:
US $0
€0
First edition of one of the earliest Spanish treatises on painting, containing the earliest criticism of pre-Columbian art, and the earliest reference to Bosch. Guevara writes extensively about the contributions that the Americas made to art and painting (without ever denigrating it), such as the introduction of specific colours and the novel idea of feather painting. The treatise is also important as an early study on the Flemish school, especially Bosch. The work was originally written in 1560 but remained unpublished until the manuscript was rediscovered by Antonio Ponz Piquer (1725-92) who published it with an introduction for the first time in 1788.

In 1535 Guevara accompanied Charles V on his successful campaign to recapture Tunis and was particularly fascinated by the Flemish artist Jan de Vermeyn who recorded the whole enterprise in paint. Later Guevara travelled to Italy and looked at art and started buying paintings. Felipe de Guevara (1500-1563) assembled an important collection of paintings, especially of the Italian school boasting a Michelangelo and Raphael among his possessions, and the Flemish school. He was very interested in the artist Hieronymus Bosch, owning several of his pictures. King Philip II of Spain acquired these Bosch pictures from the Guevara collection in 1570; they are now in the Prado.

Palau 110413; Cicognara 138.


You may also be interested in...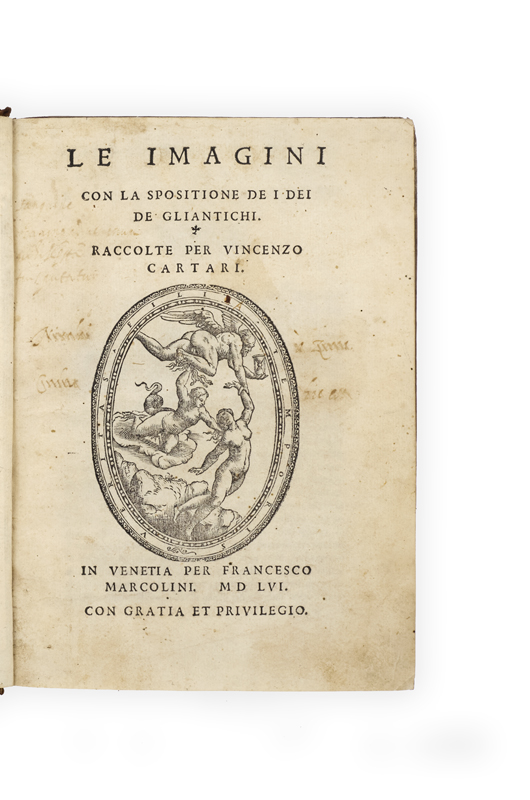 CARTARI, Vincenzo.
Le imagini con la spositione de i dei de gli antichi.
First edition of Cartari's influential and successful treatise on the mythology of the ancients. Cartari concentrated on the iconography of the gods, explaining their guises and detailing their several attributes. His book was expressively written to aid artists, painters and sculptors, to understand and chose subject matters (see the publisher's preface, f. 3). The book was an immense success, it went through numerous editions, some illustrated, and was translated into many languages, including English in 1599. It became the iconographic handbook of painters throughout Europe for the next 250 years.
[BOLOGNA]
Descrizione e spiegazione della misteriosa figura. In occasione del santo solenne sepolcro rappresentata nella Chiesa Parrocchiale di S. Caterina Vergine e Martire, detta di Saragozza., quest'anno 1719, gli 6. Aprile.
Scarce ephemeral guide to the decorations, paintings and statuary put on for the Easter pageant on 6 April 1719 (Maundy Thursday) in the Santa Catarina church in Bologna. The pamphlet is interestingly detailed in describing the art works displayed, their iconographical meaning, their textual sources, where they were placed in the church, the names of the participating artists (Natalino Peruzzi, Giovanni Martino Concelmani, and Paolo and Lodovico Amici), and the text of inscriptions mounted inside and outside of the church.