HEADLAND, Robert Keith.
A Chronology of Antarctic Exploration: A synopsis of events and activities from the earliest times until the International Polar Years, 2007–09.
[London], Quaritch, 2009.
Folio (300 x 210 mm), pp. 722; blue cloth; dust-jacket.
£110

Approximately:
US $147
€124
A historical chronology of all Antarctic regions compiled during 25 years at the Scott Polar Research Institute, University of Cambridge, by its former Archivist. This book lists the voyages to the far southern parts of the Earth, in particular to Antarctica, from those directly engaged in exploration and research, to sealers and whalers exploiting its resources, to those accidental discoveries made by early merchants blown off course. The record begins in 700 BC and continues to the present. Detailed entries for expeditions and related historical events provide a thorough and useful guide to the history of the Antarctic and its surrounding territories. A comprehensive introduction describes its evolution and structure. Maps and plates are included to show the development of knowledge of the far south, the locations of places mentioned in the text, and events of several selected expeditions.

ISBN 978-0-9550852-8-4

You may also be interested in...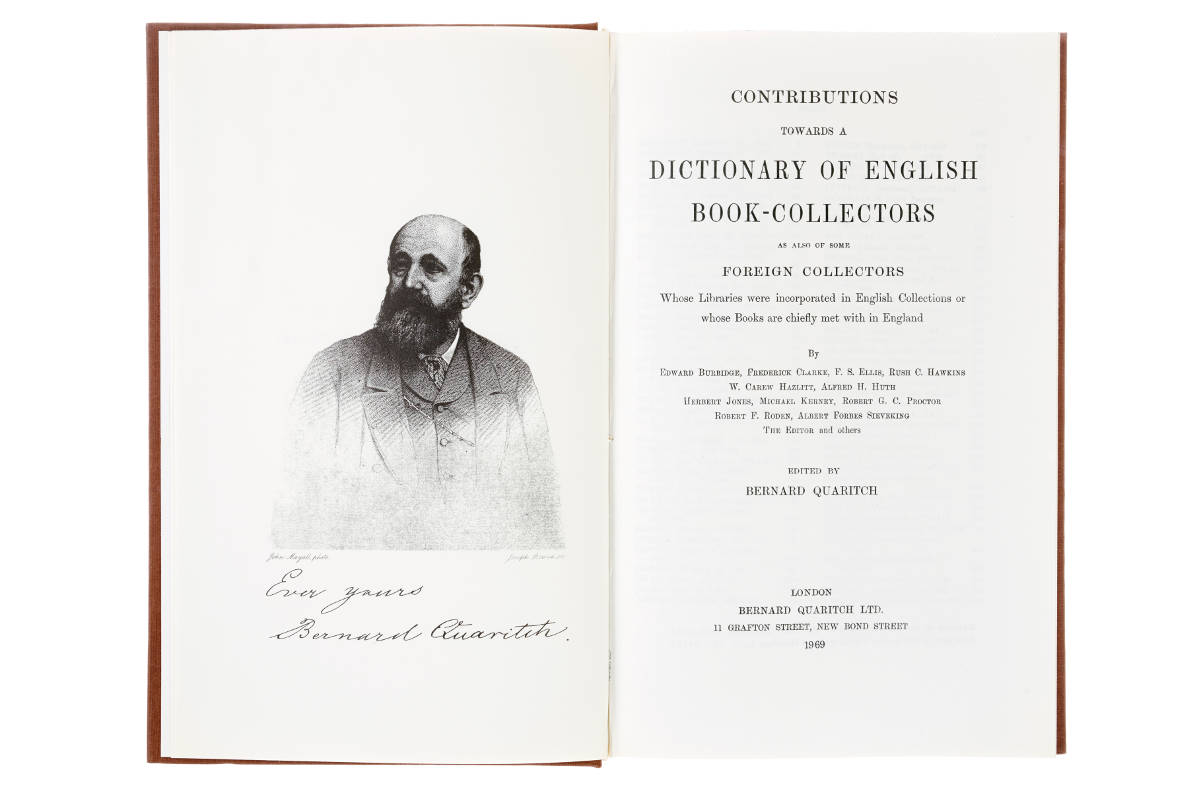 QUARITCH, Bernard Alexander Christian, editor.
Contributions towards a Dictionary of English Book-Collectors as also of some Foreign Collectors whose Libraries were Incorporated in English Collections or whose Books are Chiefly Met with in England.
A facsimile reprint of Quaritch's series of profiles of bibliophiles, with brief lists of the treasures of their collections and notes on their dispersal at auction or in the trade, which remains a useful resource both for the history of book-collecting in Britain and for provenance research. Contributions towards a Dictionary of English Book-Collectors was originally published in fascicules between 1892 and 1921, and the contributors included F.S. Ellis, W. Carew Hazlitt, Alfred H. Huth and Robert C.G. Proctor – however, as Arthur Freeman states in his biography of Quaritch in the ODNB, Quaritch's contributions were 'largely ghost-written'.
AUVERMANN, Detlev, and Anthony PAYNE.
The Society of Jesus 1548–1773.
This is a catalogue of books by Jesuit authors and works relating to the Society of Jesus published between 1548, when Ignatius of Loyola's Spiritual Exercises was first printed, and 1773, when the Society was suppressed. It includes an historical introduction by Alastair Hamilton, Arcadian Visiting Research Professor, Warburg Institute, University of London. Originally issued as our Catalogue 1226 in 1996, The Society of Jesus has been unobtainable for many years and has become sought after as a reference work. To meet this demand it has now been reprinted, in hardback, in an edition of 200 copies.