UNPUBLISHED GERMAN LECTURE NOTES BY 'ONE OF THE MOST EMINENT OF GERMAN ECONOMISTS AND STATISTICIAN
HERMANN, Friedrich Benedict Wilhelm von (1795-1868), German economist and statistician.
Manuscript lecture notes entitled 'National-Oeconomie unter Hinweisung auf seine Schrift "Staatswirthschaftliche Untersuchungen" München 1832 vorgetragen von Professor Dr Herrmann', made by Rudolf Dietz.
Munich, summer 1835 (dated 20 August 1835 at the end).
4to volume of manuscript lecture notes in ink, ff. [99, including 4 blanks]; well-preserved in contemporary German patterned paper boards, spine with gilt-stamped red paper lettering-piece and ruled in gilt, all edges red; extremities a little worn.
£2200

Approximately:
US $2815
€2517
An unpublished manuscript constituting an important source for the development of Hermann's progressive economic theories between the two editions of his influential work Staatswirthschaftliche Untersuchungen (Investigations into political economy). First published in 1832, the Untersuchungen established Hermann's reputation: 'The book was organized around the simple but appealing idea that all economic variables are the outcome of the forces of demand and supply, so that economic analysis consists essentially of an investigation of the factors lying behind demand and supply ... Together with Rau, Hermann thereby laid the foundations on which Mangoldt and Thünen were soon to build a German brand of classical economics. No wonder Marshall much admired "Hermann's brilliant genius" and frequently quoted Hermann's treatise in his own Principles of Economics' (New Palgrave). Throughout his career Hermann updated and revised the contents of the Untersuchungen, at the end of his life dictating to his son the alterations to the second, enlarged edition, which appeared in 1870.

This manuscript records lectures given by Hermann at Munich University in the summer of 1835 loosely based on, and referring to his Untersuchungen. The notes belonged to Rudolf Dietz (1814-1870), who studied at Heidelberg before moving to Munich. Before him lay a high-flying career as civil servant and advisor to the government of Baden. The lecture notes expand on Hermann's great work, differing considerably in their organisation and details, and occasionally simply referring the reader to chapters of the printed text.
You may also be interested in...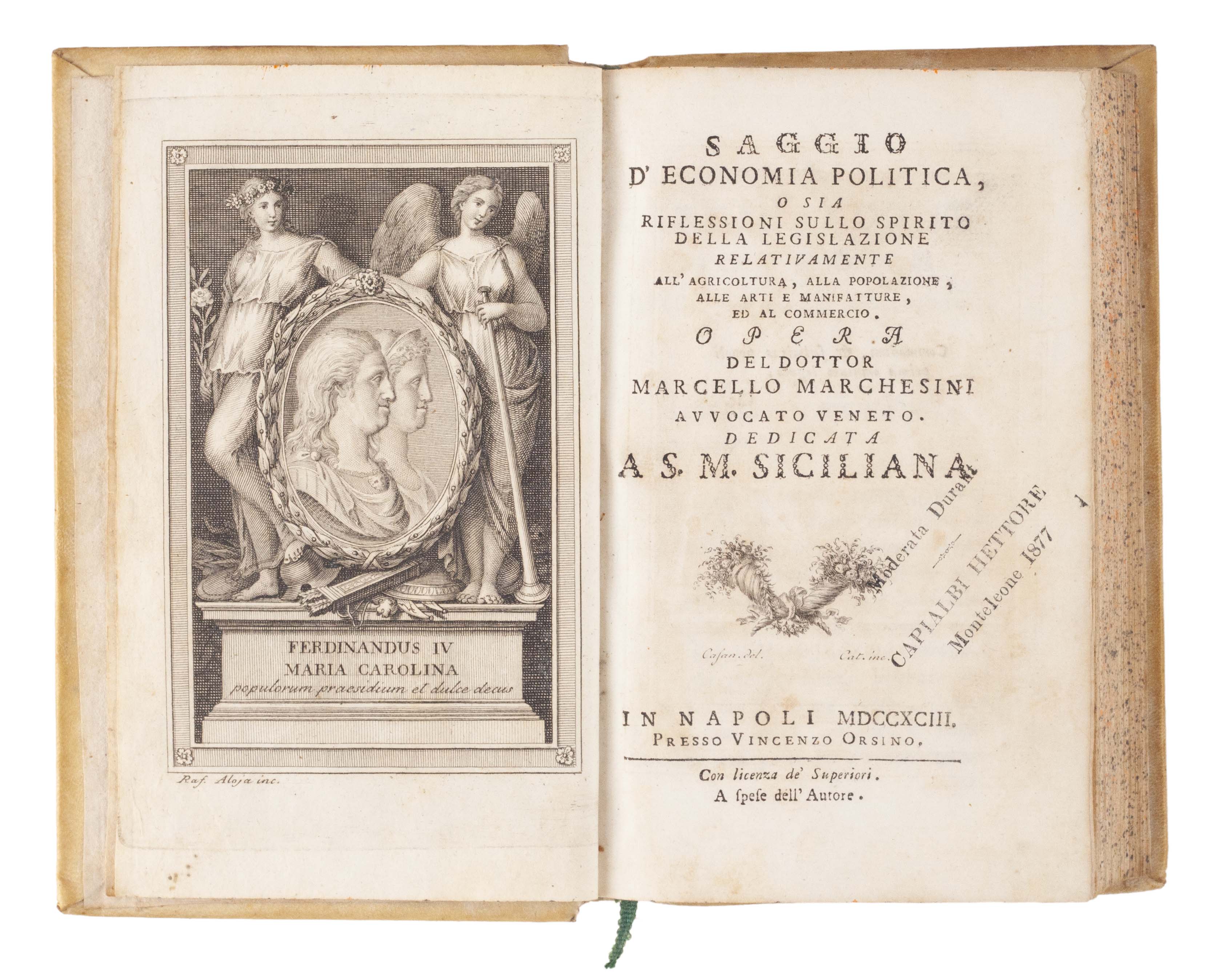 A 'SPIRIT OF THE LAW' FOR ECONOMICS MARCHESINI, Marcello.
Saggio d'economia politica; o sia, Riflessioni sullo spirito della legislazione relativamente all'agricoltura, alla popolazione, alle arti e manifatture, ed al commercio.
Very rare first and only edition of a book on economic and social policy by Marcello Marchesini, a scholar from Istria who, having been trained in Venice, took the chair of Political Economy in Naples after Genovesi. Marchesini declares in the title that his book should be regarded as a 'Spirit of the law as it concerns agriculture, population, the arts and manufactures, and trade'. It must be the aim of all monarchs, he writes, to build a legislation which favours the 'sources of the wealth of a nation': a detailed program of enlightened agricultural policies of modernisation (agriculture being the foremost and primary source of a nation's wealth), of incentive to industry and of free trade. Marchesini's political outlook recoils from the 'excesses' of contemporary French revolutionary antimonarchism, as the dedication to King Ferdinand implies. His is a mature, little-known work embedding the most modern economic notions within the political framework of enlightened absolutism.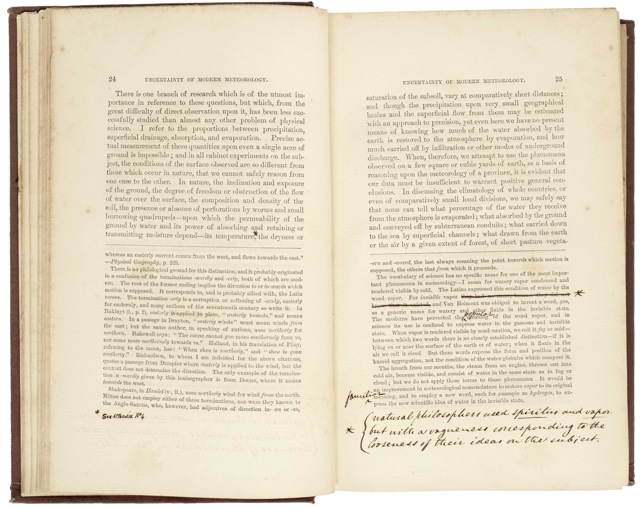 THE FIRST MODERN WORK ON ECOLOGYA COPY WITH MANUSCRIPT AUTHORIAL CORRECTIONS MARSH, George.
The earth as modified by human action.
First edition thus (a previous version had been published ten years earlier under the title Man and Nature) of the first modern discussion of ecology and environmental issues. This copy bears several authorial manuscript corrections. A revised edition was posthumously published in 1885.