THE FORMATION OF A RADICAL
HOLCROFT, Thomas.
The Adventures of Hugh Trevor …
London: Printed for Shepperson and Reynolds 1794 [Vols. 4-6: London: Printed for G. G. and J. Robinson … 1797].
6 vols. in 3, 12mo., lacking the half titles, vols. 2, 4, and 6 bound without title pages, but with the rare terminal leaf (L6) in vol. 3 announcing the continuation of the novel ('The remainder of the work will shortly appear'); contemporary sprinkled calf, spines dry and rubbed, spines of vols. 1 and 6 cracked, scuff marks to back board of vol. 3 and front board of vol. 2, back board of vol. 1 working loose, otherwise a good copy.
£1000

Approximately:
US $1337
€1133
First edition of one of the cardinal novels of the Godwinian school, by an author equal to Godwin 'in influencing young intellectuals ...' (Gary Kelly, The English Jacobin Novel 1780-1805, 1976, p. 167).

While Godwin exploited the psychological mode of fiction, Holcroft turned to the picaresque. Hugh Trevor is a fictional account of the making of a philosophical radical. 'In the ... early chapters, if not beyond, [Holcroft] is manifestly relating something very like his own adventures' (Baker). As cobbler, stableboy, prompter, itinerant actor, dramatist, translator, radical thinker, and novelist, Holcroft's life certainly provided enough biographical experience. Along the way, the systems of the state – higher education, law, church, government – come under earnest scrutiny.

Very scarce, particularly in first edition throughout. Publication of the two halves was interrupted in 1794 when Holcroft was indicted for high treason for his revolutionary activities. Perhaps for this reason there is a change of tone in the second half, which is 'more philosophical and less confident of ultimate truths'. Hugh gradually abandons his naturally impulsive temperament. His 'earlier determination to revenge himself on his persecutors, Lord Idford, the bishop, and the president of his Oxford college, is changed to pity when he sees Idford ruined by electioneering, and the bishop dying from a lifetime of gluttony ...'

Colby, Bibliography of Thomas Holcroft, p. 70 (and it is to be noted that Colby had not encountered any copy with leaf L6 in volume III announcing the continuation in further volumes).

You may also be interested in...
THE RARE SEVENTH EDITION MASON, C.
The Ladies' Assistant for Regulating and Supplying the Table; being a Complete System of Cookery, &c. … Originally Published from the Manuscript Collection of Mrs. Charlotte Mason … The Seventh Edition, Enlarged, Corrected, and Improved to the Present Time.
Seventh edition. Published twenty years after its first appearance, this edition of Charlotte Mason's The Ladies' Assistant includes the Appendix to Mrs. Mason's Cookery, &c. which had first been printed at the same time as the third edition of 1777.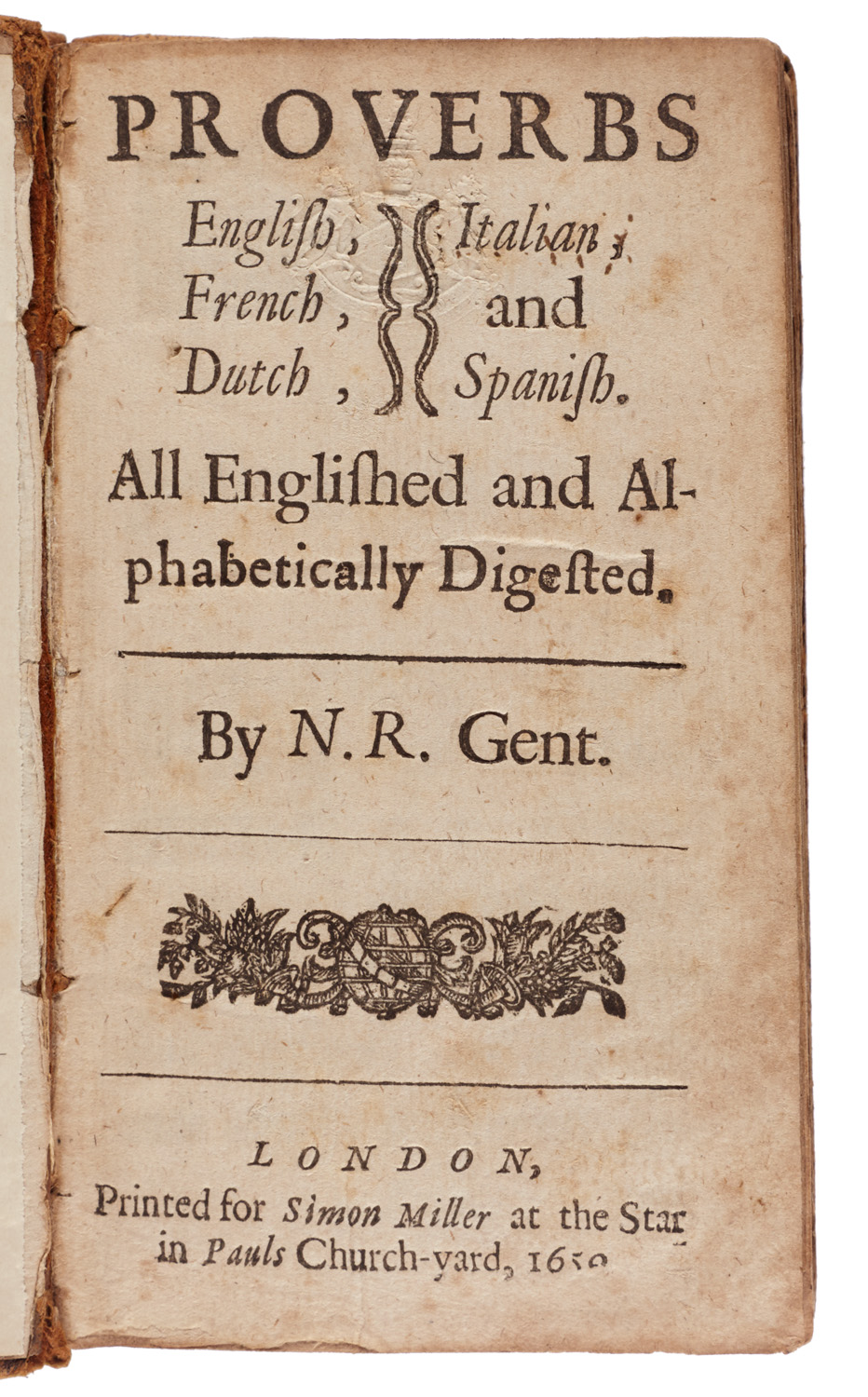 A ROULING STONE GATHERS NO MOSSE R., N.
Proverbs English, French, Dutch, Italian and Spanish. All Englished and alphabetically digested …
First and only edition of a scarce collection of idiomatic phrases and proverbs, many translated from other languages, with a selection of 114 'Golden sentences' at the end.