LABORDE, Ernest.
Vieilles maisons boutiques & paysages de Paris. Eaux fortes originales de Ernest Laborde. Presentées par Gustave Geffroy de l'Academie Goncourt.
Paris, Jules Meynial, 1918 [1919].
Large folio, pp. [8], plus 42 leaves of etchings on a pale yellow ground (various sizes up to 188 x 260mm, though generally smaller), including two index plates; one plate-leaf slightly browned, else a fine copy, uncut, loose leaves as issued, in a modern portfolio; each plate numbered in pencil 4/90.
£3250

Approximately:
US $4508
€3684
First edition, very rare: two series of 20 etchings each on the most picturesque houses and shops in Paris, produced 1911-1918 by Ernest Laborde (1870-1935).

Not in OCLC, COPAC, KvK or CCF, and very scarce on the market. We have traced a copy at the Bibliothèque historique de la ville de Paris only, plus a few holdings of individual etchings.
You may also be interested in...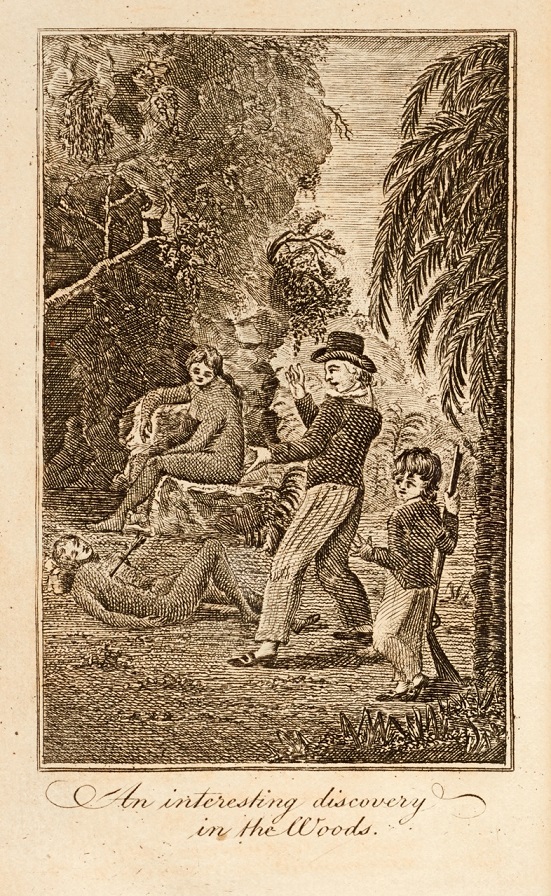 'A WELL-WRITTEN ACCOUNT OF THIS VERY SINGULAR COLONY' OR 'A SERIES OF ACTS OF FABRICATION, INT BARRINGTON, George.
A Voyage to Botany Bay with a Description of the Country, Manners, Customs, Religion, &c. of the Natives by the Celebrated George Barrington. To which is Added his Life and Trial.
First and only combined edition, second issue. George Barrington was a 'genteel young Irishman known for his sartorial elegance, his command of the etiquette of romantic sensibility, and for his prowess at picking pockets' (Garvey p. 2). Born George Waldron in 1758 in County Kildare, Ireland, he left school 'following a violent quarrel in 1771 [when] he stabbed a schoolmate with a penknife and then absconded after a severe flogging, having stolen money and his headmaster's gold hunter watch' (ODNB). The young Waldron then joined a troupe of travelling players under the management of one John Price, who coached him as both an actor and a thief. It was at this point that the name 'Barrington' was chosen to connote an aristocratic and theatrical heritage. Shortly, the fascinating contrast between Barrington's charming demeanour and criminal activities drew the attention of the press and the public and, under the sobriquet the 'Prince of Pickpockets', he became a household name in Ireland and England. Numerous attempts were made to arrest and convict him but Barrington continually evaded punishment, safeguarded by his charisma and convincing protestations of innocence, and his exploits became legendary. However, in 1790 Barrington was finally arrested for the attempted theft of one Henry Hare Townsend's gold watch and chain, and sentenced to seven years' transportation.
FIRST ILLUSTRATED CAESAR PUBLISHED IN ITALY CAESAR.
Caii Julii Caesaris invictissimi i[m]peratoris co[m]mentaria seculor[um] iniuria antea difficilia et valde mendosa. Nunc primum a viro docto expolita et optime recognita. Additus de novo apostillis. Una cu[m] figuris suis locis apte dispositis. Nec non regulata tabula ...
A handsome copy of the first illustrated edition of Caesar's Commentaries published in Italy, adorned with charming half-page woodcuts at the opening of the De bello Gallico and De bello civili and with smaller vignette cuts at the beginning of each book. Describing Caesar's campaigns in Gaul from 58 to 52 BC, the Gallic War, written in lucid, unrhetorical Latin, is unique as a contemporary account of a foreign war by a Roman general. While more overtly political, the Civil War, Caesar's account of his clashes with Pompey culminating in the battle of Pharsalus in 48 BC, is enlivened with touches of sardonic humour. This edition was edited by Lucas Panaetius 'Olchinensis', a scholar from Ulcinj, a town on the southern coast of Montenegro with close ties to Venice. Panaetius also edited works by Aristotle, Cicero, Plautus, Marsilio Ficino, and Girolamo Savonarola, which appeared in Venice in the 1510s and 1520s. The publisher of Panaetius's Caesar, Agostino Zani, illustrated the narrative with lively woodcuts reproduced from the landmark 1493 edition of Livy printed in Venice by Johannes Rubeus for Lucantonio Giunta – an interesting example of the recycling of illustrations among Venetian publishers of classical works at this time. The style of the woodcuts is what scholars now term the popular style of the 1490 Malermi Bible, characterised by lively, action-filled narrative scenes. Zani published another edition of Caesar, following the success of this one, in 1517.