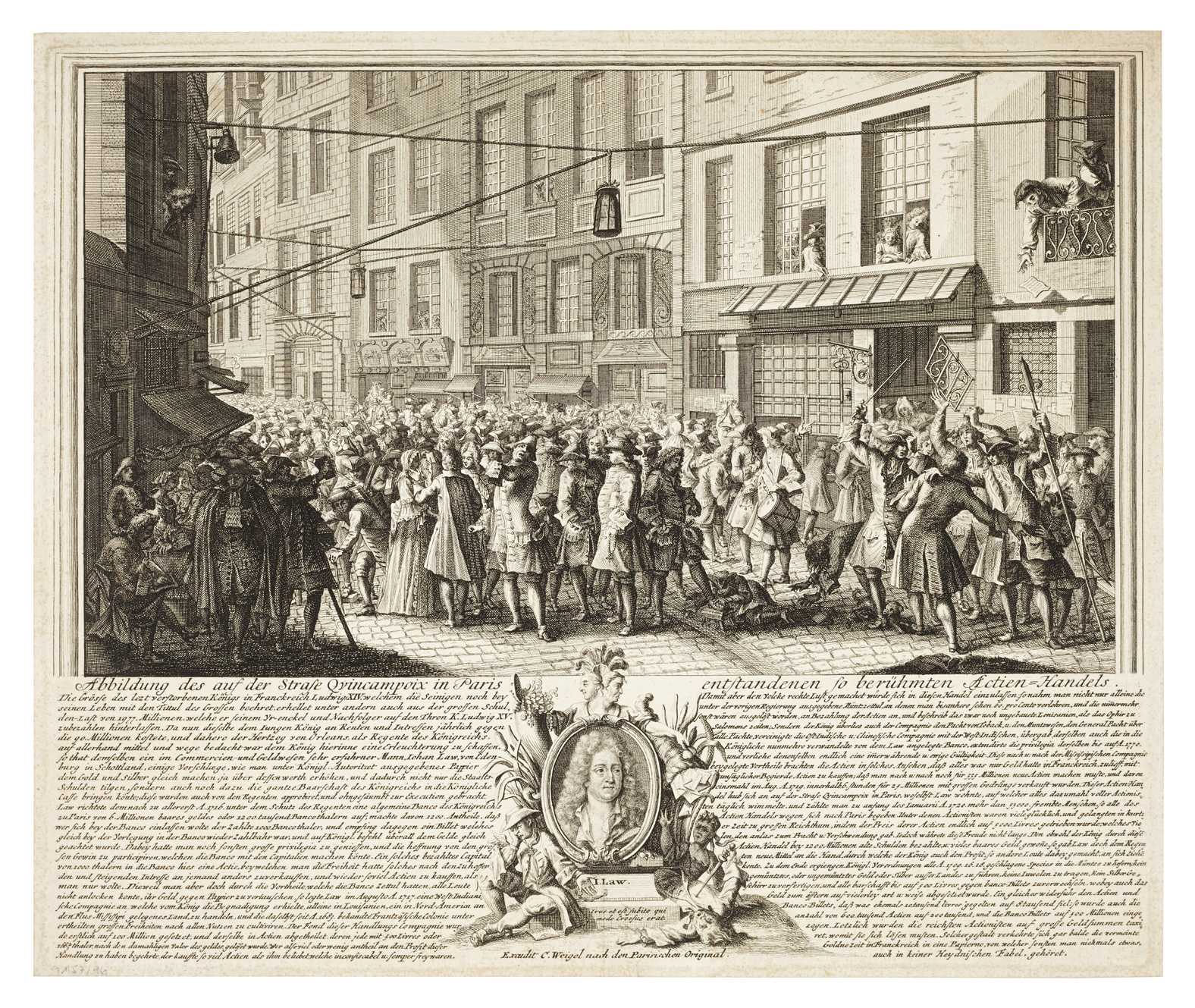 [LAW, John.]
Abbildung des auf der Strasse Quincampoix in Paris entstandenen so berühmten Actien-Handel. Excudit C. Weigel nach den Parisischen Original...
[1720.]
Line engraving, 40 x 33½ cm; a fine dark impression.
£1250

Approximately:
US $1672
€1416
This engraving is a German version of 'Rue Quinquempoix en l'Année 1720'(BM Catalogue 1655). It gives a view, in angular perspective, of the Rue Quinquempoix, Paris, with crowds of persons assembled there during the share mania of the Mississippi, South Sea, and other schemes which bubbled in the financial atmosphere created by John Law of Lauriston.

The title is engraved with a long German inscription divided into two parts by a medallion bust portrait in nearly full view, below inscribed I Law. To one side of the pedestal of this portrait a man appears to be chained, weeping bitterly; on the other side another man lies extended on the ground, in the act of stabbing himself with a dagger; a young woman sits near him in great distress. Above the medallion is a Janus head, the facial expressions of which are respectively happy and sad; a hand on the side of the former holds a cornucopia which is filled with jewels; another hand, on the side of the latter face, empties a cornucopia which contains bank notes marked '800,000', and '100, 000', &c.

The French version of this print is no. 31 in vol I. of 'Het Groote Tafereel der Dwaasheid', a collection of Dutch satires on the schemes of Law and his contemporaries, also published in 1720.

BM Catalogue 1656.
You may also be interested in...
THE IVANHOE BALL, AN ATTENDEE'S COPY [LAGARENNE, Félicité, artist].
[Costumes d'Ivanhoe au bal donné par ... le prince et princess d'Orange à Bruxelles, mercredi le 5 février 1823.]
First and only edition of a fine and rare suite of ten hand-coloured lithographs commemorating a ball inspired by Scott's Ivanhoe, held in Brussels on 5 February 1823 by the Prince and Princess of Orange in honour of the British community in that city. There were thirty-two guests at the ball, all attending in elaborate costume, and dancing a quadrille that became the talk of the town, and remained 'the principal topic of conversation at Brussels' several months later (The Repository of Arts, May 1823). According the printed programme, Lord Danlo was Ivanhoe, the Black Knight was played by Mr de Janti, and Mrs Berkley took the role of Rowena. Further down the list is Mrs Fielden (sic), as Alicia, wife of the Joseph Ffeilden who owned this copy – she can be seen on the left in Plate VII.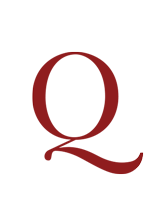 STEPNIAK, Sergius [pseudonym for: Sergius Mikhailovich Kravchinskii].
Podziemna Rosja. Obrazki z przeszłości młodej Rosji.
Extremely rare first edition in Polish, anonymously translated and printed in nowadays Ukraine, of Stepniak's most successful, translated and influential book.