[LAWRENCE, George Alfred].
Barren Honour. A Tale. By the Author of 'Guy Livingstone.' In two Volumes ...
London: Parker, Son, and Bourn ... 1862.
2 vols., 8vo., contemporary half green calf, spines gilt, morocco labels, occasional soiling but a very good copy.
£350

Approximately:
US $0
€0
First edition. Lawrence has been grouped with Kingsley and Hughes in the 'muscular' school of Victorian fiction with its sturdy heroes and Christian Socialism. Barren Honour is 'a study of magnificently chivalrous self-destruction' on the part of its hero Sir Alan Wyverne, 'a thoroughbred' although 'a very imperfect Christian'. Honour, for Wyverne, 'usurp[s] the place where Religion ought to have reigned paramount'. He dies in a luridly described shipwreck, holding the picture of the woman he loves (Sutherland). Wolff 3968.
You may also be interested in...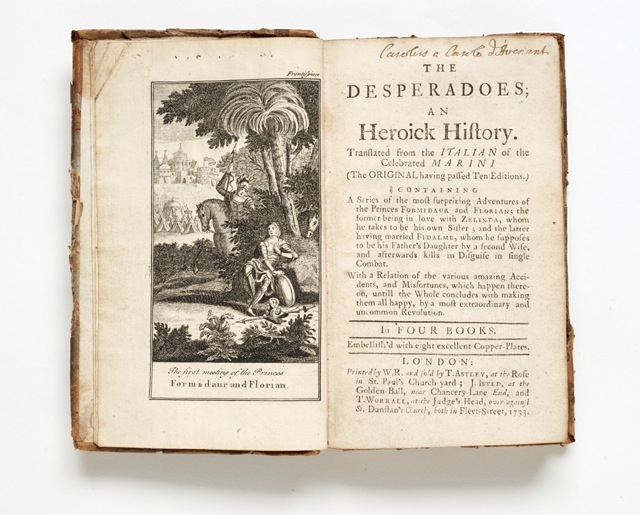 MARINI, Giovanni Ambrogio.
The Desperadoes; an heroick History. Translated from the Italian of the celebrated Marini (the Original having passed ten Editions.) Containing a Series of the most surprizing Adventures of the Princes Formidaur and Florian … In four Books. Embellish'd with eight excellent Copper-Plates.
First and only edition in English of Le gare de' disperati (1644), the second of three romances by Marini (1596-1668). Inevitably, 'It was necessary to omit many Things that were contrary to our Morals; to Decency, and to the Purity of the English Tongue …'. But the general scheme of events is the same as the original, and is outlined on the title-page: 'A Series of the most surprizing Adventures of the Princes Formidaur and Florian; the former being in love with Zelinda, whom he takes to be his own Sister; and the latter having married Fidalme, who he supposes to be his father's Daughter by a second Wife, and afterwards kills in Disguise in single Combat. With a Relation of the various amazing Accidents, and Misfortunes, which happen thereon, until the Whole concludes with making them all happy, by a most extraordinary and uncommon Revolution.'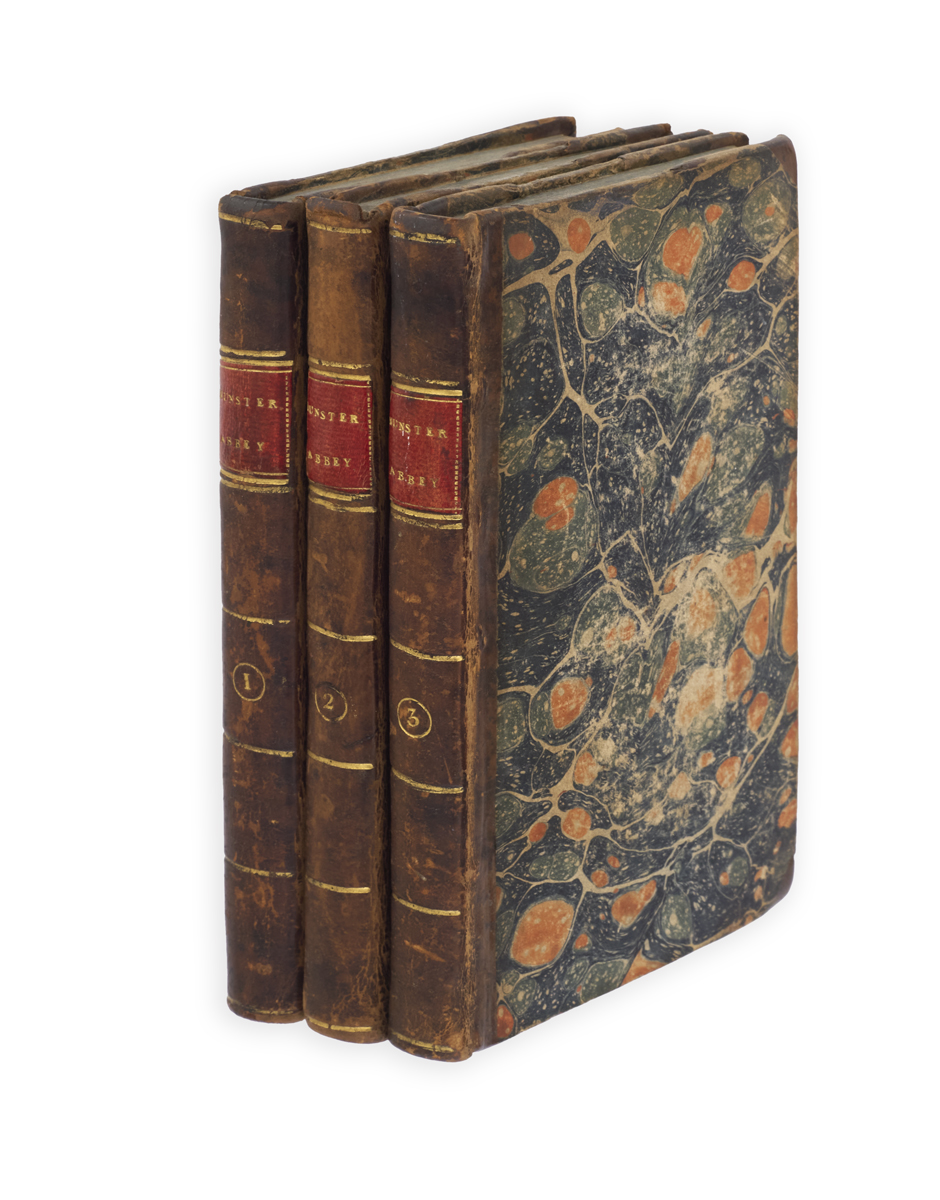 A SINGLE MAN POSSESSED OF A GOOD FORTUNE LEIGH, Sir Samuel Egerton.
Munster Abbey, a Romance; interspersed with Reflections on Virtue and Morality … in three Volumes …
First edition. Despite its 'Gothic' title this is a novel of contemporary high life in England and on the Grand Tour, avoiding 'extravagant descriptions of supernatural scenes and events'. Munster Abbey in Devon is the seat of the hero, Mr. Belford, a bachelor 'happily possessed of a fortune, ample as his wishes'. This was Leigh's only novel –– he died at 26 – assembled by his widow from her husband's 'scattered papers' and, the 'Advertisement' implies, possibly finished by her.