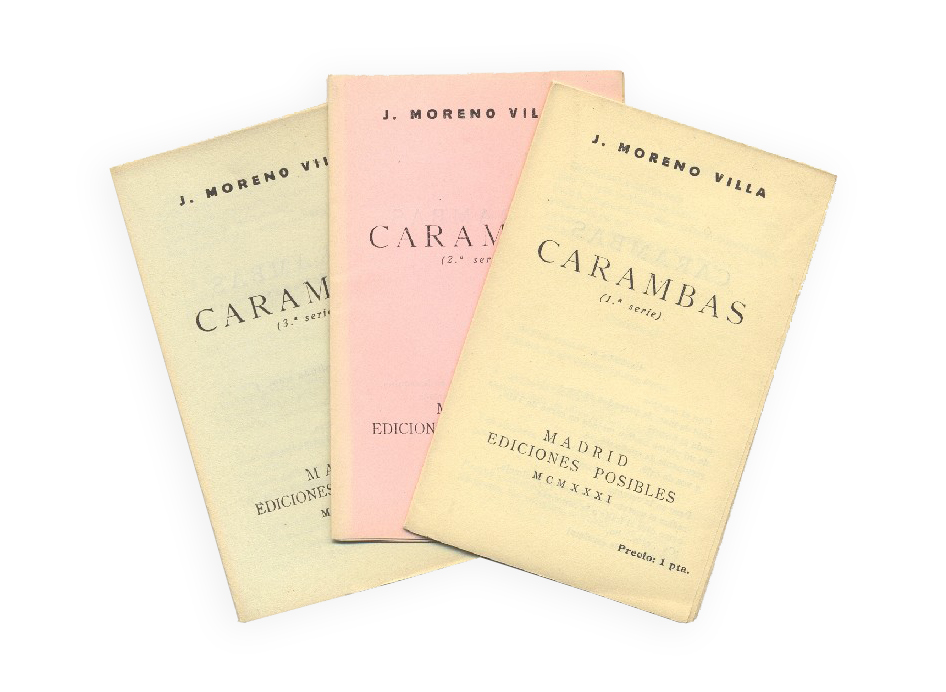 MORENO VILLA, José.
Carambas. (I.a serie [– 3.a serie]).
Madrid, Ediciones Posibles, 1931.
3 parts, 16mo, each part comprising 16 pp., i.e. one sheet folded, unstitched as issued; printed on cream (1a serie), pink (2a serie) and pale green (3a serie) paper; in excellent condition, in a folding cloth box.
£450

Approximately:
US $601
€509
First edition of the complete series of Moreno Villa's Carambas. The poet and art historian José Moreno Villa was born in Malaga in 1887 (d. 1955). He belonged to the poetic generation intermediate between that of '98 and that of '27; his major influence was Juan Ramón Jiménez. His autobiography Vida en claro (Mexico City, 1944) is especially interesting for his years in the Residencia de Estudiantes, 1917-37, where he came into contact with Lorca and others of the Generación del 27. He emigrated to Mexico in 1937.

OCLC shows copies at UC Berkeley, Wisconsin, Syracuse, British Library, Cambridge, and Augsburg.
You may also be interested in...
AKHMATOVA, Anna Andreevna.
Stikhotvoreniia [Poems].
First edition; the first post-Stalin collection of Akhmatova's poems to be published. It includes some of the poems from her suppressed collection of 1946, Poems 1909-1945, severely censored for this edition.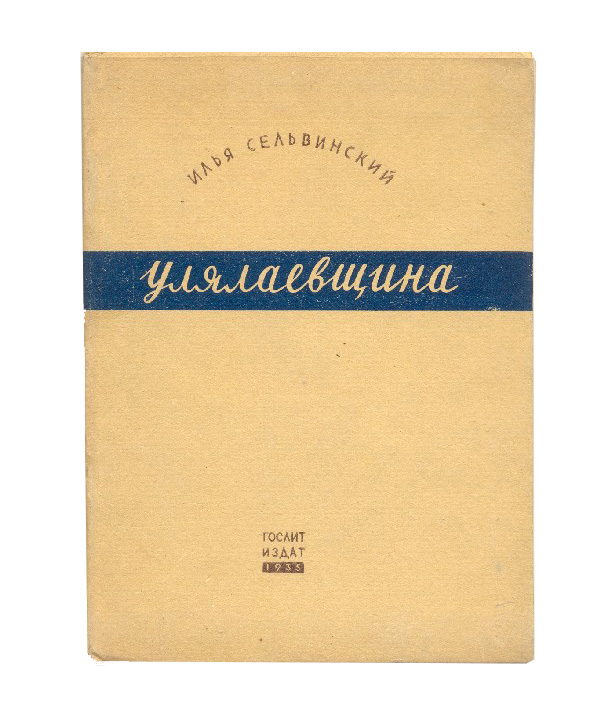 SEL'VINSKII, Il'ia Lvovich.
Ulialaevshchina: epopeia [The Ulialaev uprising: an epic].
Fourth edition (first, 1927) of Sel'vinskii's first and most successful verse epic. Ulialaevshchina describes the fortunes of a kulak, Ulialaev, 'who seized an estate from its pre-Revolutionary owner and was later defeated in an anarchist rebellion by the Red Army. Selvinsky's depictions are folkloric. The hero's wife, first taken from the landowner, is brutally murdered, her corpse dragged by a horse, and her head impaled on a spear by the Red commander. Ulialaev himself is shot and decapitated. In the 1950s this tale had to be rewritten, and its hero became Lenin' (Evelyn Bristol, A History of Russian Poetry, OUP, 1991, p. 255).