[ORAN.]
Diario distinto di tutto il seguito per la spedizione fatta d'ordine della maesta cattolica di Filippo V. Re delle Spagne della grande armata navale, e terrestre per la seguita conquista, e ricuperazione della piazza d'Orano in Affrica, e de' gloriosi progressi delle armi della maesta' sua contro gl'infedeli.
(Colophon:) Florence, Bernardo Paperini, 1732.
Small 4to (245 x 175 mm), pp. 8; lightly soiled; extremities frayed; stitched as issued.
£175

Approximately:
US $240
€196
A daily account in Italian from 20 June to 8 July 1732 of the Spanish capture of Oran. The Moroccan city had been governed by Spain since 1509 but had fallen into Ottoman hands in 1708. This 1732 invasion brought Oran once more under Spanish control, in which it remained until 1792.

Both Palau and Toda y Güell note that this is a translation from a Spanish edition published in Madrid earlier that year.

Palau 71836; Toda y Güell 1445. Not found in OCLC.


T2300
You may also be interested in...
GRIFFITHS, Anselm John.
Observations on some points of seamanship; with practical hints on naval oeconomy . . . The whole profits are for the benefit of the Royal Naval Charitable Society.
First edition. The Observations was written in 1811 when the author was captain of the Leonidas frigate and is based on his experience of a wartime navy during the Napoleonic Wars. 'As its title suggests, the book is mainly concerned with matters of seamanship but contains many notes on ship organisation . . . . The chapter on "Conduct of the ship's company" ranges over many issues and is perhaps the most humane and liberal of all the documents which have emerged from the period. Perhaps this is because the bitterness caused by the great wave of mutinies culminating in 1797 had died down and officers such as Griffiths were able to consider ways to keep up morale for the future. Certainly the book can be seen as part of a general humanisation of the Navy after about 1805, with many small reforms such as the abolition of running the gauntlet and starting and the regularisation of the position of the caplain on board ship' (Lavery, ed., Shipboard life and organisation 1731–1815, pp. 255–6).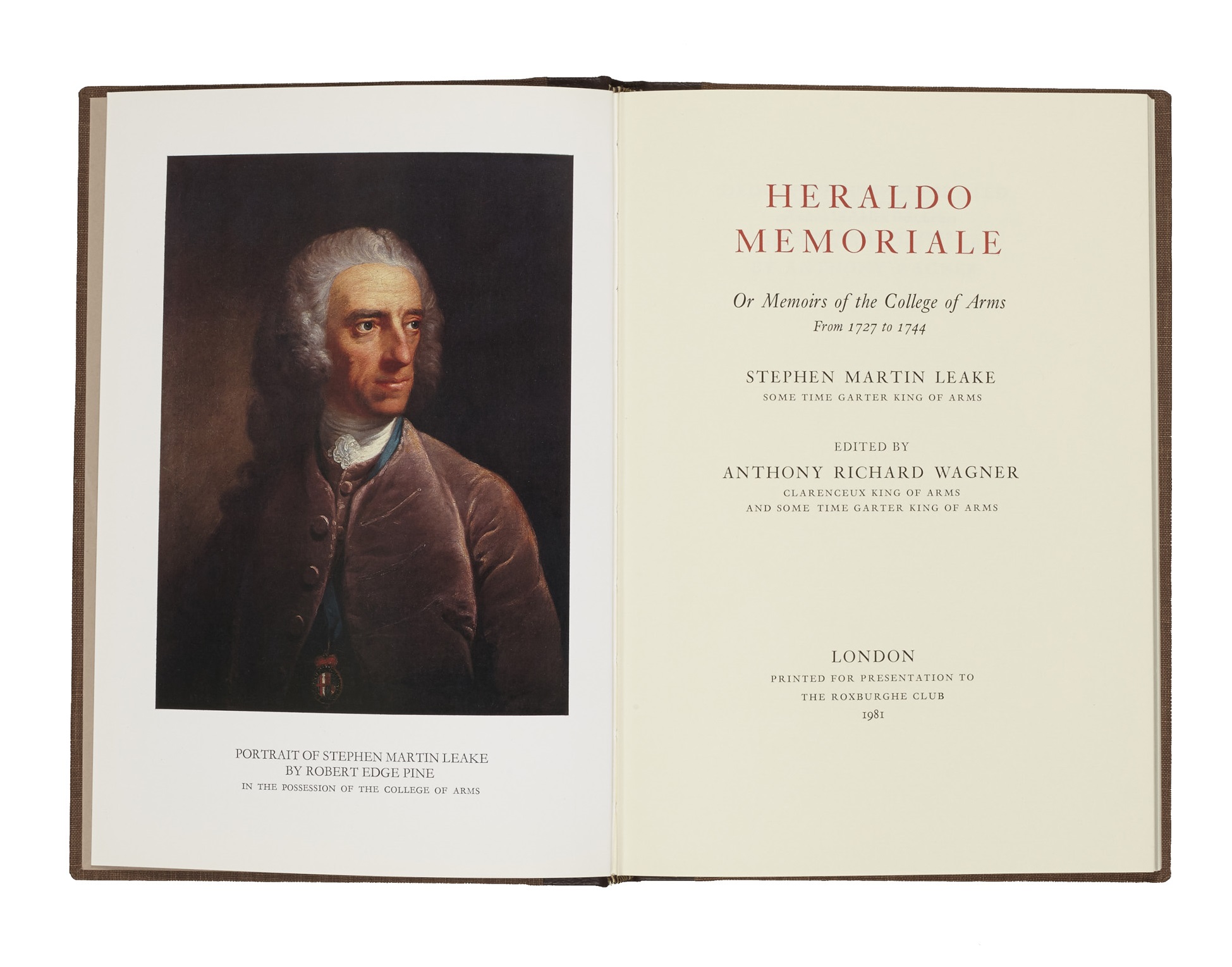 LEAKE, Stephen Martin.
Heraldo Memoriale, or Memoirs of the College of Arms from 1727 to 1744. Edited by Anthony Richard Wagner.
Stephen Martin Leake was Garter principal king of arms from 1754 to 1773. The three volumes of his extensive manuscript journal, Heraldo-Memoriale, are preserved in the College of Arms.