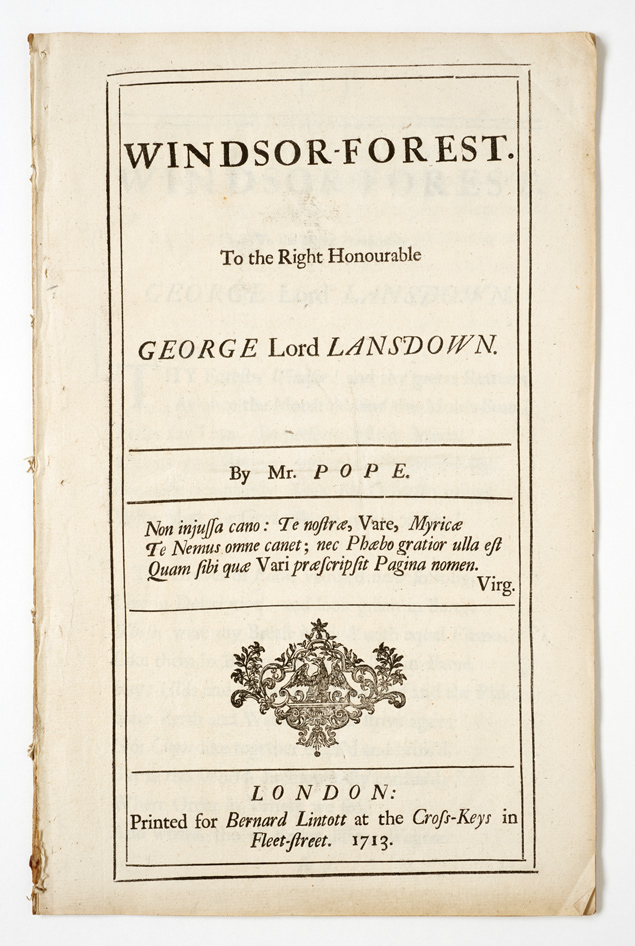 POPE, Alexander.
Windsor-Forest. To the Right Honourable George Lord Lansdown …
London: Printed for Bernard Lintott … 1713.
Folio, pp. [2], 18; slight spotting but a very good copy, disbound.
£2750

Approximately:
US $3674
€3122
First edition of Pope's second separately published poem, preceded by An Essay on Criticism in 1711. Written in the tradition that young poets begin with pastoral verse, Windsor-Forest, with its epigraph from Virgil's Eclogues, was the poem that first won Swift's regard and laid foundations for the 'most celebrated literary friendship of the earlier eighteenth century' (Oxford DNB).

The poem takes its title from the royal forest which surrounded the farming village of Binfield in Berkshire, where Pope lived from the age of eleven – anti-Catholic legislation had forced his family to leave London in 1692. 'Granted the idealization of the English countryside … the scenery it describes corresponds with remarkable accuracy to features actually present in the landscape' (Maynard Mack). Pope rescued the earlier, descriptive, section of the poem from his own juvenilia. The conclusion, with its vision of the peace that was hoped for following the Treaty of Utrecht, gives it a political dimension. The oaks of Windsor forest become a symbol of Englishness and, significantly for Pope, of the Stuarts. The prophecy that the trees will 'rush' bravely into the seas as new ships for naval conquests is a further endorsement for Queen Anne's reign. 'Non injussa cano' begins the epigraph, 'not without warrant I sing' (Virgil, Eclogues, vi.9): Pope's warrant for the concluding lines in particular was the encouragement of the dedicatee, the Tory statesman and poet, George Granville.

'Pope was aware that the treaty of Utrecht … was supposed to give Britain increased access to the slave trade. Yet his concluding vision explicitly includes abolition of slavery (ll. 407–12). Among scores of poems on the peace, Windsor-Forest appears to be the only one to mention actual (not metaphorical) slavery and oppose it' (Oxford DNB).

Foxon P987; Griffith 9; Rothschild 1567.
You may also be interested in...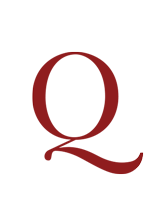 RARER THAN LUCASTA 1649 [LOVELACE, Richard.]
Lucasta. Posthume Poems …
First edition, a wholly different work from Lucasta 1649, published by the poet's brother Dudley Posthumus Lovelace, with 'Elegies sacred to the Memory of the Author' at the end.
CHRISTENING (The).
A satirical Poem. In which are contain'd the humorous Transactions, Speeches, and Behaviour of the Guests who were present at the Ceremony and Entertainment …
First edition of an amusing verse satire on a famous court scandal. In 1732 Anne Vane, mistress of Frederick, Prince of Wales, gave birth to a son. The child, Cornwall Fitz-Frederick, was acknowledged as his, perhaps only as an assertion of his independence from his parents, and paternity was contested by Lords Hervey and Harrington, both of whom had apparently shared Vane's bed. Ridicule from the press followed, with comic prints and several verse and prose satires – including several depicted on the bookshelf in the frontispiece.