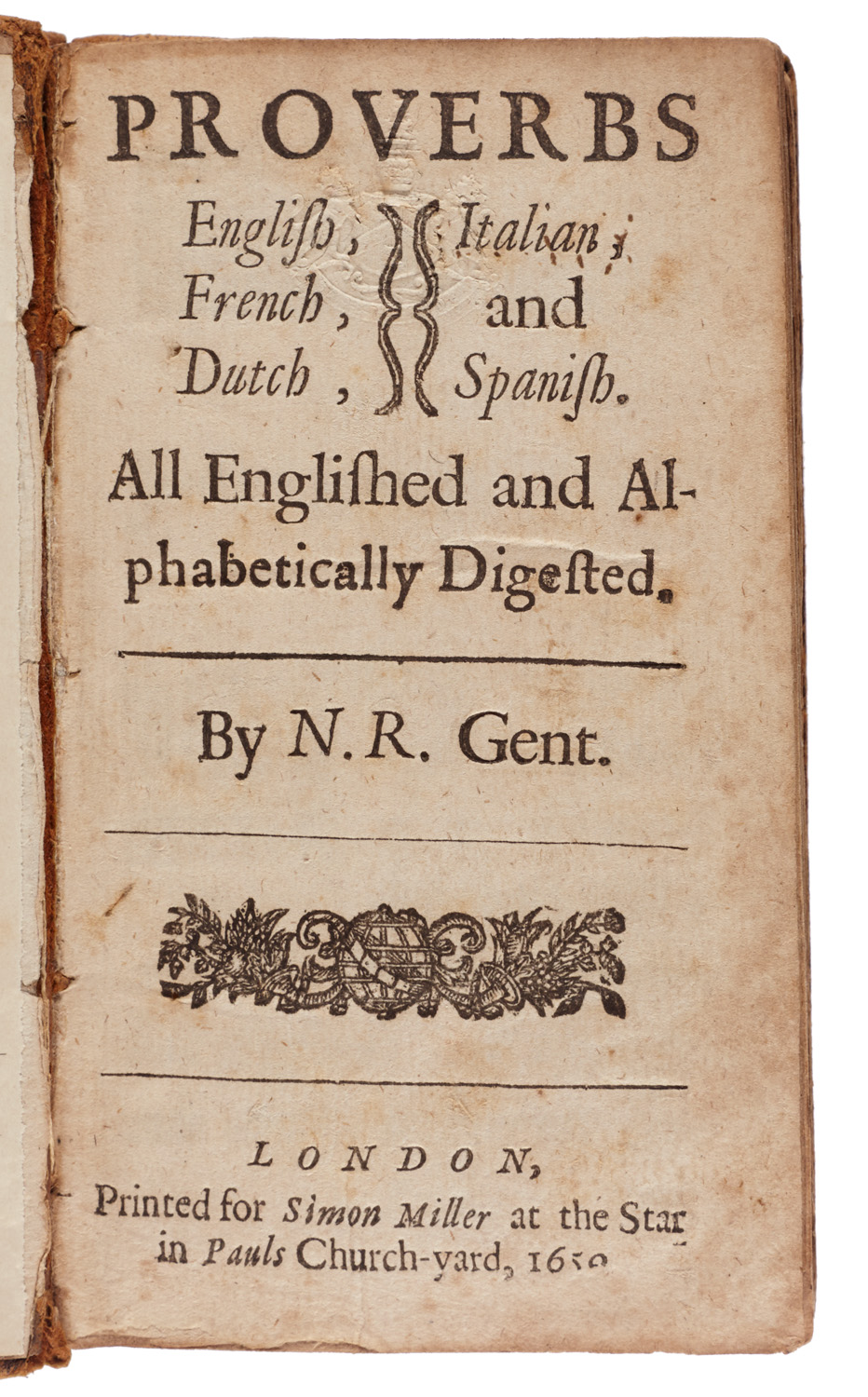 A ROULING STONE GATHERS NO MOSSE
R., N.
Proverbs English, French, Dutch, Italian and Spanish. All Englished and alphabetically digested …
London, Printed for Simon Miller … 1659.
12mo., pp. [8], 151, [1], [6, advertisements], wanting the terminal leaf (a longitudinal half-title) as often; printed flaw affecting '9' in the date of the imprint on the title-page, last leaf of advertisements adhered to endpaper, else a very good copy in contemporary sheep, rubbed; the Macclesfield copy, with blind-stamp and bookplate.
£1750

Approximately:
US $2340
€1982
First and only edition of a scarce collection of idiomatic phrases and proverbs, many translated from other languages, with a selection of 114 'Golden sentences' at the end.

The sources are wide-ranging – we note, for example, 'A dwarf on a giant's shoulders sees farther of the two', an older sentiment but here quoting directly from George Herbert's Jacula Prudentum, and 'A rouling stone gathers no Mosse' (presumably taken from Heywood's Proverbes). Age-old saws include 'A chip of the old block', 'I will not buy a pig in a poke', 'One swallow makes not a summer', and 'Ynough is as good as a Feast'. The golden sentences are more substantial, with attributions to Bacon, Plato, Henry Wotton.

ESTC lists eight copies: BL, Bodley; Staatsbibliothek Berlin; Harvard, Huntington, UCLA, Illinois, and Yale.

Wing R 56.
You may also be interested in...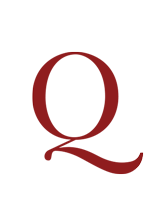 BALZAC, Jean-Louis Guez de.
Aristippus, or, Monsieur de Balsac's Masterpiece, being a Discourse concerning the Court … Englished by R.W.
First edition in English of Aristippe (1657), a treatise on wisdom in political administration dedicated to Queen Christina of Sweden, who was an admirer. Balzac was particularly reputed for the quality of his prose, seen as raising it to the same perfection as Malherbe did for French verse. At the end is an apposite extract from an earlier work, The elegant Combat (1634), comprising his conversations with Pierre du Moulin. Wing B 612.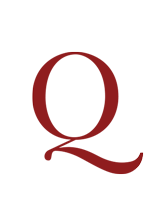 PLUNKET AND MACLAINE GENUINE ACCOUNT (A)
of the Life and Actions of James Maclean, Highwayman, to the Time of his Trial and receiving Sentence at the Old Bailey. Containing his Robberies, Gallantry at publick Places, with other remarkable Transactions. Together with some Account of Plunket his Companion.
First edition, the scarcer of two contemporary pamphlet biographies of the 'gentleman highwayman' James Maclaine (1724-1750). The son of a Scottish Presbyterian minister, Maclaine, having squandered an early inheritance and his wife's money, joined up with a down-at-luck apothecary, William Plunkett, to turn highwayman. The pair committed nearly twenty robberies in the next six months, masked and on horseback. Among their victims were Lord Eglington and Horace Walpole. Maclaine was finally apprehended in June 1750 – in his rooms were found, among other things, Lord Eglington's coat and blunderbuss, two pistols and twenty purses. Taken to the Gatehouse, Maclaine became the talk of the town, 'Numbers of Quality … crouding in upon him daily'. He was tried at the Old Bailey in September (his ill-considered defence is presented here on pages 25-31), and executed soon after. His skeleton makes an appearance in Hogarth's depiction of the Royal College of Physicians in The Four Stages of Cruelty (1751).