RABELAIS, François.
The Works … or the Lives, heroic Deeds and Sayings of Gargantua and Pantagruel. Done out of French by sir Tho. Urchard, Kt. and others. With a large Account of the Life and Works of the Author … Never before publish'd in any Language. [With:] The Second [–Third] Book … London, Printed for Richard Baldwin, 1694-1693. [and with:]
London, Printed for Richard Baldwin … 1694.
Four vols. in three, 12mo., pp. [8], clvi, [38], 230; viii, 9-208; [2], 430, [12]; [6], xiii, [4, erroneously paginated], xii-cxliv, [40], 272; wanting Book V (Wing R 104A); very good copies in uniform contemporary mottled calf, red morocco labels; nineteenth-century Levenside booklabels.
£1500

Approximately:
US $2068
€1684
First editions of Books 3 and 4, second (or third) edition of Books 1 and 2, evidently issued together, wanting Book 5 (also 1694, separately paginated). Urquhart's translation (of Books 1-3), completed by Motteux, has been called 'the finest translation ever made from one language into another' (Charles Whibley, Studies in Frankness 1898).

Books 1-2, translated by the eccentric Scot Thomas Urquhart, were first published in 1653, and the sheets reissued with a new title-page and an inserted Life of Rabelais in 1664. The present edition added a lengthy Preface by Motteux (pp. xli-clvi), 'wherein is given an Account of the Design and Nature of this Work and a Key to some of its most difficult Passages', as well as commendatory verses by e.g. Nahum Tate. Book 3, translated by Urquhart but not published in his lifetime, appeared here for the first time, again with a lengthy explanatory text by Motteux.

Though sets thus composed were evidently available (and were advertised in the Term Catalogue for Michaelmas 1694), they are rarely found complete, and all volumes are separately listed in Wing. Books 2 and 3 were popularly known as 'The Second Volume' and Books 4 and 5 as 'The Third Volume'. Even here, where the binding is contemporary, it was evidently bought in stages – a purchase note at the end of the Book 3 (i.e. the second volume) says '2 voll 10s'.

Wing R 104 and 109; R 110; and R 107; Pforzheimer 815 (Third Book) and 816 (Pantagruel's Voyage).
You may also be interested in...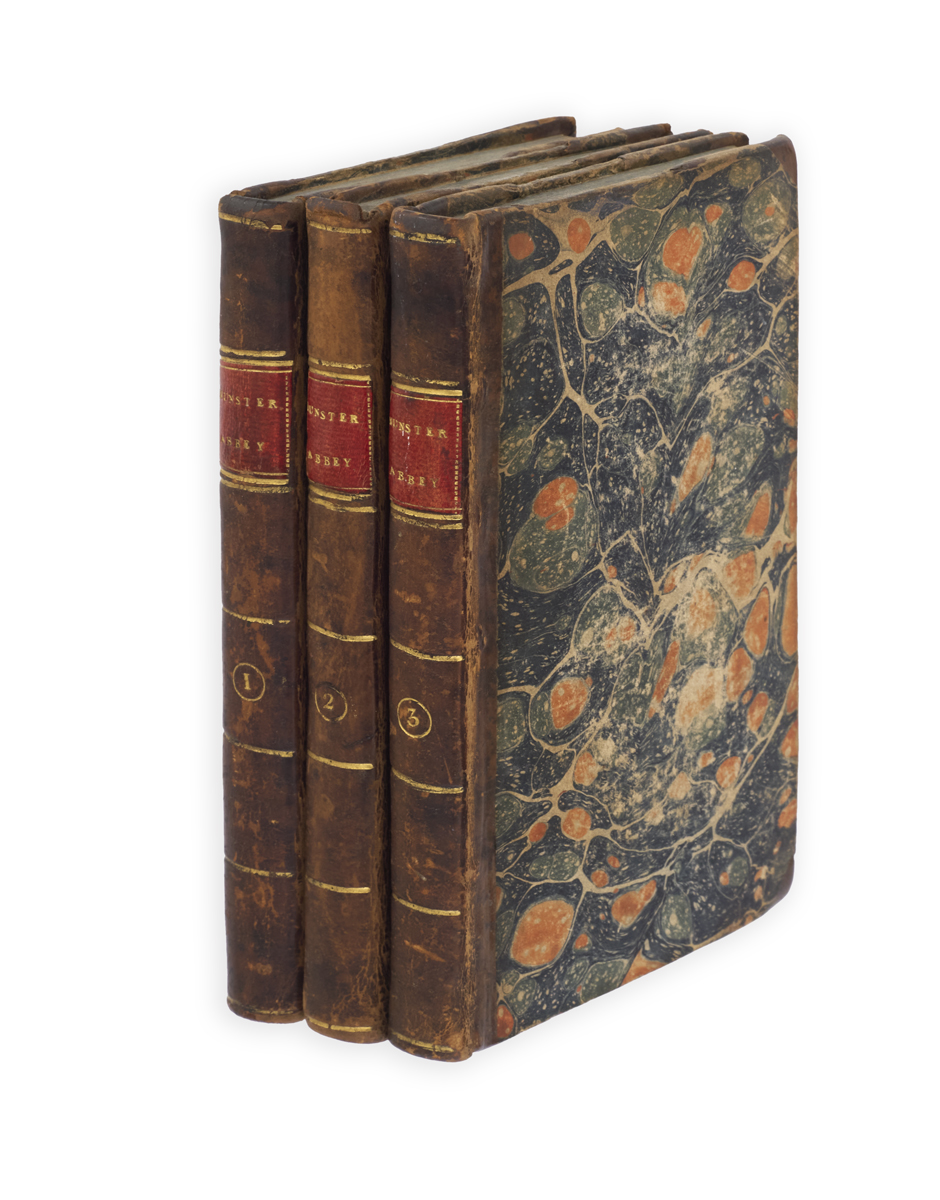 A SINGLE MAN POSSESSED OF A GOOD FORTUNE LEIGH, Sir Samuel Egerton.
Munster Abbey, a Romance; interspersed with Reflections on Virtue and Morality … in three Volumes …
First edition. Despite its 'Gothic' title this is a novel of contemporary high life in England and on the Grand Tour, avoiding 'extravagant descriptions of supernatural scenes and events'. Munster Abbey in Devon is the seat of the hero, Mr. Belford, a bachelor 'happily possessed of a fortune, ample as his wishes'. This was Leigh's only novel –– he died at 26 – assembled by his widow from her husband's 'scattered papers' and, the 'Advertisement' implies, possibly finished by her.
AINSWORTH, William Harrison.
The Lord Mayor of London: or, City Life in the Last Century ... in three Volumes ...
First edition. The Lord Mayor of London is set in the reign of George III, but Ainsworth's worthy Sir Gresham Lorimer embodies all the Victorian qualities of the industrious, honest citizen, risen from humble origins to the highest civic position. His wife adopts the exaggerated dress of the fashionable set with a 'lofty head-dress, which rose full three feet above her brows, and might have overbalanced a less substantially-built frame'; their children are introduced at court and members of the royal family appear as characters in the novel. Descriptions of society balls and city pageants alternate with accounts of low life and the activities of the money lenders of Moorfields.