RAVERAT, Gwendolen Mary.
The Wood Engravings of Gwen Raverat. Selected with an Introduction by Reynolds Stone.
London, The University Press, Cambridge for Faber and Faber, 1959.
4to, pp. 136; wood-engraved frontispiece and wood-engraved illustrations by Gwen Raverat after Gwen and Jacques Raverat (some from magnesium blocks 'made for this edition'); a few light spots; original charcoal buckram, spine lettered in gilt on green panel and with publisher's name in gilt, dustwrapper reproducing wood-engravings by Raverat, retaining price; offsetting on free endpapers, corners very lightly rubbed, dustwrapper slightly creased and torn at edges, nonetheless a very good, bright copy.
£150

Approximately:
US $208
€170
First edition. This was the first catalogue of the wood-engravings of Raverat (1885-1957) to be published, and the works were selected and edited by the distinguished wood-engraver Reynolds Stone (1909-1979), who later wrote of her that, 'Everything that Gwen Raverat undertook was done with intelligence and skill – her graphic work for the Admiralty in the Second World War, as well as her theatre designs and paintings and drawings – but it was through wood-engraving that she was able to communicate her vision most fully. In her engraving she did not aim at decoration or use a strong decorative line, like her friend Eric Gill; nor was she a naturalist interested in the rendering of a bird's plumage or an animal's fur, like Thomas Bewick. Rather, she was a master of light, shade, and the interplay of textures, with a deceptively simple technique, and a bold sense of design' (ODNB). The volume reproduces both individual engravings and suites of images for the books that Raverat illustrated for the Ashendene Press and other publishers.
You may also be interested in...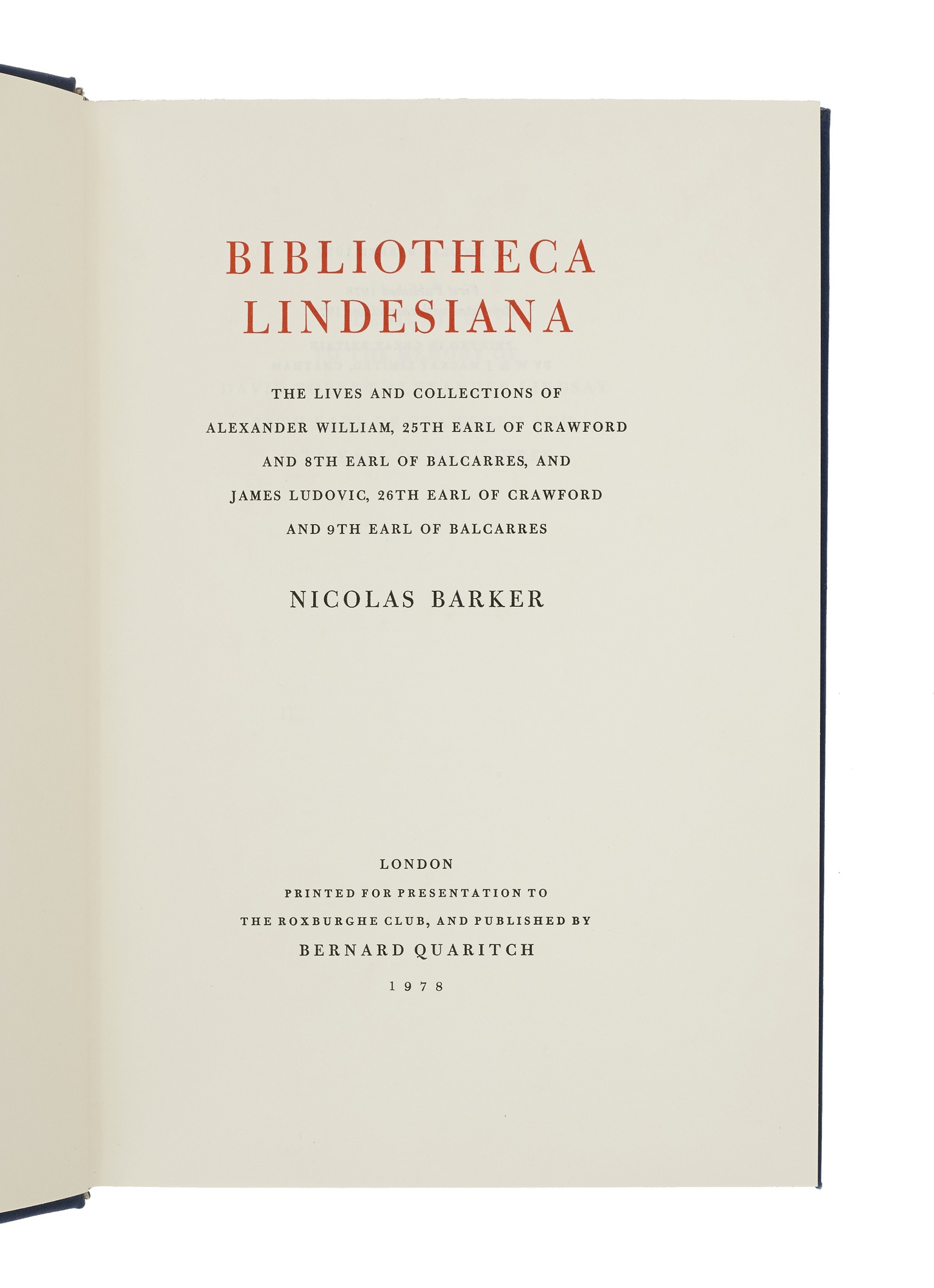 BARKER, Nicolas.
Bibliotheca Lindesiana. The Lives and Collections of Alexander William, 25th Earl of Crawford and 8th Earl of Balcarres, and James Ludovic, 26th Earl of Crawford and 9th Earl of Balcarres.
The Bibliotheca Lindesiana was perhaps the finest private library assembled in the nineteenth century. Nicolas Barker considers the library's purpose and traces the circumstances of its formation in detail, in the process adding considerably to the biographies of the 25th and 26th Earls of Crawford, two highly significant figures in the history of collecting.
THE ENGLISH: BEAUTIFUL BUT FLIGHTY GÉNIE ANGLOIS (LE),
ou histoire abrégée des revolutions fréquentes de la Grande-Bretagne; par un esprit desintéressé.
First and only edition of this curious children's history of England in French, up to the death of Queen Anne in 1714.