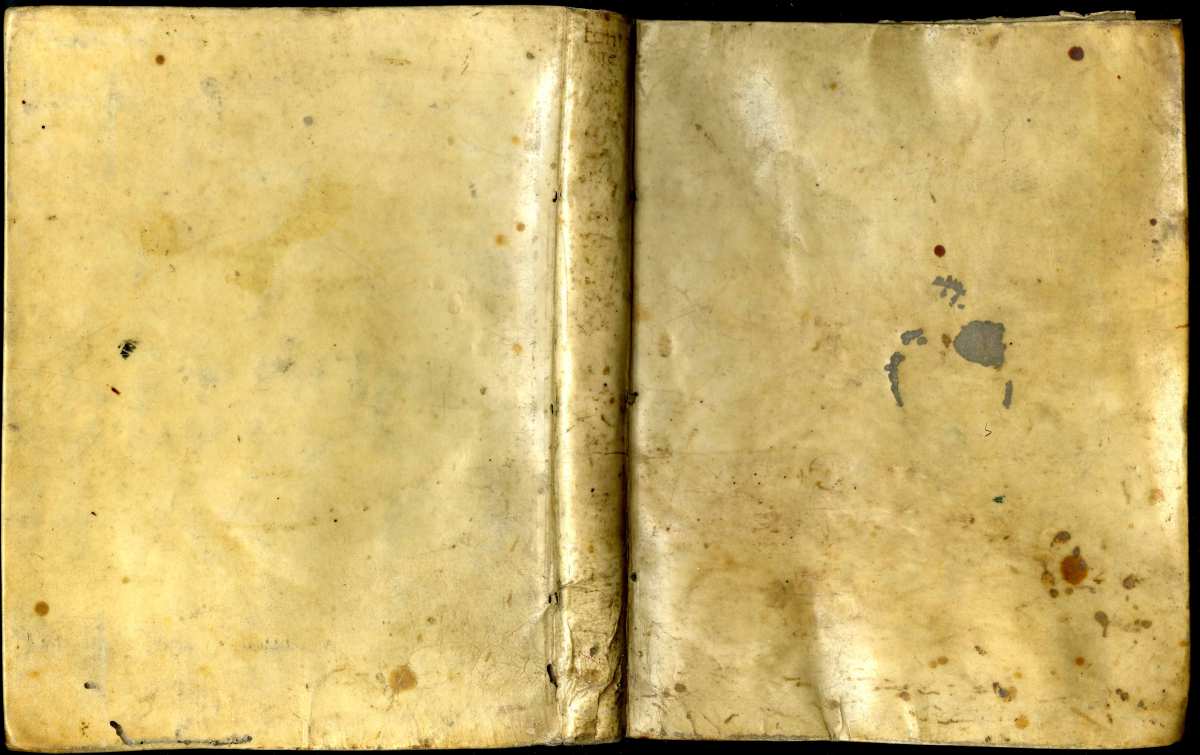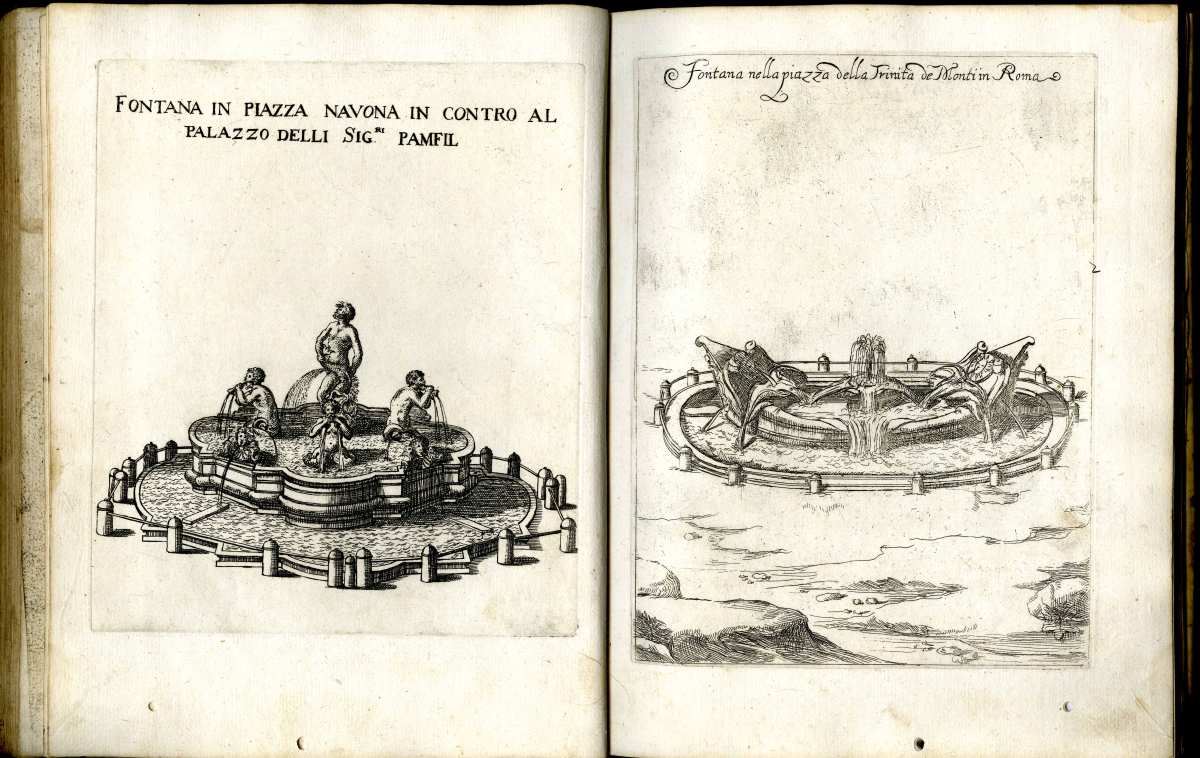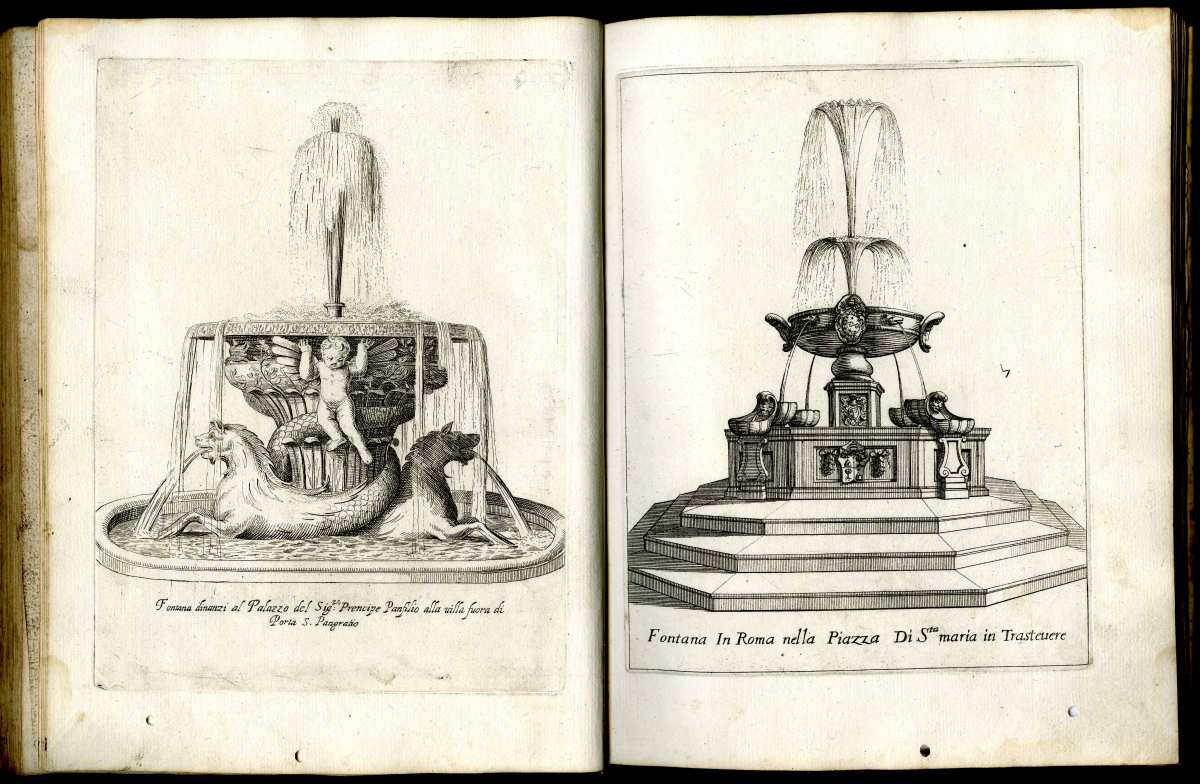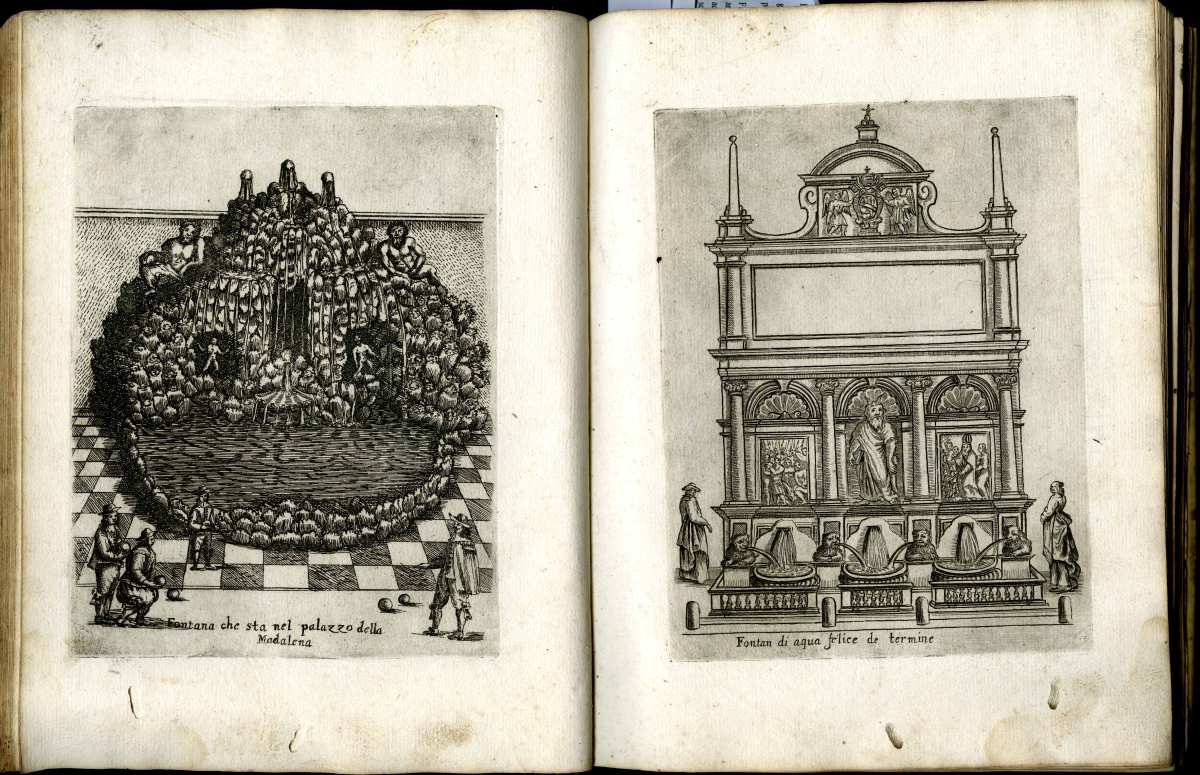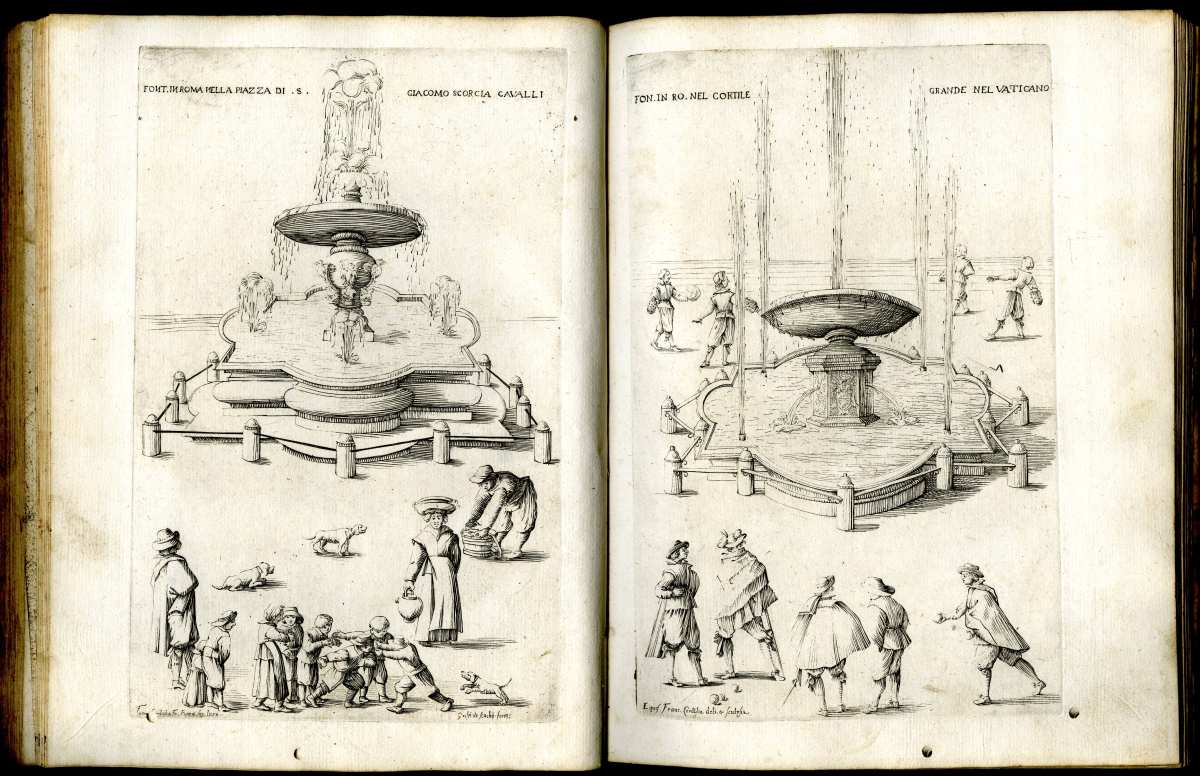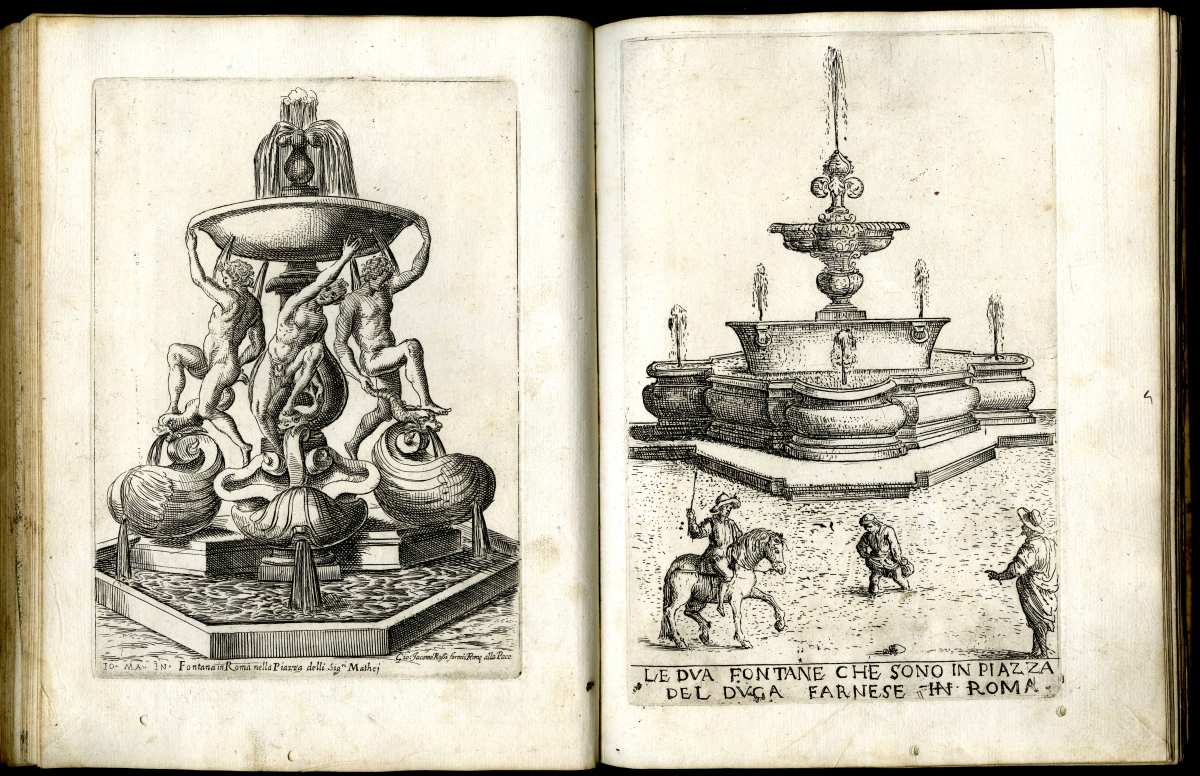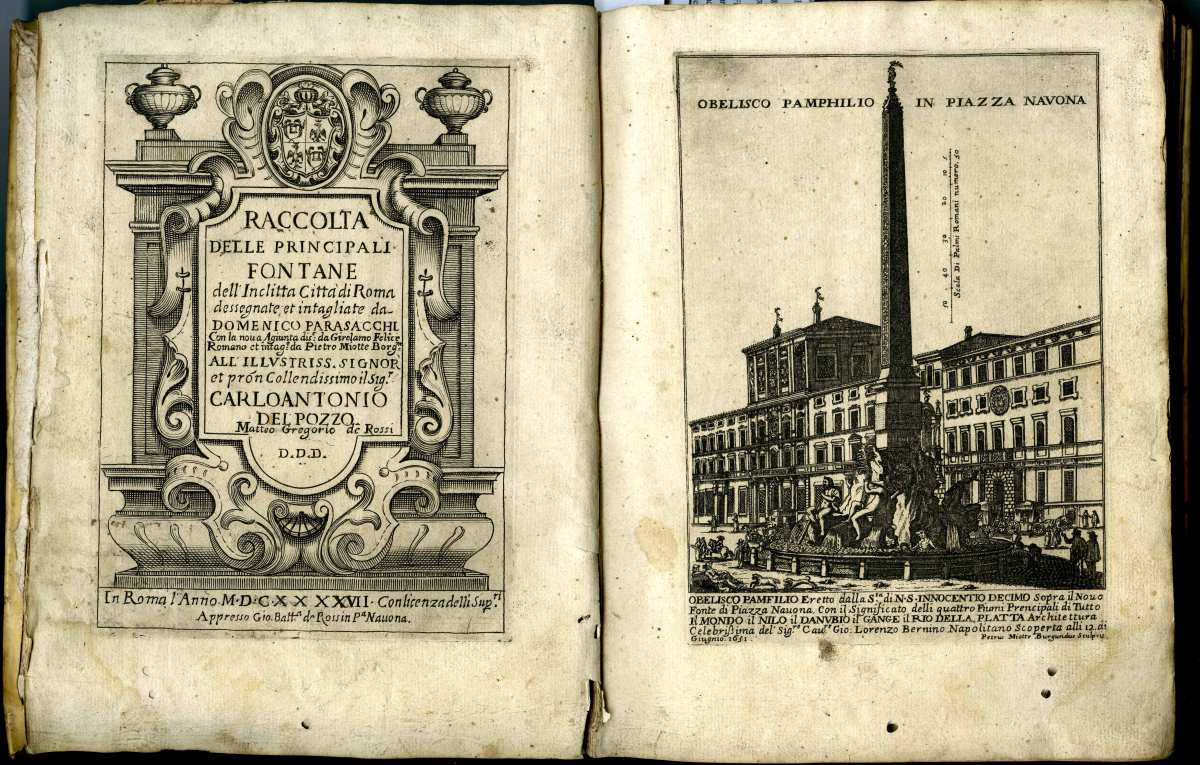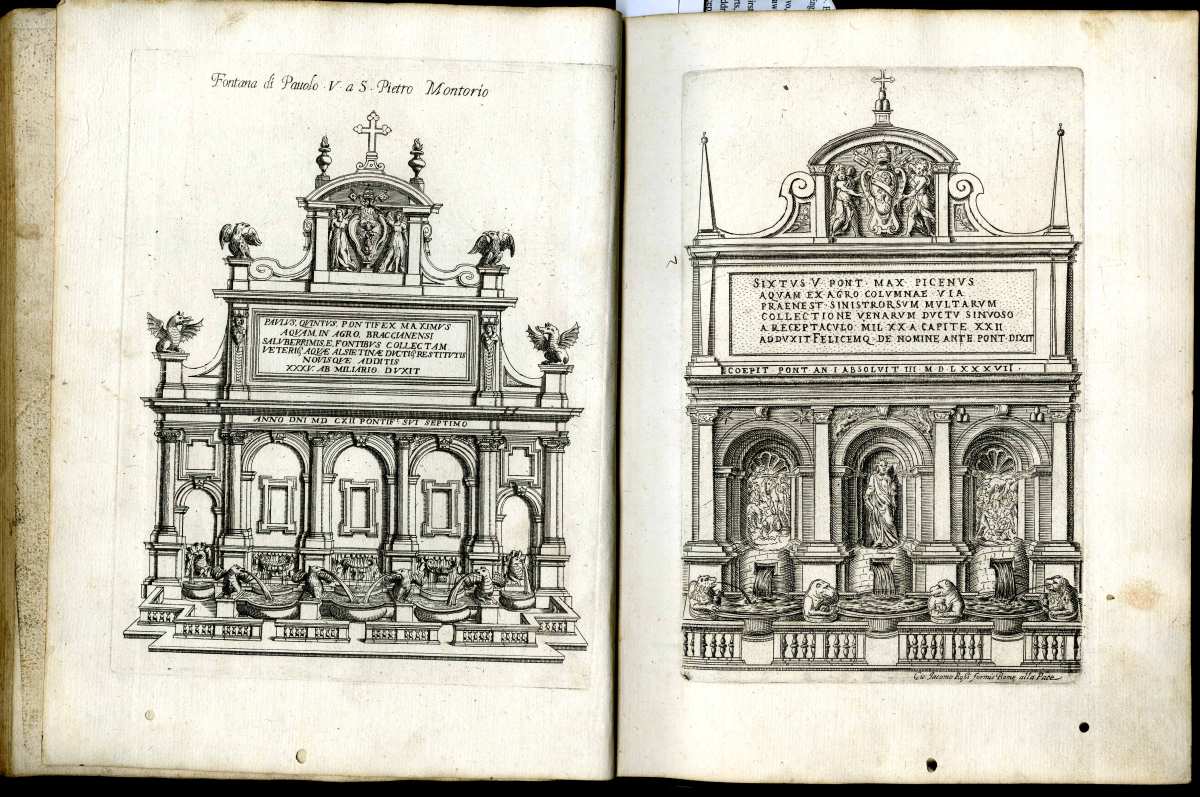 STURM, Leonhard Christoph.
Der auserlessneste und nach den Regeln der antiquen Bau-Kunst sowohl, als nach dem heutigen Gusto verneuerten Goldmann, als der rechtschaffenste Bau-Meister, oder die ganze Civil-Bau-Kunst, in unterschiedlichen vollständigen Anweisungen dergestalt abgehandelt … von Leonard Christoph Sturm.
Augsburg, in Verlegung Jeremiae Wolffens … daselbst gedruckt bey Peter Detleffen
5 vols, small folio (330 x 210 mm.), consisting of pp. [20] preliminaries with general-title and engraved frontispiece, followed by 21 books; each book has its own title-page, date, text and plates, and was also issued separately; there is a total of 397 plates (many double-page) (see below); a few very light stains here and there but overall a very good set, contemporarily interleaved with many blank leaves between the various books, some of these filled with contemporary mss notes, but mostly blank; bound in contemporary dark calf, richly gilt spine, yellow spine labels, bit rubbed, but sound, red edges.
£5500

Approximately:
US $7629
€6235
First collected edition of this grand and important series of architectural treatises by Leonhard Christoph Sturm (1669-1719), presented as commentaries on the work of Nikolaus Goldmann, which was immensely influential in 18th century Germany.

Leonhard Christoph Sturm (1669-1719) was appointed professor of mathematics and architecture at the Ritterakademie in Wolfenbüttel; and in 1702 he was appointed professor at the University of Frankfurt an der Oder. Very early in the course of his work he came across an unpublished architectural manuscript on civil architecture by the mathematician and architect Nicolaus Goldmann who had died in 1665. It changed Sturm's life, as he proceeded to edit and publish it. He gradually assimilated Goldmann's writings with his own architectural ideas into a huge body of work covering all aspects of civil architecture. The individual books collected here deal with civil architecture in general terms; palace architecture with emphasize on orders, including Sturm's new sixth order 'Teutschen Ordnung'; manor houses and the laying out of gardens; church architecture; arched structures, including triumphal arches; tombs and funerary architecture; ornamental architecture; civic buildings including town halls and government housing; middle-class housing in towns; interior design of buildings; rules of geometry; civic buildings such as schools, orphanages, and hospitals; farms and agricultural buildings; mills; tools of the building trade; wells and anything to do with water architecture; French, Dutch and German fortification architecture compared; military architecture; harbours and warehouses; locks; and finally Sturm's thoughts on Dutch and French architecture collected on his study trips to these countries in 1697 and 1699.

Sturm's various books were assembled into a 'collected edition' on an ad hoc basis as there are numerous sets with different complements of books, ranging from 7 to 22. 'The content list of 1721 imposed a rational order on the 22 tracts originally included in Der auserlessneste, although the list appears to have been ignored almost at once, and no two copies have found to be exactly the same, although a core of specific tracts, very often bound in the same sequence, can often be identified' (RIBA, 3201, p. 2028). We have a complement of 21 books; not included here is the Prodromus architecturae which was published in an atypical format amongst Sturm's publications, namely in large oblong folio. It is most often not included (see for instance the Millard or CCA copy) presumably on account of its awkward format.

Millard, Northern European Books, 129 (identical collation); Berlin Kat. 1993 (18 books); RIBA, Early Printed Books, 3201, 3203, 3204, 3205, 3206, 3207, 3208 (they only have 7 individual books); not in Fowler; OCLC locates Getty (16 books), Princeton (8 books), Texas Austin (3 books), Chicago (10 books), CCA (21 books), and Illinois (8 books) in US.

The 21 individual books which make up our set are as follows:
Vol. I: - Kurze Vorstellung der ganzen Civil-Bau-Kunst. Augsburg, 1718; pp. 32, with 11 engraved plates.
- Vollständige Anweisung … von regularen Pracht-Gebäuden. Augsburg, 1716; pp. [68], with frontispiece and 70 engraved plates.
- Vollständige Anweisung, Grosser Herren Palläste … insonderheit von … Lust-Gärten. Augsburg, 1718; pp. 84, [4], with 39 engraved plates (including various bis plates).
Vol. II: - Vollständige Anweisung aller Art von Kirchen. Augsburg, 1718; pp. 39, [1], with 22 engraved plates.
- Vollständige Anweisungen die Bogen-Stellungen … Civil-Bau-Kunst. Augsburg, 1718. pp. 18, with 19 engraved plates.
- Anweisung Grabmahle. Augsburg, 1720; pp. 8, with 4 engraved plates.
- Nicolai Goldmanns Abhandlung von den Bey-Zierden der Architectur. Augsburg, 1720; pp. 188, with 5 engraved plates.
- Anweisung Regierungs- Land und Rath-Häuser. Augsburg, 1718; pp. 24, with 13 engraved plates.
- Vollständige Anweisung aller Arten von Bürgerlichen Wohn-Häusern. Augsburg, 1721; pp. [16], with15 engraved plates.
- Anweisung Innerer Austheilung der Gebäude. Augsburg, 1720; pp. 12, with 7 engraved plates (one plate misbound with the following part).
- Die unentbährliche Regel der Symmetrie. Augsburg, 1720; pp. 16, with 10 engraved plates.
Vol. III: - Anweisung .. oeffentliche Zucht- und Liebes-Gebäude, als … Schulen, Ritter-Akadamien, Waysen-Häuser, Spitäle. Augsburg, 1720; pp. [26], with 15 engraved plates.
- Ein sehr nöthiges Haupt-Stuck der vollständigen Anweisung zur der Civil-Bau-Kunst. Augsburg, 1715; pp. [20], with 9 engraved plates.
- Vollständige Mühlen Baukunst. Augsburg, 1718; pp. [iv], 35, [1], with engraved title-page and 51 engraved plates (many bis plates).
- Auffrichtige Entdeckung … hochst-nützlichen Nivellirens oder Wasserwägens. Augsburg, 1720; pp. [18], with 4 engraved plates.
- Anweisung Wasserkünste, Wasserleitungen, Brunnen und Cisternen. Augsburg, 1720; pp. 18, with 10 engraved plates.
Vol. IV: - Freundlicher Wett-Streit der Französischen, Holländischen und Teutschen Krieges-Bau-Kunst. Augsburg, 1718; pp. [x], 66, with 19 engraved plates.
- Architectura Civili-Militaris. Augsburg, 1719; pp. 42, with 19 engraved plates.
- Vollständige Anweisung Schiffs-Häuser oder Arsenale und Anfuhrten oder See-Häfen. Augsburg, 1721; pp. 10, with 4 engraved plates (4 further plates bound in here are misbound and belong to the next part).
- Gründliche und Practische Unterweisung wie man Fang-Schläussen und Roll-Brücken … bauen solle. Augsburg, 1720; pp. [28], with 8 engraved plates (4 of which are misbound with the preceeding part).
Vol. V: - Durch einen grossen Theil von Teutschland und den Niederlanden bis nach Pariss gemachete Architetonische Reise-Anmerckungen. Augsburg, 1719; pp. 144, with 52 engraved plates.
You may also be interested in...
ANDERSON, James (1813–1877)
Theatre of Marcellus, Rome,
Another print from the same negative is in the collection of the Musée d'Orsay.
CARTWRIGHT, George.
A journal of transactions and events, during a residence of nearly sixteen years on the coast of Labrador; containing many interesting particulars, both of the country and its inhabitants, not hitherto known. Illustrated with proper charts.
First edition. Cartwright, formerly a major in the British army, made six expeditions to Newfoundland and Labrador between 1770 and 1786. His Journal 'is, among other things, a detailed seasonal record of the exploitation of coastal resources by one who combined keen entrepreneurial interests with an inextinguishable zest for the chase which made him nature's nemesis; a finely observed record of natural history and meteorology; and, above all, testimony to a persistent, curious, and resourceful mind. In his relations with the native peoples of Labrador, especially the Inuit, Cartwright displayed an honesty which led to mutual trust. In 1772 he took a family of five Inuit to England, where they created considerable interest, meeting with the king, members of the Royal Society including Joseph Banks, and James Boswell, who reported to a sceptical Samuel Johnson his ability to communicate with them by sign language. The poet Robert Southey, who had met Cartwright in 1791, recorded in his Common-place book: "I read his book in 1793 . . . . This man had strength and perseverance charactered in every muscle . . . . The annals of his campaigns among the foxes and beavers interested me far more than ever did the exploits of Marlbro' or Frederic; besides, I saw plain truth and the heart in Cartwright's book – and in what history could I look for this? Coleridge took up a volume one day and was delighted with its strange simplicity". What has only recently been properly recognized, however, is the interest of Cartwright not only in the Inuit language and its study, but also in making himself a glossarist of 18th-century Newfoundland English; and he was a close student of and perhaps contributor to the work of such scientific contemporaries as Banks, Thomas Pennant, and Daniel Carl Solander' (Dictionary of Canadian Biography).