WILKINSON, W. B.
Chimney Pieces in artificial stone, manufactured by W. B. Wilkinson & Co. Prudhoe Street, Newcastle upon Tyne.
Newcastle, Lambert, 1866
Broadside (445 x 270 mm) trade catalogue, with 17 tinted litho fireplaces, with prices; folding creases, one crease a little dust-soiled, but generally in very good condition; mounted.
£350

Approximately:
US $485
€396
An interesting broadside trade catalogue offering 17 different designs of fireplaces made of artificial stone. The building firm Wilkinson of Newcastle played an important part in the development of reinforced concrete. Wilkinson is credited with building the first house using reinforced concrete.
You may also be interested in...
PUZZLEWELL, Peter, pseud.
The Phœnix; or, a choice Collection of Riddles and Charades …
First edition thus, a very scarce illustrated collection of riddles and charades, abridged from an earlier Newbery publication. The charming illustrations throughout, new to this edition, make the work a sort of children's emblem book. Written solutions are also included at the end. A contemporary (juvenile) reader has added charmingly naïve charades for 'plate-rack', 'lark-spur' and 'Frankfort' in manuscript.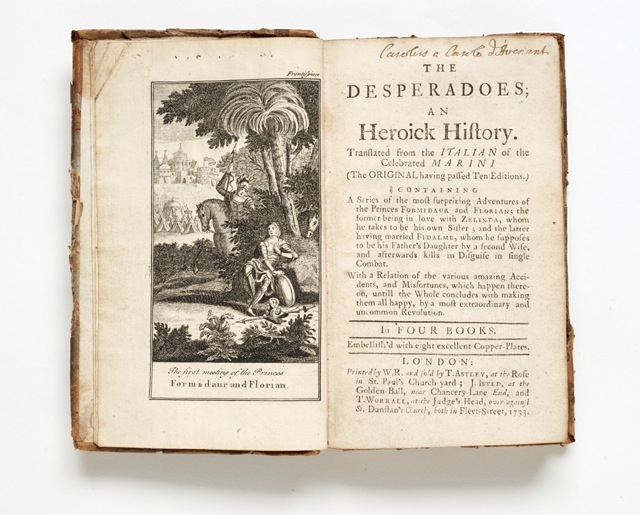 MARINI, Giovanni Ambrogio.
The Desperadoes; an heroick History. Translated from the Italian of the celebrated Marini (the Original having passed ten Editions.) Containing a Series of the most surprizing Adventures of the Princes Formidaur and Florian … In four Books. Embellish'd with eight excellent Copper-Plates.
First and only edition in English of Le gare de' disperati (1644), the second of three romances by Marini (1596-1668). Inevitably, 'It was necessary to omit many Things that were contrary to our Morals; to Decency, and to the Purity of the English Tongue …'. But the general scheme of events is the same as the original, and is outlined on the title-page: 'A Series of the most surprizing Adventures of the Princes Formidaur and Florian; the former being in love with Zelinda, whom he takes to be his own Sister; and the latter having married Fidalme, who he supposes to be his father's Daughter by a second Wife, and afterwards kills in Disguise in single Combat. With a Relation of the various amazing Accidents, and Misfortunes, which happen thereon, until the Whole concludes with making them all happy, by a most extraordinary and uncommon Revolution.'