[YULE, Adam and] James Reid M'GAVIN, editor.
Perils by Sea and Land: a Narrative of the Loss of the Brig Australia by Fire, on her Voyage from Leith to Sydney, with an Account of the Sufferings, Religious Exercises, and Final Rescue of the Crew and Passengers.
Edinburgh, Glasgow, Dublin, and London: Murray and Gibb for William Oliphant & Sons, David Robertson, W. Curry and Co., and Hamilton, Adams and Co., 1845.
12mo in 6s (146 x 88mm), pp. 81, [1 (imprint)], [2 (publisher's advertisements)]; very occasional light spotting, small marginal tear on G5; 20th-century half black crushed morocco over cloth by George A. Zabriskie, spine decorated in gilt and with gilt red morocco lettering-piece, board-edges and turn-ins roll-tooled in gilt, top edges gilt, patterned endpapers; spine slightly leant and extremities very lightly rubbed, otherwise a very good example in a Zabriskie binding.
£750

Approximately:
US $1003
€849
First edition in book form. Perils by Sea and Land was first published in the United Secession Magazine, and is an account of the brig Australia, captained by Adam Yule and bound for Sydney, which set sail from Leith on 2 October 1840 with a 'general cargo of merchandize', thirteen crew and fifteen passengers. On 29 December, about 600 miles off the Cape of Good Hope, the hold caught fire and Yule soon realised that the ship would have to be abandoned. The long-boat, however, 'had been converted into a stall for two live bulls, and in attempting to get them over the side, one of them, in the confusion, unfortunately got out of the slings, and ran frantic along the deck. This accident, as may be supposed, greatly increased the general consternation' (p. 16). The crew and passengers were eventually transferred to the long-boat and a small skiff, wherein seven days were spent at sea before making landfall on the South African coast near the mouth of the Olifants River. The party endured the deaths of two of their number and further days in the wilderness before civilization was eventually reached. Despite Yule's attribution of every favourable turn of events to divine intervention, the narrative is a compelling one.

The work is scarce, and only four copies can be located in the UK (British Library, Cambridge, National Library of Scotland, and Oxford). This copy was bound by George Albert Zabriskie (1868-1954), an American bookbinder and collector of books, manuscripts, and art, who served as president of the New York Historical Society (1939-1947) and was a member of the Grolier Club. Zabriskie has signed the binding with his initials 'GAZ' on the upper pastedown.

Ferguson 4093.
You may also be interested in...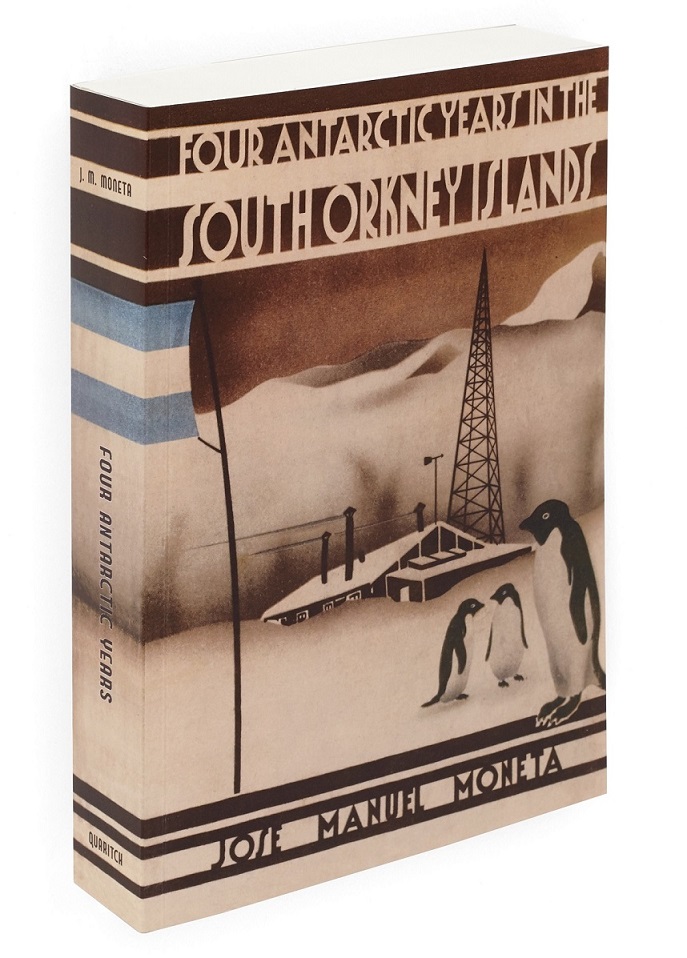 MONETA, José Manuel, and Robert Keith HEADLAND, ed..
Four Antarctic Years in the South Orkney Islands: an Annotated Translation of 'Cuatro Años en las Orcadas del Sur'.
One man's fascinating record of four winters in the Antarctic during the 1920s, the period of transition from the isolation of the Heroic Age to the beginnings of radio communication with the world outside.
THE BUTTERFLY SUITE DALI, Salvador.
Normandie. French Railways.
Mont Saint-Michel meets stone circles, butterflies and surrealist heads in this promotional SNCF poster for train travel in Normandy.