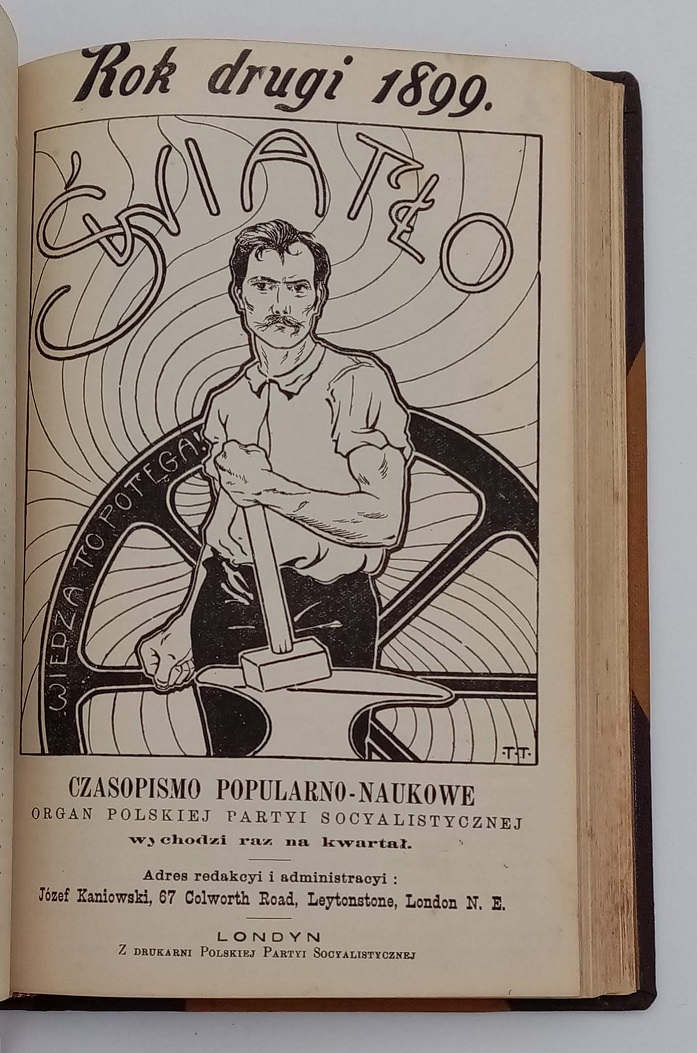 ŚWIATŁO.
Czasopismo popularno-naukowe. Organ Polskiej Partyi Socyalistycznej. Rok pierwszy [- drugi].
London, Printers of the Federation of Polish Socialists Abroad for the Polish Socialist Party [– Printers of the Polish Socialist Party], 1898-99.
Two volumes in one, 8vo, pp. [ii], 201, [1]; [ii], 191, [1], titles illustrated (see below), with 8 portraits in the text; beginning and end of the volume a little brown-spotted, cut close at upper margins (last leaf of year one with cut away page numeral, titles a little cropped at head), repaired tear to p. 95 in volume I, Czech stamp on p. 156 in volume II; in recent Polish cloth; spine lettered in gilt; pseudonyms and abbreviations of the authors' names noted in pencil.
£200

Approximately:
US $279
€231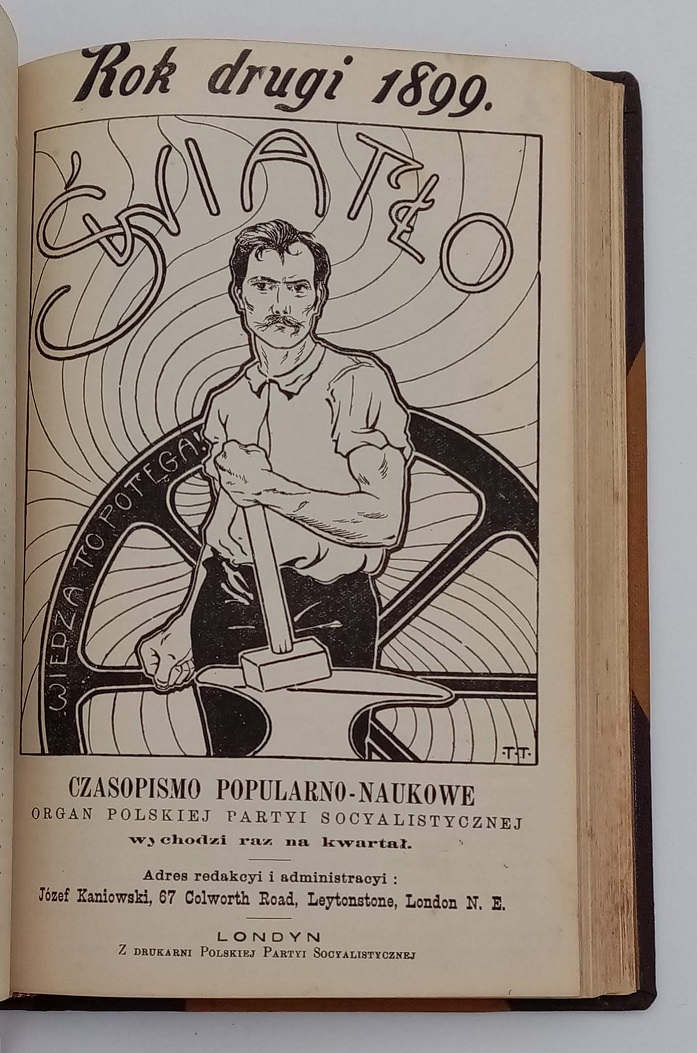 Added to your basket:
Czasopismo popularno-naukowe. Organ Polskiej Partyi Socyalistycznej. Rok pierwszy [- drugi].
The first two complete years (eight consecutive issues) of the very rare quarterly magazine of the PPS, the largest Socialist Party of Poland, lead by Piłsudski. Altogether 19 issues appeared up to 1904. The annual titles, which are apparently not always present were designed by Teofil Terlecki (1870–1902). Earlier he had worked for the Munich periodical Jugend, from which the German word for art nouveau ('Jugendstil') is derived. Later he designed numerous exile publications of the PPS.

Bound in at the end is one leaf of statutes of the PPS, printed in London, and one appeal to the party members, dated Warsaw, 1900.

Żanna Kormanowa, Materiały do bibliografii druków socjalistycznych, p. 79 (not listing issues 2 and 3); cf. Józef Kozłowski, Proletariacka Młoda Polska, p. 75 for an illustration of Terlecki's design of the titles); we were able to locate issues 4 and 5 of 1902 at Stanford, issue 18 at the Sorbonne in Paris, 18 issues at the International Institute for Social History in Amsterdam and the complete run in the British Library (with wrappers for the single issues, but without annual titles).
You may also be interested in...
THE PIKE PLOT [WATT, Robert.]
Trials of Robert Watt and David Downie for High Treason … with an engraving of the pikes … to which is subjoined the celebrated speech of Sir Hercules Langrishe, on Parliamentary reform …
First edition, scarce, later reprinted in London and Philadelphia (without the illustration).
A FRESH COPY OF A SCARCE ENGLISH ATLAS IN A CONTEMPORARY BINDING JEFFERYS, Thomas and Thomas KITCHIN.
The Small English Atlas being A New and Accurate Sett of Maps of all the Counties in England and Wales.
New edition. The Small English Atlas was originally advertised by a consortium of eight London booksellers, but it appears that the work was taken over by Thomas Kitchin and Thomas Jeffreys before publication of the thirteen constituent parts of the atlas was completed in 1749. A second edition was issued by Jeffreys and Kitchin in 1751, which seems to have remained in print until 1765 (the maps in this edition are known in two or three states, indicating that they were revised as time passed). The present edition is undated, but was probably published in 1775, and contains a significant number of revisions and changes: the title has been re-engraved to reflect the new publishers; the map of the direct roads has been replaced with a map of the rivers of England; new roads and canals have been added to the maps; and boundaries of hundreds, wapentakes, and other administrative areas have been added. The information given in the panel below each county map has been erased and replaced with lists of boroughs, cities, towns, etc., annotated with details of market-days, political representatives, and other details.