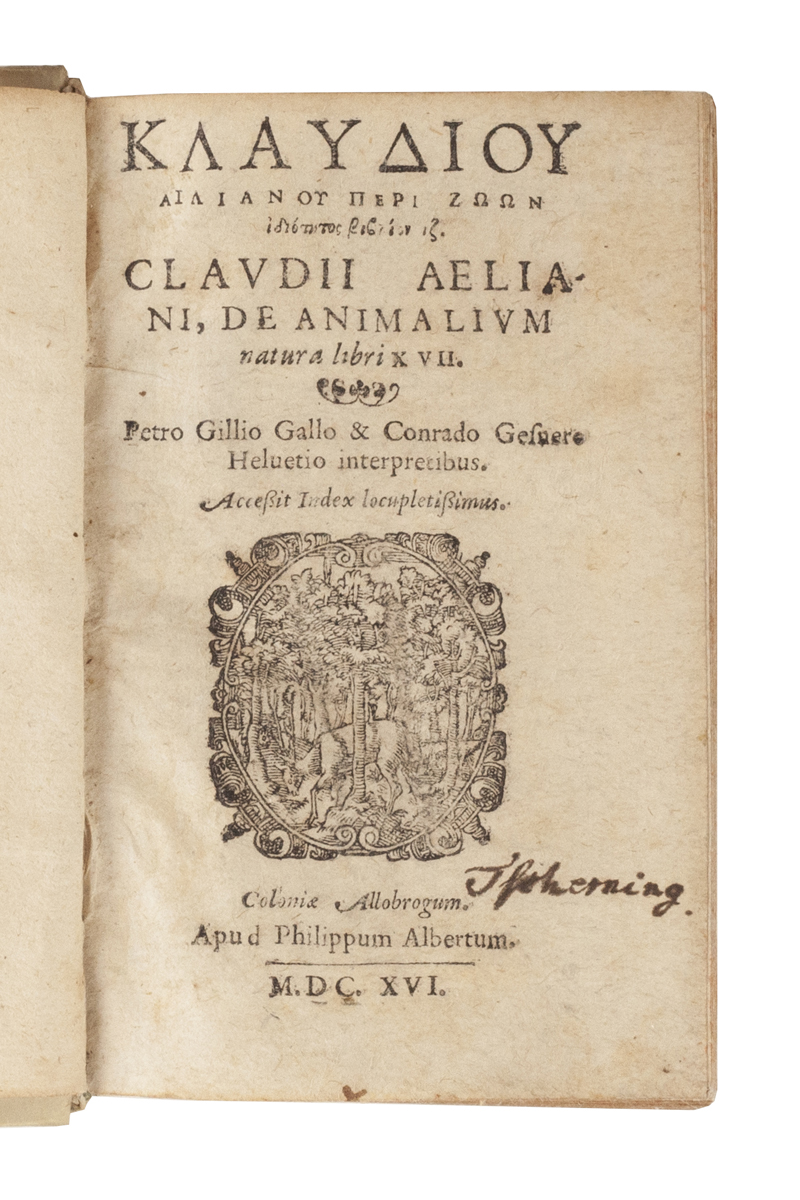 ANCIENT ANIMAL ANECDOTES
AELIANUS, Claudius, Conrad GESSNER (translator), and Pierre GILLES (editor).

Περι ζωων ιδιοτητος βιβλιον ιζ … De animalium natura libri XVII … accessit index locupletissimus.
Cologny, Philippe Albert, 1616.
16mo, pp. [8], 1018, [94]; text printed in 2 columns, in Latin and Greek, woodcut device to title; lightly browned with a few spots, a few creased corners, several leaves misbound; a good copy in contemporary vellum over boards, borders triple-ruled in blind, spine blind-ruled in compartments and lettered in ink, yapp fore-edges, edges stained red, sewn on 3 thongs; spine lightly dust-stained; contemporary ink inscription 'Tscherning' to title.
£300

Approximately:
US $362
€348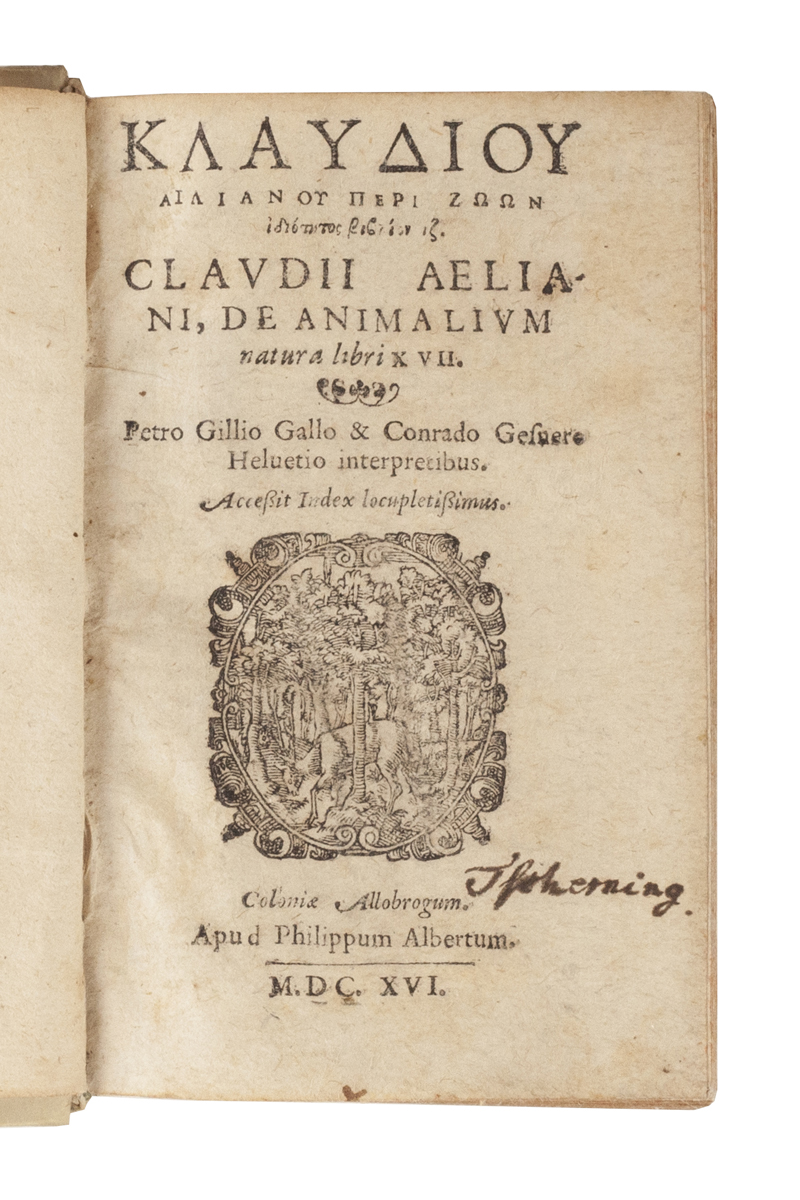 Added to your basket:
Περι ζωων ιδιοτητος βιβλιον ιζ … De animalium natura libri XVII … accessit index locupletissimus.
Uncommon Geneva edition of Aelianus's De animalium natura, the Greek printed in parallel with Gessner's Latin translation. A third-century work on natural history, Aelianus's text offers accounts and anecdotes of animals, 'an appealing collection of facts and fables about the animal kingdom that invites the reader to ponder contrasts between human and animal behaviour' (Scholfield). The text is particularly valuable for quoting passages of earlier classical works, otherwise lost.

Graesse I, p. 24.
You may also be interested in...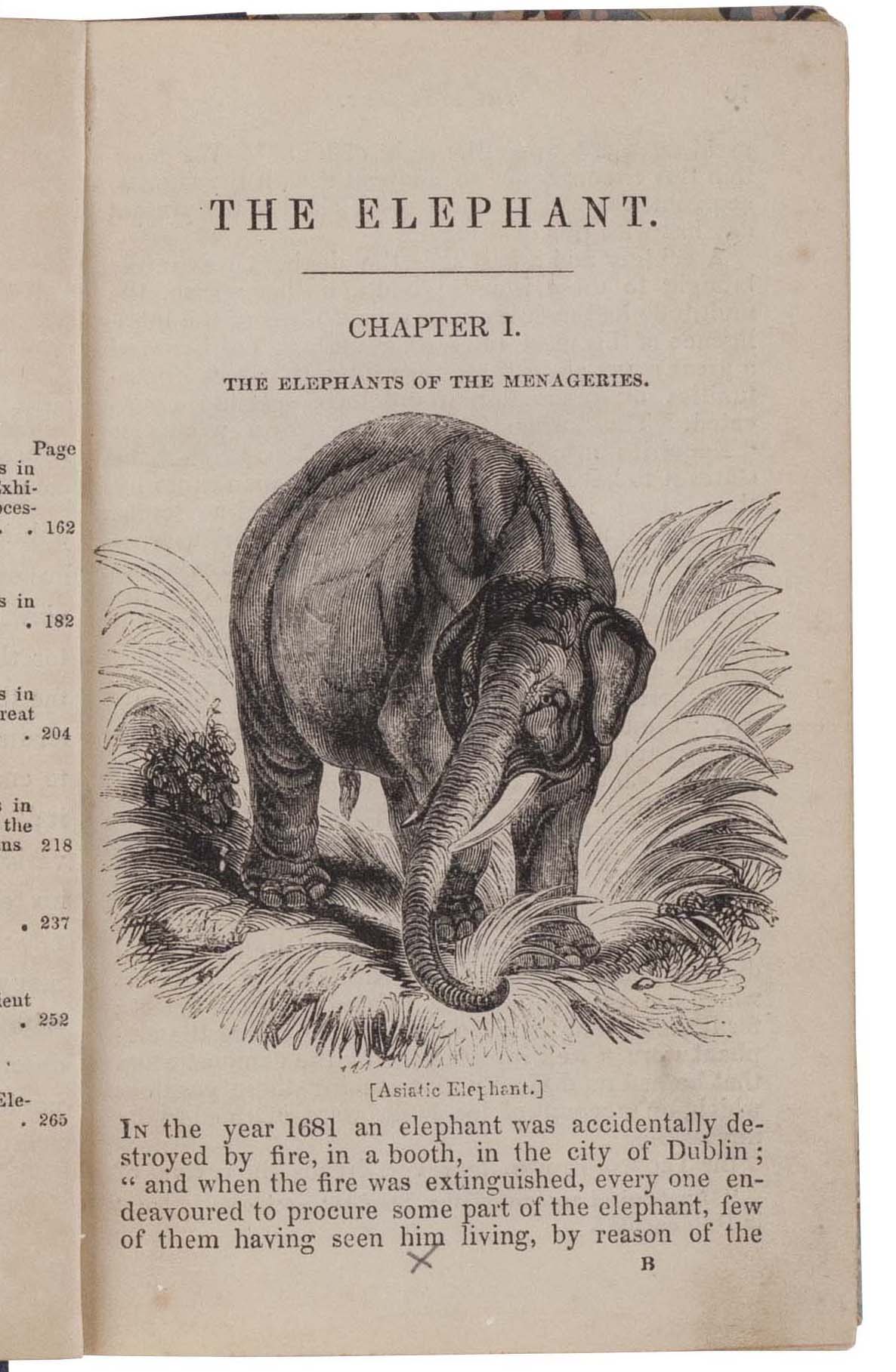 [KNIGHT, Charles.]
The Elephant, principally viewed in Relation to Man: A new Edition, revised by the Author.
First editions of treatises on the elephant and the horse, from Charles Knight's Library of Entertaining Knowledge. The equine text gives accounts of horses and related species in several cultures and climes, and, with The Elephant, forms two works from a series of three, on 'the three quadrupeds who have been the great instruments furnished by Divine Providence to Man, to enable him to "replenish the earth and subdue it"' (2, p. vii). The treatise on elephants, attributed to Charles Knight (1791–1873) himself, was first published in 1830 in the first volume, titled Menageries, of the Library of Entertaining Knowledge, a series published by Knight for the Society for the Diffusion of Useful Knowledge as a complement to the Library of Useful Knowledge, to which Youatt's animal treatises belonged.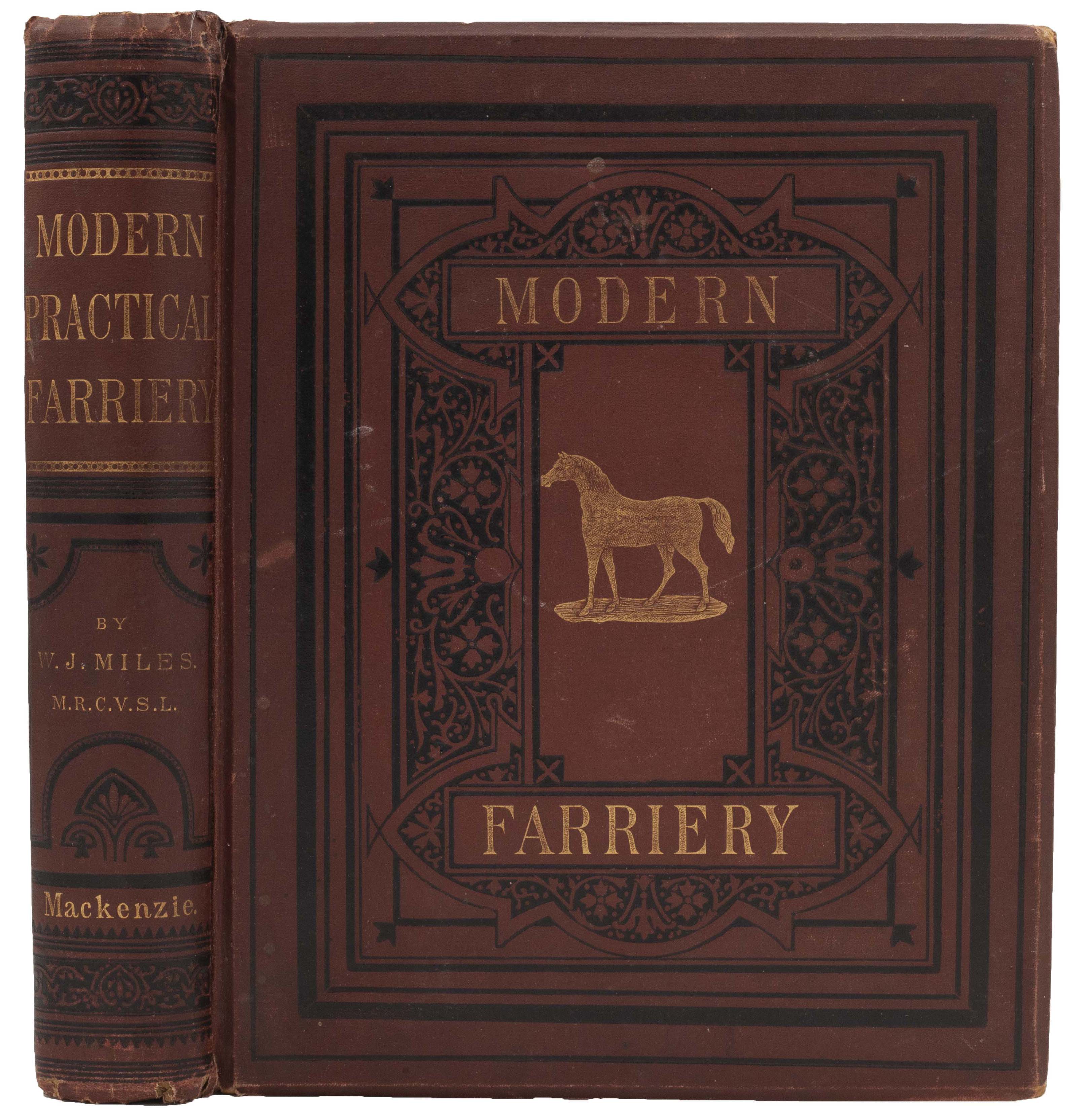 MILES, William J., J.I. LUPTON, and Benjamin HERRING (illustrator).
Modern practical Farriery: A complete Guide to all that relates to the Horse, its History, Varieties, and Uses – Breaking, Training, Feeding, Stabling, and Grooming – how to buy, keep, and treat a Horse in Health and Disease, etc., etc., forming a complete System of the veterinary Art, as at Present practised at the Royal Veterinary College, London … with numerous Illustrations and a Series of anatomical Plates, engraved from original Drawings from Nature … to which is added an Essay on the Diseases and Management of Cattle, Sheep, and Pigs.
Miles's comprehensive and generously illustrated treatise on veterinary science. The text first appeared in sixteen monthly parts, issued between 1868 and 1869, before being published in several undated editions in quick succession, accompanied by plates by the sporting artist Benjamin Herring (1830–1871).