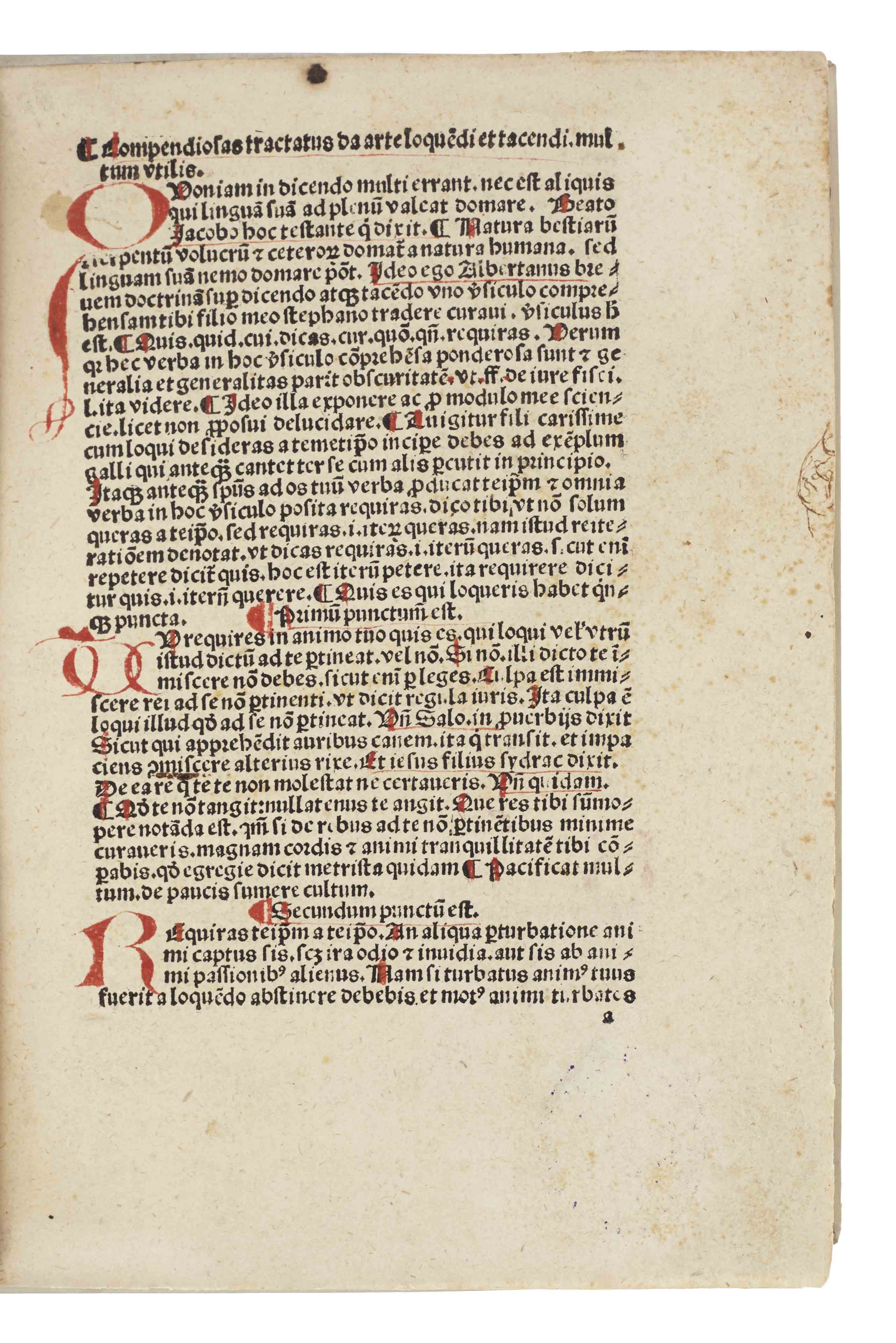 ALBERTANUS CAUSIDICUS BRIXIENSIS.
De arte loquendi et tacendi.
Ingolstadt, [Printer of Celtis 'Epitoma' (?Johann Kachelofen), c. 1492.]
4to, ff. [8], gothic letter, initials supplied in red, capital strokes and underlining in red; some light, mostly marginal, spotting and staining, traces of old stamp in lower margin of first leaf; mid twentieth-century vellum, spine lettered in gilt; lightly soiled, two corners slightly chewed.
£7500

Approximately:
US $9821
€8308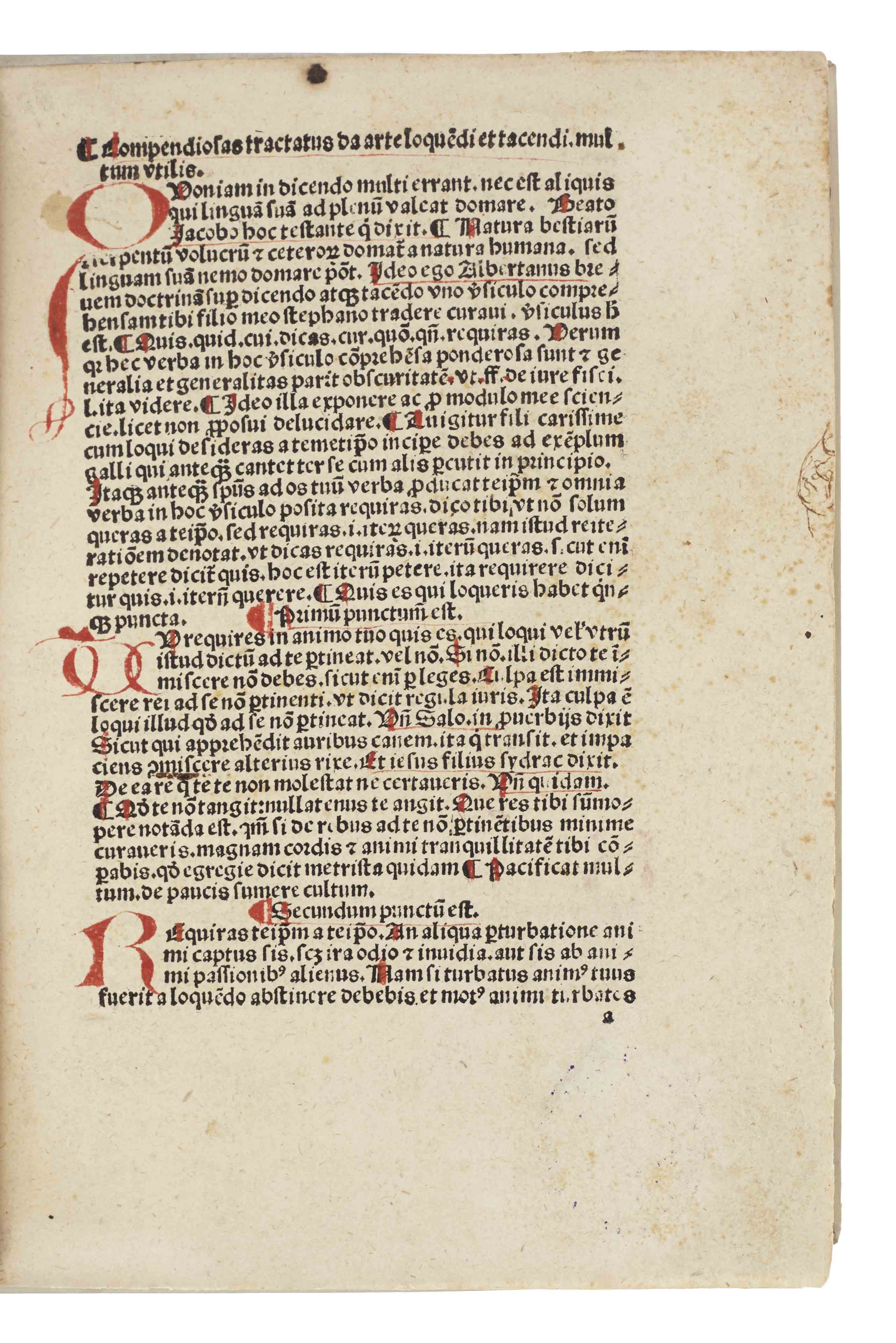 Added to your basket:
De arte loquendi et tacendi.
Very rare Ingolstadt edition of this treatise on the art of speech, the most influential work of the thirteenth-century Brescian causidicus, Albertano.

Printing was introduced at Ingolstadt in 1484. This is one of ten works assigned to the 'Printer of Celtis', the third (anonymous) Ingolstadt press, and may in fact be his first production: 'both forms of d are common in this book, which suggests a first effort by its bad press-work' (BMC). The printer may be identified with Johann Kachelofen, who matriculated at the University of Ingolstadt in 1490 and was evidently supplied with type by his half-brother Conrad, of Leipzig (see Ferdinand Geldner, 'Zum Ingolstädter buchdruck des 15. Jahrhunderts', Gutenberg-Jahrbuch, 1968, pp. 97–9).

Provenance: from the library of Boies Penrose (1902–1976), with his bookplate and with pencilled inscription (in Eric Sexton's hand?) '18 Ja[nuary] [19]41 B. Penrose gift'; Eric Sexton (1902–1980), with his book label and bookplate; his sale, Christie's New York, 8 April 1981, lot 78; Ned J. Nakles (1931–1999), his sale, Christie's New York, 17 April 2000, lot 83.

HC *398; BMC III 677; GW 556; Goff A-206; Bod-inc. A-089. ISTC records 13 copies only, of which two in the UK (Bodleian and British Library) and one in the US (Pierpont Morgan Library).
You may also be interested in...
CLUSIUS, Charles (de l'Écluse).
Rariorum plantarum historia.
First edition of Clusius's magnum opus, containing approximately one hundred new species. A valuable collection of careful descriptions of rare plants, the Rariorum plantarum historia gathers accounts from Clusius's earlier botanical tours of Spain (Rariorum aliquot stirpium per Hispanias observatarum historia, 1576) and Austria and Hungary (Rariorum aliquot stirpium per Pannoniam, Austriam, et vicinas quasdam provincias observatarum historia, 1583) with extensive new material.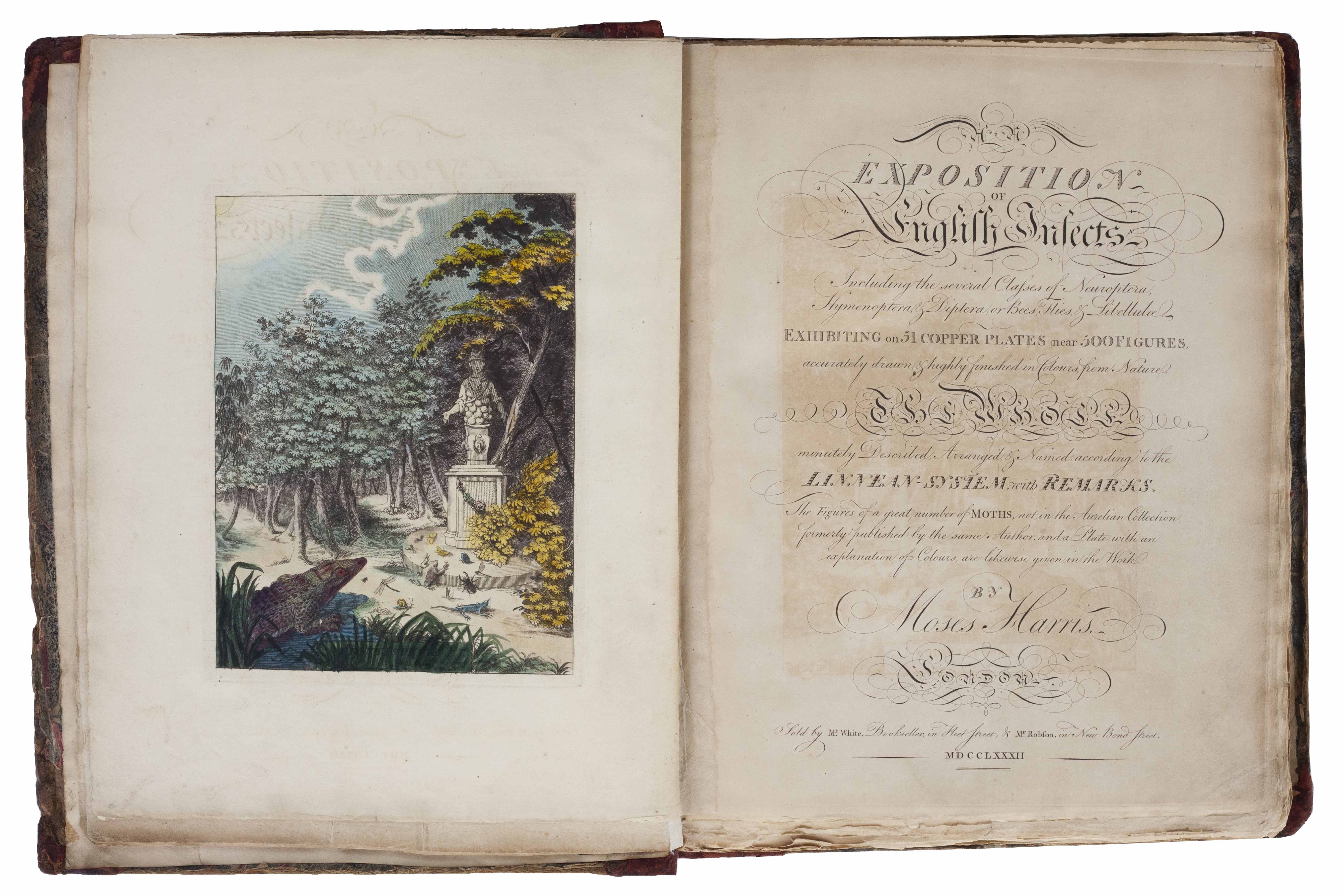 HARRIS, Moses.
An Exposition of English Insects, including the several Classes of Neuroptera, Hymenoptera, & Diptera, or Bees, Flies, & Libellulae, exhibiting on 51 Copper Plates near 500 Figures, accurately drawn, & highly finished in Colours, from Nature, the whole minutely described, arranged, & named according to the Linnean System, with Remarks; the Figures of a great Number of Moths, not in the Aurelian Collection, formerly published by the same Author, and a Plate with an Explanation of Colours, are likewise given in the Work.
Second edition of Harris's 'principal scientific work' (ODNB), incorporating his important treatise establishing the classification of insects by wing venation. 'I have kept so far as this method was agreeable to, and did not interfere with the plan, which I have adopted, of a strict adherence to a Natural System, separating the classes by such nice though strong distinctions, that the observer at first sight of an insect (if it be of the Diptera or Hymenoptera) shall be capable of not only knowing the class it refers to, but at the same time to what order and section of that class, and this by the wings only' (preface).