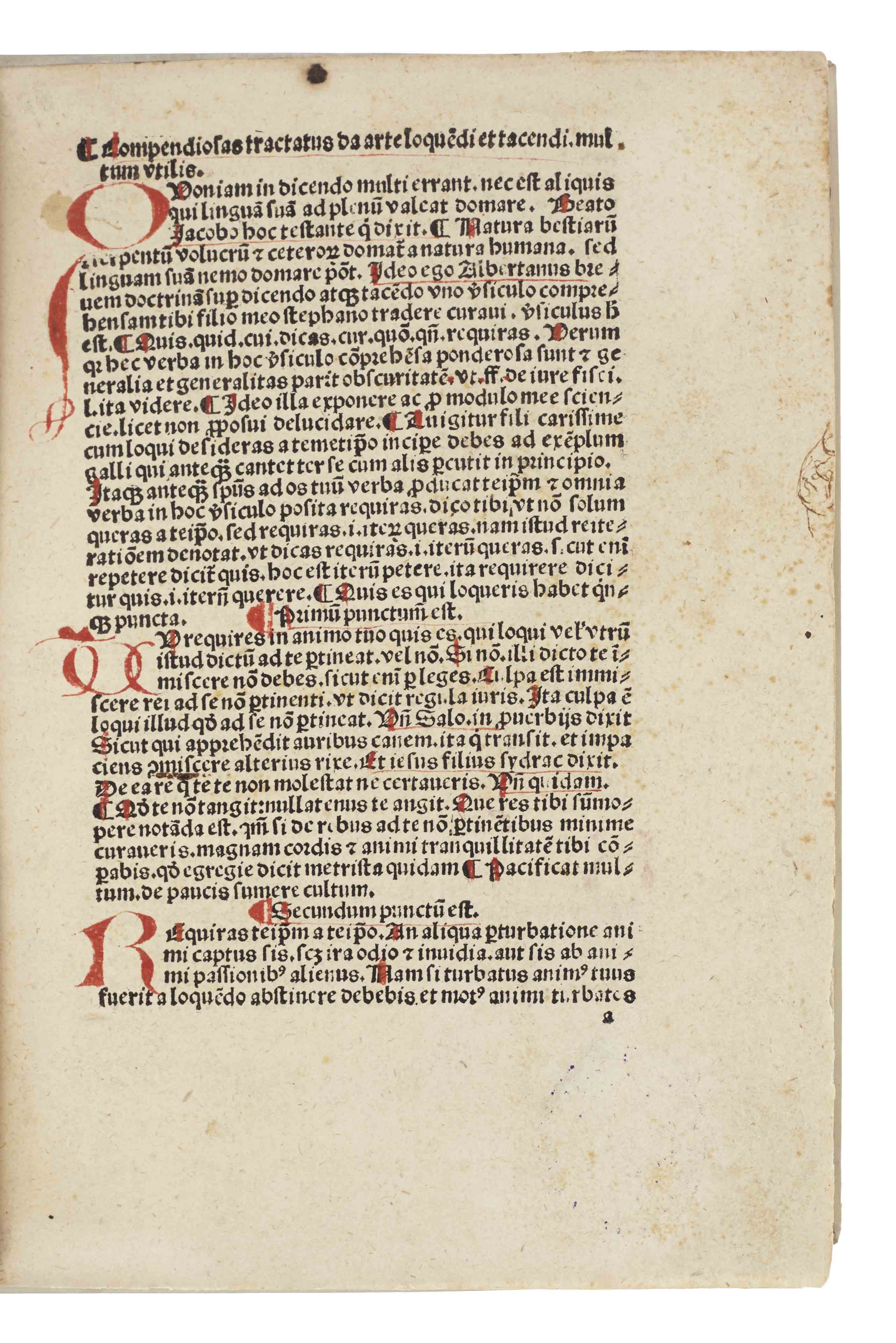 ALBERTANUS CAUSIDICUS BRIXIENSIS.
De arte loquendi et tacendi.
Ingolstadt, [Printer of Celtis 'Epitoma' (?Johann Kachelofen), c. 1492.]
4to, ff. [8], gothic letter, initials supplied in red, capital strokes and underlining in red; some light, mostly marginal, spotting and staining, traces of old stamp in lower margin of first leaf; mid twentieth-century vellum, spine lettered in gilt; lightly soiled, two corners slightly chewed.
£7500

Approximately:
US $10345
€8854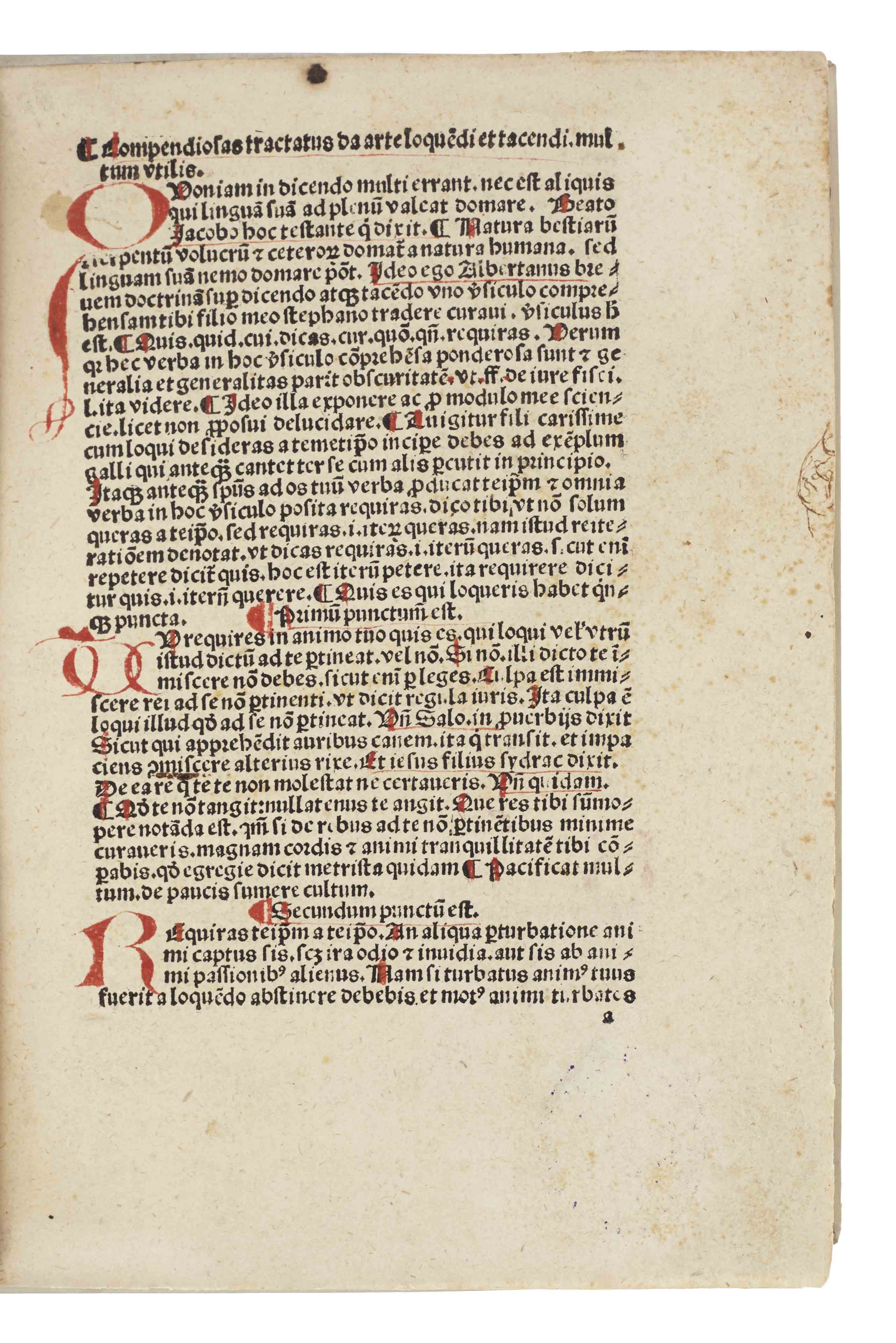 Added to your basket:
De arte loquendi et tacendi.
Very rare Ingolstadt edition of this treatise on the art of speech, the most influential work of the thirteenth-century Brescian causidicus, Albertano.

Printing was introduced at Ingolstadt in 1484. This is one of ten works assigned to the 'Printer of Celtis', the third (anonymous) Ingolstadt press, and may in fact be his first production: 'both forms of d are common in this book, which suggests a first effort by its bad press-work' (BMC). The printer may be identified with Johann Kachelofen, who matriculated at the University of Ingolstadt in 1490 and was evidently supplied with type by his half-brother Conrad, of Leipzig (see Ferdinand Geldner, 'Zum Ingolstädter buchdruck des 15. Jahrhunderts', Gutenberg-Jahrbuch, 1968, pp. 97–9).

Provenance: from the library of Boies Penrose (1902–1976), with his bookplate and with pencilled inscription (in Eric Sexton's hand?) '18 Ja[nuary] [19]41 B. Penrose gift'; Eric Sexton (1902–1980), with his book label and bookplate; his sale, Christie's New York, 8 April 1981, lot 78; Ned J. Nakles (1931–1999), his sale, Christie's New York, 17 April 2000, lot 83.

HC *398; BMC III 677; GW 556; Goff A-206; Bod-inc. A-089. ISTC records 13 copies only, of which two in the UK (Bodleian and British Library) and one in the US (Pierpont Morgan Library).
You may also be interested in...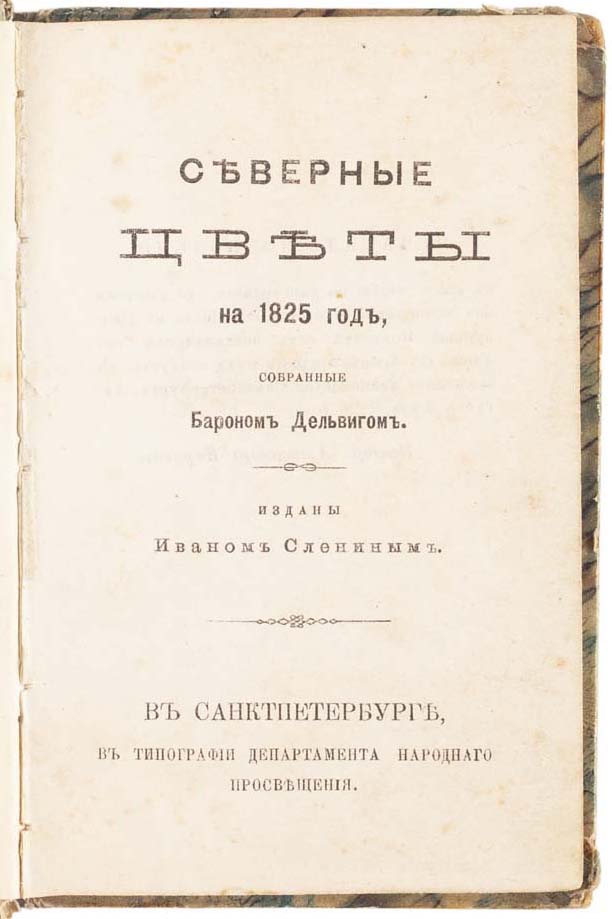 [PUSHKIN, Aleksandr Sergeevich (contributor).]
Сѣверные цвѣты на 1825 годъ [Severnye tsvety na 1825 god, 'Northern flowers for the year 1825']. [Vol I (of 2)].
Rare nineteenth-century Moscow reprint of the exceptionally rare first issue of Northern flowers, one of the most celebrated Russian literary anthologies, edited by Pushkin's great friend Delvig. The 1825 issue included the first appearance of four passages from part ii of Eugene Onegin, and three of Pushkin's poems: 'Pesn o veshchem Olege', 'Demon', and 'Proserpina'. The excerpts from Onegin were meant to prepare the public and create a large market for Pushkin's masterpiece, which was published between 1825 and 1832. The 1825 issue also contained several fables by Krylov, and contributions by V.A. Zhukovsky, E.A. Baratynsky.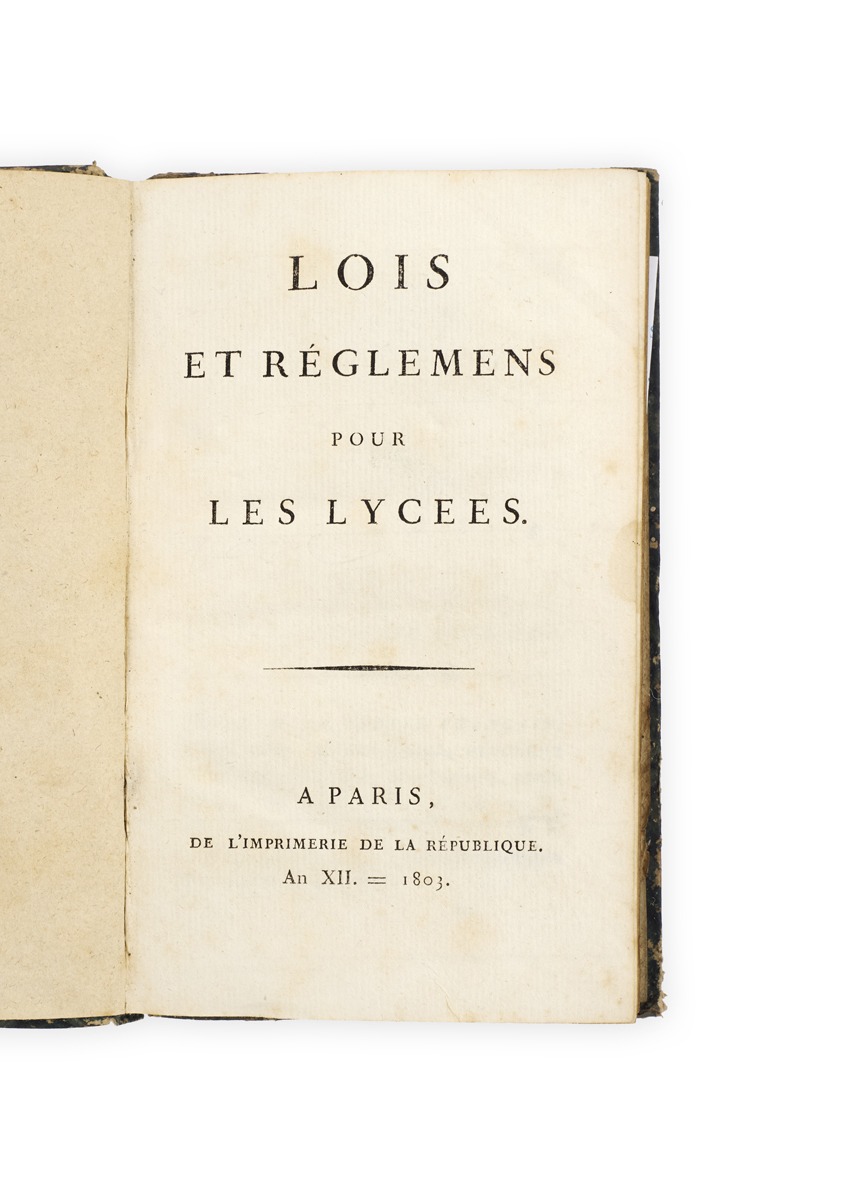 NAPOLEON REFORMS FRENCH EDUCATION [EDUCATION.]
Lois et réglemens pour les lycees.
Rare first edition of this extremely interesting collection of laws and regulations governing secondary education in France, reflecting the historic changes enacted between 1801 and 1803 by Napoleon as First Consul, in particular the establishment of lycées.