RARE GOSPEL EXEGESIS IN A CONTEMPORARY VENETIAN BINDING
ALBERTUS de Padua.
Evangeliorum quadragesimalium opus aureum nunquam alias impressum.
Venice, Jacob Pentius de Leucho, May 1523.
8vo (156 x 106 mm), ff. [8], 407, [1 (blank)]; full-page woodcut f. [8]v, woodcut initials throughout, some historiated, title printed in red and black within woodcut borders; ink smudge f. 124, otherwise a very clean copy; contemporary Venetian sheep over pasteboard, roll-tooled and filleted in blind to a panel design with central arabesques, spine diced in blind with date gilt (later) directly at foot, remains of 4 ties, hinges supported with manuscript waste, somewhat worn, with some scuffing and short splits to joints, corners worn; contemporary ownership inscription to title, as well as occasional annotations to text, by Simone, a canon of the Lateran Augustinian congregation of St Sebastian in Biella; bookplates of Giuseppe Turrini (1826–1899) and Jaco Calleri Damonte Graja to pastedown.
£2000

Approximately:
US $2710
€2389
Added to your basket:
Evangeliorum quadragesimalium opus aureum nunquam alias impressum.
First edition, in a contemporary Venetian binding, of the Lenten Gospel exegesis by one of the greatest Augustinian theologians to live on the cusp of the fourteenth century.

Albert of Padua's work survives only in part – the most commonly found being the exegesis or postil on the Dominical Gospels, published in Venice in 1476 and in Ulm in 1480. Our Lenten postil survived in manuscript only until this Venice edition, which brought the Albertan cycle of Gospel exegesis to completion. Albert's work merited a particular mention in Jordan of Saxony's account of the Augustinian Order as the object of much appreciation among contemporaries, and this popularity lasted throughout the following two centuries, as evidenced by the number of sixteenth-century editions. His work, today, is the object of analysis by art historians as a possible influence on the programme for the fresco cycle by Giotto in the Arena Chapel in Padua.

All early editions remain of great importance, as no critical or modern edition of the text has been produced to date. Ours is beautifully ornamented by woodcuts, including a full-page figure of St Augustine surrounded by his followers; the contemporary Venetian binding and the sixteenth-century annotations by an Augustinian canon make this volume a cultural survival of remarkable complexity and interest.

Though well-represented in Italian libraries, this book is very rare elsewhere. USTC records only one institutional copy in the US (Chicago) and one in the UK (British Library), to which Library Hub (Copac) adds one copy in Birmingham. No other copies could be traced at auction.

Sander 195; Essling 2199; not in Adams.
You may also be interested in...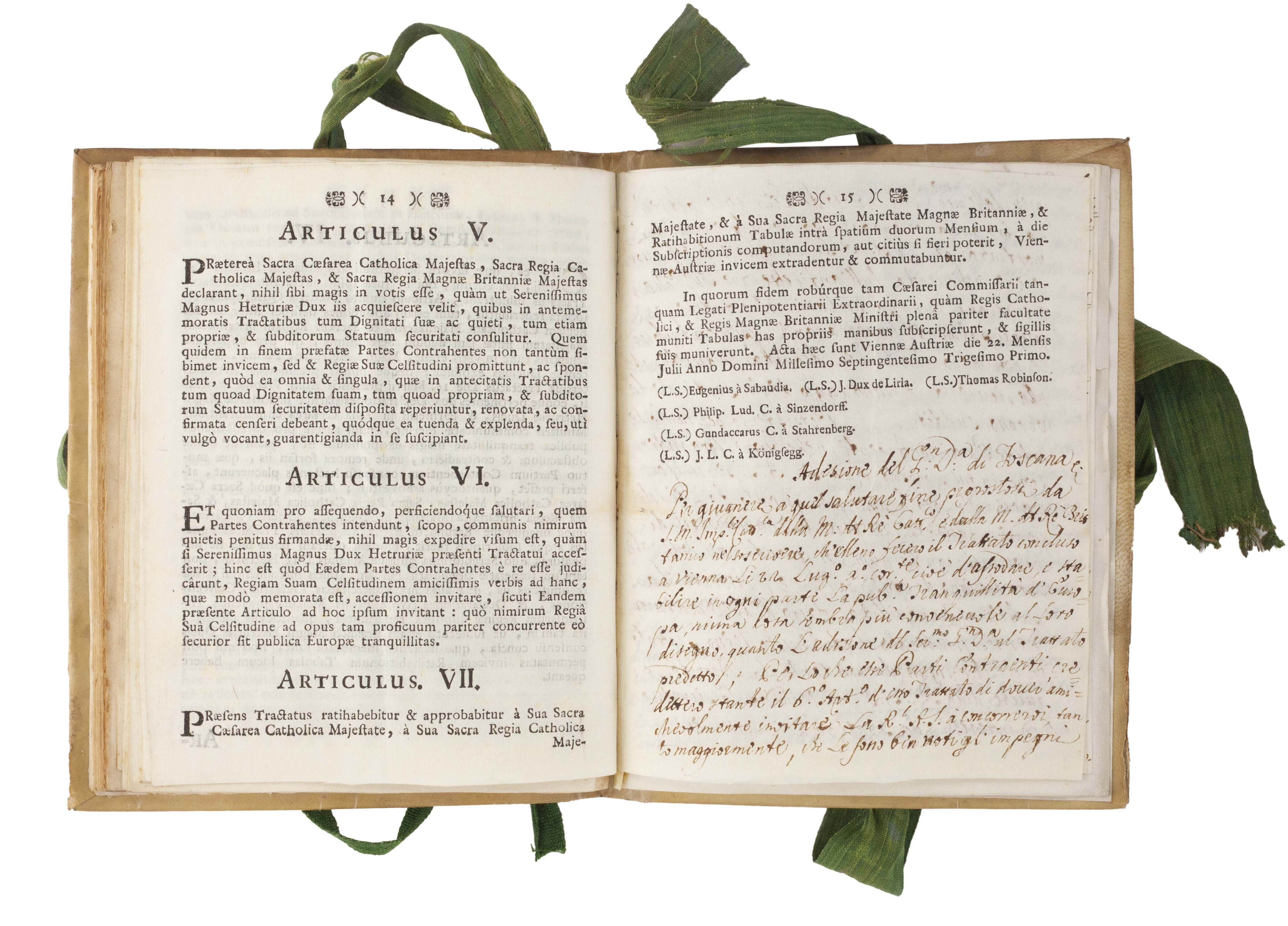 [TREATIES.]
Volume of tracts on European treaties of peace and alliance.
A collection of scarce texts relating to the Peace of Vienna (1725) and subsequent treaties of Hanover (1725), Paris (1727), Seville (1729), and Vienna (1731), with contemporary manuscript additions in Italian and French clearly composed by someone in diplomatic service. The collection eloquently attests to the shifting alliances and jostling for position among the major European powers in the 1720s.
EVELYN'S COMPLEAT GARD'NER 'QUINTINYE, Monsr de la,' [Jean de la QUINTINIE] and John EVELYN (translator).
The compleat Gard'ner; or, Directions for Cultivating and right Ordering of Fruit-Gardens and Kitchen-Gardens, with divers Reflections on several Parts of Husbandry, in six Books … to which is added, his Treatise of Orange-Trees, with the Raising of Melons, omitted in the French Editions … illustrated with Copper Plates.
First edition in English, translated and expanded by John Evelyn, of the principal work of the Chief Director of Louis XIV's gardens, Jean de la Quintinie, first published three years previously as Instructions pour les jardins fruitiers et potagers.