SCOTTISH DRAPER LEARNS HIS ACCOUNTS
ALEXANDER, Thomas.
Three account books dated 1829-32 ('Ledger', 'Journals', 'Waste Book').
Blairlogie, Scotland, 1829.
Manuscript on paper, 3 vols, folio (41 x 26 cm), ff. [51], [2 blank]; [25], [1 blank]; [22], [2 blank]; very neatly written in black ink in a copperplate hand; a little wear to fore-edges of some leaves; very well preserved in thick paper wrappers; a few areas of loss to spines, some light staining to covers; inscriptions 'Thomas Alexander Carse 1829' and 'Thomas Alexander Blair Logie'.
£550

Approximately:
US $704
€625
Added to your basket:
Three account books dated 1829-32 ('Ledger', 'Journals', 'Waste Book').
A very attractive set of sample accounts compiled by the young Scottish draper Thomas Alexander of Blairlogie in Stirling, Scotland, in 1829, as part of his mercantile training. Thomas was born in 1812, the eldest son of a Blairlogie portioner (also called Thomas); he would therefore have been 17 years old when he composed these volumes. In the 1851 census he is recorded as a draper.

The content of the volumes is essentially copied from James Morrison's highly successful work The elements of book keeping by single & double entry, first published in 1810 and issued in further editions for several years thereafter. Morrison was an accountant and Master of the Glasgow Mercantile Academy. The sample accounts in The elements were well suited to the young draper Thomas since they contain so many entries relating to trade in cloth: to calico, cambric, cotton wool and yarn, dimity, flannel, gingham, Holland, kersey, linen, muslin, quilting, sarsenet, shalloon, and velvet; as well as to associated products such as madder.

What is interesting is that Thomas adapted Morrison's accounts to his own Scottish locale, heading his entries from 'Stirling', as well as from 'London', and making references to, for example, the Leven Bleachfield Co., Stirling Bank, the Bank of Scotland, Thistle Bank, Pringle & Son (of knitwear fame, founded in 1815), Sir W. Forbes & Co., Dundee Bank, the Stirling Sugar-house Co., and the Falkirk Bank. He also employs local place names, such as Doune, St Ninians, and Alloa.
You may also be interested in...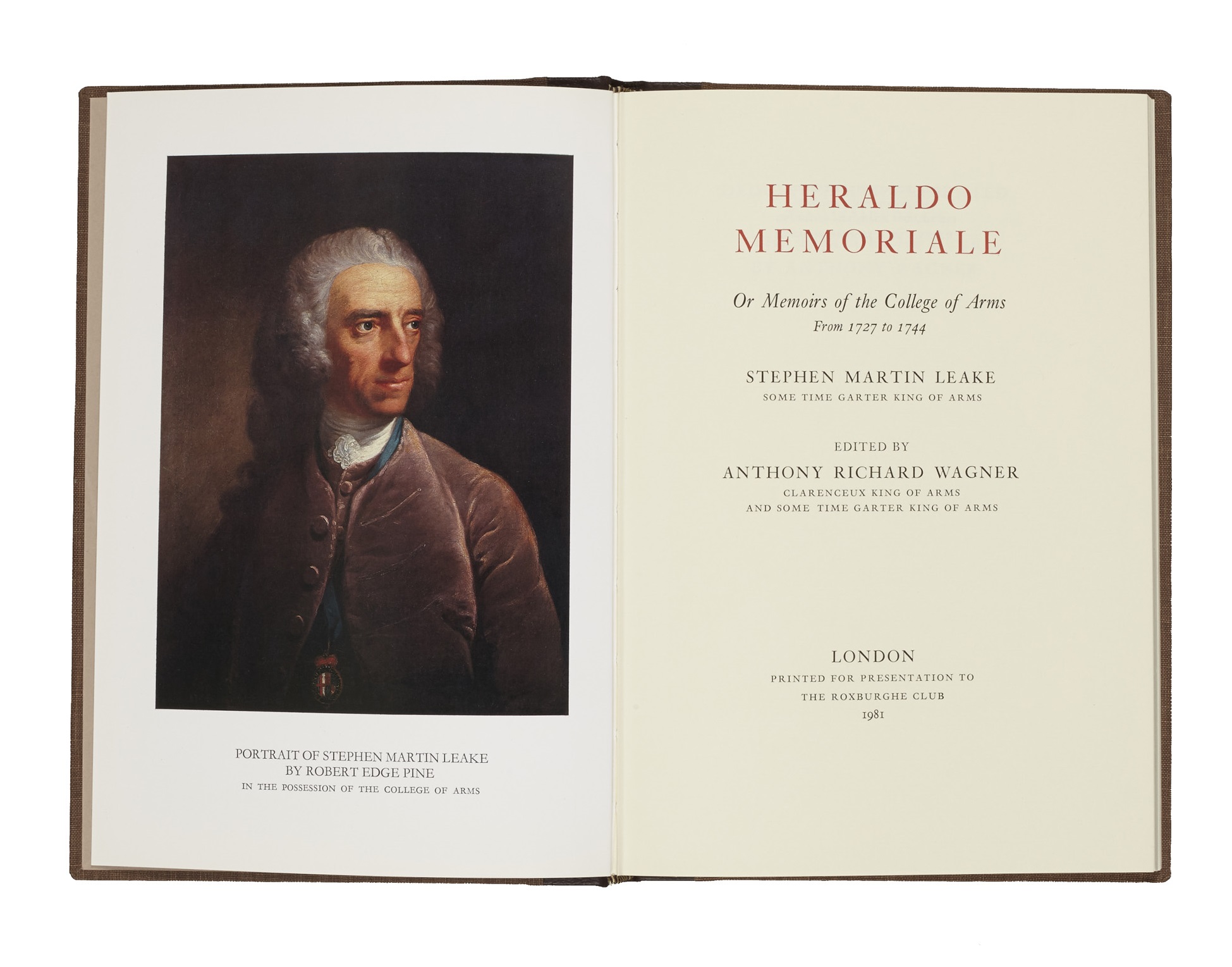 LEAKE, Stephen Martin.
Heraldo Memoriale, or Memoirs of the College of Arms from 1727 to 1744. Edited by Anthony Richard Wagner.
Stephen Martin Leake was Garter principal king of arms from 1754 to 1773. The three volumes of his extensive manuscript journal, Heraldo-Memoriale, are preserved in the College of Arms.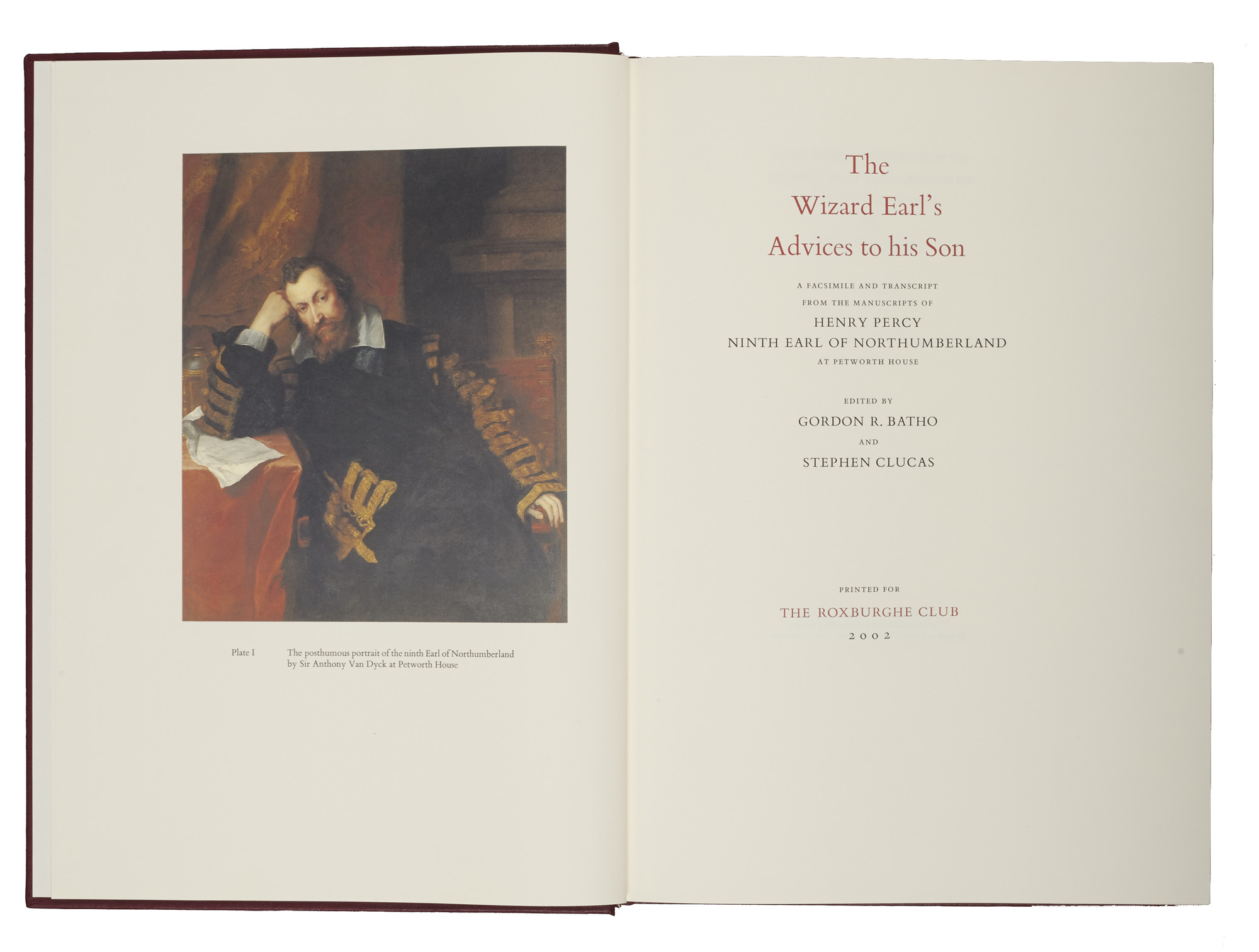 BATHO, Gordon R., and Stephen Clucas, eds.
The Wizard Earl's Advices to his Son. A Facsimile and Transcript from the Manuscript of Henry Percy, 9th Earl of Northumberland, at Petworth House.
The 'Wizard Earl', Henry, Ninth Earl of Northumberland, spent much of his life under suspicion. He was, first of all, suspected of being a member of the 'School of Night', the butt of Shakespeare's Love's Labours Lost. Secondly, and more gravely, he was suspected of involvement in the Gunpowder Plot and imprisoned in the Tower for almost sixteen years. It was during his incarceration that he compiled advice to his son and heir, Algernon. This work is a full facsimile, with a diplomatic transcript, of the 'Advices to his Son'. The texts are prefaced with an extended introduction by Professor G. R. Batho and Dr Stephen Clucas, who together provide a full and up-to-date account of the Earl's life, the writing of the 'Advices', and his intellectual tastes and development.