SCOTTISH DRAPER LEARNS HIS ACCOUNTS
ALEXANDER, Thomas.
Three account books dated 1829-32 ('Ledger', 'Journals', 'Waste Book').
Blairlogie, Scotland, 1829.
Manuscript on paper, 3 vols, folio (41 x 26 cm), ff. [51], [2 blank]; [25], [1 blank]; [22], [2 blank]; very neatly written in black ink in a copperplate hand; a little wear to fore-edges of some leaves; very well preserved in thick paper wrappers; a few areas of loss to spines, some light staining to covers; inscriptions 'Thomas Alexander Carse 1829' and 'Thomas Alexander Blair Logie'.
£550

Approximately:
US $775
€640
Added to your basket:
Three account books dated 1829-32 ('Ledger', 'Journals', 'Waste Book').
A very attractive set of sample accounts compiled by the young Scottish draper Thomas Alexander of Blairlogie in Stirling, Scotland, in 1829, as part of his mercantile training. Thomas was born in 1812, the eldest son of a Blairlogie portioner (also called Thomas); he would therefore have been 17 years old when he composed these volumes. In the 1851 census he is recorded as a draper.

The content of the volumes is essentially copied from James Morrison's highly successful work The elements of book keeping by single & double entry, first published in 1810 and issued in further editions for several years thereafter. Morrison was an accountant and Master of the Glasgow Mercantile Academy. The sample accounts in The elements were well suited to the young draper Thomas since they contain so many entries relating to trade in cloth: to calico, cambric, cotton wool and yarn, dimity, flannel, gingham, Holland, kersey, linen, muslin, quilting, sarsenet, shalloon, and velvet; as well as to associated products such as madder.

What is interesting is that Thomas adapted Morrison's accounts to his own Scottish locale, heading his entries from 'Stirling', as well as from 'London', and making references to, for example, the Leven Bleachfield Co., Stirling Bank, the Bank of Scotland, Thistle Bank, Pringle & Son (of knitwear fame, founded in 1815), Sir W. Forbes & Co., Dundee Bank, the Stirling Sugar-house Co., and the Falkirk Bank. He also employs local place names, such as Doune, St Ninians, and Alloa.
You may also be interested in...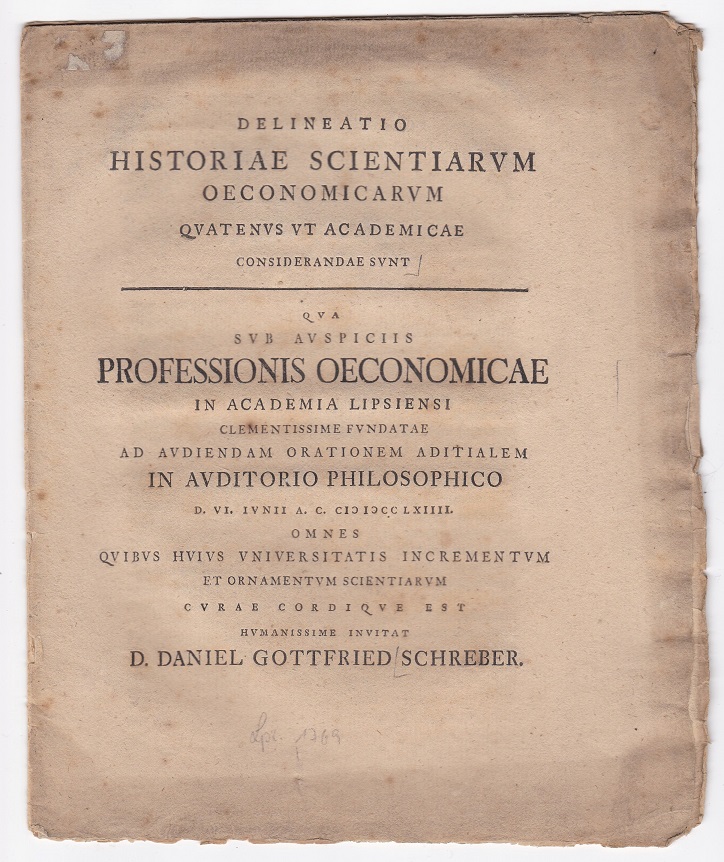 SCHREBER, Daniel Gottfried.
Delineatio historiae scientiarum oeconomicarum quatenus ut academicae considerandae sunt qua sub auspiciis professionis oeconomicae in academia Lipsiensi ... ad audiendam orationem aditialem in auditorio philosophico d. vi Iunii a.c. MDCCLXIIII omnes ... invitat D. Daniel Gottfried Schreber.
First edition of this interesting outline of the history of economic science by the jurist and philosopher Schreber (1708-1777), presented as his inaugural lecture as professor of economics, politics and philosophy at the University of Leipzig.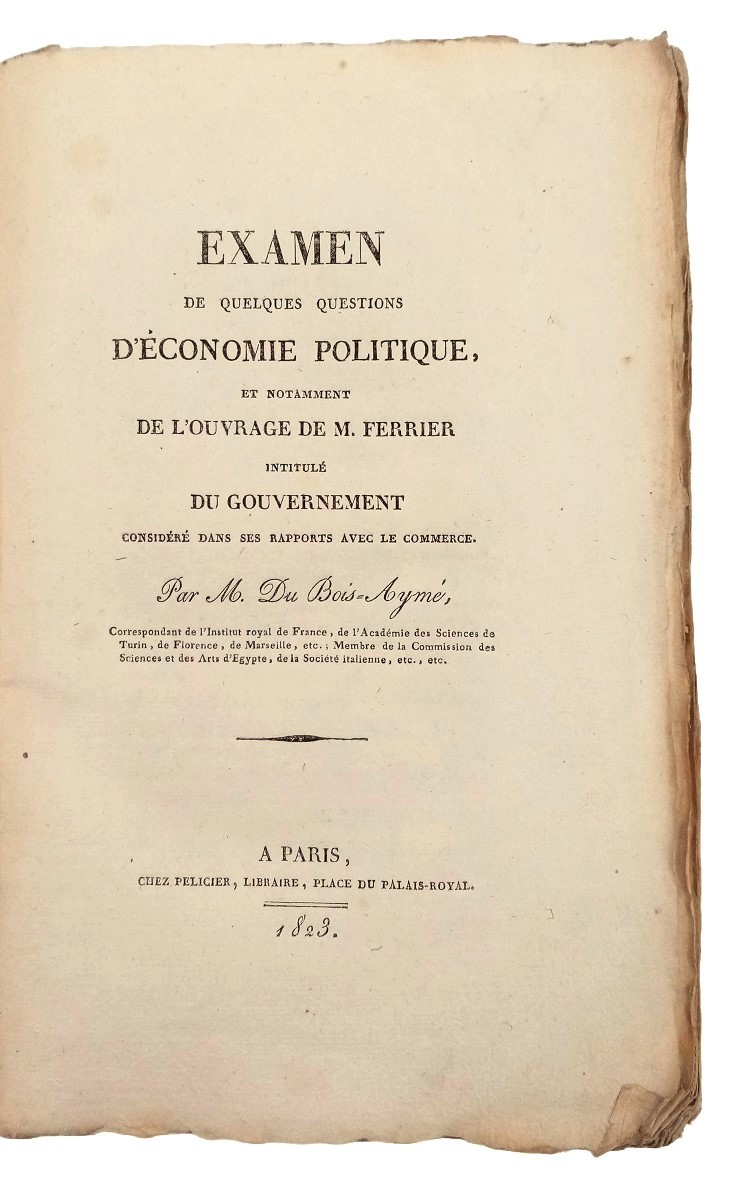 HOW MUCH MORE THE SKILLED WORKER SHOULD BE PAID THAN HIS UNSKILLED COUNTERPART DUBOIS-AYMÉ [Jean Marie Joseph Aimé DUBOIS, known as].
Examen de quelques questions d'économie politique, et notamment de l'ouvrage de M. Ferrier intitulé Du Gouvernement considéré dans ses rapports avec le commerce.
First edition. Dubois-Aymé uses mathematical methodology to examine two of the cases he considers. In the first instance he 'compares the power due to the riches of two countries. This power he maintains is in proportion to the goods available to each country over and above its indispensable requirements for consumption and reproduction' (Theocharis, p. 80). Later he discusses 'the relation between the salary of the unskilled worker and that of the skilled worker, who needs to undergo a period of apprenticeship at a certain expense. The condition is that the salary of the skilled worker should be such as to give him over his shorter working life total earnings equal to his earnings as a general labourer plus his costs of apprenticeship' (Theocharis, p. 80).