SKETCHES ON THE NIGER RIVER: HAND-COLOURED
ALLEN, Willam.
Picturesque views on the River Niger, sketched during Lander's last visit in 1832-33 …
London, John Murray, Hodgson & Graves, and Ackerman, 1840.
Oblong 4to (270 x 380 mm), pp. vi, [7]-18, with hand-coloured lithographed map and 10 hand-coloured lithographed plates (one folding) with 22 views; some light staining to first plate, a little light foxing, a few short closed tears to outer margins at end, a little wear to corners; overall very good in original printed brown wrappers; some wear to corners, edges and spine (a few repairs), some marks to covers.
£5750

Approximately:
US $6966
€6646
Added to your basket:
Picturesque views on the River Niger, sketched during Lander's last visit in 1832-33 …
First edition, one of a very few copies issued coloured, of this collection of beautiful views sketched along the Niger River by the naval officer William Allen (1792–1864), accompanied by descriptive notes extracted from his diary.

The sketches were made during the unsuccessful expedition undertaken by Richard Lander and Macgregor Laird in 1832-34 to open up trade with the countries of central Africa via the Niger. Their publication here, several years later, was prompted by Allen's impending departure on Henry Dundas Trotter's disastrous Niger expedition of 1841-2, during which he commanded the steamer Wilberforce. His preface here is full of hope that the mission would help substitute the 'horrible traffic' of slaves with 'an innocent and a legitimate commerce'.

The opening map, showing 'a part of the Rivers Niger & Chadda', is marked with crosses showing where Allen sketched his views en route. The excellent plates (in spite of the artist 'suffering severely from the effect of the climate') include a stunning folding panorama showing 'the confluence of the Rivers Niger and Chadda', as well as, for example, 'Procession to Ibu', 'Cliffs at Attah', 'Mountains & market canoes near Bokweh', 'Huts at Jogguh', 'Mount Patteh from Bangadeh', 'The king giving judgement at the gate of his palace', 'The interior of the Chief Malem's house', 'Beaufort Island', 'The Terry Mountains', and 'The Rennell Mountains'.

Allen dedicated the work to Prince Albert and attracted 150 subscribers, who are listed at the end of the volume. In addition to Macgregor Laird and Trotter, the list includes several notable names: the abolitionist Sir Thomas Foxwell Buxton; the Arctic explorers Sir Edward Parry and Sir George Back; Elizabeth Fry, Lady Franklin, and Lady Sophia Raffles; the German explorer Sir Robert Schomburgk; the botanist Sir William Hooker; and the Society for Extinction of the Slave Trade.

Abbey, Travel 284 ('apparently only a few copies were issued coloured').
You may also be interested in...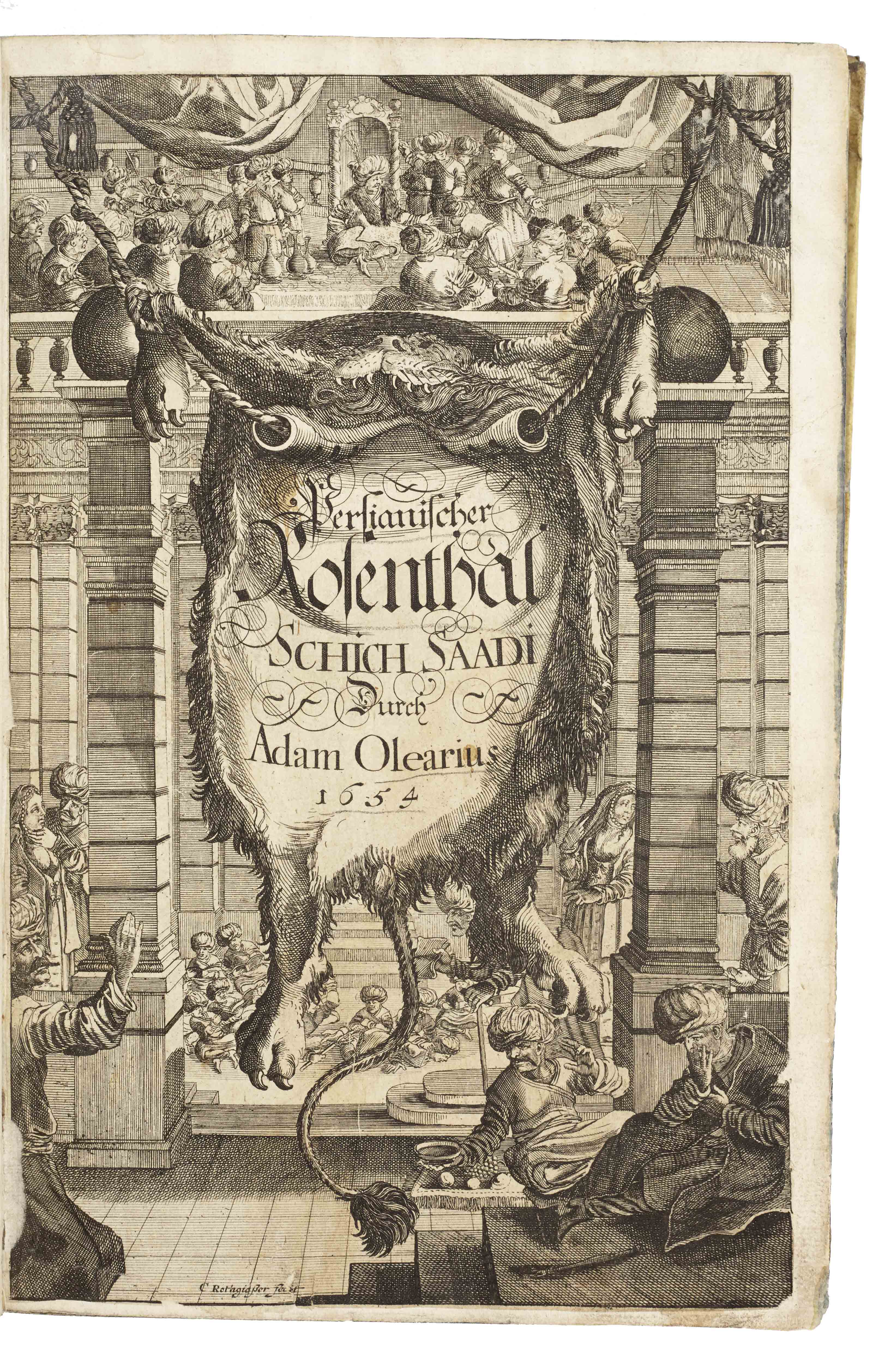 SA'DI, Abu 'Abd Allah Musharrif al-Din (Adam OLEARIUS, translator).
Persianischer Rosenthal. In welchen viel lustige Historien scharffsinige Reden und nützliche Regeln. Vor 400. Jahren von einem Sinnreichen Poeten Schich Saadi in Persischer Sprach beschrieben.
Rare first edition of Olearius's translation of Sa'di's Gulistān or 'Rose-garden', richly and engagingly illustrated.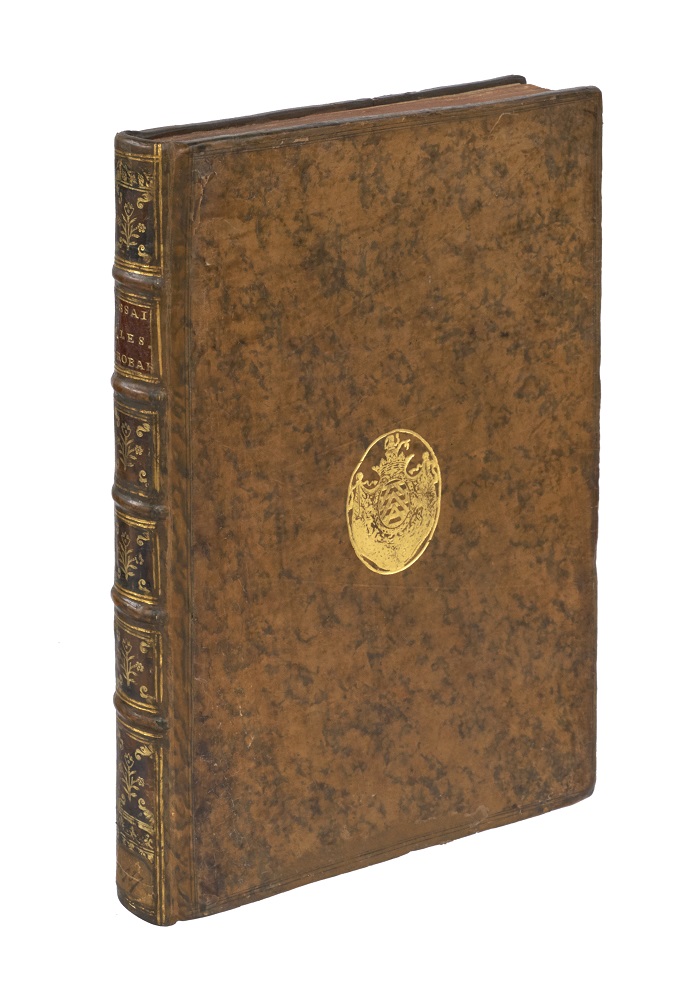 A CLASSIC OF STATISTICAL SCIENCE DEPARCIEUX, Antoine.
Essai sur les probabilités de la durée de la vie humaine; d'où l'on déduit la manière de déterminer les rentes viagères, tant simples qu'en tontines: précédé d'une courte explication sur les rentes à terme, ou annuités; et accompagné d'un grand nombre de tables.
A large, crisp and illustrious copy of the first edition of a classic of statistical science: it is the first to define expectation of life – which Deparcieux calls 'la vie moyenne' – and the first to contain life tables for males and females. 'The first French work in the actuarial field ... After publication of this Essai, expectation of life came into general use as a descriptive statistic. Deparcieux scaled his mortality data to a radix of 1000 at age 3, calculated the survivors at every five years and interpolated the intermediate values ... [His table] was espoused by the French life insurance companies and used almost until the end of the nineteenth century for premium calculations where payments were made on survival' (History of Actuarial Science, ed. Steven Haberman & Trevor Sibbett, London 1995, p. 243).