THE GENDARME AND THE CHEESE
[ALMANAC.] 
Le double Liègeois, almanach journalier pour 1842, supputé par M. Math. Laensberg, suivi de ses véritables prophéties. 
Liège and Paris, Stahl, [1841]. 
12mo in 8s and 4s, pp. [240]; large woodcut vignette to title and numerous woodcuts printed in text; adhesion to f. (13)3r, a little light foxing; a very good copy in contemporary red morocco, gilt border and frame to covers, spine gilt and lettered directly, gilt edges and turn-ins, watered silk endpapers; extremities lightly rubbed.
£225

Approximately:
US $277
€259
Added to your basket:
Le double Liègeois, almanach journalier pour 1842, supputé par M. Math. Laensberg, suivi de ses véritables prophéties. 
Rare issue of the long-running and highly entertaining Almanach de Liège, illustrated with numerous crudely printed woodcuts. 

Alongside advice on forecasting the weather, month-by-month tips on gardening, lists of fairs, horoscopes, and adverts for medicinal cures, the content includes delightfully vague predictions of future events and numerous amusing stories and anecdotes.  Spring promises an 'atrocious assassination of three individuals and the mutilation of their bodies', while in May readers could look forward to 'a furious beast' causing 'great destruction and the death of many'.  The short comic stories include 'The gendarme and the cheese', in which the titular policeman is given the slip by a thief while distracted by a Gruyère. 

The woodcuts include an unusable map of France, portraits of King Louis Philippe and his wife, and medallions of past French kings (as well as Napoleon) with accompanying biographies. 

No copies outside France on OCLC. 
You may also be interested in...
INSCRIBED, REVIEWED BY BRIDSON ALDINGTON, Richard.
All Men are Enemies, a Romance.
First trade edition, inscribed 'For D. G. Bridson from Richard Aldington / March. 1933'. Bridson's review in The New English Weekly, 23 March 1933, was uncharacteristically without reservation in its enthusiasm: 'one of the finest novels written lately … In actual reading [rather than in summary] it is little short of perfect', its style one of 'grace and artlessness', 'a novel to read some half-dozen times'.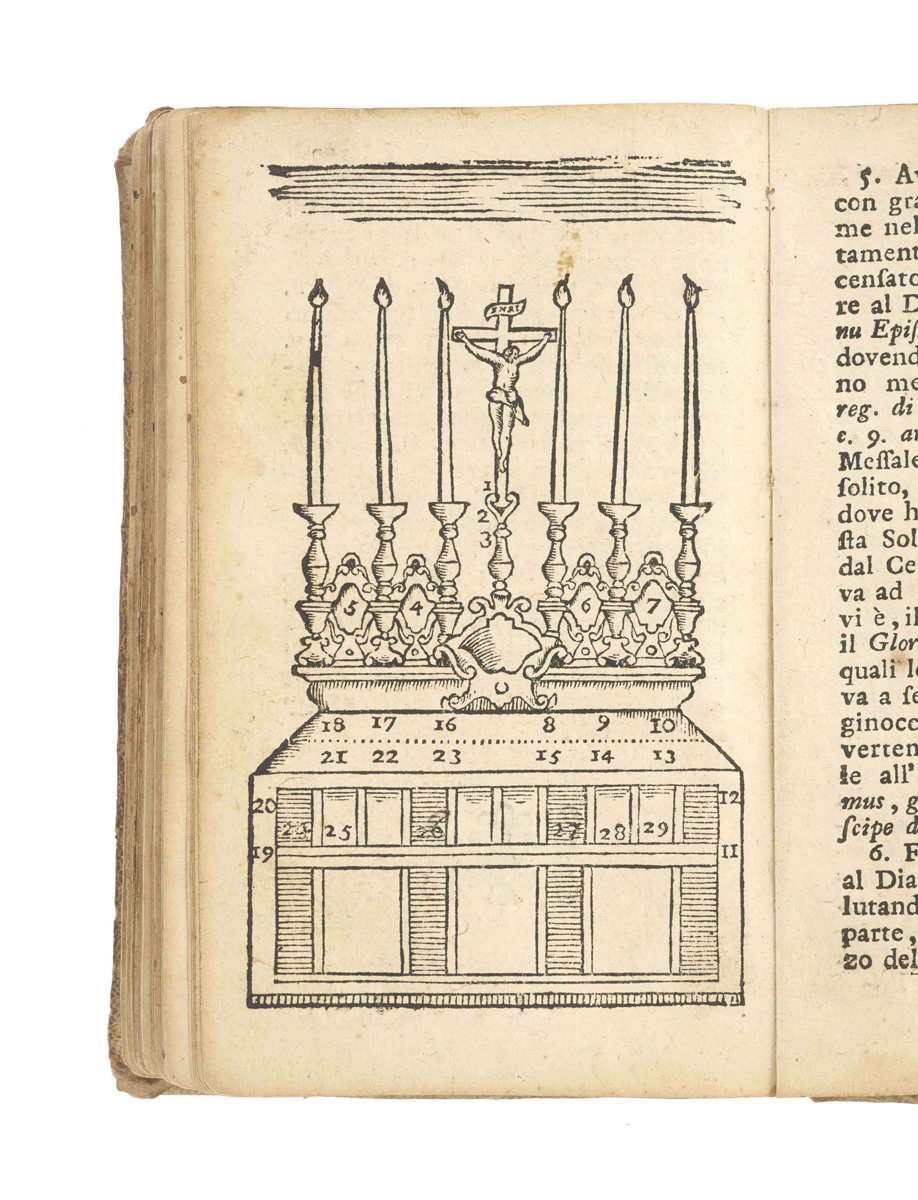 [LITURGY.]
Cerimonie piu' notabili della messa privata; Cavate dalle rubriche del Missale, ed altri autori da un Sacerdote D.C.D.M. Coll'aggiunta di quelle della messa, e vespri solenni si pei vivi, che pei defunti, col modo di servire alla messa privata. Da un'Alunno del Seminario di Torino.
As far as we are aware unrecorded edition of this uncommon treatise on the celebration of the mass and its associated rituals. Dealing both with private (low) masses and with solemn mass and solemn vespers, the work explains the meaning and performance of the non-verbal aspects of the liturgy: genuflection, the sign of the cross, the communion of the faithful, the movements of the celebrant's hands, the role of acolytes and thurifers (also during requiem masses), the office of the subdeacon and deacon, the use of incense, and instructions for serving at the missa private. The woodcut on page 200 depicts the altar, annotated with numbers referring to the relevant parts of the text.
The text itself appears first to have been published around the turn of the century; the earliest issue in SBN is a Naples printing of 1701, but that claims to be 'novamente riviste, ed accresciute', and is only of 134 pages in 12s. Other editions appeared in Pavia, Turin, and Modena, while Venetian printings were issued in 1739 and 1750. All seem very scarce.
Not in OCLC, which records only a Venice printing of the same year (in the Polish Union Catalogue); SBN does not record this edition.