'SINCE THE FRENCH SAY THAT THEIR LANGUAGE IS UNIVERSALLY UNDERSTOOD, THEN THERE IS NO DOUBT THAT I
[ANON.]
Microselene. Curioso viaggio etereo di madamigella Garnerin.
Milan, Angelo Stanislao Brambilla, 1824.
8vo, pp. 224; some light foxing and dampstaining, a few pages cropped at lower edge; a very good copy in the original blue paper printed wrappers, with some dampstaining.
£950

Approximately:
US $1179
€1068
Added to your basket:
Microselene. Curioso viaggio etereo di madamigella Garnerin.
First edition of an innovative early Italian work of satirical imaginative fiction. Subtitled the 'Curioso viaggio etereo di madamigella Garnerin' [The Curious Voyage of Miss Garnerin], Microselene centres on an aeroporista [aeronaut], and begins with her ascent in a hot air balloon, based on the famous exploits of Elisa Garnerin (1791-1853), the French parachutist and balloonist. As with the novels of Jules Verne several decades later, recent developments in technology provide fuel for speculation; but unlike his strictly-circumscribed adventures, the present work revels in diverging fantastically (and comically) from the limitations of scientific possibility.

The work begins with Garnerin's ascent in a hot-air balloon, at which point, 'la terra appariva al suo sguardo come un formicaio' [the Earth seeming to her eyes like a vast anthill], she muses on the vanity and pride of humanity. Although this brief commentary is ostensibly interrupted, it strikes a satirical note which continues throughout the work, which finds comedy in the fantastic (and places closer to home) in the manner of Gulliver's Travels. Garnerin meets a sylph (air spirit) riding a cloud being drawn by an eagle and a vulture 'as big as an ox', who offers her the opportunity to visit the Earth's second, lesser-known satellite, the eponymous Microselene. The work's self-conscious narrative method regularly digresses to move between characters and locations, and being punctuated by the occasional intrusions of a narrative voice, who addresses the reader on various occasions to excuse the deficiencies in his style, or failing to conform to the tragic or comic mode, concluding with a forceful apology for imaginative fiction, declaring that 'la vita stessa è un continuo vaneggiament' [life itself is a continuous delirium].
You may also be interested in...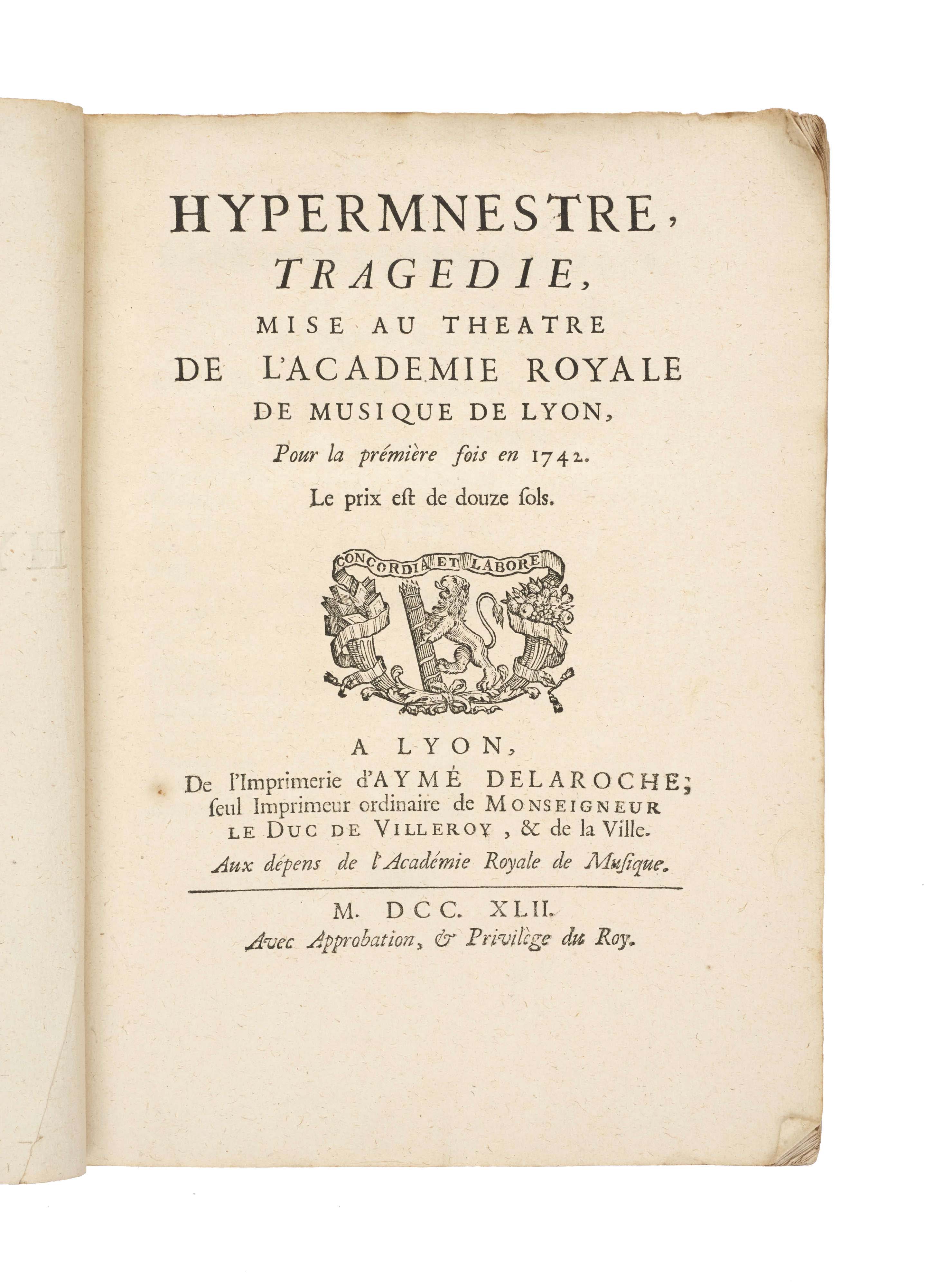 [LAFONT, Joseph de.]
Hypermnestre, tragedie, mise au theatre de l'Academie Royale de Musique de Lyon, pour la prémière fois en 1742. Le prix est de douze sols.
Very scarce Lyon edition of the libretto for the tragedy Hypermnestre by the French playwright Joseph de Lafont (1686-1725). First performed in 1716, with music by Charles-Hubert Gervais, the play was initially criticised for its fifth act, but after rewriting by abbé Simon-Joseph Pellegrin enjoyed considerable success both with the public and at court. Lafont died at the age of 39, succumbing to his affection for wine.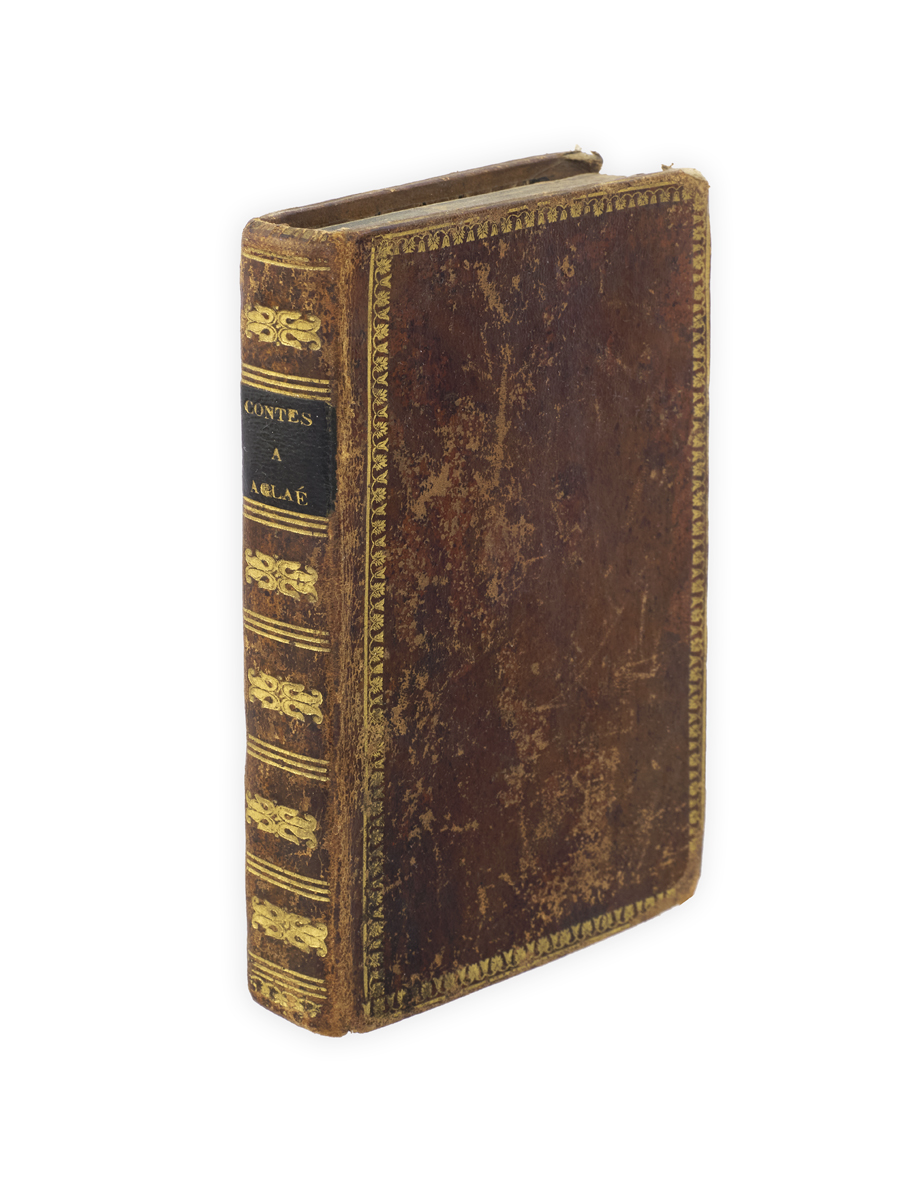 [RENNEVILLE, Sophie de?].
Contes a Aglaé, ou la jeune moraliste.
Very uncommon edition, possibly the first, of this collection of educational contes moraux, sometimes attributed to the prolific children's author and journalist Sophie de Renneville (1772-1822). Aimed at children of both sexes, the book contains sixteen short contes on subjects ranging from first communion and eternal regrets to bank notes and true happiness. Some of these themes are illustrated in the attractive hand-coloured plates.