[ANON.]
More Reasons for a Reform in Parliament contained in letters to the following persons, viz. To the President of the Society for the Relief and Discharge of Persons imprisoned for Small Debts [etc. etc.] …
London, James Ridgway, 1793.
8vo, pp. 15, [1]; a good copy, disbound.
£50

Approximately:
US $69
€57
Added to your basket:
More Reasons for a Reform in Parliament contained in letters to the following persons, viz. To the President of the Society for the Relief and Discharge of Persons imprisoned for Small Debts [etc. etc.] …
First edition thus, printing four anonymous letters previously published in periodicals. Another issue, with 'J. Ridgway' in the imprint, adds a final addendum leaf.
You may also be interested in...
PRIESTLEY, Joseph.
Letters to the Right Honourable Edmund Burke, occasioned by his Reflections on the Revolution in France, &c.
First edition, one of three variant Birmingham issues in 1791. In these letters Priestley defends the principles of the French Revolution against Burke's attack in the Reflections on the Revolution in France, which appeared in 1790. The Birmingham riots of July 1791 saw Priestley's home attacked by the mob, forcing him to relocate to Hackney in London where he had sympathetic friends such as the radical printer Joseph Johnson.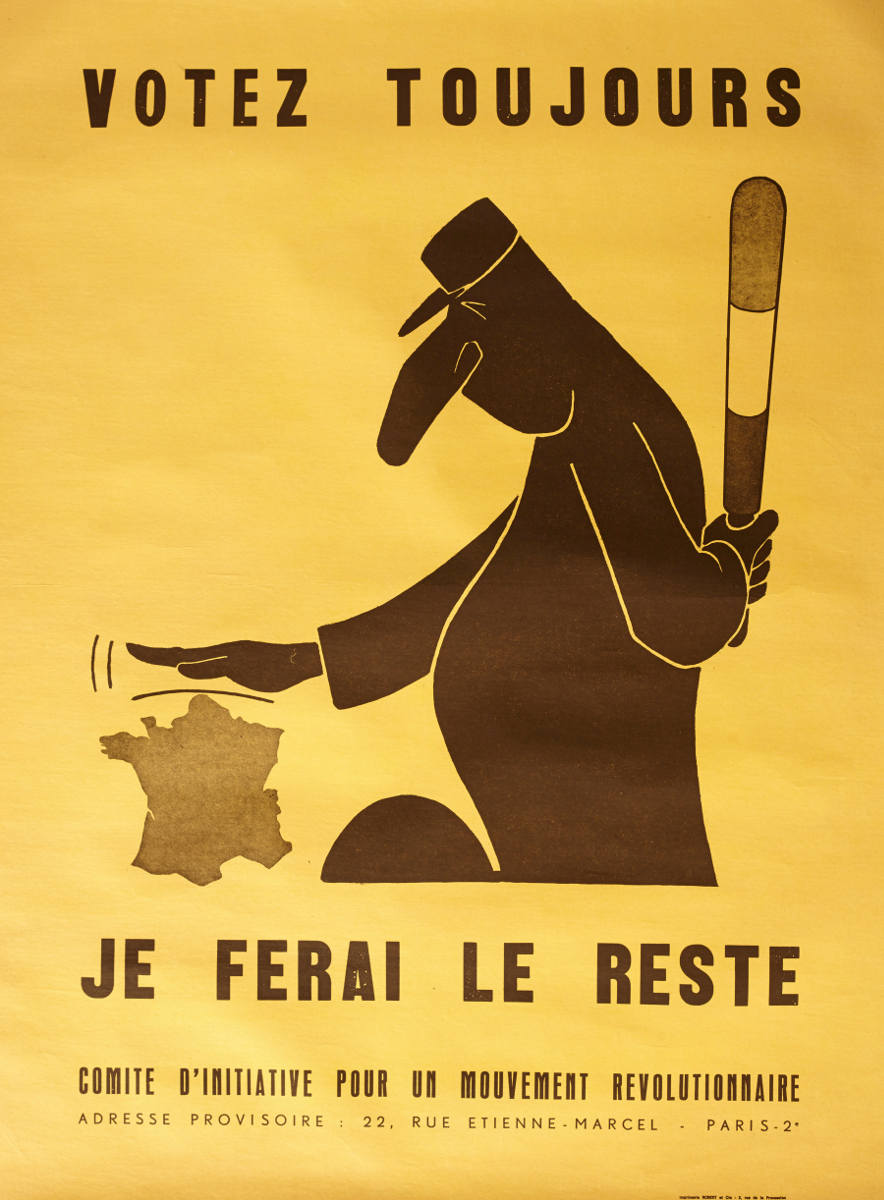 [PARIS UPRISING.]
Votez toujours. Je ferai le reste [Always vote. I'll do the rest].
First edition. A striking image of General De Gaulle patting France on the head for obediently voting, a baton cunningly concealed behind him. 1968 was a year when passions were flying high in France. The communist and socialist parties had formed an alliance in February with a view to replacing the De Gaulle administration. The ensuing student occupation protests coupled with wildcat general strikes of over 20% of the French population seriously destablized De Gaulle's government, and for some time it seemed likely that it would fall. Having fled briefly to Germany, however, De Gaulle called elections for June 1968, and emerged with an increased majority.