FROM JUVENILE GAIETY TO GREATNESS
ANTOINE, Antoine. 
L'esprit des enfans, ou naïvetés, saillies piquantes, réparties ingénieuses, espiégleries, traits de bonté, de courage, etc., d'enfans qui la plupart sont devenus des hommes célèbres ... 
Paris, Alexis Eymery, 1813. 
24mo, pp. 212, with engraved frontispiece and additional engraved title-page; woodcut of publisher's signature to verso of half-title; very occasional light marks, engraved title cut close (just touching print); a very good copy in contemporary half calf with marbled sides, spine gilt in compartments and lettered directly in gilt; some wear to upper joint and extremities and rubbing to covers; contemporary correction in ink to p. 34, a few pencil marks.
£450

Approximately:
US $546
€519
Added to your basket:
L'esprit des enfans, ou naïvetés, saillies piquantes, réparties ingénieuses, espiégleries, traits de bonté, de courage, etc., d'enfans qui la plupart sont devenus des hommes célèbres ... 
Scarce and charming collection of amusing and edifying anecdotes relating to the childhoods of those who would later become famous, alongside more general youthful yarns, compiled by the Parisian writer Antoine (1776–1836), who specialised in works for children. 

L'Esprit des Enfans features an eclectic cast of the great and the good, including Louis XIV, Gassendi, Cato, Cyrus the Great, Ariosto, Voltaire, St Genevieve, Leibniz, Madame Dacier, Lady Jane Grey, Dick Whittington, and Hannibal.  We hear of the young Frederick the Great naming his pet monkeys after his courtiers, of the infant Rousseau sent to bed without his supper, of Jean-Baptiste Lully stripping naked and posing as a statue to impress a princess (a scene delightfully depicted on the engraved title), and enjoy an exquisite put-down by Pico della Mirandola.  We read of the future Edward VI treating his friends to tea in priceless silver vessels, of the youthful Alexander the Great complaining that his father has left him nothing to conquer, and of a young scholar of Westminster School caught smoking, claiming that he was doing so on his doctor's advice to keep his feet warm.  Published two years before Waterloo, the text contains several references to fraught Anglo-French relations.  The attractive frontispiece depicts children admiring busts of many of the 'great men' featured in the following pages. 

No copies traced in the UK or US. 
You may also be interested in...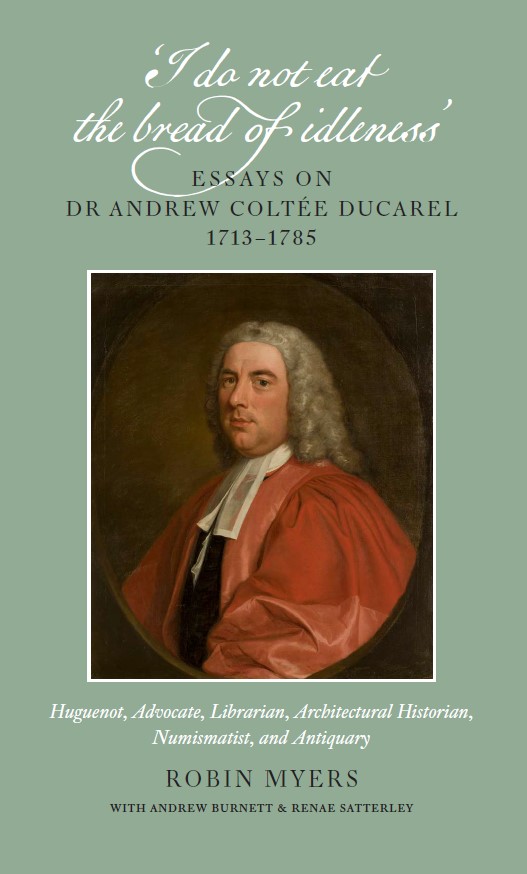 MYERS, Robin, Andrew BURNETT, and Renae SATTERLEY.
'I do not eat the bread of idleness': Dr Andrew Coltée Ducarel 1713–1785, Huguenot, Lawyer, Librarian, Antiquary, and Numismatist.
This volume brings together revised versions of four of Robin Myers's papers on aspects of Ducarel's life and work published between 1994 and 2002, and 'The Life and Times of the Ducarel Brothers', her recent introductory essay to Two Huguenot Brothers: Letters of Andrew and James Coltée Ducarel, 1732–1773 (The Garendon Press, 2019), which has been updated with a section by Adam Pollock on the life of the Ducarel children among other Huguenot families in Greenwich. It also contains new essays by Robin Myers on the collaboration and developing friendship between Ducarel and Philip Morant (1700–1770), historian of Essex, and on Doctors' Commons, an institution whose name most know but few understand. To complement these Renae Satterley, Librarian of the Middle Temple, contributes an essay on Doctors' Commons Library, and Andrew Burnett, former Keeper of Coins and Medals at the British Museum, on Ducarel as numismatist. The appendix comprises a family tree from Ducarel to the present day, an annotated list of works of Andrew Ducarel, a timeline of Ducarel's life, and bibliography. Penelope Bulloch, Christine Ferdinand, and Lorren Boniface helped to edit the work.
FIRST BOOK ABOUT HORSES PRINTED IN MARYLAND MARKHAM, 'J.' [Gervase], G. JEFFERIES, 'and Discreet INDIANS', [and John MILLIS (editor)].
The Citizen and Countryman's experienced Farrier, containing: I. the most best approved Method of Ordering, Dieting, Exercising, Purginng, Scowring, and Cleansing of Horses, also choice Restoratives to chear the Heart, procure an Appetite, and to clear the Lungs and Pipes, so as to strengthen Wind, and give large Breath to the Running or Race-Horse; II. a certain sure Method to know the true State of any Horse's Body, as to Sickness or Health; III. the true Shape of a Horse explained, with choice directions for Buying; IV. an experienced and approved Method for Raising of Horses, as to Ordering, Keeping, &c., also Mares, Colts, and Stallions; V. a sure and certain Rule to know the Age of any Horse, from one Year to ten, with good Observations as he further advances in Years; VI. The best and experienced Way of Keeping the common Hackney, or Hunting Horse, so as to keep him lively, cheerful, free from Colds, Strains, Windgalls, and gross Humours; VII. an approved Method of Purging, Bleeding, and Feeding Cattle, with choice approved Receipts for the Diseases they are incident to, with Signs to know the Disease, and Directions for the Use of Medicines; to all which is added a valuable and fine Collection of the surest and best Receipts in the known World for the Cure of all Maladies and Distempers that are incident to Horses of what Kind soever, with Directions to know what is the ailment, or Diseases.
First Baltimore (second American) edition, revised from Markham's works for use in the United States. When first published in colonial-era Delaware, at Wilmington in 1764, the text was the first book on the selection, care, and racing of horse to be printed in America; this second edition is the first since the Revolutionary War, and the first book on horses printed in Maryland. Though derived from Markham's treatises of the late sixteenth and early seventeenth centuries, the text is much augmented by its editor, John Millis, with information from George Jefferies, a farrier in Bradford Township, and advice suitable for frontier conditions in America.