EDITIO PRINCEPS – WITH MANUSCRIPT ADDITIONS
ANTONINUS FLORENTINUS.
De censuris et De sponsalibus et matrimonio.
Venice, Johannes de Colonia and Johannes Manthen, 23 September 1474.
4to, ff. [135], [a2-10, b10, c–k8, l6, m–q8, r6], without initial blank A1; text in double columns, capital spaces with guide letters with initials supplied in red in the first part, and red and blue ink in the second and third parts, attractive penwork initial and border to f. [2]r, the third part with various penwork initials and borders, red and blue paragraph marks, capitals highlighted in yellow; a few light marks; a very good, crisp copy in early eighteenth-century Italian stiff vellum, spine in compartments, one direct lettered gilt, gilt morocco label with date and printing place in another; contemporary running titles in red and brown ink to first few leaves, a few contemporary maniculae, marginal annotations and corrections, particularly in the third part; extensive contemporary annotations in an elegant humanistic hand to last page (see below).
£9500

Approximately:
US $11686
€11080
Added to your basket:
De censuris et De sponsalibus et matrimonio.
A beautiful copy of the first edition of these two treatises on excommunication and marriage by Antoninus (1389–1459), Dominican friar and Archbishop of Florence (from 1446), taken from book III of his great work, the Summa theologica moralis, which was not printed in its entirety until 1485.

Between these two texts are here printed: two bulls by Pope Paul II ('Cum omnibus iudiciis', 11 May 1465, and 'Bulla de casibus reservatis', 3 March 1469); another attributed to him but actually by Pope Eugenius IV ('Bulla contra symoniacos', 23 November 1464); Pius II's 'Constitutio' of 17 November 1461; and two anonymous texts, 'Ex processu annuali in curia' and 'Item ex ipso processu'. Interestingly, each part has been trimmed in a slightly different way at the time of binding, giving the impression that they were separate works independently printed.

The contemporary annotations to the verso of the last leaf include the twelve articles of the Creed, and the Ten Commandments, in Italian, and a list of the Sacraments, the seven physical acts of mercy ('visito, poto, cibo, redimo, tego, colligo, condo') and the seven kinds of spiritual almsgiving ('consule, castiga, doce, solare, remitte, fer, ora'), in Latin. The annotations end with the first three Precepts of the Church, in Italian, also taken from Antoninus' Summa theologica; the annotator must have been interrupted half way while writing the fourth one and never resumed his work.

This edition was one of the earliest products of an extremely fruitful collaboration between Johannes de Colonia and Johannes Manthen, whose partnership lasted from March 1474 until October 1480.

BMC V 225; Bod-Inc A-312; Goff A776; ISTC ia00776000.
You may also be interested in...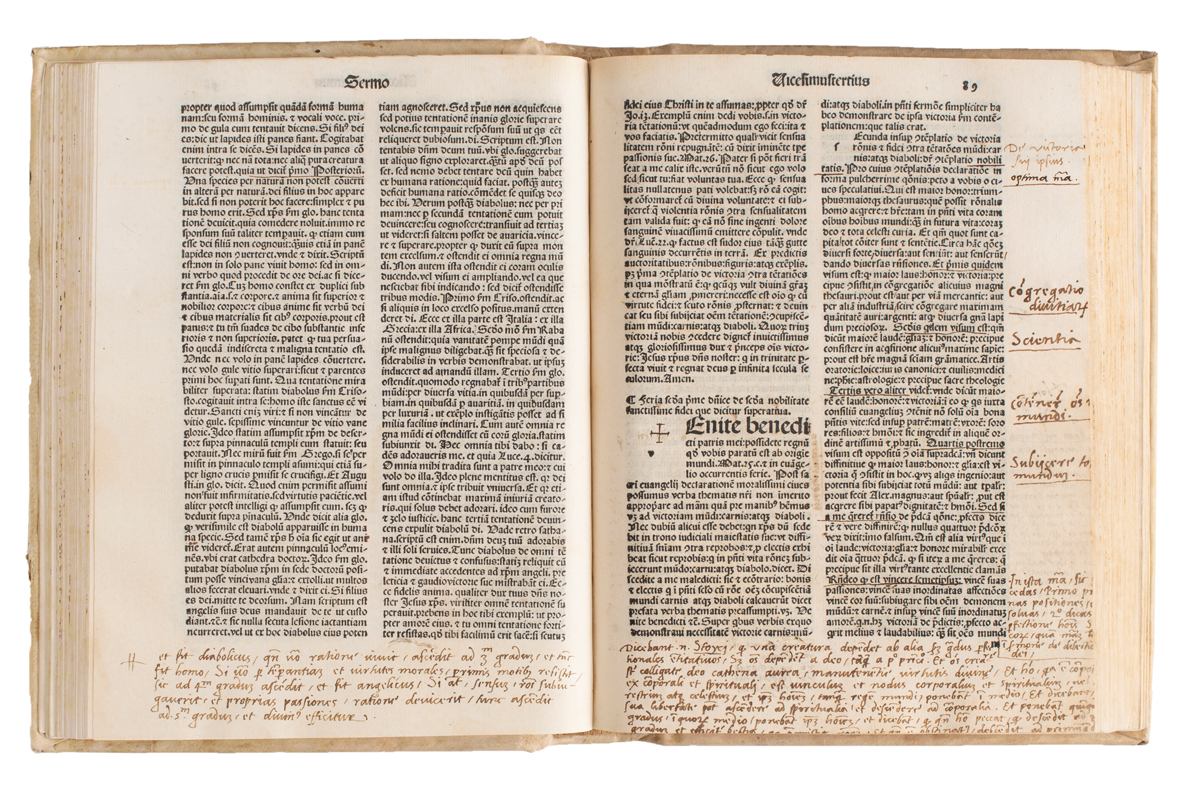 HOMILETIC WORK
ANNOTATED BY MACHIAVELLI'S LAST CONFESSOR ANTONIUS de Vercellis. 
Sermones quadragesimales de XII mirabilibus Christianae fidei excellentiis [with additions by Ludovicus Brognolo]. 
A remarkable copy of the first edition of Antonius de Vercellis's sermons, owned and annotated by three contemporary Franciscans, one of whom, Andrea Alamanni, may be the confessor who administered Machiavelli's last rites. 
EROTIC EPISTOLARY NOVEL BY A POPE PIUS II (Nicolaus von WYLE, editor).
Epistolae familiares.
Second Koberger edition of the Epistolae familiares of Aeneas Sylvius Piccolomini (1405–1464), the great Renaissance humanist who became Pope Pius II in 1458, a handsome copy enhanced with manuscript additions comprising epistolary models, a German-Latin wordlist, and German medical recipes.