UNRECORDED ARITHMETIC BOOKLET FOR CHILDREN
[ARITHMETIC.]
Libretto di abbaco per istruzione de' fanciulli. Di nuovo rivisto, e corretto, con aggiunta di alcune regole.
Roma, Si vende da Pietro Aureli alla Catena della Sapienza num. 24, 1817.
16mo, pp. 16; title and last page within woodcut geometrical frame and with woodcut central ornament, acting as front and rear wrappers, as issued; front cover soiled, dampstaining throughout.
£240

Approximately:
US $335
€281
Added to your basket:
Libretto di abbaco per istruzione de' fanciulli. Di nuovo rivisto, e corretto, con aggiunta di alcune regole.

Unrecorded issue of a printed 'abacus', a short textbook of practical arithmetic, intended for the education of children. The booklet starts with an explanation of numbers and their value according to their positions (units, tens, hundreds ...), followed by various multiplication tables, cross-checking calculations, mathematical operations and an explanatory table of Roman numbers.

No copies of the present issue are recorded on OCLC, COPAC or ICCU.
You may also be interested in...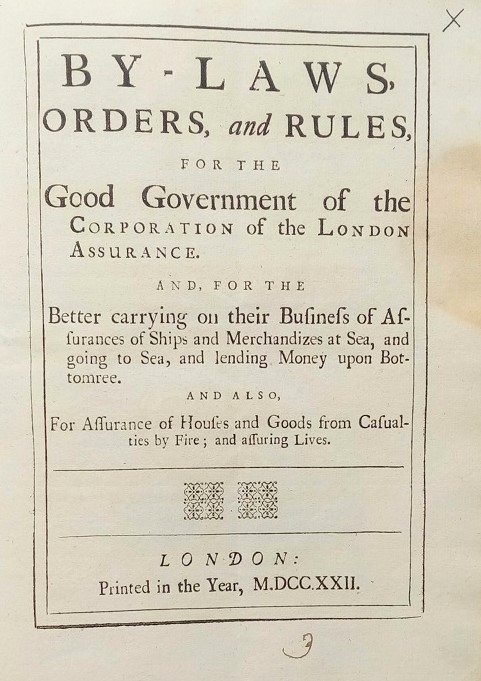 [LONDON ASSURANCE CORPORATION.]
By-laws, orders, and rules, for the good government of the corporation of the London assurance. And, for the better carrying on their business of assurances of ships and merchandizes at sea, and going to sea, and lending money upon bottomree. And also, for assurance of houses and goods from casualties by fire; and assuring lives.
First edition of the by-laws of the London Assurance Corporation, which, along with The Royal Exchange Assurance Corporation, was constituted and granted sole rights, excepting private individuals, to the granting of assurance and bottomry by 'The Bubble Act' of 1720. The right to self-govern, reflected in the pamphlet offered here, was also granted in 'The Bubble Act' of 1720 which specified that after three years of control by Crown-appointed governors and directors, the members of the corporation would be free to set their own by-laws and elect their own leadership. The by-laws cover use of the company seals, company cash, the price of share transfers, registering probates of wills, making receipts and payments, company elections, absentee directors, directors taking 'presents, fees, or rewards', officers or servants taking 'unwarrantable fees', procedure for questions asked in general courts, procedure for addressing questions, the penalty for breaking the by-laws, and the yearly salary of governors and directors.
THE APOSTLE OF LIBERTY PRIESTLEY, Joseph.
A discourse on occasion of the death of Dr. Price; delivered at Hackney, on Sunday, May 1, 1791.
First edition of this moving tribute to the philosopher, demographer, and political radical Richard Price (1723-1791), by his close friend Joseph Priestley. 'The most august assembly in the world, by which I wish to be understood the National Assembly of France, have justly styled him the apostle of liberty', Priestley writes (p. 8). The work ends with a short biography of Price and an account of his publications.