ARNALDUS DE VILLANOVA. 
Computus ecclesiasticus et astronomicus ... noviter impressum. 
[Colophon:] Venice, Bernardino Vitali, 17 February 1501. 
4to, ff. [11], [1 (blank)]; woodcut device to title, woodcut initials; one small wormhole (touching only a few letters), some light foxing; very good in modern half vellum, grey paper sides, spine lettered in ink; marginal annotations in sixteenth-century hand (trimmed), marginal ink stamp to title (erased).
£4500

Approximately:
US $5462
€5198
Added to your basket:
Computus ecclesiasticus et astronomicus ... noviter impressum. 
Rare first edition, the Erwin Tomash copy, with numerous early marginalia showing a close analysis by a near-contemporary reader.  'Arnald of Villanova ... was born either in Villa Nova (Spain) or Villeneuve (France).  He died in a shipwreck in 1314.  He lectured on philosophy and medicine in both Barcelona and Paris but is known chiefly for his large number of works on alchemy.  Despite the fact that the title page declares this to be a new edition, no earlier printed versions are known ...  The work is strictly a computus and covers only calendar computations (epact, golden number, etc.) and does not directly address arithmetical calculation.  In keeping with the time in which it was written, it uses only Roman numerals' (Erwin Tomash Library).  'A good example of the works on the ecclesiastical calendar in use in the Middle Ages' (Smith, p. 74.). 

Provenance: from the library of Erwin Tomash (1921–2012), known for his early pioneering work with computer equipment peripherals, for establishing the Charles Babbage Institute, and for his outstanding library on the history of computing. 

Library Hub finds two copies only (Cambridge and Glasgow); OCLC finds only one in the US (Smith College). 

EDIT16 12938; Palau 365596; Sander 609; Tomash & Williams A97; USTC 801626. 
You may also be interested in...
PRESERVING AN EARLY ENGLISH WALLPAPER FRAGMENT HAMILTON, William, of Monkland.
Manuscript account book.
Manuscript account book with 41 entries recording payments to William (later Andrew) Hamilton of Monkland, Lanarkshire, by William Main of Meadowhead, of four pound Scots due annually for the 'few duty' (an annual land rent) on the farm of Meadowhead. The first entry is for £12 for the years 1704–6, and some other entries cover two years. Most are signed 'at Coalers' or 'Colliers'; although we have not identified this location, Monkland (formerly land belonging to Newbattle Abbey) is at the heart of the North Lanarkshire coal fields.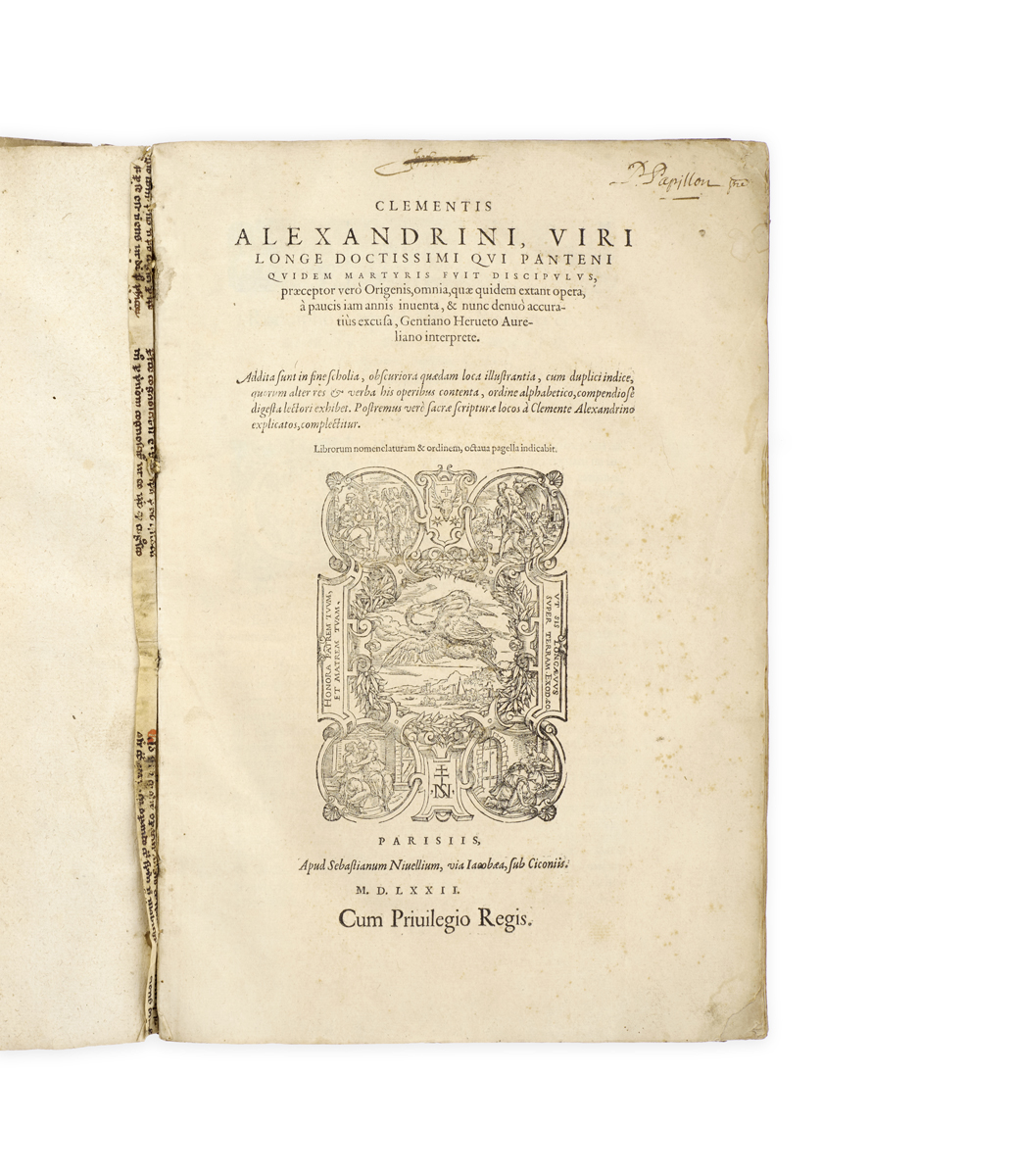 WITH HUNDREDS OF CONTEMPORARY MARGINALIA CLEMENT OF ALEXANDRIA (Titus Flavius CLEMENS). 
Omnia opera. 
A thoroughly annotated copy of this early edition of the complete works of Clement of Alexandria, in the Latin translation of Gentian Hervet.  Clement lived and wrote in the second and third centuries, one of the most important interpreters of Christianity within an established Greek philosophical culture.