[ARP]
County of the Isle of Ely, Public Air Raid Warning.
County Air Raid Precautions Committee, [c. 1943].
Letterpress poster in red, 21 ½ x 31 ½ in (55 x 80 cm); linen backed with minor repairs, otherwise fine.
£300

Approximately:
US $370
€340
Added to your basket:
County of the Isle of Ely, Public Air Raid Warning.
A very rare survival from the Second World War. During the war, Cambridgeshire and the Isle of Ely were strategic positions as home to 28 airfields for both the RAF and the USAAF. The flat topography, proximity to the coast and continental Europe made it an ideal location for runways and bases.

Air Raid Precautions (ARP) was set up in 1924, and was dedicated to the protection of civilians from the danger of air-raids. The extensive air raid warning system covered every village, town and city in the UK during WWII. In the Cold War, much of the same system was used to warn of nuclear attacks until it was decommissioned in 1993.
You may also be interested in...
GOLDEN COCKEREL PRESS.
The Golden Cockerel Rubaiyat of Omar Khayyam translated by Edward Fitzgerald. The first edition reprinted together with Fitzgerald's monk-Latin version now printed for the first time. Translations of the Latin & of the Persian originals and a critical essay by Sir E. Denison Ross. Introduction by Charles Ganz. Line engravings by John Buckland-Wright.
Number 186 of a handsome limited edition of 300 copies, illustrated with engravings by John Buckland Wright. First published by Bernard Quaritch in 1859, Fitzgerald's rendering of quatrains attributed to the eleventh-century Persian poet Omar Khayyam was initially a flop, only later becoming 'the most popular verse translation into English ever made' (see ODNB).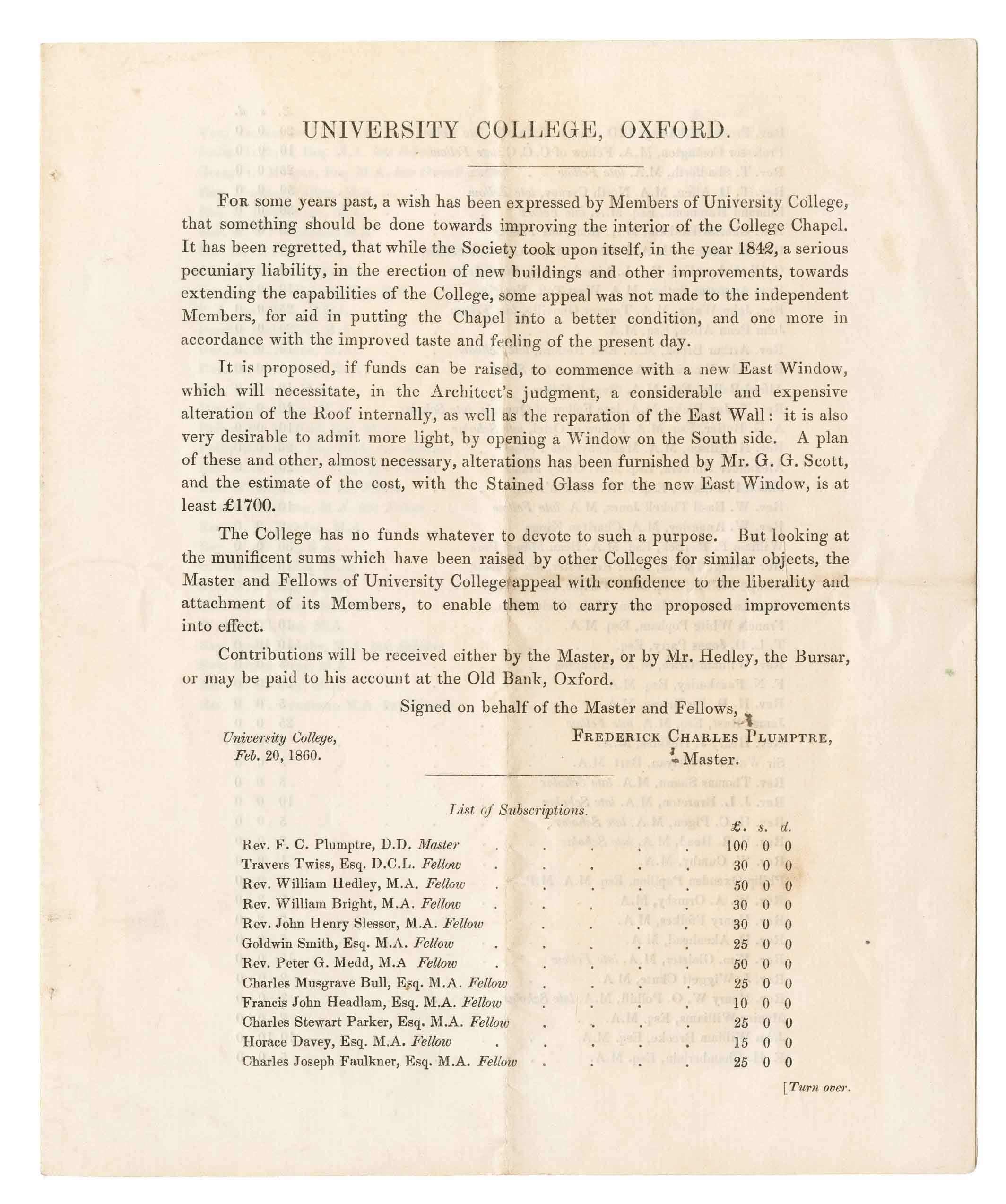 SUBSCRIPTION FOR IMPROVEMENTS BY GEORGE GILBERT SCOTT [UNIVERSITY COLLEGE, OXFORD.]
Subscription list for repairs to the College Chapel. [Oxford, n.p., c. 1860].
A printed appeal from University College, signed by the Master Frederick Charles Plumptre (1796-1870), for funds to improve the interior of the Chapel, with an admission that 'the College has no funds whatever to devote to such a purpose'. The list of subscribers contains some ninety names.