[ARP.]
County of the Isle of Ely, Public Air Raid Warning.
County Air Raid Precautions Committee, [c. 1943].
Letterpress poster in red, 21 ½ x 31 ½ in (55 x 80 cm); linen backed with minor repairs, otherwise fine.
£300

Approximately:
US $363
€346
Added to your basket:
County of the Isle of Ely, Public Air Raid Warning.
A very rare survival from the Second World War. During the war, Cambridgeshire and the Isle of Ely were strategic positions as home to 28 airfields for both the RAF and the USAAF. The flat topography, proximity to the coast and continental Europe made it an ideal location for runways and bases.

Air Raid Precautions (ARP) was set up in 1924, and was dedicated to the protection of civilians from the danger of air-raids. The extensive air raid warning system covered every village, town and city in the UK during WWII. In the Cold War, much of the same system was used to warn of nuclear attacks until it was decommissioned in 1993.
You may also be interested in...
MYERS, Robin, Michael HARRIS, and Giles MANDELBROTE (eds).
Lives in Book History: Changing Contours of Research over Forty Years.
'This volume has grown out of one event in a long series of annual conferences on book-trade history – held to mark the fortieth conference in 2018. For this we had asked nine well-known book historians to give a retrospective review of their field, be it manuscripts, incunabula, book binding, and so on, explaining how they had come into book history, who had been the major influences on them, what the field was like then, what it was like now, and how they would, in the light of the changes they had seen, have done things differently. Everyone mentioned the technological revolution, which had completely changed their way of working and brought a wealth of research material to their desks, greatly amplifying but not substituting for (as they were at pains to point out) research in libraries and archives. Thus these papers are a mix of scholarly assessment and personal reminiscence: likely, we thought, to have a wider readership than just historians of the book.'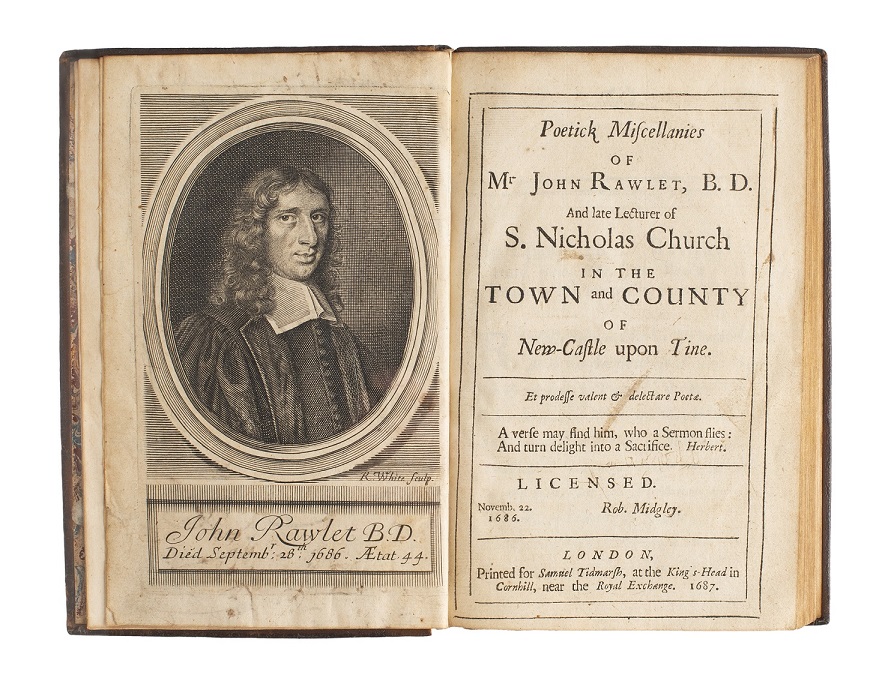 RAWLET, John.
Poetick Miscellanies …
First edition. Writing from the isolation of Newcastle, then a rural parish in fell country, Rawlet developed a mode of religious and descriptive poetry distinctly out of step with his own age, as is acknowledged by the editor in a verse preface: 'Reader, expect not here, the filth of th' Stage, / Poems that please, but more debauch the Age.' Rawlet's poems, such as 'On a great Thunder and Storm', 'On a Cross with a Crown upon it, in Burton, betwixt Lancashire and Kendale', and 'On the sight of Furness Fells', while looking back to Herbert in their weaving of the spiritual and the physical, please more by their anticipation of the topographical and sentimental concerns of the succeeding century.