TRICK RIDING
ASTLEY, Philip.
Astley's System of equestrian Education, exhibiting the Beauties and Defects of the Horse, with serious and important Observations on his general Excellence, preserving him in Health, Grooming, &c.
London, T. Burton for S. Creed, [c. 1801].
8vo, pp. xvi, 197, [1 (blank)], [2 (publisher's advertisements)]; with frontispiece portrait and 9 copper-engraved plates; woodcut ornaments throughout; slight foxing to first and final leaves, nonetheless a very good copy; early 19th-century English half calf with marbled sides, borders roll-tooled in blind, spine gilt-ruled in compartments, gilt green morocco lettering-piece in one, edges speckled red; rubbed, minor losses to corners and spine, joints subtly reinforced with tissue; bookplate of Sir Henry Hunloke, Wingerworth, to upper pastedown.
£350

Approximately:
US $487
€411
Added to your basket:
Astley's System of equestrian Education, exhibiting the Beauties and Defects of the Horse, with serious and important Observations on his general Excellence, preserving him in Health, Grooming, &c.
Fifth edition of a work on horse-training by the 'father of the modern circus' (Chambers). Noted during military service in the Seven Years' War not only for his daring in battle but also for his skills as a rider and breaker of horses, Philip Astley (1742-1814) established on his return to London a riding school on the south bank of the Thames opposite Westminster, where his displays of trick-riding, punctuated by comic interludes, drew much attention: 'Styling himself the English Hussar, he promised such feats as straddling two cantering and jumping horses, doing headstands on a pint pot on the saddle … Mrs Astley would perform several of the turns … developing her own specialism in mounted apiculture' (ODNB). His yard soon developed into an amphitheatre, and winter tours around Britain and Europe led to the establishment of theatres under his name in Dublin and Paris.

Published no doubt to profit from the public fascination in Astley, it seems likely that the System of equestrian Education was printed in small but frequent editions: at least five (including the present) were printed within the first year, with several more appearing quickly thereafter. Any edition is now rare, with this fifth being recorded by Copac in only two institutions (Guildhall and Science Museum).

Though often seen as an opportunistic showman, Astley displayed an interest in farriery by becoming an early patron of the Royal Veterinary College, paying his first subscription within a year of its foundation in 1791; this interest may, however, have been financial, to benefit from the veterinary services offered free of charge to members of the College.

Dingley 26; not in Mellon.
You may also be interested in...
[SERGEANT, John].
Solid philosophy asserted, against the fancies of the ideists: or, the method of science further illustrated. With reflexions on Mr. Locke's essay concerning human understanding. By J. S.
First edition. The best-known work of the Roman Catholic philosopher and controversialist John Sergeant (1623–1707). 'The two philosophers to whom he is most opposed are Descartes and Locke, the "Ideists" whose distinction between ideas in the mind and external reality he saw as sowing the seeds for an incurable scepticism which he strongly attacked, but less clearly refuted. Locke is the main subject of his assault, no doubt because by this stage in the late 1690s it was Locke's philosophy which was the centre of attention. In place of the strongly repudiated "Way of Ideas" Sergeant attempts to set a philosophy of "Notions", a concept which some have seen, though on the basis of little evidence, as influencing Berkeley. Ideas Sergeant rejects because they close us off from the world of things – "Solid Philosophy" … Sergeant is a curious figure in the history of late seventeenth- and early eighteenth-century philosophy, combining his scholastic roots with glimpses of the modern world into an unstable synthesis of Catholic theology (albeit unorthodox), scholastic philosophy and elements of Lockean epistemology, the latter appearing to be a source on which he drew (as Locke noted) despite his overt rejection of much of its content' (Dictionary of seventeenth-century British philosophers, p. 724).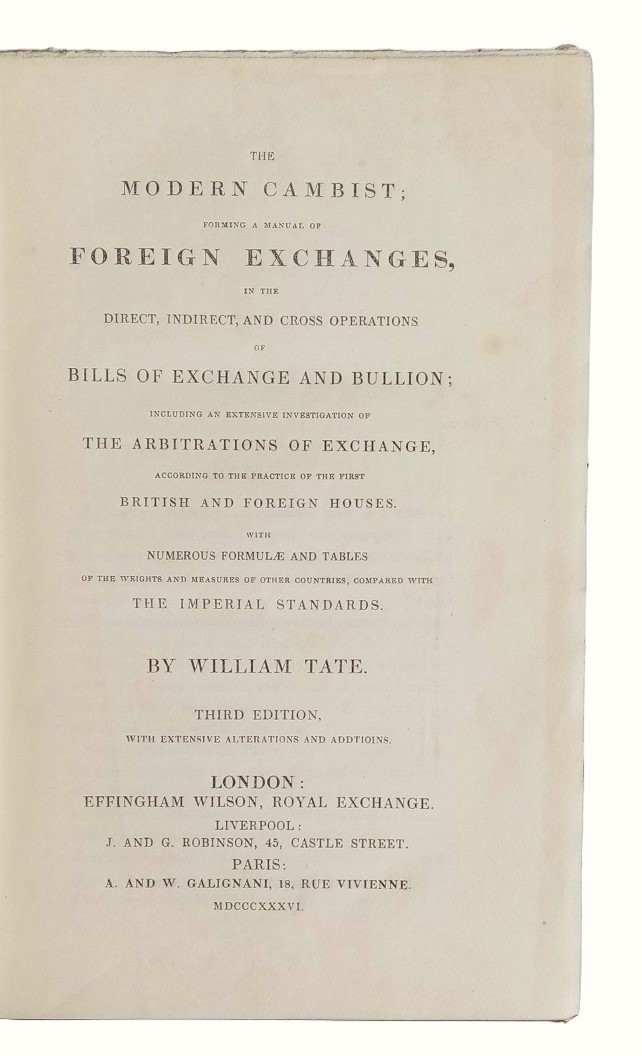 TATE, William.
The modern cambist; forming a manual of foreign exchanges, in the direct, indirect, and cross operations of bills of exchange and bullion; including an extensive investigation of the arbitrations of exchange, according to the practice of the first British and foreign houses. With numerous formulae and tables of the weights and measures of other countries, compared with the Imperial standards. Third edition, with extensive alterations and addtioins [sic].
Third edition, corrected and expanded to reflect changes in the monetary systems of Portugal and Geneva, a new coinage introduced by the East India Company and the opening of trade with China. There is also a new appendix which discusses the mintage regulations for the coins of the United States, reflecting the increasing importance of currency exchanges between the United States and the United Kingdom. The section on trade with China is of particular interest as the Canton system described by Tate only lasted another six years before the Treaty of Nanjing, signed on 29 August 1842, ended the First Opium War and laid the foundation for a new system of Chinese foreign relations and overseas trade that lasted for over one hundred years.