TRICK RIDING
ASTLEY, Philip.
Astley's System of equestrian Education, exhibiting the Beauties and Defects of the Horse, with serious and important Observations on his general Excellence, preserving him in Health, Grooming, &c.
London, T. Burton for S. Creed, [c. 1801].
8vo, pp. xvi, 197, [1 (blank)], [2 (publisher's advertisements)]; with frontispiece portrait and 9 copper-engraved plates; woodcut ornaments throughout; slight foxing to first and final leaves, nonetheless a very good copy; early 19th-century English half calf with marbled sides, borders roll-tooled in blind, spine gilt-ruled in compartments, gilt green morocco lettering-piece in one, edges speckled red; rubbed, minor losses to corners and spine, joints subtly reinforced with tissue; bookplate of Sir Henry Hunloke, Wingerworth, to upper pastedown.
£350

Approximately:
US $453
€387
Added to your basket:
Astley's System of equestrian Education, exhibiting the Beauties and Defects of the Horse, with serious and important Observations on his general Excellence, preserving him in Health, Grooming, &c.
Fifth edition of a work on horse-training by the 'father of the modern circus' (Chambers). Noted during military service in the Seven Years' War not only for his daring in battle but also for his skills as a rider and breaker of horses, Philip Astley (1742-1814) established on his return to London a riding school on the south bank of the Thames opposite Westminster, where his displays of trick-riding, punctuated by comic interludes, drew much attention: 'Styling himself the English Hussar, he promised such feats as straddling two cantering and jumping horses, doing headstands on a pint pot on the saddle … Mrs Astley would perform several of the turns … developing her own specialism in mounted apiculture' (ODNB). His yard soon developed into an amphitheatre, and winter tours around Britain and Europe led to the establishment of theatres under his name in Dublin and Paris.

Published no doubt to profit from the public fascination in Astley, it seems likely that the System of equestrian Education was printed in small but frequent editions: at least five (including the present) were printed within the first year, with several more appearing quickly thereafter. Any edition is now rare, with this fifth being recorded by Copac in only two institutions (Guildhall and Science Museum).

Though often seen as an opportunistic showman, Astley displayed an interest in farriery by becoming an early patron of the Royal Veterinary College, paying his first subscription within a year of its foundation in 1791; this interest may, however, have been financial, to benefit from the veterinary services offered free of charge to members of the College.

Dingley 26; not in Mellon.
You may also be interested in...
[TOPSELL, Edward, and PLINY the Elder.] BYRNE, M. St Clare (editor).
The Elizabethan Zoo: A Book of Beasts, both fabulous and authentic.
Limited edition, numbered 304 of 525 copies. 'This is not a "child's book of bad beasts": it is composed of selections from the most serious and substantial books of zoology that were available for educated Englishmen in Shakespeare's day. Designed originally to edify, to lead men to "passe away the Sabbaoths in heavenly meditations upon earthly creatures," these books contain much to amuse and entertain the modern reader. They represent the real beginning of modern zoology, yet there is in them a sufficient residuum of mediaeval credulity, anecdote and legendary lore to delight the twentieth century with their quaintness and comicality.' (Introduction).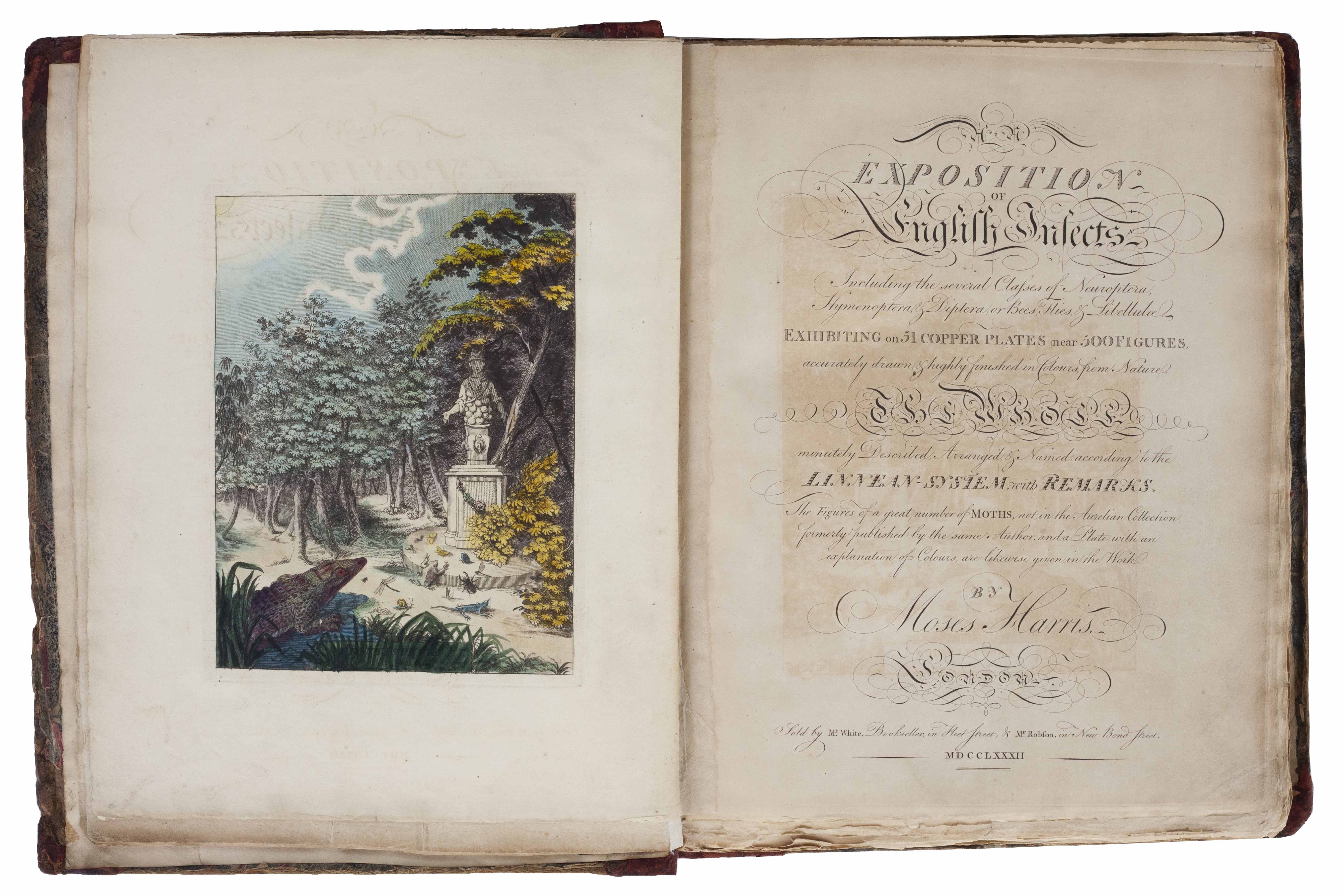 HARRIS, Moses.
An Exposition of English Insects, including the several Classes of Neuroptera, Hymenoptera, & Diptera, or Bees, Flies, & Libellulae, exhibiting on 51 Copper Plates near 500 Figures, accurately drawn, & highly finished in Colours, from Nature, the whole minutely described, arranged, & named according to the Linnean System, with Remarks; the Figures of a great Number of Moths, not in the Aurelian Collection, formerly published by the same Author, and a Plate with an Explanation of Colours, are likewise given in the Work.
Second edition of Harris's 'principal scientific work' (ODNB), incorporating his important treatise establishing the classification of insects by wing venation. 'I have kept so far as this method was agreeable to, and did not interfere with the plan, which I have adopted, of a strict adherence to a Natural System, separating the classes by such nice though strong distinctions, that the observer at first sight of an insect (if it be of the Diptera or Hymenoptera) shall be capable of not only knowing the class it refers to, but at the same time to what order and section of that class, and this by the wings only' (preface).