THE CATALOGUE OF ATABEY'S REMARKABLE LIBRARY RELATING TO THE OTTOMAN EMPIRE AND THE MIDDLE EAST
ATABEY, Sefik E. – Leonora NAVARI.
The Ottoman World. The Sefik E. Atabey Collection. Books, Manuscripts and Maps.
London: Bernard J. Shapero, 1998.
2 volumes, folio (335 x 235mm), pp. I: [8], 372, [4 (blank)]; II: [4], 373-757, [3 (blank)]; colour-printed illustrations in the text, many full-page; original red boards, lettered and decorated in gilt, light-brown endpapers; a fine set.
£600

Approximately:
US $755
€669
Added to your basket:
The Ottoman World. The Sefik E. Atabey Collection. Books, Manuscripts and Maps.
First and only edition, limited to 750 sets. A comprehensive catalogue of Sefik E. Atabey's remarkable library of some 1,370 pre-1854 books, manuscripts, and maps relating to the Ottoman Empire and the Middle East. Each item is carefully described and annotated, and the catalogue is supplemented by indices of authors, editors, artists, engravers, binders, and subscribers; selected places and subject; and the titles of anonymous publications.

The work is an important addition to the reference literature on the subject, and can be considered complementary to Navari's earlier Greece and the Levant: the Catalogue of the Henry Myron Blackmer Collection (London: 1989). The collection (which was sold en bloc in the late 1990s) was particularly notable for the number of works it contained from celebrated libraries, including those of Britwell Court, the duc de La Rochefoucauld at Roche-Guyon, the Duke of Portland, the Duke of Marlborough, the Earls Fitzwilliam, Charles X of France, and Czar Nicholas I of Russia (a number in fine armorial bindings), which are identified in the separate index of provenances.
You may also be interested in...
ROME'S WATER SUPPLY AND FLOODING OF THE TIBER MODIO, Giovanni Battista.
Il Tevere ... doue si raggiona in generale della natura di tutte le acque, et in particolare di quella del fiume di Roma. Rome, Vincenzo Luchini, 1556.

[bound with:]
CASTIGLIONE, Giacomo. Trattato dell'inondatione del Tevere ... dove si discorre delle caggioni, e rimedij suoi, e si dichiarano alcune antichità, e luoghi di autori vecchi. Con una relatione del diluuio di Roma del 1598 ... E con un modo stupendo col quale si saluarono molte famiglie in Castel Sa[n]t'Angelo. Novamente posto in luce.
Rare first editions of two works on the river Tiber and the health implications of the quality of its water and of its regular flooding. A physician and follower of Filippo Neri, Modio (d. 1560) was moved to write Il Tevere by the regular flooding of the Tiber and subsequent sanitary crises in Rome (during which he fell gravely ill and was lucky to survive). Arguing against the findings of Alessandro Petronio in his De aqua Tiberina (1552), Modio demonstrates that the water of the Tiber was far from healthy and should not be drunk. Hippocrates had early established the importance of water-supply to health, and one of the chief glories of ancient Rome had been its water, and Modio here appeals to cardinal Ranuccio Farnese to push for the restoration of the city's ancient aqueducts.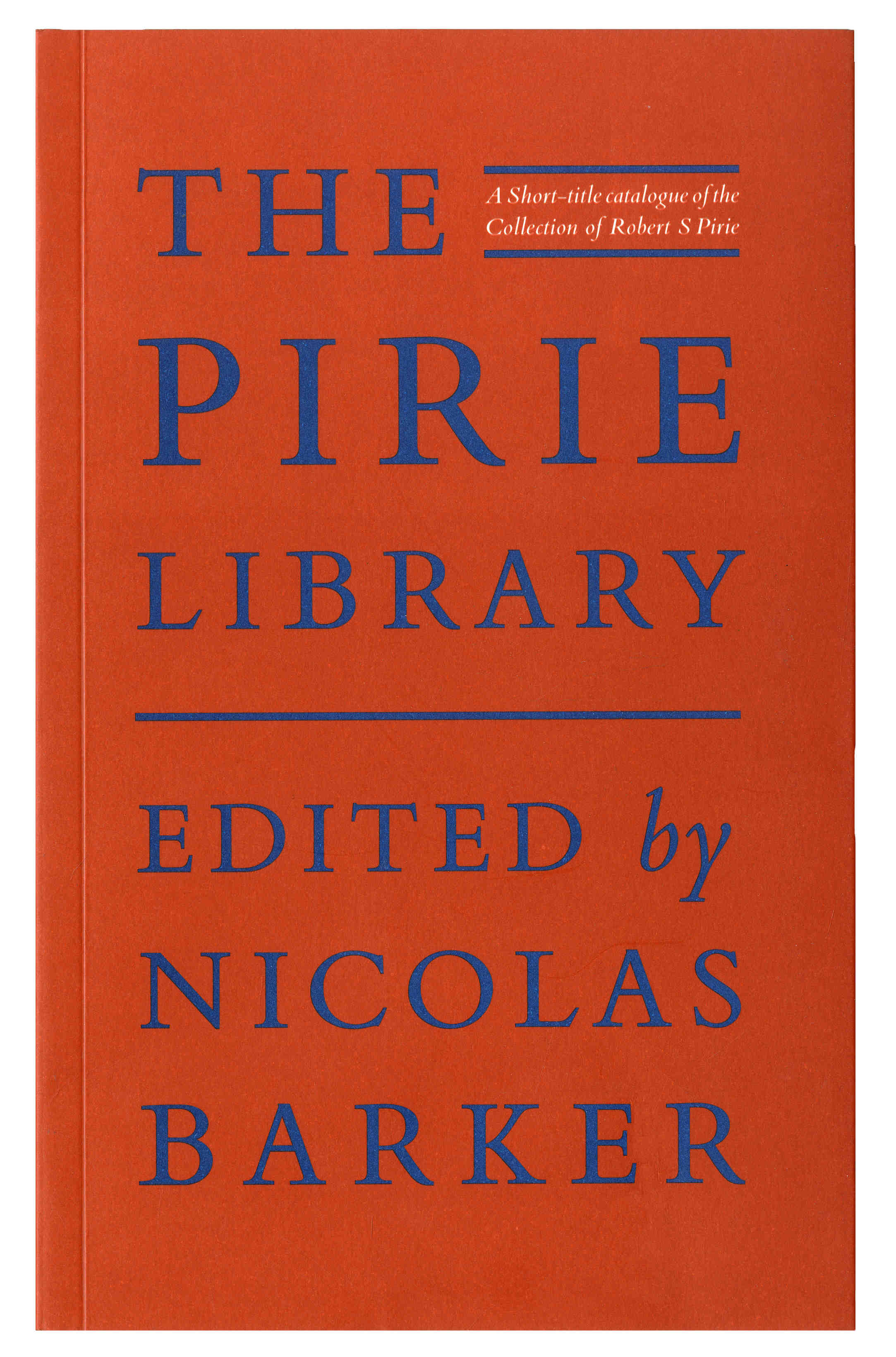 BARKER, Nicolas, ed.
The Pirie Library. A Short-Title Catalogue of the Collection of Robert S Pirie.
The library of Robert S Pirie, 'one of the finest private libraries of English literature, not just of our time but of all time' (James Stourton), was sold at Sotheby's New York on 2-4 December 2015. This account is based on Sotheby's catalogue of the sale, and augmented by Mr Pirie's acquisition cards and information supplied by Irene Adams. It contains indexes of provenances, sources, bindings, armorials and devices, & a list of prices, along with a preface and memoir by Nicolas Barker, and recollections by Nicholas Poole-Wilson.