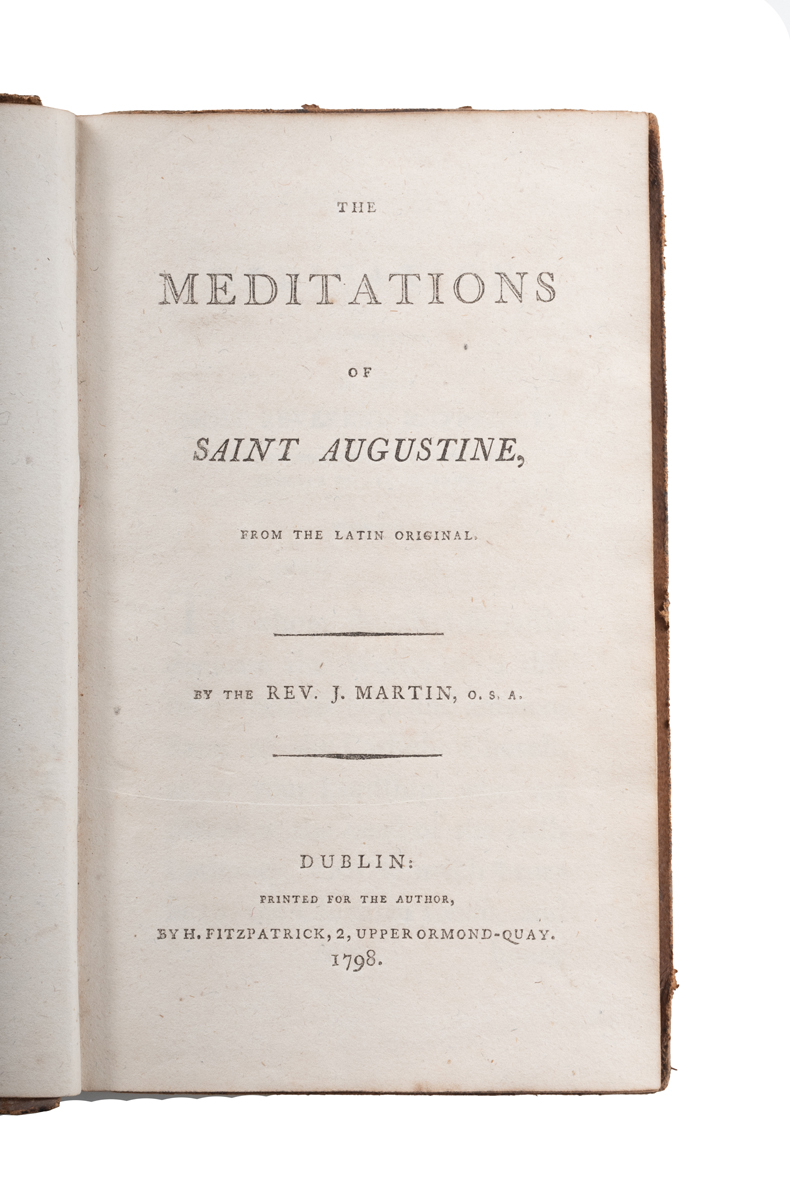 TRANSLATED BY A 'UNITED IRISHMAN'
[AUGUSTINE, Saint, attributed author.]

The Meditations of Saint Augustine, from the Latin Original. By the Rev. J. Martin, O.S.A. …
Dublin: Printed for the Author, by H. Fitzpatrick … 1798.
12mo, pp. [12], 183, [9, index]; lightly foxed but a good copy in contemporary sheep, spine with remains of paper label; boards chipped, joints starting; inscription on front pastedown: 'Hassop Mission [Derbyshire] 11 March 1852'.
£1250

Approximately:
US $1529
€1448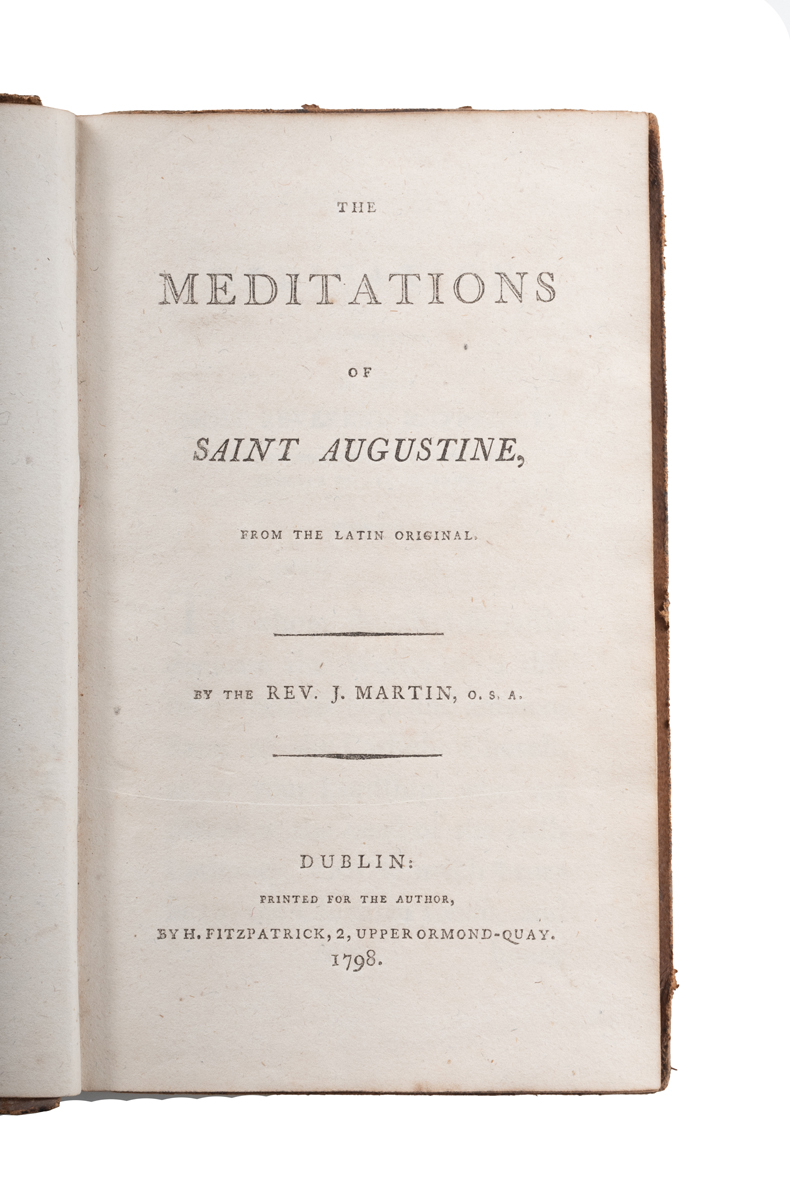 Added to your basket:
The Meditations of Saint Augustine, from the Latin Original. By the Rev. J. Martin, O.S.A. …
First edition of this rare translation of the pseudo-Augustinian Meditationum Liber, an eleventh-century devotional text very popular in the Middle Ages.

The translator, John Martin, was an Augustinian friar who became a fervent activist within the Society of United Irishmen. His political conversion (and this book) coincided with the outbreak of the rebellion of 1798, in which he took a number of increasingly dangerous commissions from the Dublin United Irish Committee, but he has been largely neglected in the historiography of the rebellion; his stance suited neither loyalists nor rebel apologists, and he remains an enigmatic figure.

Daire Keogh, '"The most dangerous villain in society"; Fr. John Martin's Mission to the United Irishmen of Wicklow in 1798', Eighteenth-Century Ireland, 7, (1992), pp. 115-135.

ESTC records copies at the British Library, National Library of Ireland, and Illinois only.
You may also be interested in...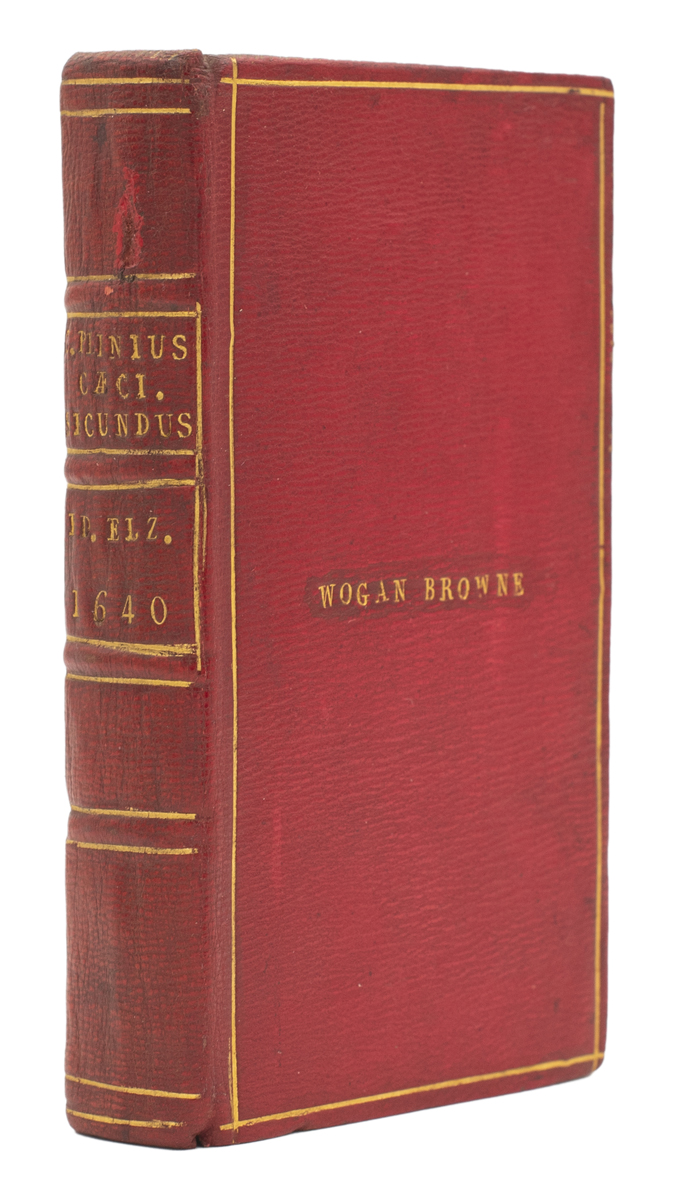 WITH IRISH PROVENANCE PLINY the Younger.
Epistolarum libri X & panegyricus.
First Elzevir edition, handsomely bound for the Irish politician Thomas Wogan Browne.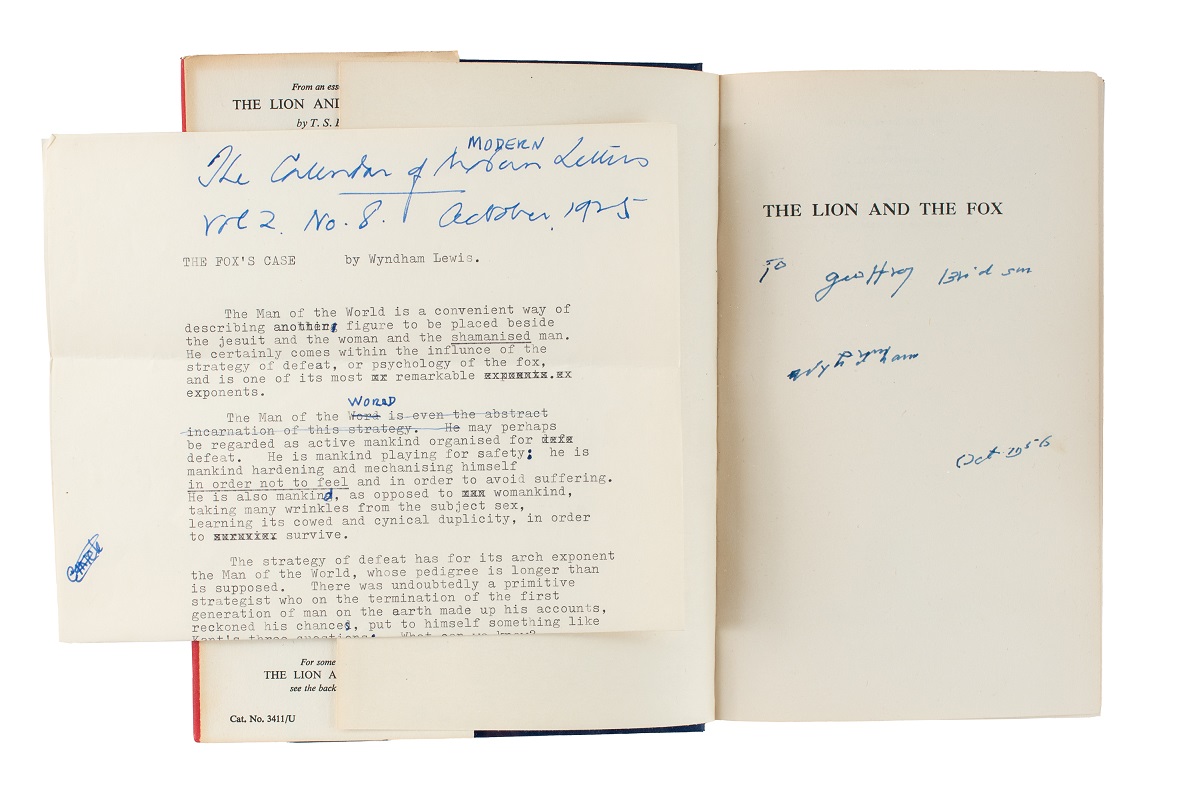 INSCRIBED LEWIS, Wyndham.
The Lion and the Fox. The Role of the Hero in the Plays of Shakespeare …
Reprint of the second edition of Lewis's 'first political book', a collection of essays engaging with Shakespeare and Machiavelli first published in 1927 and then reissued by Methuen in 1951; inscribed in a very shaky hand 'To Geoffrey Bridson from Wyndham / Oct 1956'.
'The Lion and the Fox is shot through with original thinking on every subject that it takes up … The tone of the book is distinctly liberal, and its attitude towards the concept of despotic rule is one of suspicion and antipathy' (Bridson, The Filibuster).
Laid in loose is a 1-leaf typescript of two sections from pp. 83-4 and 89-90 of 'The Foxes' Case' by Lewis, published in The Calendar of Modern Letters 2:8 (October 1925), with a few corrections in pen and the note 'original copy checked with DGB' at the foot. The article included several passages subsequently incorporated into The Lion and the Fox.
See Bridson, 'That Notorious Machiavel', The Filibuster, pp. 1-18. Pound & Grover A6c note; Morrow & Lafourcade A7c note.