AUSTEN, Jane.
Mansfield Park: a Novel. In three Volumes … Second Edition.
London: Printed for J. Murray … 1816.
3 vols., 12mo., bound without the half-titles and the terminal blank in vol. ii; very occasional light foxing; a very good copy in contemporary half calf and pink marbled boards, rubbed, joints worn, spines coming away; from the libraries of T. Hope (stamped label) and Linda Hannas, the historian of jigsaw puzzles, with her note calling attention to a dissected map at I, 33.
£3750

Approximately:
US $5235
€4404
Added to your basket:
Mansfield Park: a Novel. In three Volumes … Second Edition.
Second edition, revised. This is the only one of Jane Austen's novels with textual revisions of any significance. She 'seems in general to have prepared the text for the first editions of her novels with the greatest care, so that they contain few misprints, and the alterations made in the later editions consist usually only of unimportant details' (Keynes, TLS, 30 August 1923). In Mansfield Park, however, there are a number of more substantial revisions of the nautical terminology, probably on advice from one of the sailor brothers, Francis or Charles.

The passage in question (III, 150-1) concerns young Sam Price's first ship, The Thrush. For the ship 'was under weigh' (1814), we now read 'she had slipped her moorings and was coming out' (1816); for 'she lays just astern of the Endymion, with the Cleopatra to larboard', we read 'she lays close to the Endymion, between her and the Cleopatra, just to the eastward of the sheer hulk. "Ha! cried William, "that's just where I should have put her myself. It's the best birth at Spithead ..."' [this last sentence entirely new text], and further slight changes in a similar vein.

Egerton's poor printing of the first edition of Mansfield Park in 1814, his lack of expertise in marketing the book and unwillingness to risk another edition, as well as his behaviour over Pride and Prejudice – issuing a second edition without her knowledge – were all factors in Jane Austen's decision to entrust this second edition and her subsequent novels to Murray.

Keynes 7; Gilson A7.
You may also be interested in...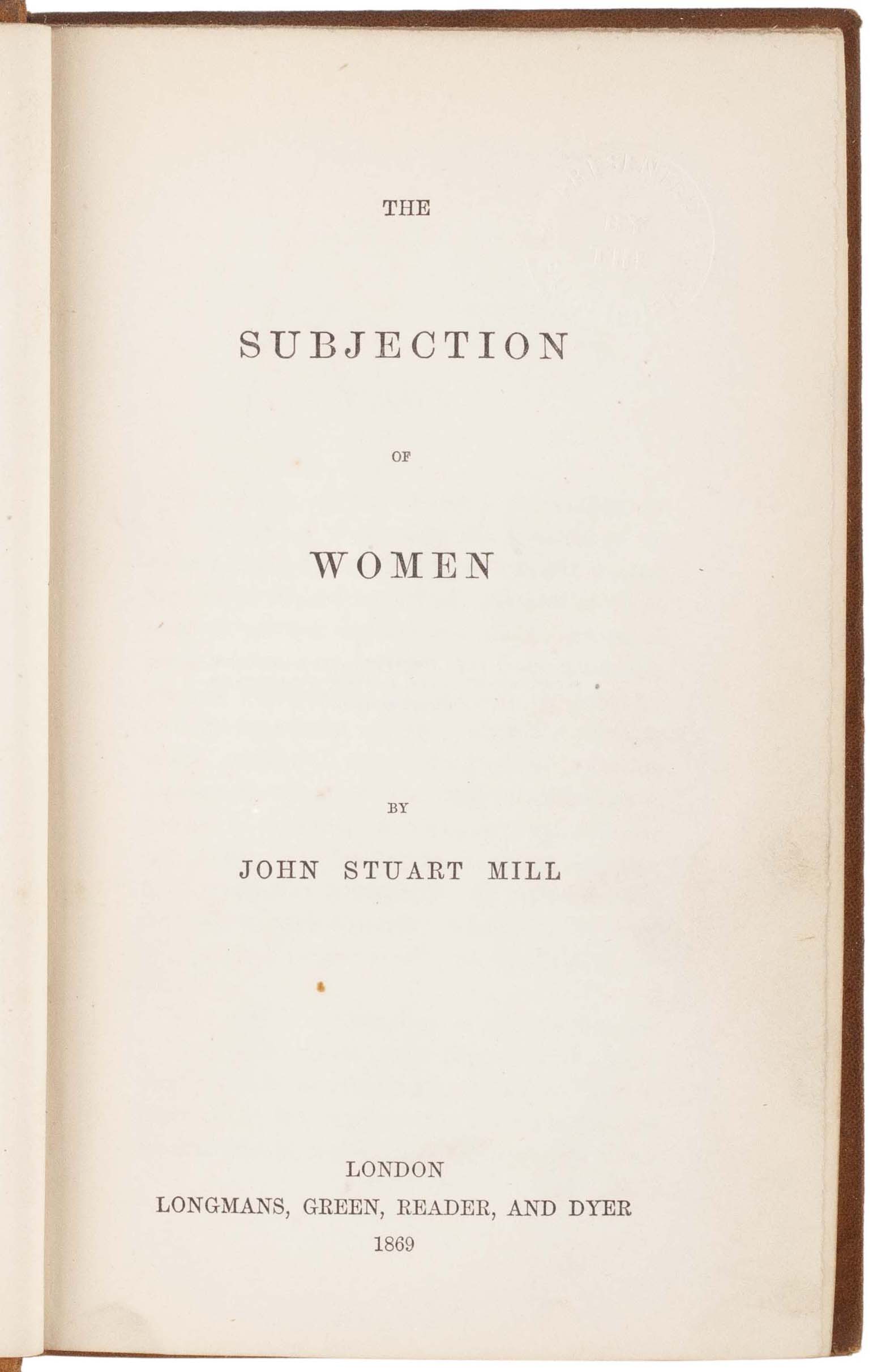 MILL, John Stuart.
The Subjection of Women.
First edition of 'the last of [Mill's] great political tracts' (ODNB), one of the most important and controversial treatments of women's rights in the nineteenth century. Mill was heavily involved in the women's suffragette movement, and in this work he argued 'that the principle which regulates the existing social relations between the two sexes – the legal subordination of one sex to the other – is wrong in itself, and now one of the chief hindrances to human improvement; and that it ought to be replaced by a principle of perfect equality, admitting no power or privilege on the one side, nor disability on the other' (p. 1).
PRESENTATION COPIES 'CARROLL, Lewis' [i.e. Charles Lutwidge DODGSON].
Sylvie and Bruno …
First editions, presentation copies inscribed 'Lizzie Wilcox from her affte Cousin the Author / Dec. 12. 1889' and 'Lizzie Wilcox, from her affectionate Cousin the Author / Dec. 27, 1893' (two days before publication), a fine association: