AUVERMANN, Detlev, and Anthony PAYNE.
The Society of Jesus 1548–1773.
[London], Quaritch, 2006.
4to (250 x 190 mm), pp. [192], with numerous black and white illustrations; blue cloth, pictorial dust-jacket.
Added to your basket:
The Society of Jesus 1548–1773.
This is a catalogue of books by Jesuit authors and works relating to the Society of Jesus published between 1548, when Ignatius of Loyola's Spiritual Exercises was first printed, and 1773, when the Society was suppressed. It includes an historical introduction by Alastair Hamilton, Arcadian Visiting Research Professor, Warburg Institute, University of London. Originally issued as our Catalogue 1226 in 1996, The Society of Jesus has been unobtainable for many years and has become sought after as a reference work. To meet this demand it has now been reprinted, in hardback, in an edition of 200 copies.

ISBN-10: 0 9550852 1 7.
You may also be interested in...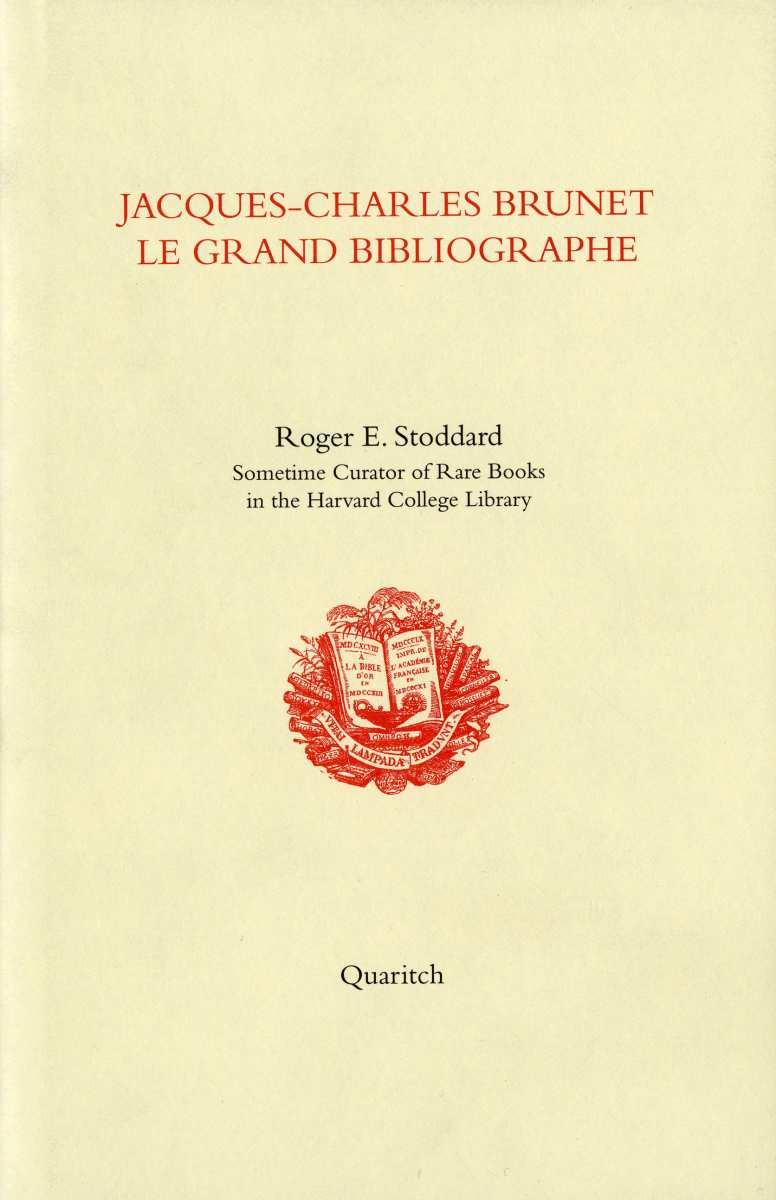 STODDARD, Roger.
Jacques-Charles Brunet, Le Grand Bibliographe. A guide to the books he wrote, compiled, and edited and to the book-auction catalogues he expertised.
As an undergraduate in Brown University Roger Stoddard operated a second-hand bookshop from his dormitory room, issuing modest catalogues while working for Goodspeed's Book Shop in the summer months. From 1958 until 1961 he assisted William Jackson, Librarian of the Houghton Library, and from 1961 until 1965 he served as Assistant Curator, then Curator of the Harris Collection of American Poetry and Plays in Brown University. In 1965 he was called back to Houghton Library where he has held various titles, retiring on 31 December 2004 as Senior Curator in the Houghton Library, Curator of Rare Books in the Harvard College Library, and Senior Lecturer on English. On 15 December 2004 he was appointed Associate of the English Department, and he continues to practice bibliography and to publish from his carrel in the book stack of the H. E. Widener Memorial Library. Works in progress include bibliographies of American poetry printed 1610–1820, William A. Alcott, Albert Cossery, and Andrée Chedid.
KERSHMAN, Andrew.
Book Lovers' London.
Fifth edition. Book Lovers' London has established itself as an essential reference tool for those wanting to enjoy the literary delights of the capital. It contains reviews of over six hundred bookshops, including Quaritch.