AUVERMANN, Detlev, and Anthony PAYNE.
The Society of Jesus 1548–1773.
[London], Quaritch, 2006.
4to (250 x 190 mm), pp. [192], with numerous black and white illustrations; blue cloth, pictorial dust-jacket.
Added to your basket:
The Society of Jesus 1548–1773.
This is a catalogue of books by Jesuit authors and works relating to the Society of Jesus published between 1548, when Ignatius of Loyola's Spiritual Exercises was first printed, and 1773, when the Society was suppressed. It includes an historical introduction by Alastair Hamilton, Arcadian Visiting Research Professor, Warburg Institute, University of London. Originally issued as our Catalogue 1226 in 1996, The Society of Jesus has been unobtainable for many years and has become sought after as a reference work. To meet this demand it has now been reprinted, in hardback, in an edition of 200 copies.

ISBN-10: 0 9550852 1 7.
You may also be interested in...
JACOBSON, Ken, and Jenny JACOBSON.
Carrying Off the Palaces: John Ruskin's Lost Daguerreotypes.
The inspiration for this book was a remarkable discovery made by the authors at a small country auction in 2006. One lightly regarded lot was a distressed mahogany box crammed with long-lost early photographs. These daguerreotypes were later confirmed as once belonging to John Ruskin, the great 19th-century art critic, writer, artist and social reformer. Moreover, the many scenes of Italy, France and Switzerland included the largest collection of daguerreotypes of Venice in the world and probably the earliest surviving photographs of the Alps.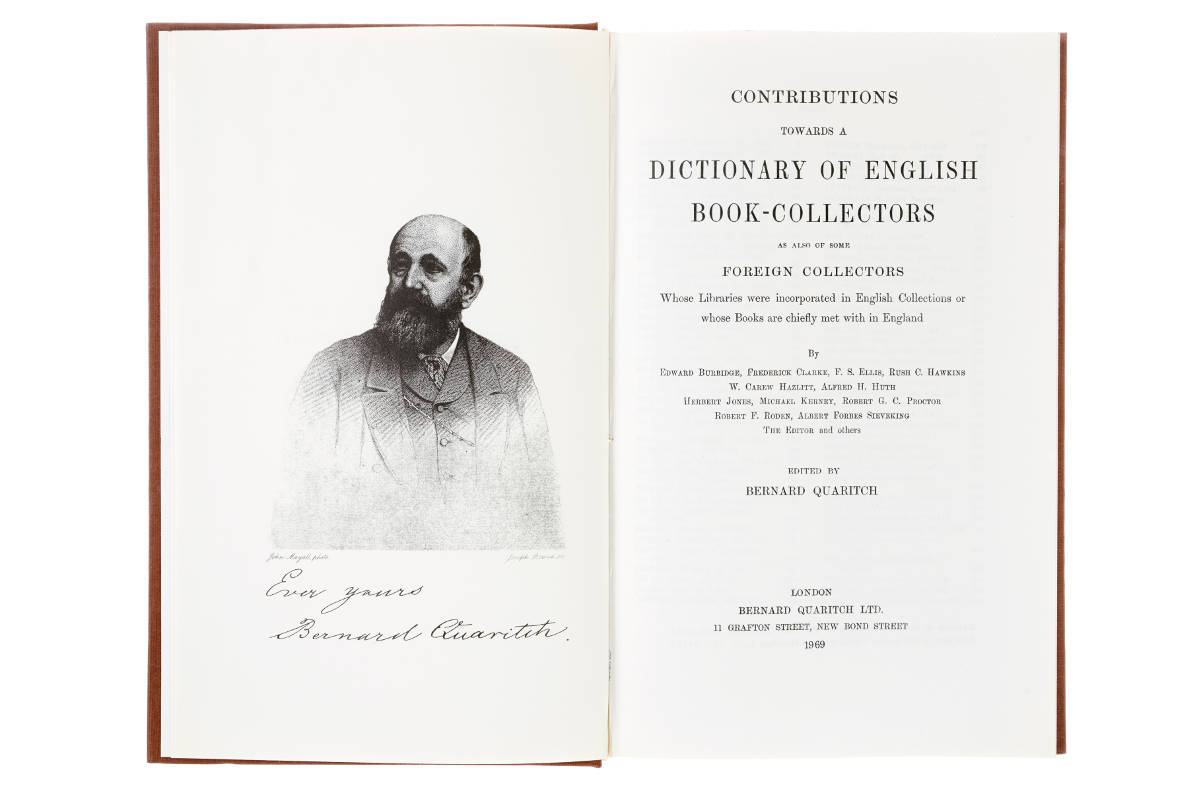 QUARITCH, Bernard Alexander Christian, editor.
Contributions towards a Dictionary of English Book-Collectors as also of some Foreign Collectors whose Libraries were Incorporated in English Collections or whose Books are Chiefly Met with in England.
A facsimile reprint of Quaritch's series of profiles of bibliophiles, with brief lists of the treasures of their collections and notes on their dispersal at auction or in the trade, which remains a useful resource both for the history of book-collecting in Britain and for provenance research. Contributions towards a Dictionary of English Book-Collectors was originally published in fascicules between 1892 and 1921, and the contributors included F.S. Ellis, W. Carew Hazlitt, Alfred H. Huth and Robert C.G. Proctor – however, as Arthur Freeman states in his biography of Quaritch in the ODNB, Quaritch's contributions were 'largely ghost-written'.