SETTING THE RECORD STRAIGHT
BALDI, Bernardino, da Urbino. 
La Difesa di Procopio contro le calunnie di Flavio Biondo, con alcune considerationi intorno al luogo ove seguì  giornata fra Totila, e Narsete. 
Urbino, Marc'Antonio Mazzantini, 1627.
4to, pp. [6], [2 (blank)], 78, [2 (blank)]; woodcut arms of Paolo Emilio Santorio, Bishop of Urbino, to title, large woodcut intials, typographic headpieces; two small marginal paperflaws to D4 (not touching text), very occasional spots, but a very good copy; in nineteenth-century roan-backed boards with marbled sides and vellum tips, spine lettered directly in gilt; some minor wear to spine, extremities lightly rubbed; contemporary ink ownership inscription 'Francisci Liere' to title, nineteenth-century manuscript shelflabel to front board, bookseller's label 'Apparteneva alla Libreria Bandi, ora di R[inaldo] Buti' (c. 1840) to front free endpaper, c. 1840, small printed booklabel(?) of Lodovico Passarini to front pastedown.
£450

Approximately:
US $546
€519
Added to your basket:
La Difesa di Procopio contro le calunnie di Flavio Biondo, con alcune considerationi intorno al luogo ove seguì  giornata fra Totila, e Narsete. 
First and only edition, very rare, of this impassioned critique of Flavio Biondo's interpretation of Procopius, by the poet, polyglot, historian, and mathematician Bernardino Baldi, Abbot of Guastalla. 

Written between 1435 and 1453 and printed two decades later, Flavio Biondo's (1392–1463) thirty-two-book Historiarum ab inclinatione Romani imperii decades – spanning the history of the Italian peninsula from late antiquity to the fifteenth century – erroneously identifies in Book 5 supposed mistakes in the works of the sixth-century historian Procopius: 'The "mistakes" Biondo had in mind were rather strained.  First he argues incorrectly that the Narses who led the expedition to fight the Goths in 552 was not the same Narses as the one who was in Ravenna in 539, then that the quarrel between Belisarius and Narses and nothing to do with the loss of Milan' (Croke, pp. 22-3). 

Here, Baldi dissects inaccuracies in Biondo's text with regard to the aformentioned Narses as well as Totila, penultimate King of the Ostrogoths, condemning Biondo for his 'sinister manner' and for 'contradicting the veracity of [Procopius] ... obscuring the light of my homeland and the clarity of the truth, the audacity of which I could not suffer patiently' (pp. 3-4 trans.). 

Provenance: Marquess Rinaldo Buti (d. 1869), former officer of the Pontifical army and bibliophile, who built a substantial library at his home in Cesena, inherited by his son and dispersed after his death; Lodovico Passarini (1813–1896/7), bibliophile and librarian. 

OCLC finds no copies in the UK or US. 

USTC 4000506.  See Croke, 'Procopius, from Manuscripts to Books: 1400-1850' in Histos, Supplement 9 (2019), pp. 1-73. 
You may also be interested in...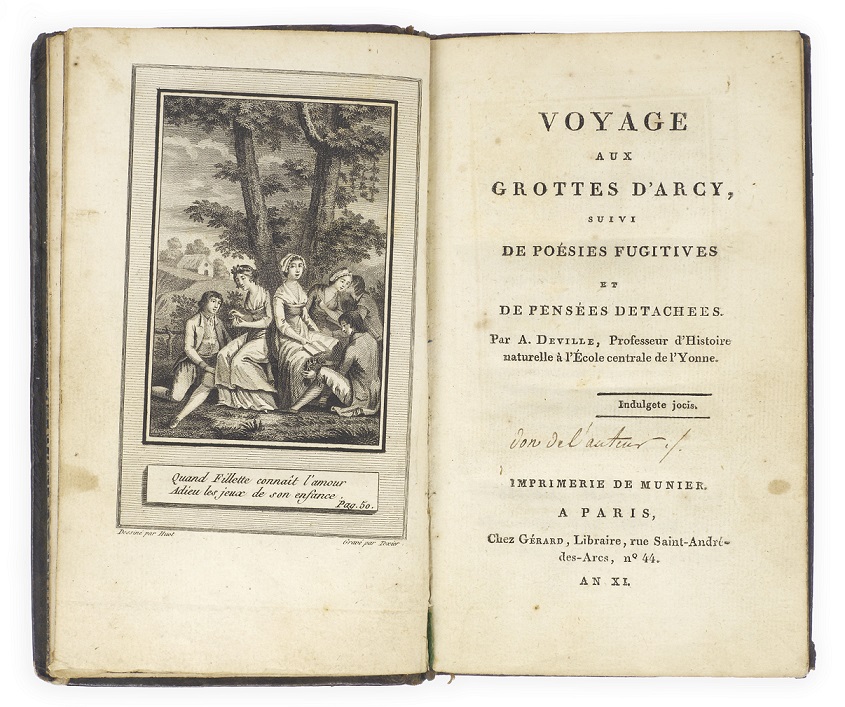 POTHOLER AND POET DEVILLE, Albéric.
Voyage aux grottes d'Arcy, suivi de poésies fugitives et de pensées détachées. Par A. Deville, professeur d'histoire naturelle à l'école centrale de l'Yonne.
Scarce first edition, presented by the author, of this curious work comprising a description of the famous caves at Arcy-sur-Cure in France, alongside various poetical fancies, by the natural history professor and versifier Albéric Deville (1774–1832).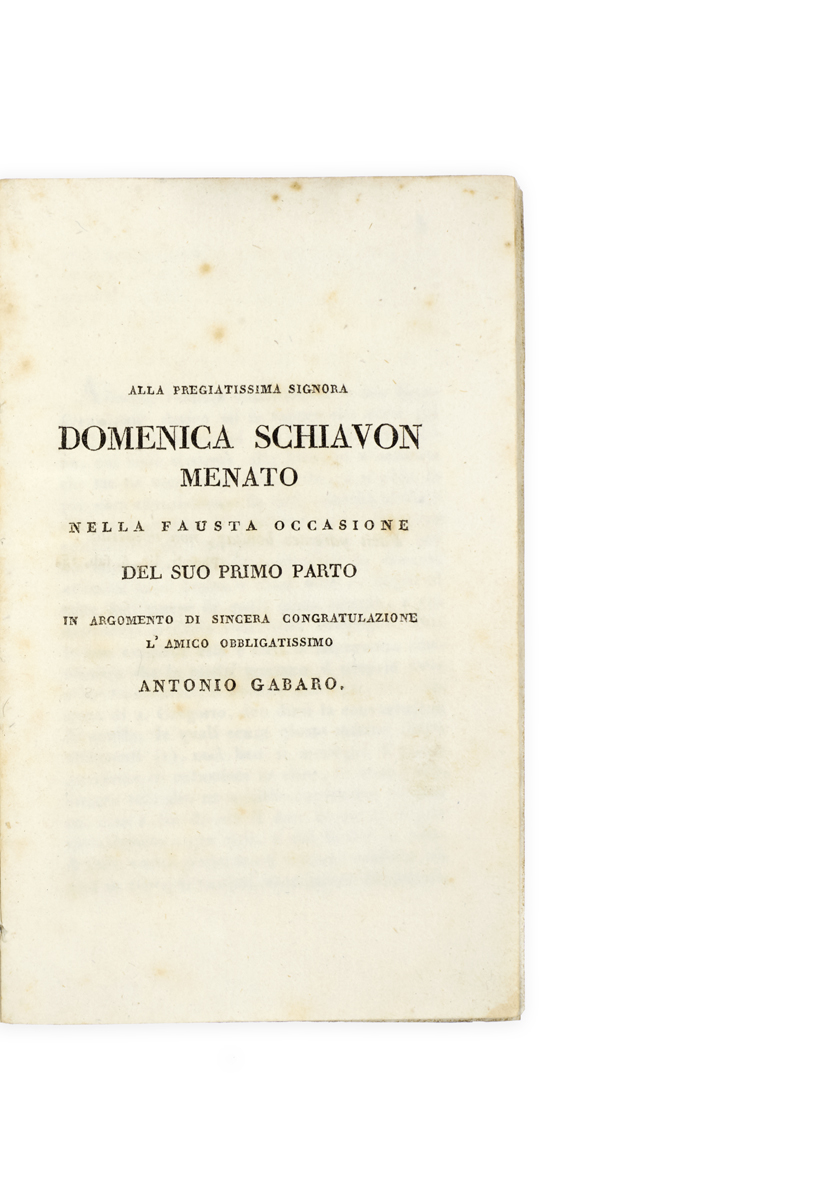 BREAST PRACTICE GABARO, Antonio. 
Alla pregiatissima Signora Domenica Schiavon Menato nella fausta occasione del suo primo parto, in argomento di sincera congratulazione l'amico obbligatissmo Antonio Gabaro. 
First and only edition, very rare, of a scathing and sexist condemnation of 'inhuman' women who do not breastfeed their own children, dedicated to Domenica Schiavon Menato, 'an example to all women', on the occasion of the birth of her first child.