BARET de Rouvray, René.
La marechallerie françoise, où le traitté de la connoissance des chevaux, du jugement et remede de leur maladie.
Paris, Sebastien Piquet, 1654.
4to, pp. [8], 105, [2], [1 (blank)]; large armorial copper-engraving to a2v, full-page copper-engraving by Isaac Briot in text, copper-engraved head-piece to dedication, woodcut head-piece and initials, without the 1651 engraved frontispiece called for by Menessier; damp-stain from top-edge, foxing in places, short cut to gutter A2-4 (not affecting text); stab-sewn and secured in a contemporary limp-vellum casing by two vellum thongs; lower thong split at front hinge with short tear to casing, a few small marks; upper pastedown inscribed 'J.J.P. M.C. 1723', later eighteenth-century inscription of François Marie Arnold to pastedown and printed booklabel of 'Arnold zum Löwen' to upper cover.
£1200

Approximately:
US $1638
€1347
Added to your basket:
La marechallerie françoise, où le traitté de la connoissance des chevaux, du jugement et remede de leur maladie.
Third edition, expanded, of a very rare treatise, first published in 1623 and discussing the selection of a horse and its subsequent care, including several suggested remedies for each equine malady.

'Published slightly before Jacques de Solleysel's important work, Baret de Rouvray's book holds a place of its own because it is one of the best books on the subject before the great French authors of the second half of the seventeenth century began publishing their works. Baret's work is an important witness of the standards of horsemanship and horse medicine of the period between Antiquity and the Middle Ages on the one hand, and the more modern standards espoused by the authors of the following generations on the other.' (Dejager, p. 378).

According to Mennessier, the present copy is a reissue of the 1645 edition, under a new title and with a cancel title-page. Only two institutional copies could be found worldwide (Science Museum and Sandomierz). Other editions are equally scarce.

Mennessier I, p. 71; Dingley 30; cf. Dejager 178 and pp. 378-381.
You may also be interested in...
WOOD, William.
Index entomologicus, or a complete illustrated Catalogue, consisting of 1944 Figures, of the lepidopterous Insects of Great Britain.
First collected edition, with almost two-thousand hand-coloured butterflies. Initially published in parts between 1833 and 1838, the Index entomologicus is the most substantial entomological publication of the natural historian, doctor, and bookseller William Wood (1774 – 1857), following his acclaimed conchological Index testaceologicus of 1818.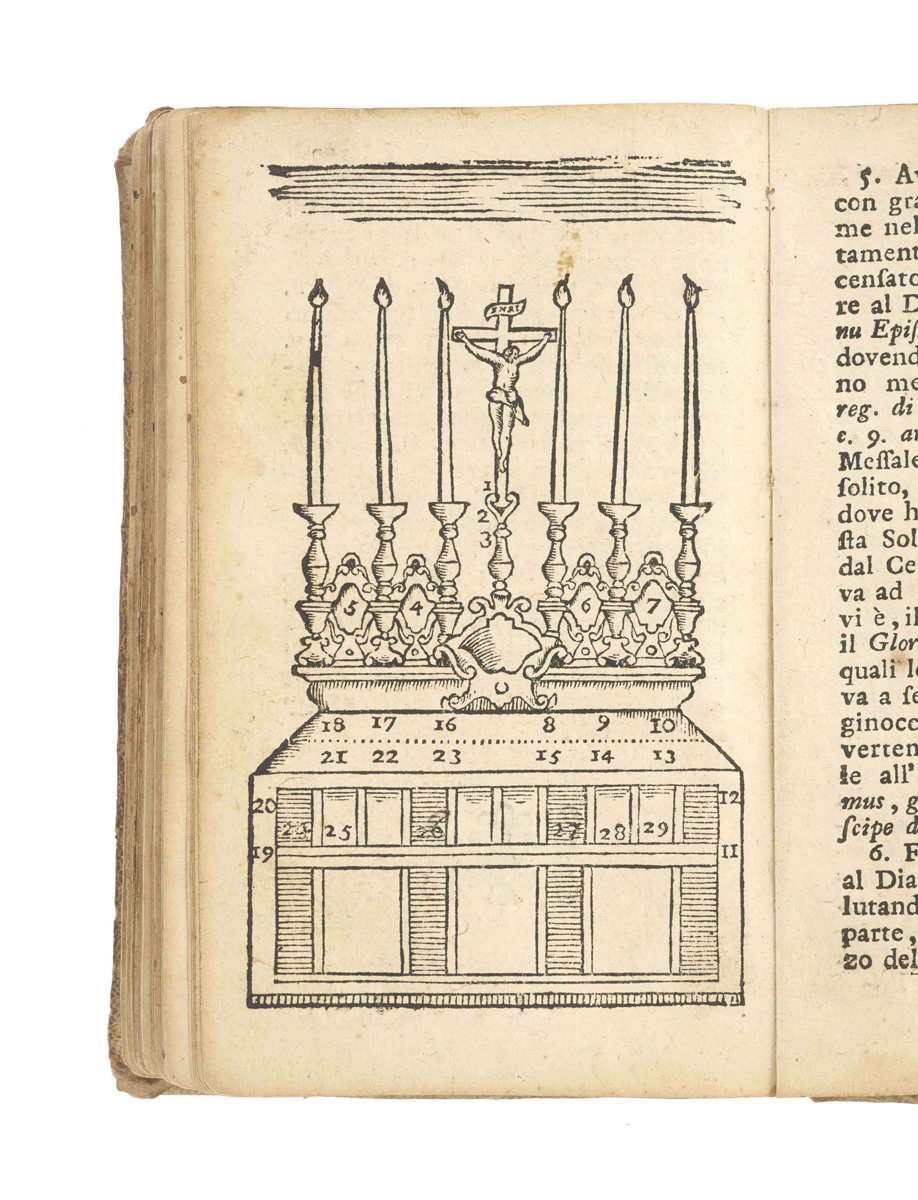 [LITURGY.]
Cerimonie piu' notabili della messa privata; Cavate dalle rubriche del Missale, ed altri autori da un Sacerdote D.C.D.M. Coll'aggiunta di quelle della messa, e vespri solenni si pei vivi, che pei defunti, col modo di servire alla messa privata. Da un'Alunno del Seminario di Torino.
As far as we are aware unrecorded edition of this uncommon treatise on the celebration of the mass and its associated rituals. Dealing both with private (low) masses and with solemn mass and solemn vespers, the work explains the meaning and performance of the non-verbal aspects of the liturgy: genuflection, the sign of the cross, the communion of the faithful, the movements of the celebrant's hands, the role of acolytes and thurifers (also during requiem masses), the office of the subdeacon and deacon, the use of incense, and instructions for serving at the missa private. The woodcut on page 200 depicts the altar, annotated with numbers referring to the relevant parts of the text.
The text itself appears first to have been published around the turn of the century; the earliest issue in SBN is a Naples printing of 1701, but that claims to be 'novamente riviste, ed accresciute', and is only of 134 pages in 12s. Other editions appeared in Pavia, Turin, and Modena, while Venetian printings were issued in 1739 and 1750. All seem very scarce.
Not in OCLC, which records only a Venice printing of the same year (in the Polish Union Catalogue); SBN does not record this edition.