BARETTI, Joseph.
A journey from London to Genoa, through England, Portugal, Spain, and France.
London, T. Davies and L. Davis, 1770.
Two volumes, 4to, pp. viii, 424; iv, 419, [8]; some marginal worming at beginning and end of vol. I (text unaffected), pale damp-stain in outer margins of a few leaves in vol. I, but generally a good, crisp copy in contemporary calf, contrasting red and green morocco lettering-pieces on spines; slightly rubbed; from the library of Ian Robertson.
£1200

Approximately:
US $1600
€1418
Added to your basket:
A journey from London to Genoa, through England, Portugal, Spain, and France.
First edition in English. First published in Italian in 1762–3 following a journey made in 1760, Baretti rewrote the book in English, considerably expanding it, after a second journey made in 1768–9. The result is 'Baretti's longest and best sustained work in English, and upon it rests his chief claim to a place of honour in English literature' (Robertson).

Giuseppe Baretti (1719–1789), of Turin, came to England in 1751 where he became a friend of Samuel Johnson, David Garrick and Mrs Piozzi, among others. His first journey to Spain and Portugal was made in the company of the Hon. Thomas Southwell, whom he had agreed to escort to Italy, and it was on Dr. Johnson's recommendation that Baretti kept a journal of his visit to the Peninsula. Arriving at Lisbon on 30 August, he witnessed a bull-fight there and 'visited the ruins . . . at full leisure, and a dreadful indelible image is now imprinted on my mind!' (I p. 96). He noted that he had never seen 'so many fat men in one place' and remarks on 'the absurd custom of dressing their children too much. I hate to see a little girl with a tupee, and a little sword at the side of a little boy. The English are not guilty of such folly' (I p. 95). After excursions to Mafra and Sintra, he left the city on 17 September, reaching Badajoz, via Elvas, on the 22nd. From there he travelled to Toledo via Mérida and Talavera, reaching Madrid on 7 October, his head disordered 'by the fetid vapours exhaling from numberless heaps of filth lying all about' (I p. 381). Baretti was delighted, however, by Madrid society: 'the best gentry here are very kind to strangers when once introduced to them . . . nor do the common people here give us bad language or angry looks, as it is often the case in England, where the lower classes are continually deceived into an aversion to foreigners by a daily uninterrupted succession of dishonest and malignant scribblers' (vol. II p. 95). After a week in the city, he departed for Alcalá, Guadalajara (where he visited a cloth-manufactory installed in an old palace), Zaragoza, Fraga, Lérida, and Barcelona, 'the best built town I have as yet seen in Spain' (II p. 260).

Baretti's second journey, made eight years later, is recorded on pp. 336–419 of vol. II. Setting out from Bayonne on a mule, his itinerary included Pamplona, Tafalla, Cintruénigo, Agreda, and Madrid, where he stayed two months. He visited a number of theatres in the capital, but was disappointed by both tragedies and comedies. Zarzuelas, however, he found to be 'much better entertainments than our Italian comic operas' (pp. 373–4), and he notes that 'a Spanish audience never makes the least noise before the beginning of the play, as the English do, nor are orange-wenches, or any body else permitted to stun the company with their hideous cries' (p. 377). He returned to Bayonne via Aranda, Lerma, Burgos, and Orduña.

A journey from London to Genoa was reprinted in 1970 (Centaur Press) with an introduction by Ian Robertson.

ESTC T86276; Palau 24161. See Robertson, Los curiosos impertinentes (1992) pp. 28–40.
You may also be interested in...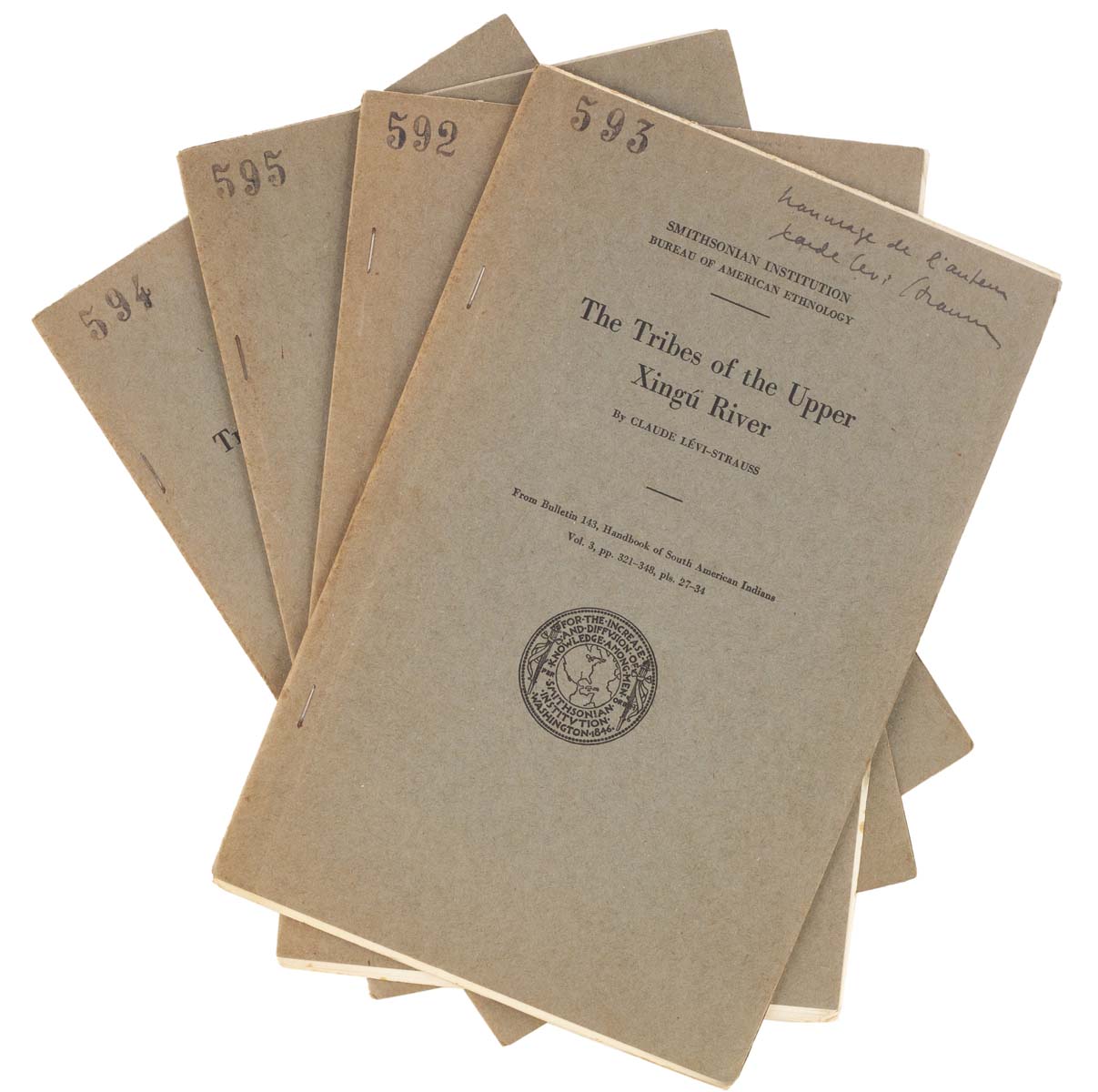 INSCRIBED BY THE AUTHOR LÉVI-STRAUSS, Claude.
The Tupí-Cawahíb.
A set of offprints of four articles by Lévi-Strauss from the Smithsonian's Handbook of South American Indians, inscribed by the author. In each article Claude Lévy-Strauss (1908–2009) provides an illustrated introduction to an Amazonian group, recording their history, social and political customs, religion, dress, food, and manufacture, as well as critically discussing earlier anthropological accounts. In exploring familial and marital structures, the articles are important texts in the development of Lévy-Strauss's structural anthropology.
A XVII CENTURY MINIATURE BIBLE, IN A CONTEMPORARY BOOK-BAG [NEW TESTAMENT.]
Τηϛ καινηϛ διαθηκηϛ απαντα. Novum Jesu Christi domini nostri testamentum, ex regiis aliisque optimis editionibus cum cura expressum.
An uncommon seventeenth-century miniature New Testament, 'the smallest Greek Testament ever printed, with the exception of Pickering's miniature edition of 1828' (Darlow & Moule), printed by Jean Jannon in Sedan, and preserved in a rare contemporary book-bag.