AN UN-ENLIGHTENED UTOPIA
[BARSANTI, Pier Vincenzo.]
Della futura rinnovazione de' cieli e della terra e de' suoi abitatori libri tre.
[Florence,] Stamperia Bonducciana, 1780.
4to, pp. viii, '160' [i.e. 260]; title copper-engraved with decorative border and large armorial cartouche, copper-engraved initial E (showing St Peter's Basilica), woodcut ornaments and initials; some spotting and browning in places, and minimal marginal worming to final few leaves (not affecting text); a very good, clean copy, uncut in contemporary carta rustica; binding somewhat browned and worn, and slightly loose.
£685

Approximately:
US $837
€776
Added to your basket:
Della futura rinnovazione de' cieli e della terra e de' suoi abitatori libri tre.
First edition of this utopia by the Tuscan Dominican Pier Vincenzo Barsanti.

Barsanti (fl. before 1784), professor of theology at the episcopal seminary of Cortona and then prior of the convent of Santa Caterina in Livorno, bases his book on work he had presented previously to the Accademia Etrusca of Cortona, the vast scope of which made it ripe for expansion. Over the course of three books, he speculates about matters ranging from the fate of unbaptised infants to human reason, the tendency of philosophers and poets to plagiarise sacred texts, the art of navigation, and the possibility of the plurality of worlds.

A contemporary reviewer, in the Göttingische Anzeigen von gelehrten Sachen of 1781, was unimpressed by Barsanti's efforts: he 'may have meant well with his book; for us, on the other hand, he has rewarded us so little for the trouble of reading it, that we have not even found in it so much as a new, pleasant, plausible dream, let alone a tenable, newly thought or articulated idea … What we have learnt from this book is that the sun of scientific culture, even in enlightened lands, generally will only illuminate a narrow strip, and that many monasteries have yet to receive a ray of it' (p. 1208 trans.).

OCLC records seven copies in North America, at Stanford, Chicago, Oklahoma, Penn State, Harvard, Wisconsin, and the Dominican House of Studies in Washington DC.
You may also be interested in...
ALCHEMY MEETS MECHANICISM [GUYOT, Edme.]
Nouveau sistème du microcosme; ou, Traité de la nature de l'homme: dans lequel on explique la cause du mouvement des fluides; le principe de la cie, du sang et des humeurs; la generation, et les autres operations des parties du corps humain par le Sr. de Tymogue.
First edition. 'The author sought 'openly to re-establish the macrocosm-microcosm system based on the ancient philosophy. He discussed the four elements' and imagined a universal life spirit which 'contained a celestial seed that entered animals through respiration. The reviewer in the Journal [des Sçavans] was well aware that Guyot's work was based on ancient alchemical work, but he felt that Guyot had clarified the earlier works. For instance, Guyot did not believe that the soul excites the voluntary movements by means of the animal spirits. Rather, he argued that excitation is accomplished through a quintessence of the spirit contained within the globules of the blood, which can expand and contract, thereby affecting the muscular fibres. In short, this odd work was pictured by the Journal's reviewer as wedding the mystical world of Renaissance cosmology with that of the mechanist' (A.G. Debus, The French Paracelsians (Cambridge, 2002), p. 205).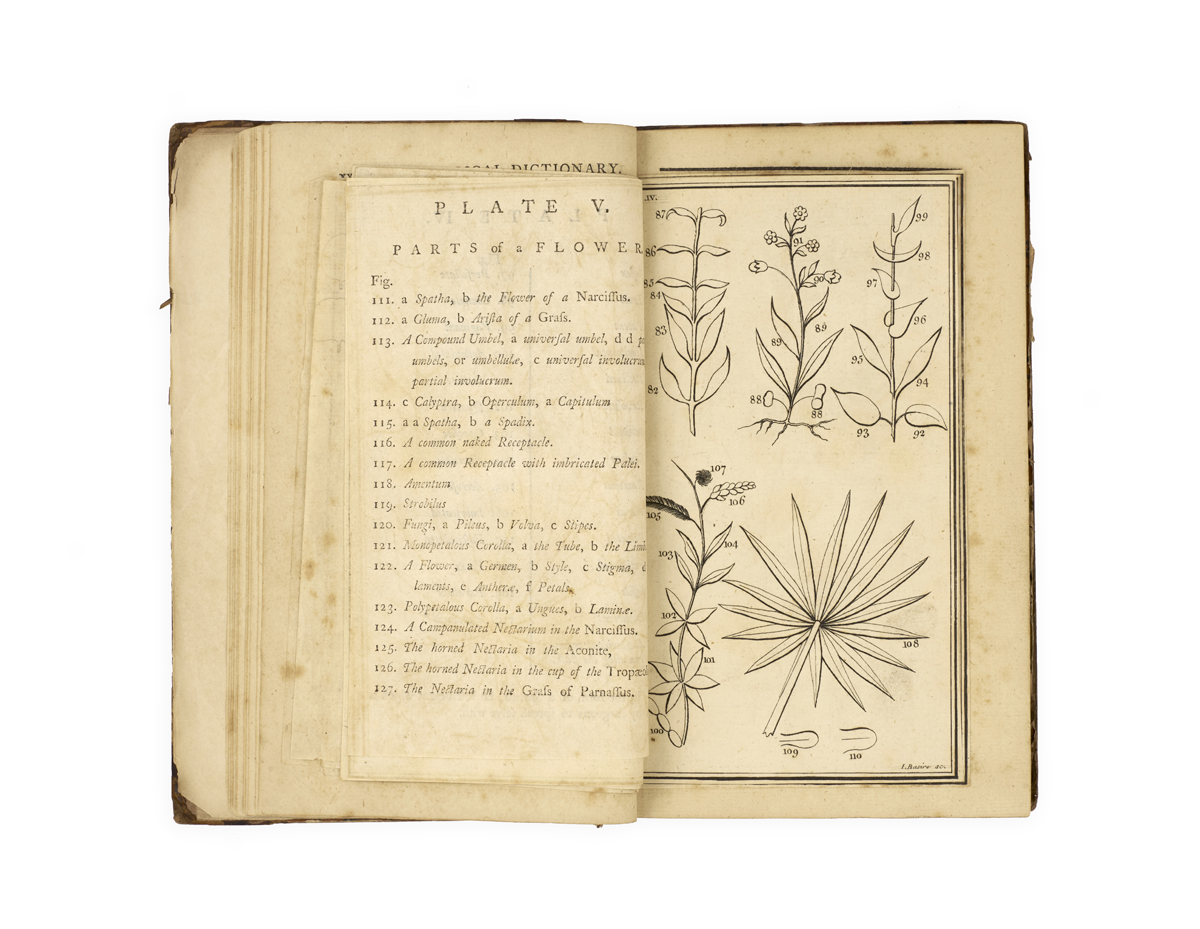 LINNAEUS, Carl (or von LINNÉ), and James JENKINSON (translator). 
A generic and specific Description of British Plants, translated from the Genera et species plantarum of the celebrated Linnaeus, to which is prefixed an etymological dictionary explaining the classes, orders and principal genera, and a glossary is added to explain the technical terms, with notes and observations, by James Jenkinson.  Kendal, T. Caslon, and for London, Hawes, Clark, and Collins, Kendal, J. 
First edition of this provincially printed partial translation of Linnaeus's Genera plantarum.  It precedes both William Withering's The Botanical Arrangement of all the Vegetables naturally growing in Great Britain (1776), the first such work to be based on Linnaean taxonomy, and Erasmus Darwin's The Families of Plants (1787), a translation and consolidation of the Genera plantarum and the Mantissae plantarum.