AN UN-ENLIGHTENED UTOPIA
[BARSANTI, Pier Vincenzo.]
Della futura rinnovazione de' cieli e della terra e de' suoi abitatori libri tre.
[Florence,] Stamperia Bonducciana, 1780.
4to, pp. viii, '160' [i.e. 260]; title copper-engraved with decorative border and large armorial cartouche, copper-engraved initial E (showing St Peter's Basilica), woodcut ornaments and initials; some spotting and browning in places, and minimal marginal worming to final few leaves (not affecting text); a very good, clean copy, uncut in contemporary carta rustica; binding somewhat browned and worn, and slightly loose.
£685

Approximately:
US $831
€810
Added to your basket:
Della futura rinnovazione de' cieli e della terra e de' suoi abitatori libri tre.
First edition of this utopia by the Tuscan Dominican Pier Vincenzo Barsanti.

Barsanti (fl. before 1784), professor of theology at the episcopal seminary of Cortona and then prior of the convent of Santa Caterina in Livorno, bases his book on work he had presented previously to the Accademia Etrusca of Cortona, the vast scope of which made it ripe for expansion. Over the course of three books, he speculates about matters ranging from the fate of unbaptised infants to human reason, the tendency of philosophers and poets to plagiarise sacred texts, the art of navigation, and the possibility of the plurality of worlds.

A contemporary reviewer, in the Göttingische Anzeigen von gelehrten Sachen of 1781, was unimpressed by Barsanti's efforts: he 'may have meant well with his book; for us, on the other hand, he has rewarded us so little for the trouble of reading it, that we have not even found in it so much as a new, pleasant, plausible dream, let alone a tenable, newly thought or articulated idea … What we have learnt from this book is that the sun of scientific culture, even in enlightened lands, generally will only illuminate a narrow strip, and that many monasteries have yet to receive a ray of it' (p. 1208 trans.).

OCLC records seven copies in North America, at Stanford, Chicago, Oklahoma, Penn State, Harvard, Wisconsin, and the Dominican House of Studies in Washington DC.
You may also be interested in...
[MONTAGU, Mary Wortley (attr.), and PUISSIEUX, Madeline de (translator).]
La femme n'est pas inferieure a l'homme, traduit de l'anglois.
First French translation, uncommon, of Woman not inferior to Man: or, a short and modest Vindication of the natural Right of the fair-Sex to a perfect Equality of Power, Dignity, and Esteem, with the Men, first published in 1739 under the name 'Sophia, a person of quality' and sometimes attributed to Mary Wortley Montagu (1689–1762; see Quaritch, Women (2019) 36). Drawing on De l'égalité des deux sexes of Poulain de la Barre, the work examines the justness of the esteem (or lack thereof) in which men hold women, the relative intellectual capacities of the two sexes, whether men are fitter to govern and hold public office than women, and whether women are capable of teaching the sciences and serving in the military. The author concludes: 'let us show [men], by what little we do without aid of education, the much we might do if they did us justice; that we may force a blush from them, if possible, and compel them to confess their own baseness to us, and that the worst of us deserve much better treatment than the best of us receive'.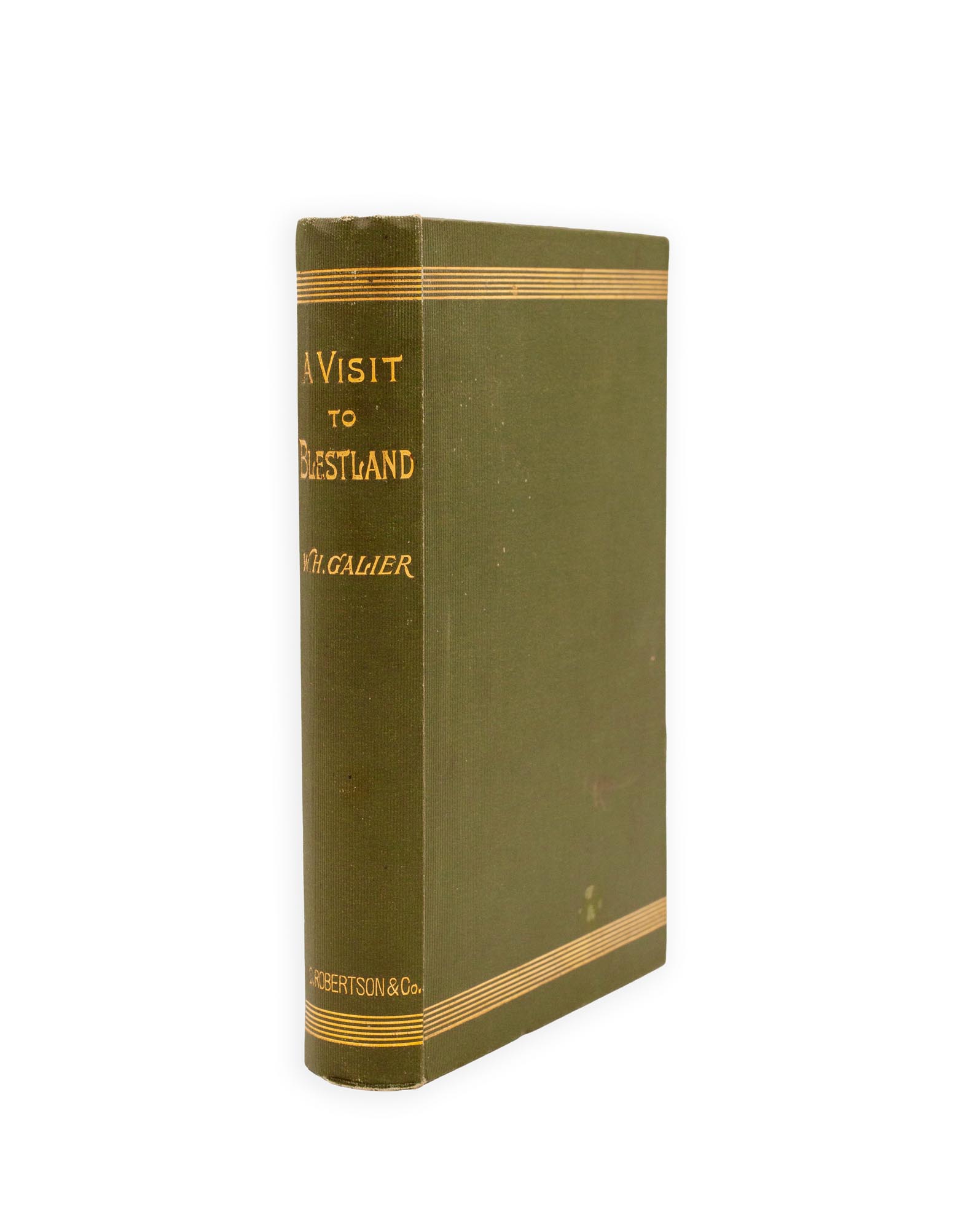 GALIER, W.H.
A visit to Blestland.
First edition of this novel of utopian socialism which lambasts capitalism and religion. Blestland is a republican workers' paradise located on a different planet which reveals how the divisions of earth can be abolished: by limiting 'the enormous power for evil which capital can wield'. Monopolist powers are forbidden, resulting in a society in which 'you will look in vain for class or religious hatreds, abject poverty and general discontents'. Published six years after William Morris's News from nowhere, the novel fits securely into the contemporary corpus of utopian socialist fiction. Here organized religion is especially singled out as an evil: 'fanaticism... accounts for the deplorable want of unity among the masses', as monopolists stay in power by exploiting workers' religious differences. Indeed, a missionary provides the plot's nemesis. The plot manifests Blestland as a dream, which vanished upon waking.