BARTHOLIN ON UNICORNS
BARTHOLIN, Thomas, and Caspar BARTHOLIN the younger (editor).

De unicornu observationes novae. Secunda editione auctiores & emendatiores editae.
Amsterdam, Henricus Wetstein, 1678.
12mo, pp. [16], 381, [15]; large folding plate, engraved title by R. de Hooghe, and 23 copper-engraved illustrations in text; woodcut device to title, text in Roman with passages of Greek; a very good copy in contemporary French calf, spine gilt in compartments, lettered directly in one, board-edges roll-tooled in gilt, edges speckled red, sewn two-up and bypass on 4 cords; lightly rubbed and a little bumped at corners, end-caps chipped with short splits to joints; upper board lettered 'Mr le Petit' in gilt, manuscript notes to endpapers, armorial embossed bookplate on red paper to upper pastedown.
£1500

Approximately:
US $1821
€1774
Added to your basket:
De unicornu observationes novae. Secunda editione auctiores & emendatiores editae.
First illustrated edition (second overall) of Bartholin's scarce treatise. The second of his family in a distinguished line of physicians at the University of Copenhagen, Thomas Bartholin (1616 - 1680) is remembered more for his medical discoveries than for the present work discussing single-horned beasts of all varieties. The text and illustrations include creatures ranging from the rhinoceros and narwhal to the basilisk and Margaretha Mainers of North Holland, reported to have grown a horn in her old age.

First published in Padua in 1645, the present edition was revised by Bartholin's son, Caspar Bartholin the younger, and printed with an allegorical engraved title by Romeyn de Hooghe (1645 – 1708) and numerous illustrations.

STCN 842258639.
You may also be interested in...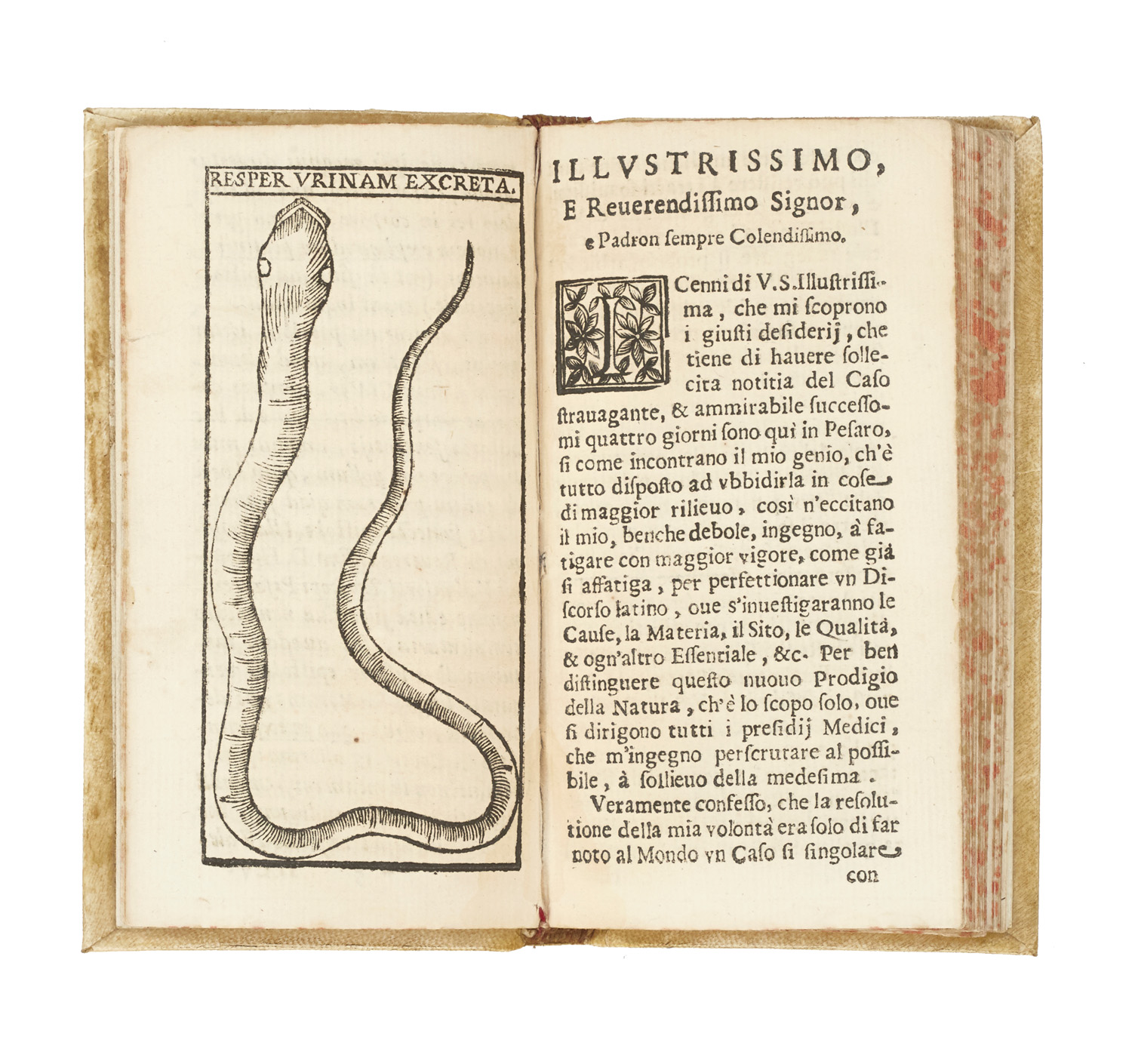 A WONDER WORM MARINIS, Dominico de.
Dissertatio philosophico-medica de re monstrosa à Capuccino Pisauri per urinam excreta. Plura de sanguinis grumis, polypis, serpentibus, ac praecipuè de vermibus in corpore humano procreatis non iniucunda complectens ...
First edition of this scarce dissertation on worms focussing on the extraordinary case of a capuchin preacher from Pesaro who in 1677 passed a 'monster' worm in his urine, which upon subsequent examination was declared to be a serpent. The Dissertatio begins with a prefatory letter in Italian by Alessandro Cocci discussing the case of the capuchin friar Stefano da Cammerino who for 13 months had suffered from kidney pains and bloody and lumpy urine. Following treatment by Cocci and Cesare Cesareo, Cammerino passed, with excruciating pain, a long thin worm through his urinary meatus, initially trying to pull it out, only to break it in two, and then passing the remainder, to his subsequent great relief. The worm caused much local interest and Cocci describes how it was initially put on display to satisfy the curious, before being examined under a microscope. The conclusion of this examination was that the 'prodigio della natura' passed by Cammerino was in fact a serpent.
AN UN-ENLIGHTENED UTOPIA [BARSANTI, Pier Vincenzo.]
Della futura rinnovazione de' cieli e della terra e de' suoi abitatori libri tre.
First edition of this utopia by the Tuscan Dominican Pier Vincenzo Barsanti.