BARTHOLIN ON UNICORNS
BARTHOLIN, Thomas, and Caspar BARTHOLIN the younger (editor).

De unicornu observationes novae. Secunda editione auctiores & emendatiores editae.
Amsterdam, Henricus Wetstein, 1678.
12mo, pp. [16], 381, [15]; large folding plate, engraved title by R. de Hooghe, and 23 copper-engraved illustrations in text; woodcut device to title, text in Roman with passages of Greek; a very good copy in contemporary French calf, spine gilt in compartments, lettered directly in one, board-edges roll-tooled in gilt, edges speckled red, sewn two-up and bypass on 4 cords; lightly rubbed and a little bumped at corners, end-caps chipped with short splits to joints; upper board lettered 'Mr le Petit' in gilt, manuscript notes to endpapers, armorial embossed bookplate on red paper to upper pastedown.
£1500

Approximately:
US $2094
€1761
Added to your basket:
De unicornu observationes novae. Secunda editione auctiores & emendatiores editae.
First illustrated edition (second overall) of Bartholin's scarce treatise. The second of his family in a distinguished line of physicians at the University of Copenhagen, Thomas Bartholin (1616 - 1680) is remembered more for his medical discoveries than for the present work discussing single-horned beasts of all varieties. The text and illustrations include creatures ranging from the rhinoceros and narwhal to the basilisk and Margaretha Mainers of North Holland, reported to have grown a horn in her old age.

First published in Padua in 1645, the present edition was revised by Bartholin's son, Caspar Bartholin the younger, and printed with an allegorical engraved title by Romeyn de Hooghe (1645 – 1708) and numerous illustrations.

STCN 842258639.
You may also be interested in...
ZAHN, Wilhelm.
Auserlesene Verzierungen aus dem Gesammtgebiet der bildenen Kunst, zum Gebrauch für Künstler und kunstbeflissene Handwerker, zugleich als Vorlegeblätter in Zeichenschulen, nach den Originalen gezeichnet …
First edition of this rare and fine pattern book of classical ornaments in marble, silver, bronze, ivory, and terracotta reproduced in outline engravings in order to instruct artists, craftsmen and fine art students. Zahn produced the volume from sketches made on his travels in southern Italy. Some of the designs were taken from pieces found in museums in Naples, but the majority are ornaments newly discovered in Pompeii and Herculaneum. The work is produced with the same eye to detail as his earlier Die schönsten Ornamente…aus Pompei, Berlin 1828-29 (interior decorations recently discovered at Pompeii, reproduced in glorious colour) and was published while he was busily issuing his monumental Ornamente alles klassischen Kunstepochen, Berlin 1843-48, again in colour.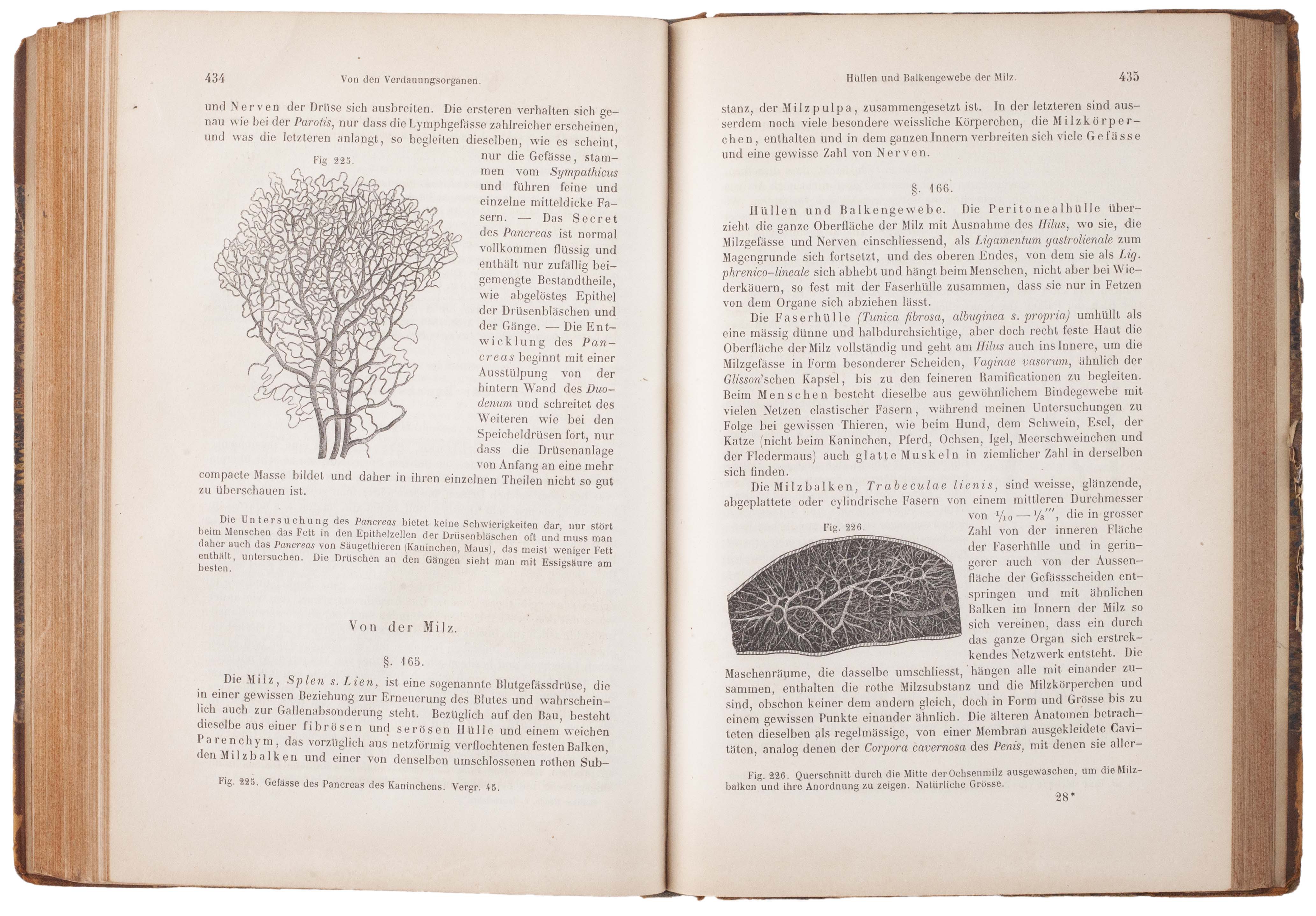 THE FIRST COMPREHENSIVE TREATISE ON HISTOLOGY KÖLLIKER, Albert von.
Handbuch der Gewebelehre des Menschen für Aerzte und Studierende.
First edition, scarce. 'A Swiss by birth, Kölliker received his medical education by attending Müller's lectures in Berlin and studying at Heidelberg where he graduated. After serving as prosector for Henle in Zurich, Kölliker was called to Würzburg where he remained for half a century. A genius, possessing remarkable powers of observation, he made enormous strides in the understanding of human and animal tissue. He was the first to apply Schwann's cell doctrine to embryology and to isolate smooth muscle fiber ... Handbuch der Gewebelehre des Menschen, one of Kölliker's most important works, may be considered the first textbook of histology' (Heirs of Hippocrates).