BARTHOLIN ON UNICORNS
BARTHOLIN, Thomas, and Caspar BARTHOLIN the younger (editor).

De unicornu observationes novae. Secunda editione auctiores & emendatiores editae.
Amsterdam, Henricus Wetstein, 1678.
12mo, pp. [16], 381, [15]; large folding plate, engraved title by R. de Hooghe, and 23 copper-engraved illustrations in text; woodcut device to title, text in Roman with passages of Greek; a very good copy in contemporary French calf, spine gilt in compartments, lettered directly in one, board-edges roll-tooled in gilt, edges speckled red, sewn two-up and bypass on 4 cords; lightly rubbed and a little bumped at corners, end-caps chipped with short splits to joints; upper board lettered 'Mr le Petit' in gilt, manuscript notes to endpapers, armorial embossed bookplate on red paper to upper pastedown.
£1500

Approximately:
US $2061
€1777
Added to your basket:
De unicornu observationes novae. Secunda editione auctiores & emendatiores editae.
First illustrated edition (second overall) of Bartholin's scarce treatise. The second of his family in a distinguished line of physicians at the University of Copenhagen, Thomas Bartholin (1616 - 1680) is remembered more for his medical discoveries than for the present work discussing single-horned beasts of all varieties. The text and illustrations include creatures ranging from the rhinoceros and narwhal to the basilisk and Margaretha Mainers of North Holland, reported to have grown a horn in her old age.

First published in Padua in 1645, the present edition was revised by Bartholin's son, Caspar Bartholin the younger, and printed with an allegorical engraved title by Romeyn de Hooghe (1645 – 1708) and numerous illustrations.

STCN 842258639.
You may also be interested in...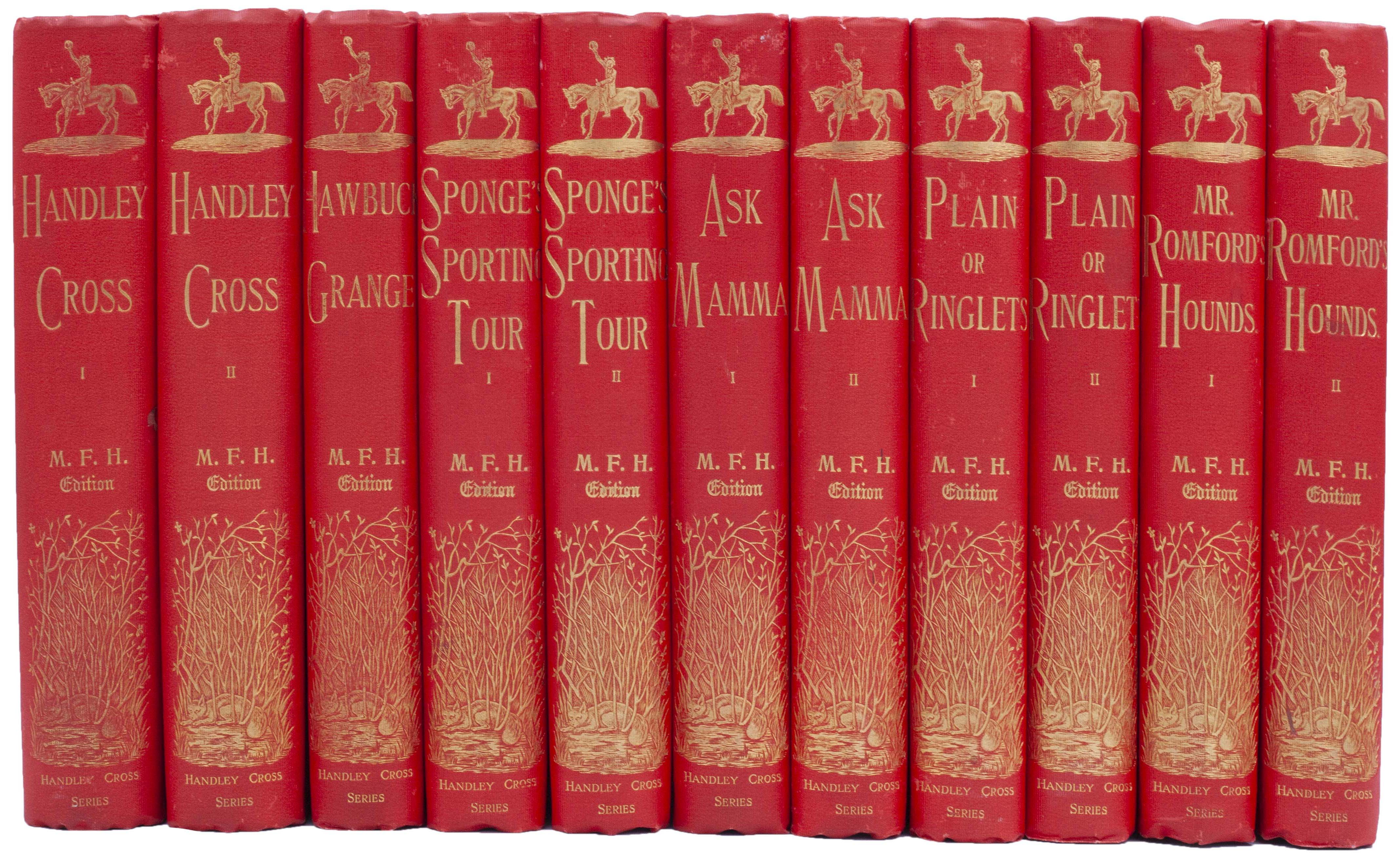 [SURTEES, Robert Smith,] and John LEECH (illustrator).
Handley Cross series.
Limited 'Master of Foxhounds' edition, finely printed at the Whitefriars Press. Having published the first editions of several of Surtees's sporting novels, Bradbury, Agnew, & Co. gathered and reprinted the six most successful as the 'Handley Cross series' as luxury sets. Publisher's advertisements at the rear of the present volumes advertise, besides the 'M.F.H. edition', a 'Country Gentleman's Library edition' and the '"Jorrocks" edition' (each comprising only six volumes), described thus: 'This inimitable series of Volumes is absolutely unique, there being nothing approaching to them in all the wide range of modern or ancient literature. Written by Mr. Surtees, a well-known country gentleman, who was passionately devoted to the healthy sport of fox-hunting, and gifted with a keen spirit of manly humour of a Rabelaisian tinge, they abound with incidents redolent of mirth and jollity. The Artist, Mr. Leech, was himself also an enthusiast in the sport, and has reflected in his illustrations, with instinctive appreciation, the rollicking abandon of the Author's stories.'
EVELYN'S COMPLEAT GARD'NER 'QUINTINYE, Monsr de la,' [Jean de la QUINTINIE] and John EVELYN (translator).
The compleat Gard'ner; or, Directions for Cultivating and right Ordering of Fruit-Gardens and Kitchen-Gardens, with divers Reflections on several Parts of Husbandry, in six Books … to which is added, his Treatise of Orange-Trees, with the Raising of Melons, omitted in the French Editions … illustrated with Copper Plates.
First edition in English, translated and expanded by John Evelyn, of the principal work of the Chief Director of Louis XIV's gardens, Jean de la Quintinie, first published three years previously as Instructions pour les jardins fruitiers et potagers.