BARTLET, John.
Pharmacopoeia hippiatrica, or the Gentleman Farrier's Repository of elegant and approved Remedies for the Diseases of Horses in two Books, containing I. the surgical, II. the medical Part of practical Farriery, with suitable Remarks on the Whole.
Eton, J. Pote for T. Pote, 1764.
8vo, pp. xii, 382, [1], [1 (blank)]; title minimally foxed; a very good copy in contemporary English speckled sheep, borders double-filleted in gilt, spine gilt-ruled in compartments with gilt red morocco lettering-piece in one, endbands sewn on reed cores, sewn two-up and bypass on 5 cords, in a recent brown cloth clamshell box with silver-gilt label to spine; a little rubbed, end-caps and tail-band lost, joints subtly reinforced with tissue; eighteenth-century armorial bookplate of William Constable to upper pastedown, twentieth-century bookseller's label of C.E. Rappaport, Rome.
£850

Approximately:
US $1168
€1007
Added to your basket:
Pharmacopoeia hippiatrica, or the Gentleman Farrier's Repository of elegant and approved Remedies for the Diseases of Horses in two Books, containing I. the surgical, II. the medical Part of practical Farriery, with suitable Remarks on the Whole.
First edition, published at Eton. A surgeon rather than a farrier, John Bartlet (c. 1716-1772) intended his work as a successor to and revision of Gibson's: 'Mr. Gibson's dispensatory published thirty years ago, is too prolix, and not managed with due accuracy and precision. Virtues are there ascribed to medicines, which have no foundation in fact, and foreign matter is so interwoven, as if the book was intended, to be recommended by its bulk.' The work is of particular interest for its inventory of recommended equipment for 'The Gentleman Farrier's Elaboratory' and for its glossary of terms used in mid-eighteenth-century farriery.

The son of a bookseller at Eton College, the author had his work published by his brother-in-law, Joseph Pote, who had taken over Bartlet's father's business around 1729. Though less printed than his Gentleman's Farriery, the Repository was well received, reaching its third edition in 1773 with three pirated Dublin versions and an American edition following in 1775.

ESTC T88024; Dingley 39; not in Mellon.
You may also be interested in...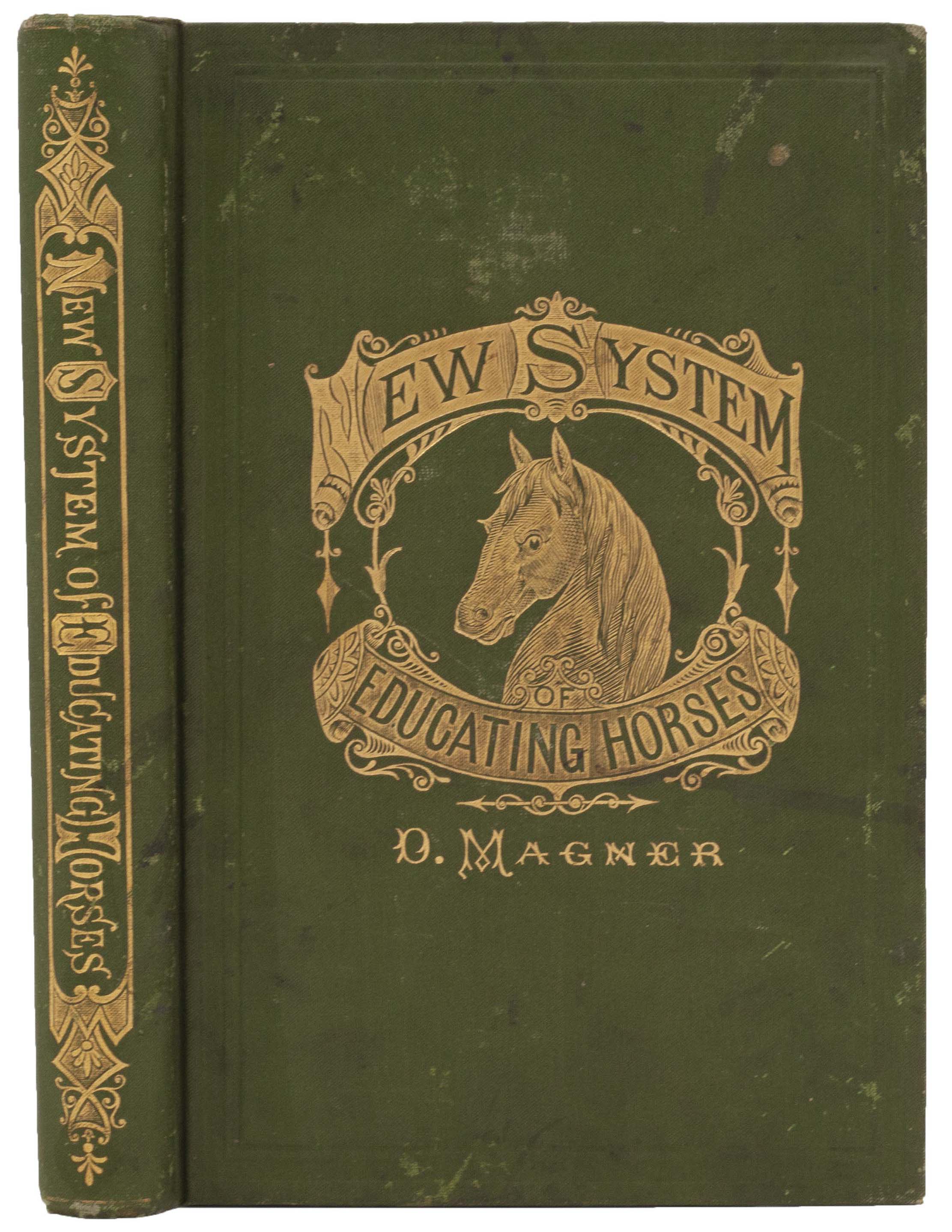 MAGNER, D.
The new System of Educating Horses, including Instructions on Feeding, Watering, Stabling, Shoeing, etc., with Treatment for Diseases, illustrated, including many valuable Recipes not before published … twelfth Edition, re-written with new Illustrations.
Twelfth edition of a well illustrated manual on equestrianism, principally the training of horses. 'The horse is an animal of high and spirited organization, endowed by his Creator with capabilities and faculties which sufficiently resemble man's to come under the same general law of education and government … Boys and colts, so much alike in friskiness and stubbornness, both are misunderstood and abused in equal ratio'.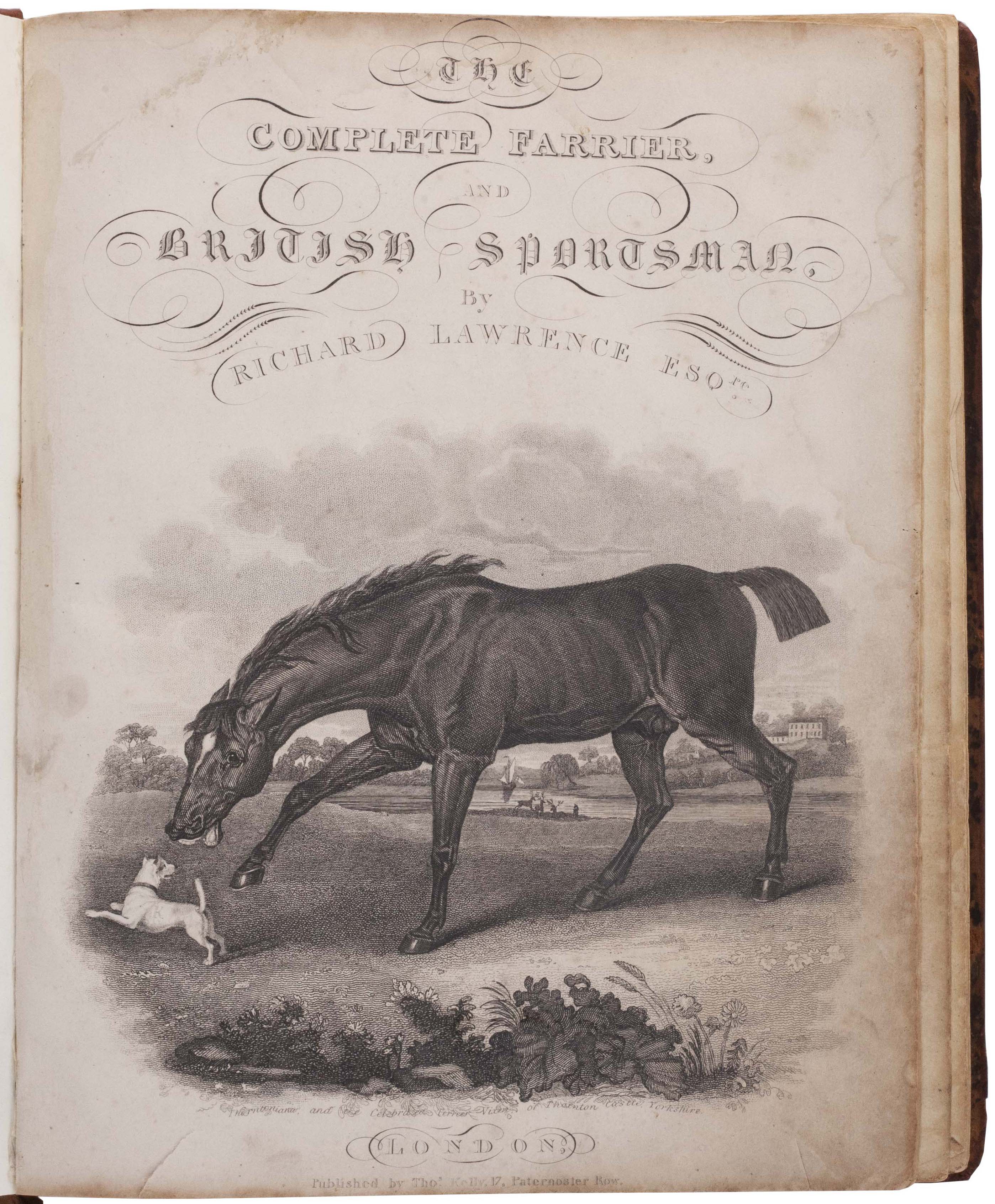 LAWRENCE, Richard.
The complete Farrier and British Sportsman, containing a systematic Enquiry into the Structure and animal Economy of the Horse, the Causes, Symptoms, and most-approved Methods of Prevention and Cure of all the Diseases to which he is liable, a Detection and Exposure of the erroneous and dangerous Methods of Treatment too generally adopted, with some select and approved original Recipes for various Diseases, the whole rendered easy and familiar, with a View to general Utility, and founded on the latest Discoveries and experimental Facts, to which the Progress of Improvement for the last twenty Years in the veterinary Art has led, including a faithful Delineation of the various Dogs used in the Sports of the Field, with canine Pathology, interspersed with sporting Anecdotes, and an Account of the most celebrated Horses, Dogs, &c. &c. &c., equally important and interesting to the British Sportsman, as to Inn-Keepers, Coach-Masters, licensed Horse-Dealers, Farmers, Owners of Stage-Waggons, &c., embellished with a Series of Engravings executed by eminent Artists, from original Drawings in the Possession of Noblemen and Gentlemen of the Turf … with an Appendix, containing a minute anatomical Description of the bony Structure, or Skeleton of the Horse, the moving Powers or Muscles of that noble Animal, and the different Viscera or internal Parts scientifically explained and illustrated, together with an Abstract of the Game Act of 1831, &c. &c.
Likely first edition, dedicated 'to the noblemen and gentlemen of the Quorn Hunt'. Much unlike his earlier scholarly work on veterinary science, Lawrence's Complete Farrier and British Sportsman is written for gentlemen and noblemen with an interest not in farriery but in fox-hunting, discussing both horses and hounds. The text is illustrated by plates, the majority decorative rather than diagrammatic, and accompanied by amusing anecdotes, including those relating to Philip Astley. Having begun his career a well educated advocate of the academic approach to the veterinary art, it is not known what drove Lawrence to write a work of popular farriery for huntsmen.