FOOD AND SEX
[BAUDRICOURT, LE SIRE DE.]
[ROMPINI, Omero, transl.?] La cucina dell'amore. Manuale culinario afrodisiaco per gli adulti dei due sessi.
Florence, Casa editrice Frascogna, 1910.
8vo, pp. [2, blanks], 135, [1]; a few woodcut illustrations in the text; a fine copy, printed on pink paper, bound in contemporary marbled boards.
£450

Approximately:
US $599
€501
Added to your basket:
[ROMPINI, Omero, transl.?] La cucina dell'amore. Manuale culinario afrodisiaco per gli adulti dei due sessi.

First Italian translation (the mention of 10th edition on the title page is false), extremely rare (only 1 copy recorded worldwide, at the Biblioteca Centrale Nazionale, Florence), and in part original, of Le Sire de Baudricourt's Le manuel culinaire aphrodisiaque, a collection of aphrodisiac recipes.

The book's introduction promises readers that certain combinations of spices, condiments, and sauces, prepared according to special historical formulae, possess the power of physical regeneration: endowing the diner with renewed virility and youth. These dishes have – unsurprisingly – an especially restorative effect on the libido. Baudricourt is eloquent in his descriptions of the prodigious aphrodisiacs, exciting scents, and suggestive tastes contained in his book. His descriptions of the 130 recipes are perhaps almost as arousing as the meals themselves.

A second edition was published in 1926 (Catania, Tirelli) with Omero Rompini indicated as author on the title page; according to some (Biblioteca gastronomica Academia Barilla) this was a pseudonym of Romeo Prampolini, a Sicilian book seller and publisher, but this attribution appears unlikely as Prampolini was only just born in 1910.

This edition unknown to all bibliographies consulted.
You may also be interested in...
[GRAY'S INN WINE ESTABLISHMENT].
Printed price list.
An attractive price list for one of our neighbours, the Gray's Inn Wine Establishment, established by George Henekey in the early nineteenth century. An introduction tells us of the improvents and expansions that had been made to the premises to meet the increase in demand, while giving notice of some of the new additions, in particular the Rota Tent communion wine, which had previously 'almost fallen into disuse from the substitution of an article of British manufacture', but was now, thank the Lord, available once more, and supplied to almost all London churches. The price list, divided into wines in wood, wines in bottle, draught wines, French wines, wines of curious and rare quality, spirits of curious and rare quality, and foreign and British spirits, contains some 90 items, and is an unwitting insight into the limits of British trade at the time: the French wine section contains 7 wines, whereas the rest come almost exclusively from Spain, Portugal, and South Africa.
The building, at 23 High Holborn, is now the Cittie of Yorke pub; the cellar room depicted is still in use.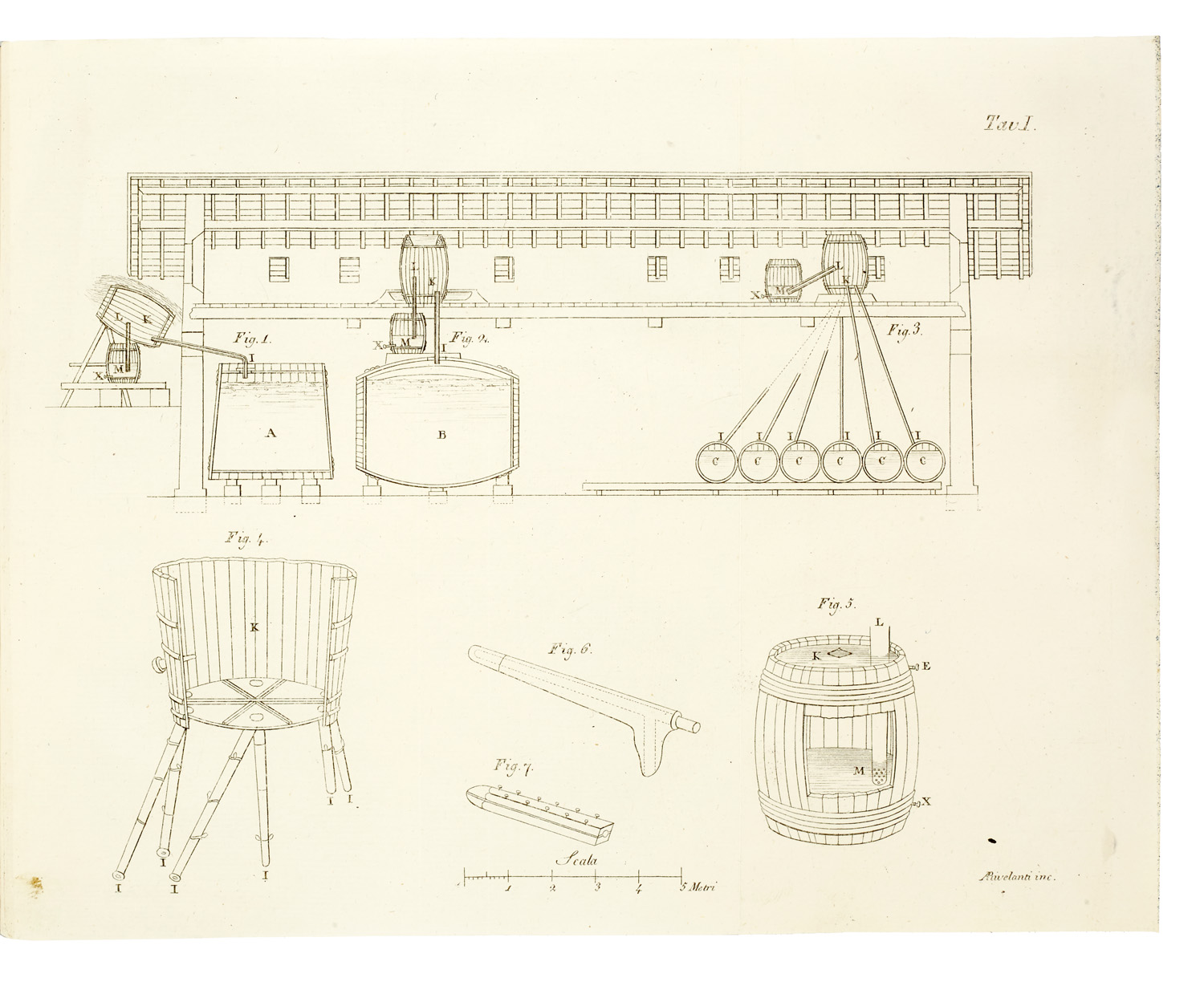 MADEMOISELLE GERVAIS' METHOD OF WINE MAKING IMPROVED BY BRUNEL HUBER, Vincenzo.
Saggio di enologia pratica.
First complete edition of a popular oenological handbook by Vincenzo Huber (a short extract was published in 1823), in which the author supports and aims at popularising in Italy Brunel's 'improved' variant of Mademoiselle Gervais' method of wine making.