ORIENTAL CAUTIONARY TALE
'BEAUHARNOIS, Félicité' [pseudonym for Joseph FIÉVÉE?].

Zoraïm, ou les aventures d'un musulman; traduit de l'Anglois, par la c. Félicité Beauharnois, auteur de La Dot de Suzette.
Paris, 'chez la cit. Dhotel, libraire, an VIIme' [1799].
12mo, pp. 150; with engraved frontispiece; first sig. and frontispiece loose, occasional light marks; overall a good uncut copy in contemporary marbled wrappers (leaves from bookseller's catalogue used as pastedowns); spine perished, some rubbing to wrappers, remains of paper label to wrappers.
£2500

Approximately:
US $3485
€2937
Added to your basket:
Zoraïm, ou les aventures d'un musulman; traduit de l'Anglois, par la c. Félicité Beauharnois, auteur de La Dot de Suzette.
Very rare (only one copy traced) cautionary tale against ambition and vengeance, set in the Ottoman world and penned during the French Revolution, possibly by the gay writer and secret agent Joseph Fiévée.

The action takes place during the reign of the fifteenth-century Ottoman Sultan Mehmed II, known as the Conqueror (Fatih Sultan Mehmed, r. 1444-1446 and 1451-1481). The eponymous hero, Zoraim, is the son of one of Mehmed's most trusted officers, Ibrahim, and follows his father into the Sultan's service. But Zoraim's happiness is quickly blighted by his own ruthless ambition and by that of those around him: his beautiful but scheming wife Ozaime seduces his best friend Nadir leading to the death of both, while Zoraim is forced to flee to Damascus after betraying Mehmed for his own advancement. Here his father Ibrahim attempts to turn him towards virtue, but Zoraim's ambition drives him into the service of Mehmed's son Selim.

When Selim is defeated, Ibrahim is forced into exile and Zoraim, having lost everything, sets off to find him. Wandering near Mount Lebanon, Zoraim stumbles upon a young woman being attacked, and kills her assailants. Ozelie, as she is called, introduces her saviour to her father, a Christian Frenchman named Solignan, who, after long years of service in the navy and enslavement in Alexandria, has found peace with his daughter in an isolated hut. Once reunited with his father, Zoraim and Ozelie are married, in spite of their different faiths, with Zoraim concluding that only virtue and nature bring happiness, not ambition. The frontispiece depicts the couple's first encounter, with Ozelie's assailants lying dead beside them, and her father in the background.

While the title claims that the tale was translated from the English, we have been unable to find a corresponding work on ESTC, and it is likely this statement is a conceit. Neither have we been able to trace a Félicité Beauharnois, which appears to be a pseudonym. La Dot de Suzette is a novel by Joseph Fiévée (1767–1839) which appeared anonymously in 1798; Fiévée is thus a candidate for Zoraïm's authorship. The Parisian publisher, citoyenne Dhôtel, was active between 1798 and 1804.

Not on OCLC, CCfr, or Library Hub (Copac). KvK finds only one copy, at the Biblioteca comunale Domenico Fava.
You may also be interested in...
ADMIRABLE ANTIQUITIES BARTOLI, Pietro Santi.
Admiranda Romanarum antiquitatum ac veteris sculpturae vestigia anaglyphico opere elaborata ex marmoreis exemplaribus quae Romae adhuc extant in capitolio aedibus hortisque virorum principum ad antiquam elegantiam a Petro Sancti Bartolo delineata incisa ... notis Io. Petri Bellorii illustrata ...
Revised edition (first c. 1685, with 81 plates) of this stunning record of ancient Roman sculpture by the engraver and painter Pietro Santi Bartoli (1615–1700), pupil of Poussin, antiquary to Christina, Queen of Sweden, and 'indefatigable engraver of Roman monuments' (Grove Art Online), with text supplied by the biographer and critic Giovanni Pietro Bellori (1613–1696). This edition differs considerably from the first, with thirty-three new plates replacing thirty-one from the original issue. The work was extremely popular, selling in large numbers well into the eighteenth century.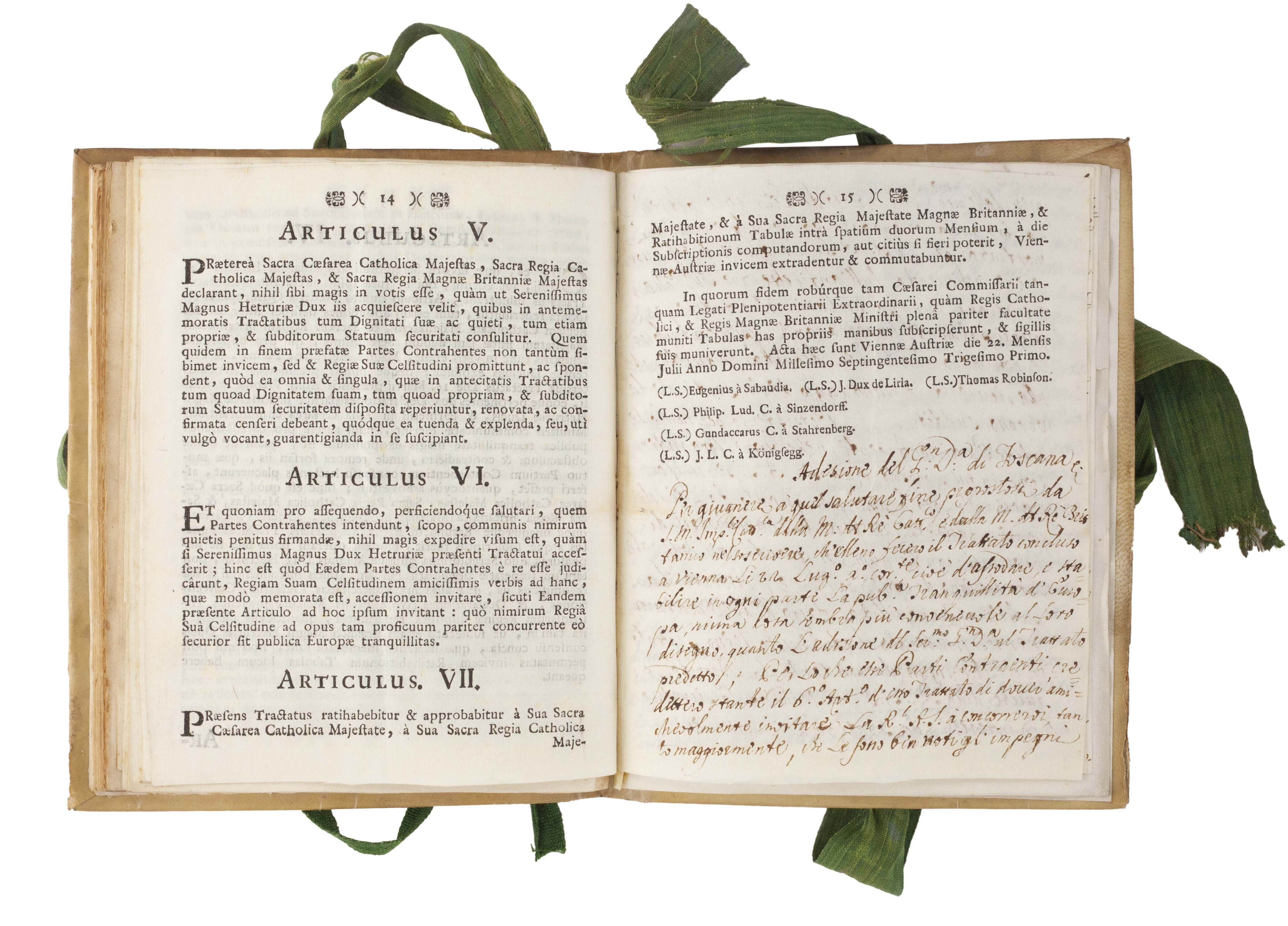 [TREATIES.]
Volume of tracts on European treaties of peace and alliance.
A collection of scarce texts relating to the Peace of Vienna (1725) and subsequent treaties of Hanover (1725), Paris (1727), Seville (1729), and Vienna (1731), with contemporary manuscript additions in Italian and French clearly composed by someone in diplomatic service. The collection eloquently attests to the shifting alliances and jostling for position among the major European powers in the 1720s.