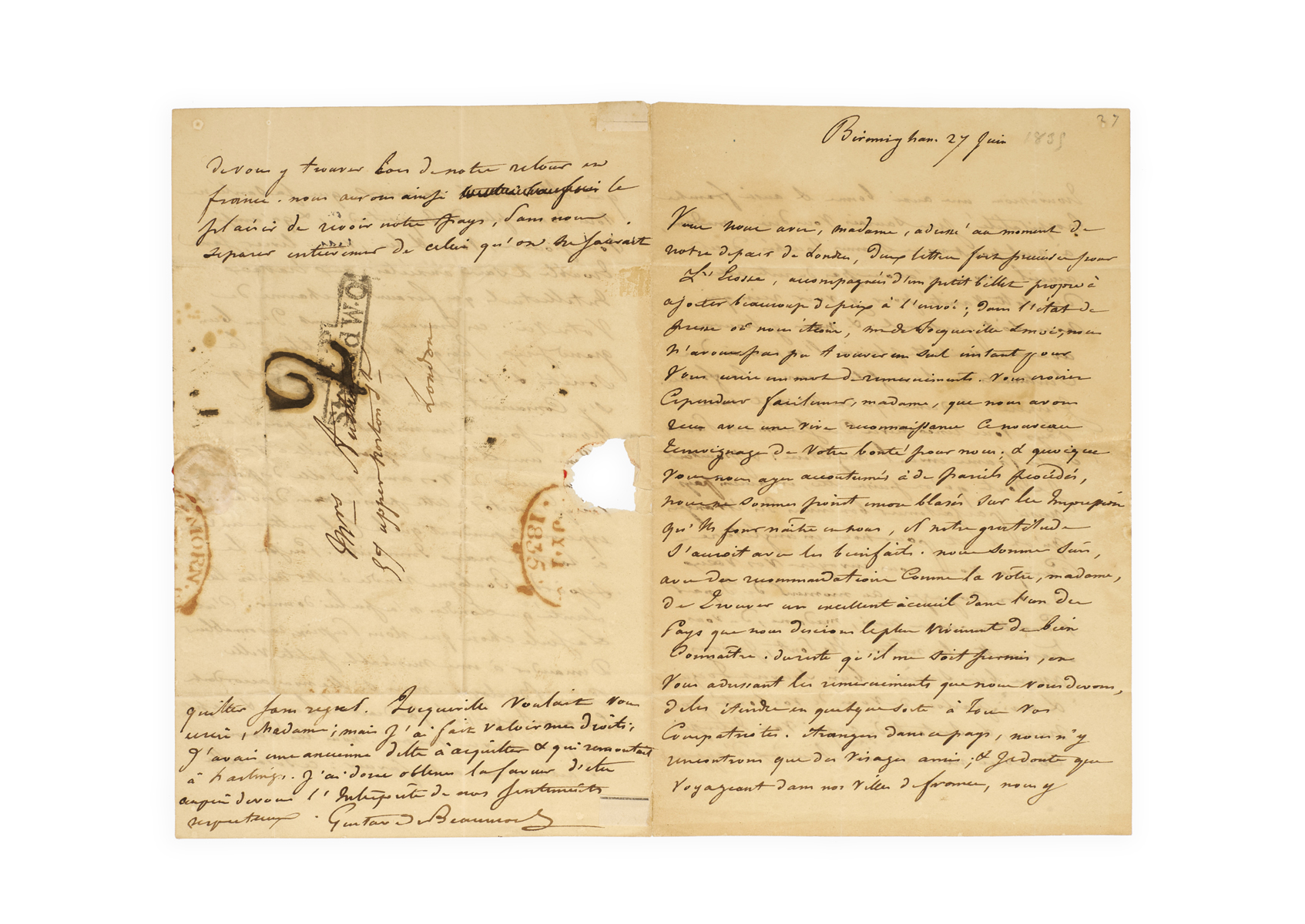 PRAISE FOR ENGLISH HOSPITALITY FROM TOCQUEVILLE AND BEAUMONT
BEAUMONT, Gustave-Auguste de la Bonninière de (1802–1866), French prison reformer and travel companion to Alexis de Tocqueville.

Autograph letter signed ('Gustave de Beaumont') to Sarah Austin.
Birmingham, 27 June [1835].
8vo, pp. 4, with address and red postal stamp dated 1835 to final page; hole where seal opened and remains of seal affecting a few words of text on the third page, traces of hinges used for mounting on last page, otherwise good.
£550 + VAT

Approximately:
US $733
€650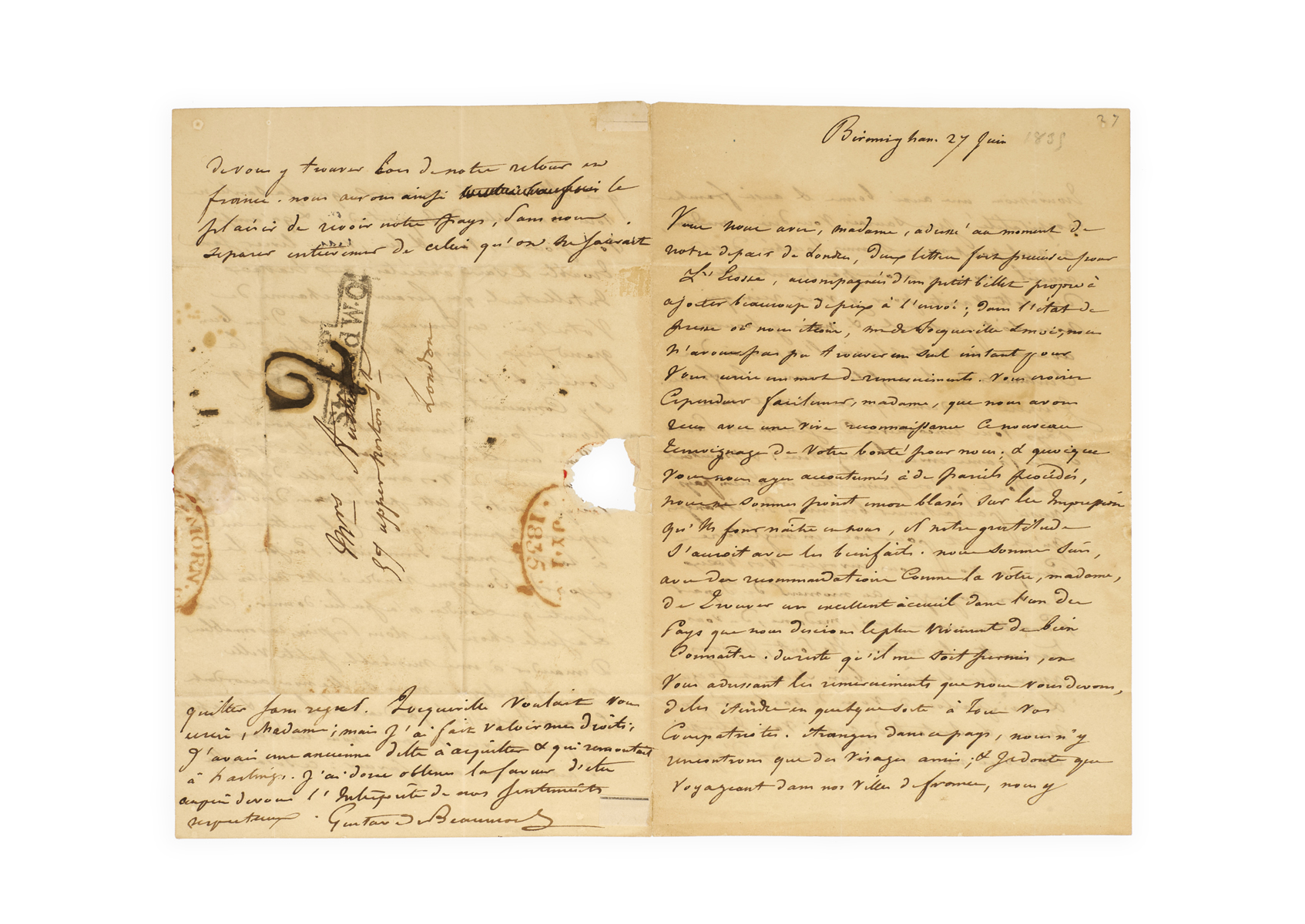 Added to your basket:
Autograph letter signed ('Gustave de Beaumont') to Sarah Austin.
A warm and personal autograph documenting the relationship between the reformer Beaumont and one of the most accomplished contemporary catalysts of philosophical exchange, the translator Sarah Austin. In 1831 Beaumont was sent by the French government with his friend and colleague Alexis de Toqueville to study the prison system in America, a trip that resulted in several publications, not least Toqueville's De la démocratie en Amérique. Beaumont was particularly struck by the number of Black slaves in America and in the same year as this letter wrote a novel on the subject.

This letter dates from Beaumont and Tocqueville's subsequent visit to England, where they stayed between May and September 1835, and is addressed to the translator and writer Sarah Austin (1793–1867), friend of Jeremy Bentham and John Stuart Mill (who called her 'Mütterlein').

Beaumont writes warmly of the hospitality he and Tocqueville have received during their visit, 'je doute qu'on puisse être, en aucun pays, aussi parfaitement bon envers des étrangers qu'on l'est pour nous en angleterre'. The writer hopes that the Austins' forthcoming trip to Boulogne (referred to as 'une misérable petite ville') will benefit Mr Austin's health more than London, a reference to the long-standing illness of John Austin (1790–1859) the legal philosopher, whom Sarah had married in 1819.

Sarah Austin moved to Paris in 1843, where her salon attracted Tocqueville and many other notable literary and political figures.
You may also be interested in...
JESUIT LOGIC AND PHYSICS [LALANDE, Fr.]
[Philosophy course.]
Fair manuscript copy of a course of philosophy for the use of clerical students offering a systematic treatment of Aristotelian Logic and Physics. The initial inscription states that this course was given by a Jesuit, Fr. Lalande, to Jacques Becheau of Périgord in 1681. The course is articulated in the disputationes dealing in depth with logics and metaphysics at first, then physics and astrology in the second part. A fair example of Jesuit Aristotelianism with significant departures from Aquinas's interpretation, this manuscripts offers an insight into the Jesuit order's agility in adapting the received 'calculations' of syllogism and deduction to early-modern challenges coming from the emergence of experimental science in the age of Galileo.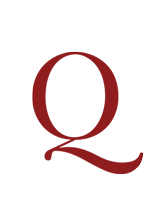 [SOUTHERN, Henry, and George William Frederick VILLIERS, later fourth earl of Clarendon.]
The policy of England towards Spain considered chiefly with reference to 'A review of the social and political state of the Basque provinces, and a few remarks on recent events in Spain, etc. By an English nobleman'.
8vo, pp. [iii]–vi, 205; without the half-title.