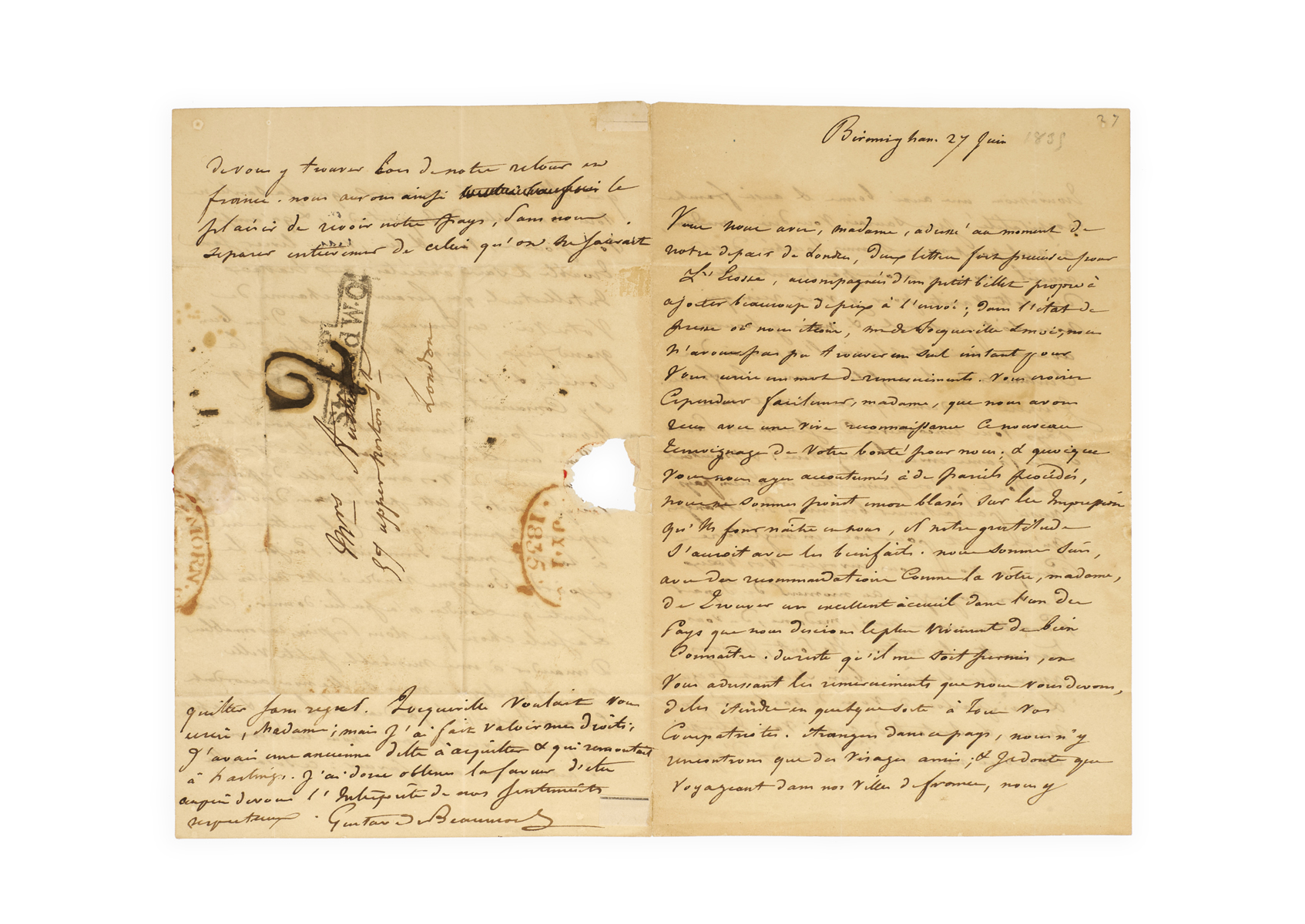 PRAISE FOR ENGLISH HOSPITALITY FROM TOCQUEVILLE AND BEAUMONT
BEAUMONT, Gustave-Auguste de la Bonninière de (1802–1866), French prison reformer and travel companion to Alexis de Tocqueville.

Autograph letter signed ('Gustave de Beaumont') to Sarah Austin.
Birmingham, 27 June [1835].
8vo, pp. 4, with address and red postal stamp dated 1835 to final page; hole where seal opened and remains of seal affecting a few words of text on the third page, traces of hinges used for mounting on last page, otherwise good.
£550 + VAT

Approximately:
US $0
€0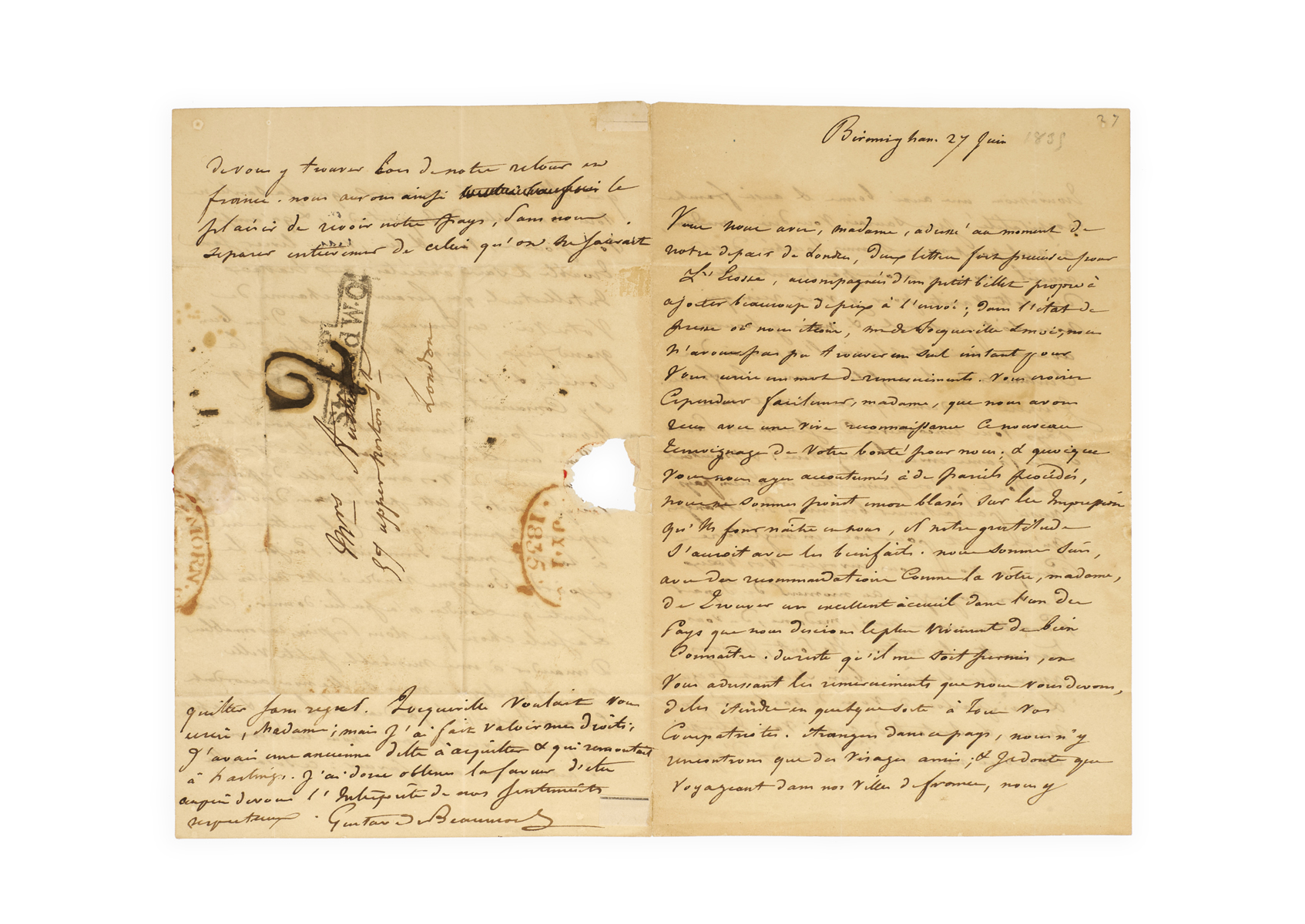 Added to your basket:
Autograph letter signed ('Gustave de Beaumont') to Sarah Austin.
A warm and personal autograph documenting the relationship between the reformer Beaumont and one of the most accomplished contemporary catalysts of philosophical exchange, the translator Sarah Austin. In 1831 Beaumont was sent by the French government with his friend and colleague Alexis de Toqueville to study the prison system in America, a trip that resulted in several publications, not least Toqueville's De la démocratie en Amérique. Beaumont was particularly struck by the number of Black slaves in America and in the same year as this letter wrote a novel on the subject.

This letter dates from Beaumont and Tocqueville's subsequent visit to England, where they stayed between May and September 1835, and is addressed to the translator and writer Sarah Austin (1793–1867), friend of Jeremy Bentham and John Stuart Mill (who called her 'Mütterlein').

Beaumont writes warmly of the hospitality he and Tocqueville have received during their visit, 'je doute qu'on puisse être, en aucun pays, aussi parfaitement bon envers des étrangers qu'on l'est pour nous en angleterre'. The writer hopes that the Austins' forthcoming trip to Boulogne (referred to as 'une misérable petite ville') will benefit Mr Austin's health more than London, a reference to the long-standing illness of John Austin (1790–1859) the legal philosopher, whom Sarah had married in 1819.

Sarah Austin moved to Paris in 1843, where her salon attracted Tocqueville and many other notable literary and political figures.
You may also be interested in...
POCKET-SIZED TRAGEDIES SENECA, Lucius Annaeus.
L. Annaei Senecae Cordubensis tragoediae decem. Quibus adiectae sunt variae lectiones. Et selectis exemplaribus collectae.
An extremely rare pocket-sized Jesuit school edition of the tragedies of Seneca, likely intended for use at the Jesuit College at Brera, in Milan, with a charming doodle from a bored young student.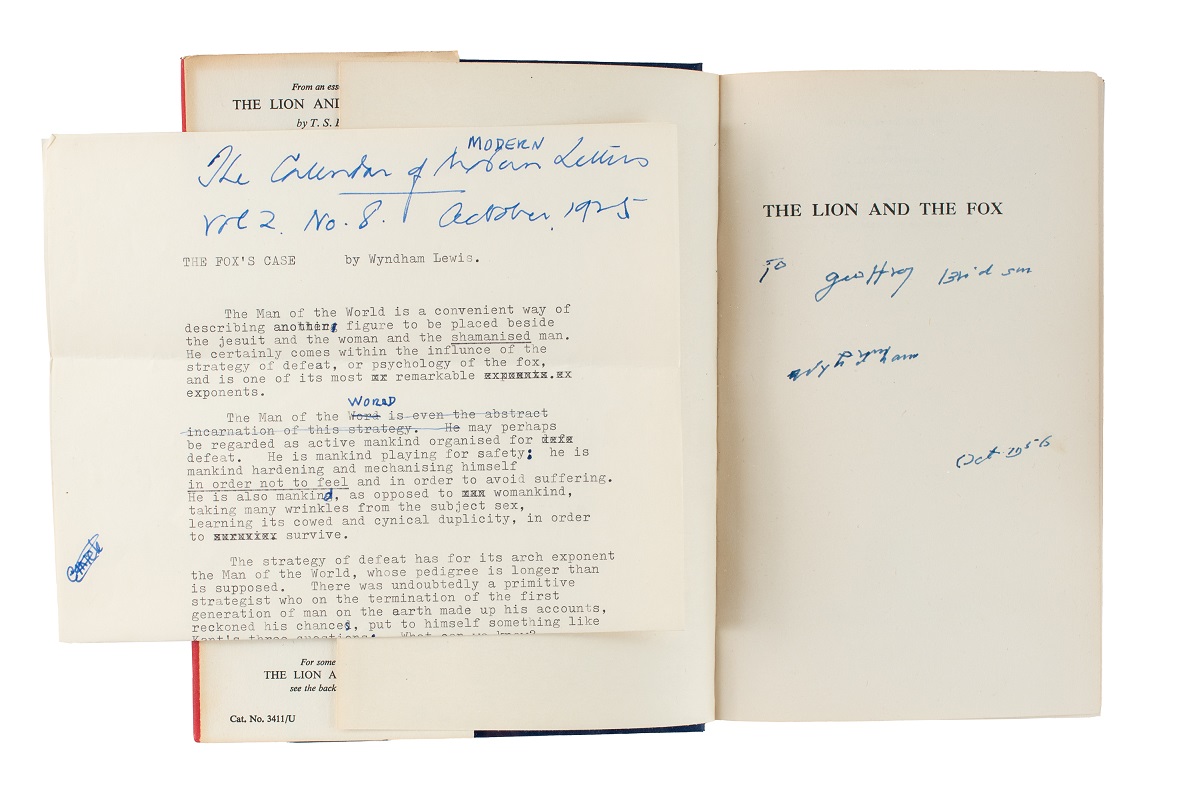 INSCRIBED LEWIS, Wyndham.
The Lion and the Fox. The Role of the Hero in the Plays of Shakespeare …
Reprint of the second edition of Lewis's 'first political book', a collection of essays engaging with Shakespeare and Machiavelli first published in 1927 and then reissued by Methuen in 1951; inscribed in a very shaky hand 'To Geoffrey Bridson from Wyndham / Oct 1956'.
'The Lion and the Fox is shot through with original thinking on every subject that it takes up … The tone of the book is distinctly liberal, and its attitude towards the concept of despotic rule is one of suspicion and antipathy' (Bridson, The Filibuster).
Laid in loose is a 1-leaf typescript of two sections from pp. 83-4 and 89-90 of 'The Foxes' Case' by Lewis, published in The Calendar of Modern Letters 2:8 (October 1925), with a few corrections in pen and the note 'original copy checked with DGB' at the foot. The article included several passages subsequently incorporated into The Lion and the Fox.
See Bridson, 'That Notorious Machiavel', The Filibuster, pp. 1-18. Pound & Grover A6c note; Morrow & Lafourcade A7c note.