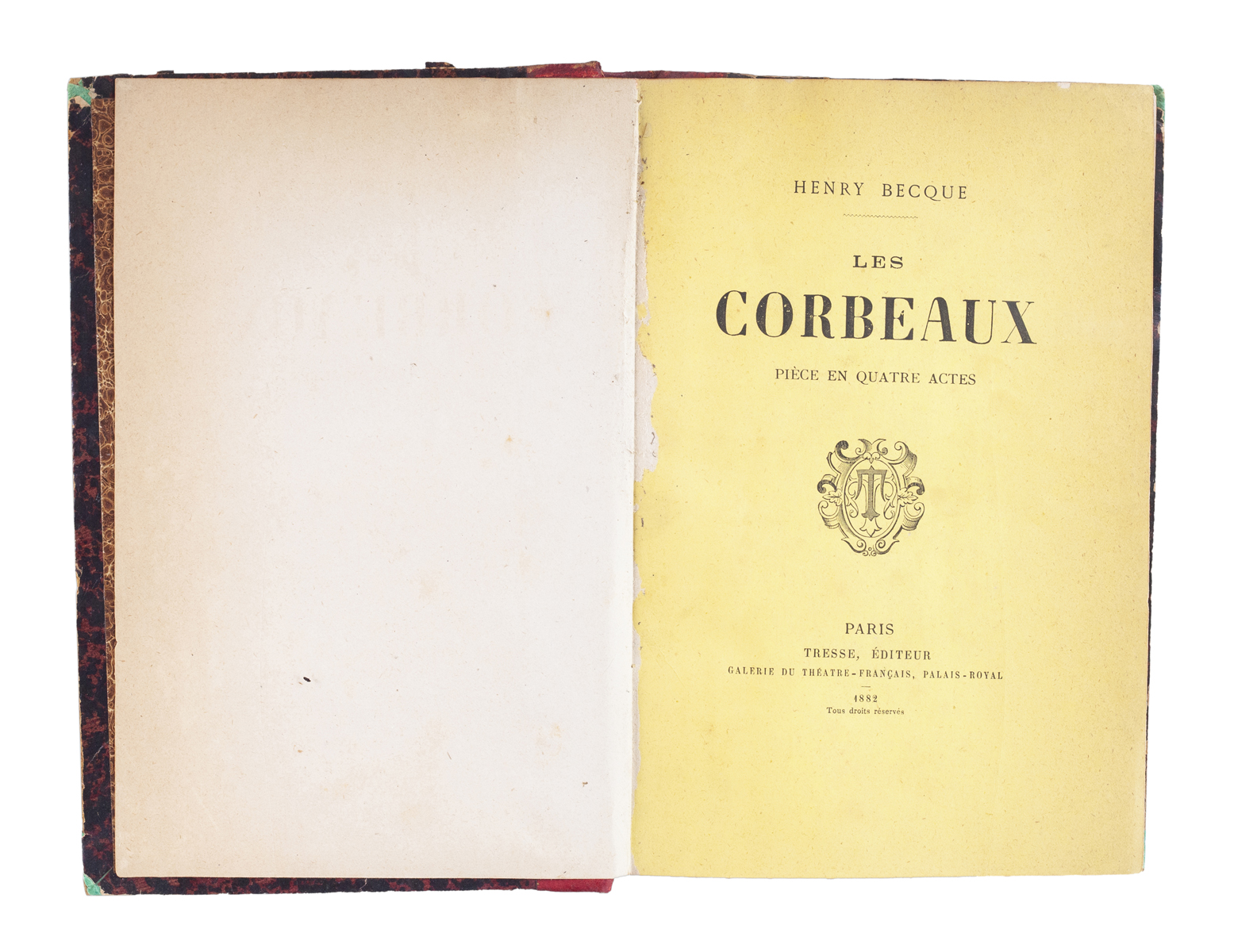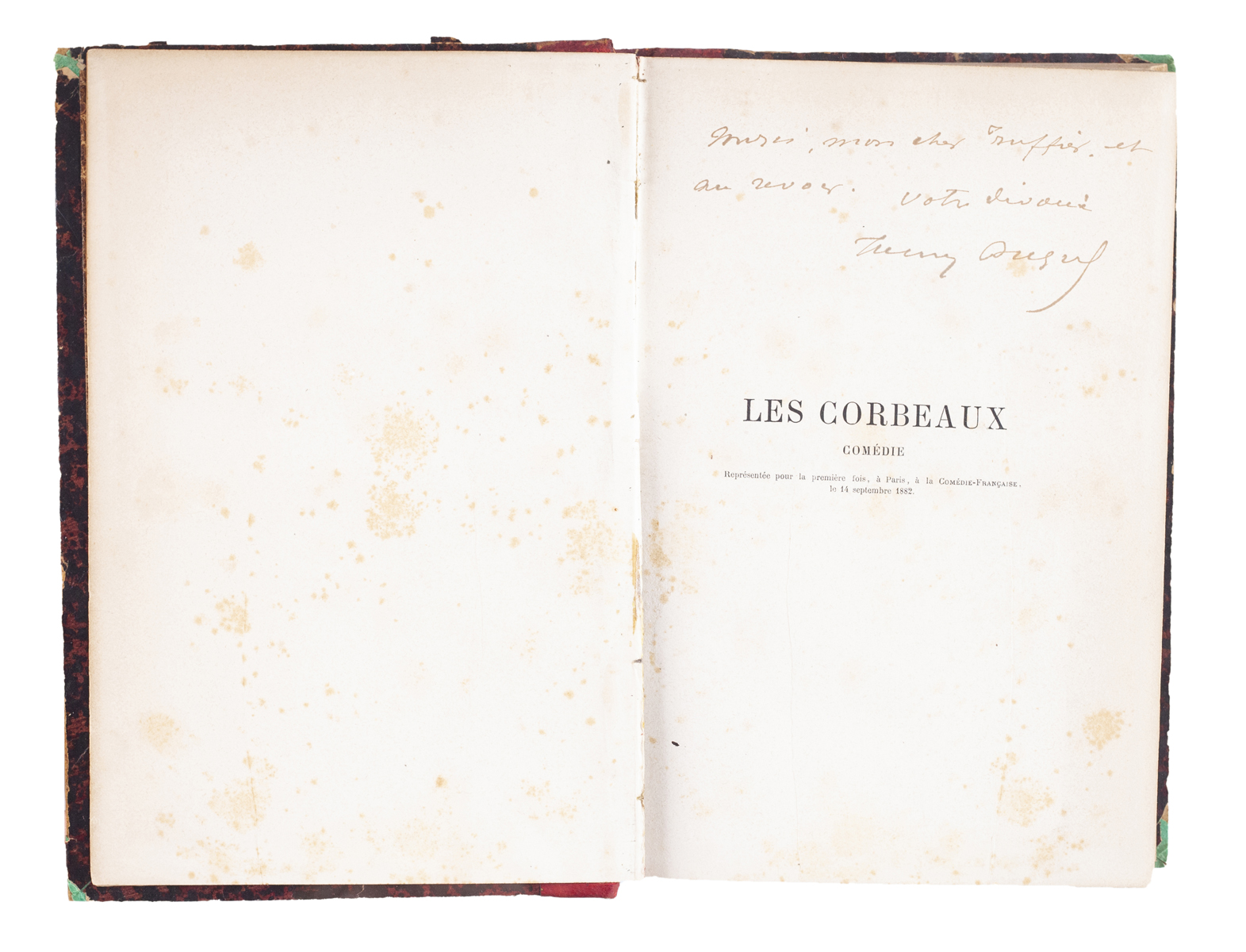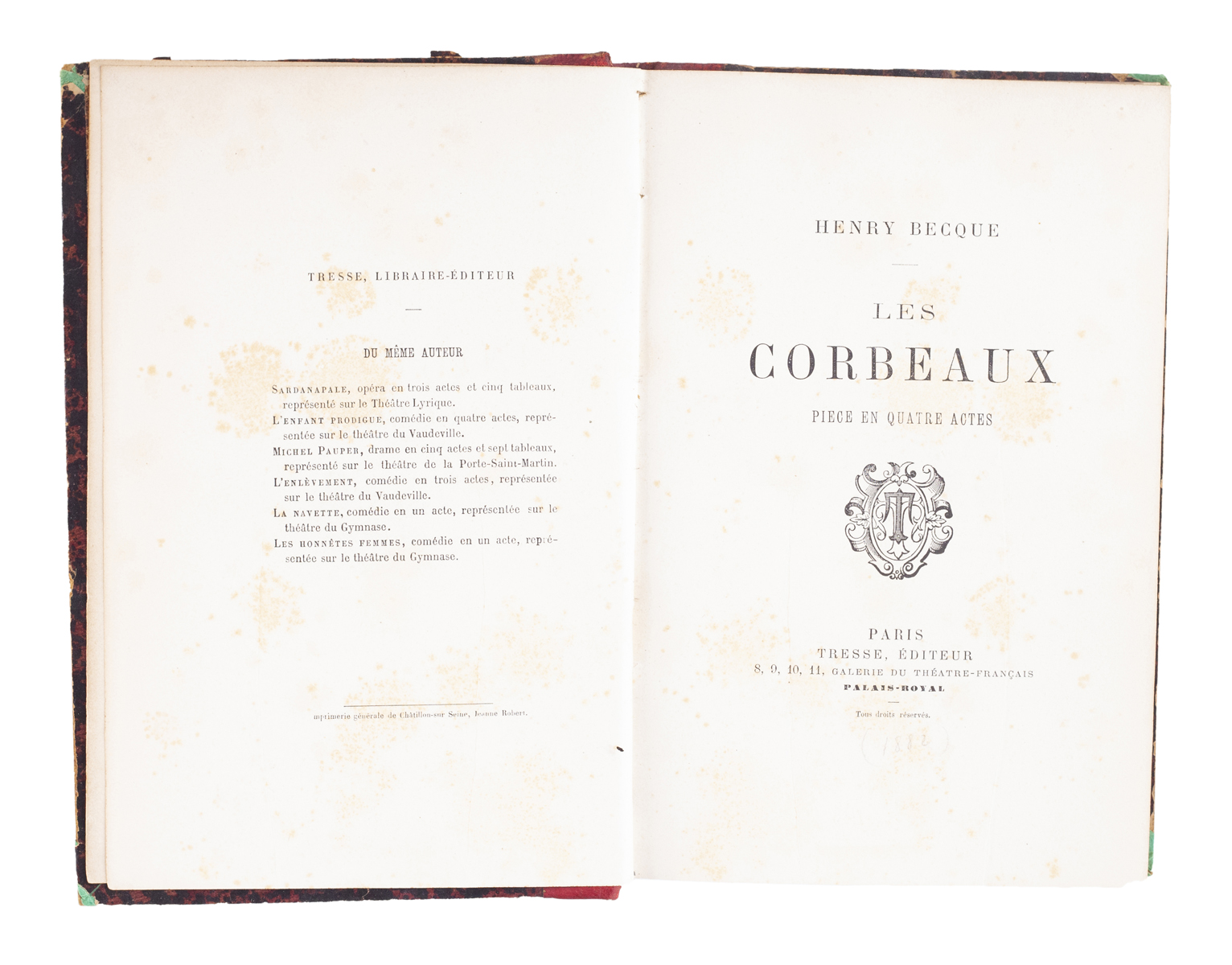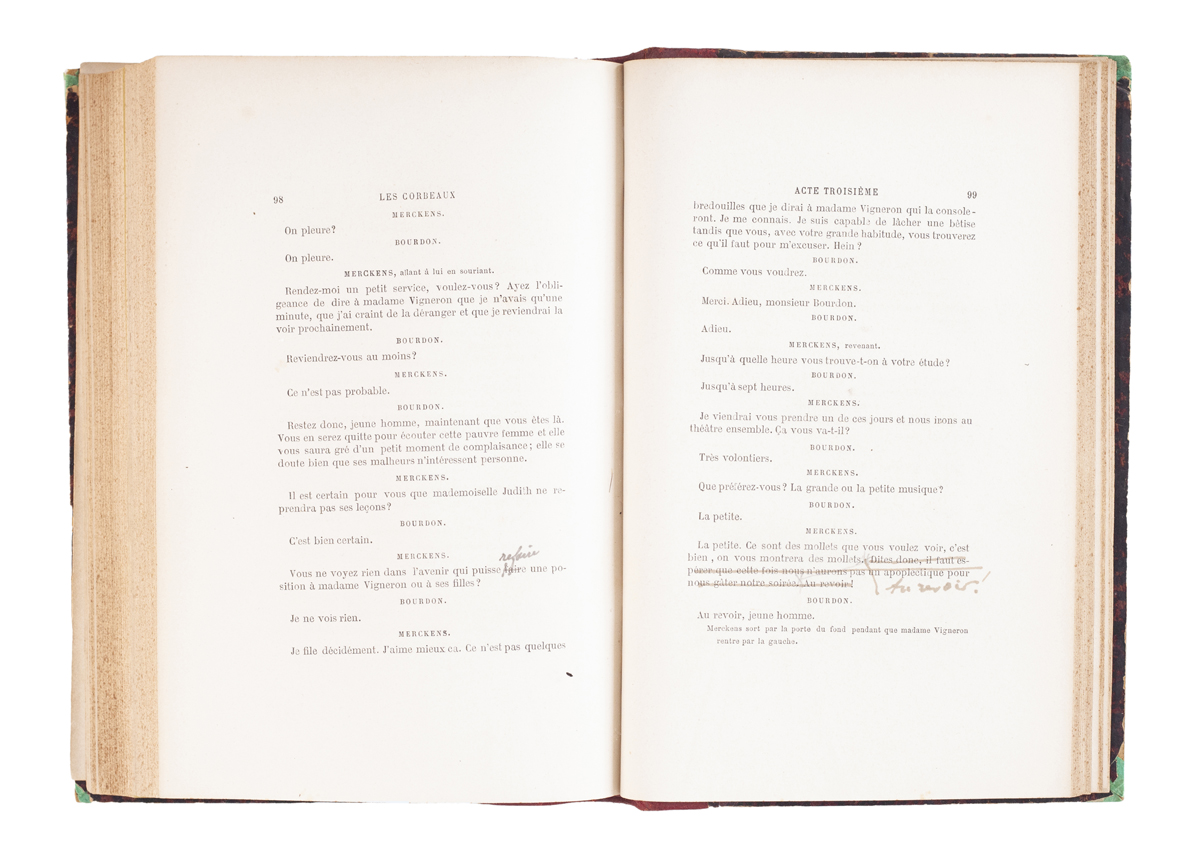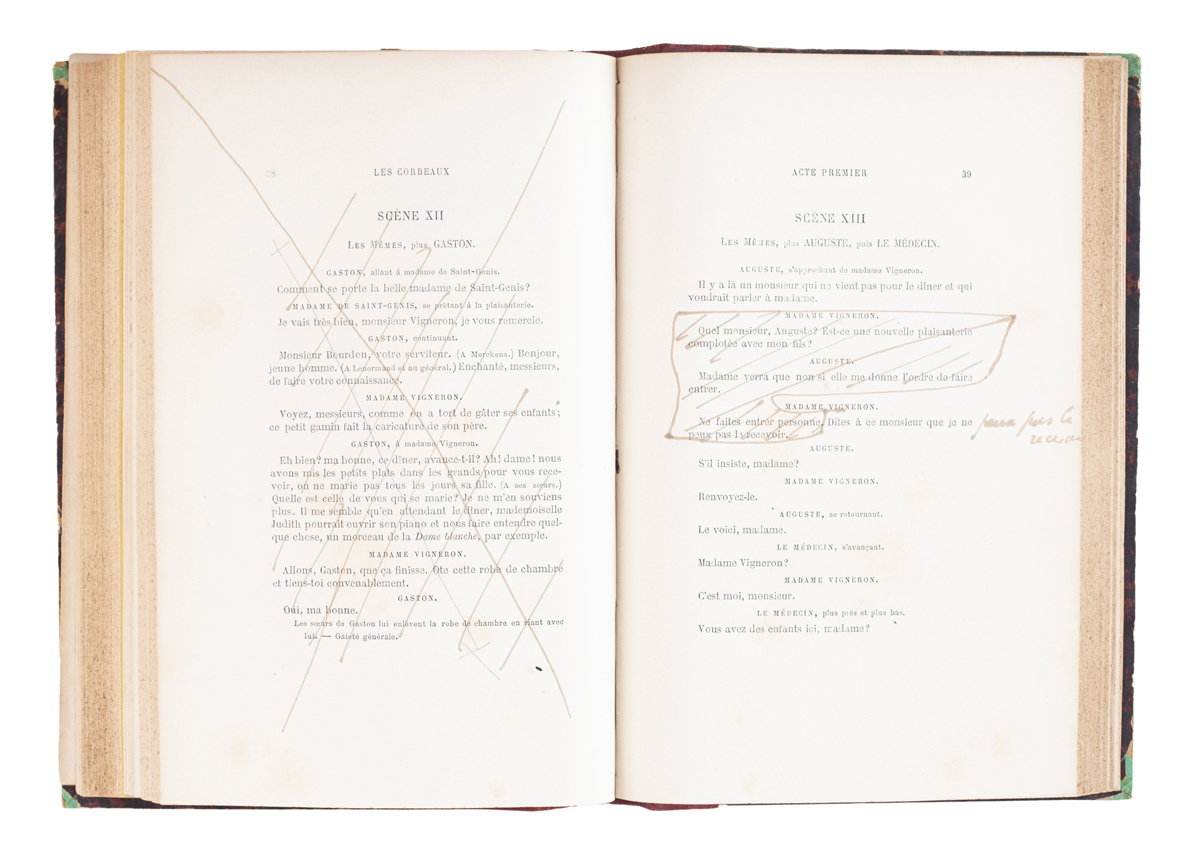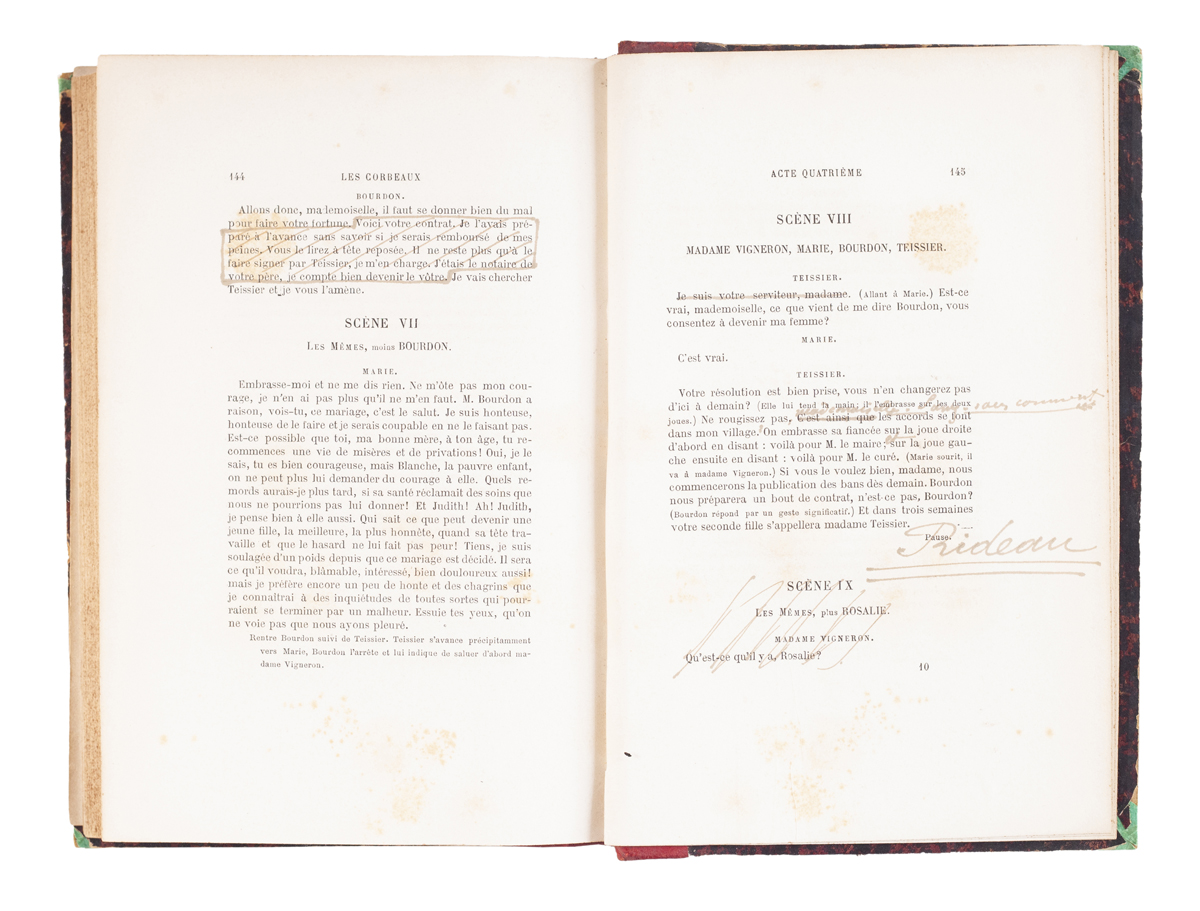 PRESENTATION COPY – ANNOTATED
BECQUE, Henry.
Les Corbeaux, pièce en quatre actes.
Paris, Tresse, [1882].
[bound with:]

—. Les Corbeaux … deuxième edition. Paris, Tresse, [1882].

Two works in one vol., 8vo., pp. [6], 152; 6, [152] (the second a paginary reprint of the first), both with half-titles; foxing to first few leaves in the the first work, which has the original yellow printed wrappers bound in; else good copies bound in contemporary red morocco-backed boards with green paper tips and marbled sides.
£2000

Approximately:
US $2409
€2225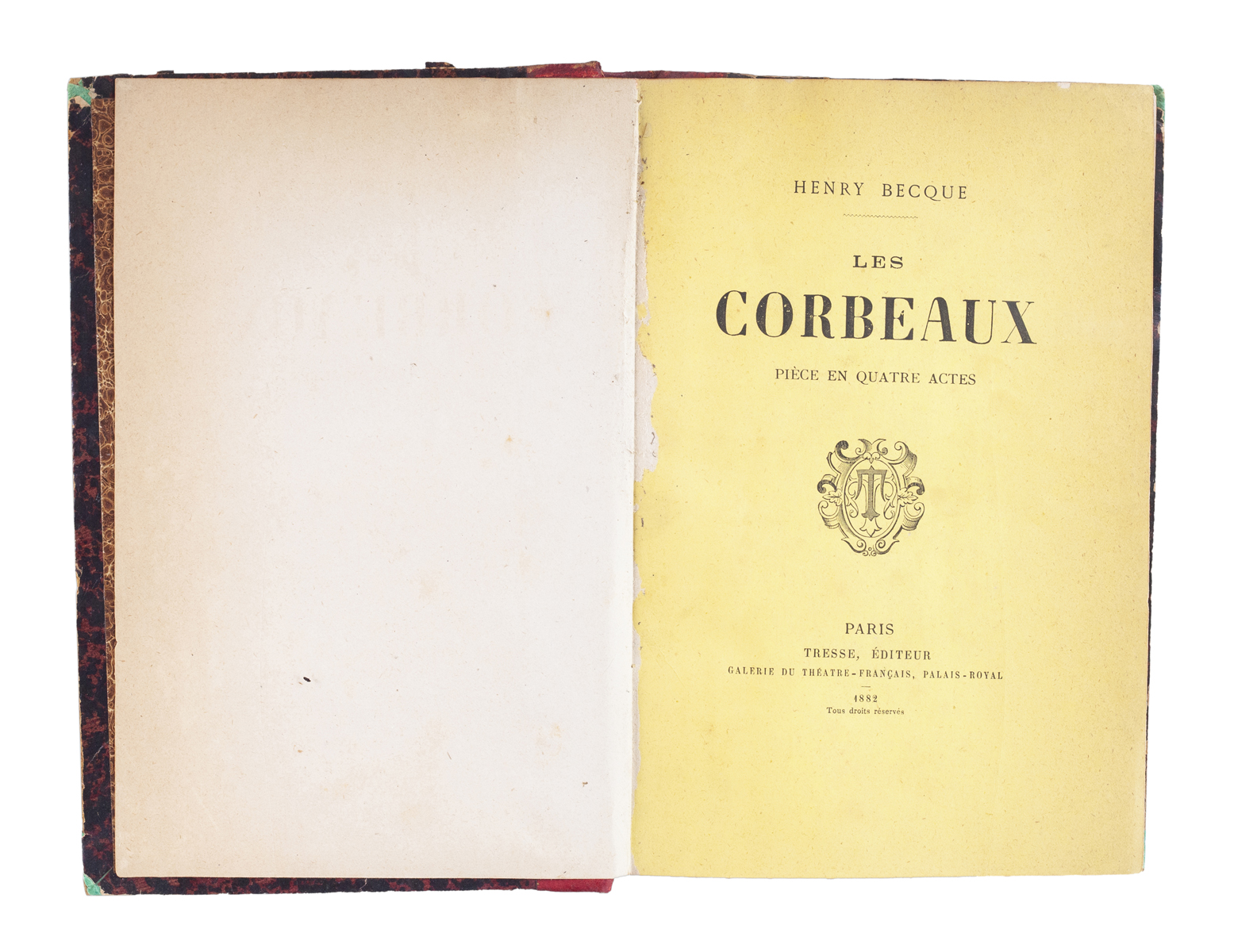 Added to your basket:
Les Corbeaux, pièce en quatre actes.
First and second editions of Becque's innovative realist drama, inscribed by the author on the first half-title to 'mon cher [Jules-Charles] Truffier', with authorial marks and annotations on thirty-three pages in the second edition showing changes made for performance.

Les Corbeaux, now recognised as Becque's masterpiece, charts the bitter struggle over an inheritance after the death of the patriarch of the Vigneron family. His former business partner, Teissier, is chief among the 'vultures' that descend, and Acts II and III see the commercial and psychological decline of the Vignerons, before the denouement offers the only possible way out of the morass – a marriage of convenience between Teissier and Vigneron's daughter, Marie.

Becque wrote the play probably in the first half of the 1870s. He had attempted to have it put on in numerous other theatres before it was finally accepted at the Comedie Française, where it was first performed on 14 September 1882. The egotistical characters, the overtly bourgeois setting and the realistic dialogue found favour only with realist critics and not the audience, and it was only performed three times in its first run.

Becque's annotations here represent cuts and line alterations made in performance (see the note at the beginning, 'Conforme à la représentation'), perhaps in an attempt to rescue it from its poor reception. Most notably, the final two scenes (Act IV, scenes IX-X), are cut in their entirety – they describe the belated arrival of a final vulture, Depuis, to collect a possibly spurious debt; he is chased off the metaphorical carcass by Teissier. Depuis is consequently removed from the cast list. The play ends instead with the marriage agreement of Teissier and Marie.

Jules-Charles Truffier (1856–1943) was an actor at the Comédie Française from 1875 (later its secretary), a theatre historian and editor.
You may also be interested in...
PRESENTED BY THE TRANSLATOR VIRGIL Maro, Publius, and Giovanni Andrea dell'ANGUILLARA (trans.). 
Il primo libro della Eneida di Vergilio, ridotto da Giovanni Andrea dell'Anguillara in ottava rima … 
First edition of the first book of Anguillara's verse translation of the Aeneid, a copy printed on strong paper and inscribed by the author.  The humanist, poet, and successful translator of Ovid Giovanni Andrea dell'Anguillara (1517–1572) undertook to translate into Italian ottava rima the first four books of Virgil's Aeneid, but only printed two.  According to Argelati, Anguillara left his Aeneid unfinished on purpose in order not to stand in competition with his friend, the translator Annibal Caro; 'Had he finished it, it would have been more pleasing to read than any of the above named [Caro and Domenichi as well as others] if we can judge by this specimen' (G. Baretti, The Italian Library (London, 1757), p. 132).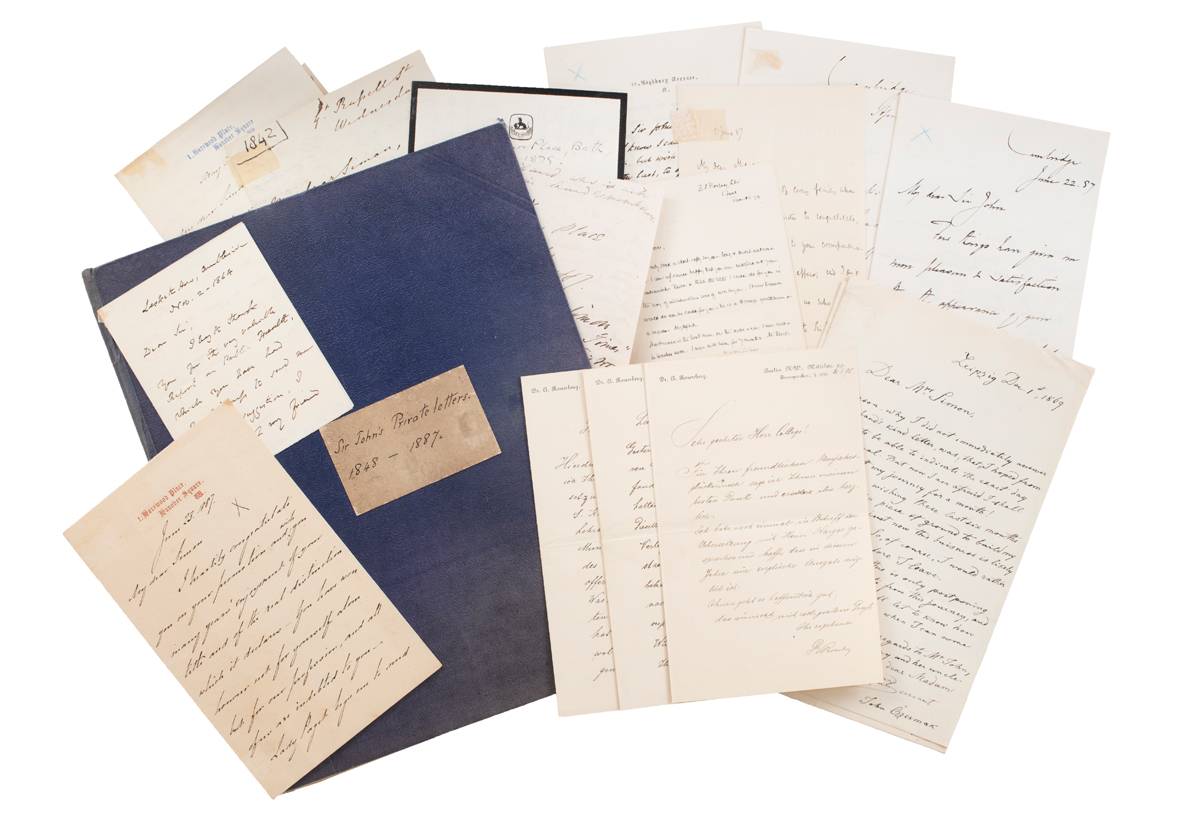 PIONEERS OF PUBLIC HEALTH SIMON, John, Sir.
A volume of autograph letters received by Sir John Simon from medical friends and acquaintances.
An interesting collection of letters to Sir John Simon and Lady Simon, from many of the leading physicians and surgeons of the Victorian era. Sir John Simon (1816–1904) was a renowned surgeon, President of the Royal College of Surgeons, and an efficient and dynamic reformer of public health in the City of London, and later more widely in England.